Barkley: It's Time to Buy Virginia Tech Futures
Credit:
Michael Shroyer-USA TODAY Sports. Pictured: Buzz Williams
The Virginia Tech Hokies are currently 65-1 to win the 2018-19 college basketball national title.
Ken Barkley makes the case for placing a futures bet on the Hokies, who very well could land a high seed in the NCAA Tournament.
November and December are interesting months for college basketball futures. As fans, media members, or handicappers, we can agree in some cases on the teams that are good.
Teams like Duke or Virginia or Gonzaga or Michigan.
We don't necessarily know HOW good these programs are, but we know that they are very likely to get a high seed, have some reasonable, non-zero chance to cut down the nets in March, and should be regarded highly in the market.
Once you get outside of that top tier, though, uncertainty reigns supreme.
There aren't THAT many great teams this year, and it looks like there will be plenty of 2- and 3-seeds open for business for teams that are farther down the rankings and less respected in the market.
I think one of those teams might be Virginia Tech, which is currently 65-1 to win the title.
I'm not saying the Hokies are a great bet to actually cut down the nets in Minneapolis, but they very well could secure a high seed and get an easier path in the tournament, thus creating lucrative hedge opportunities down the road.
Here's why:
The program continues to trend upward
Coach Buzz Williams has done a fantastic job since arriving in Blacksburg. Using KenPom's ranking system, here's how Virginia Tech has finished each of his first four years:
2015: 175th
2016: 63rd
2017: 50th
2018: 33rd
This year, the Hokies are currently 10th in that same ranking. Their offense has been consistently phenomenal the past few years, and the defense (so far) has made a major jump.
This is best Virginia Tech team I can remember, and it's the most raw talent Williams has had since arriving in 2015.
The likelihood of the trajectory continuing upward is strong, when viewed in a vacuum apart from other teams.
When a historically mediocre program jumps up a tier the first time, it's much more likely to be valuable in the futures market than a team that's in the top 10 year after year after year.
We expect Michigan State to be good every year, as an example, so its price never drops to a point of being valuable (or at least, rarely drops).
The Hokies are a newcomer to this type of attention, which is why you can still find them at 65-1.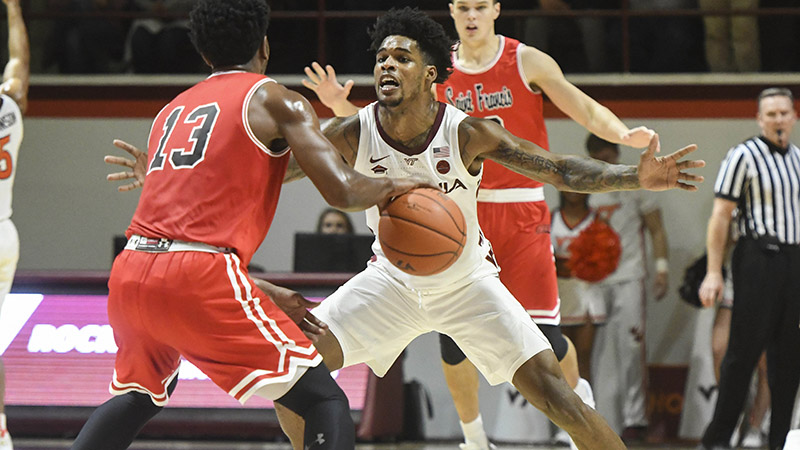 Their profile up to this point fits what we know about past champions
Past champions actually share a lot of traits, most of which revolve around having incredible balance and efficiency, specifically defensive efficiency.
Villanova last year had the worst KenPom adjusted defensive efficiency of any champion since the stat has existed, but it was still very good, and it was only the worst ever by a fraction of a point. (Villanova also had one of the most efficient offenses in the history of basketball, which certainly helped.)
The Wildcats notwithstanding, most champions fit in a box, so to speak. And Virginia Tech, like about 15-20 other teams right now, fits in the box.
The Hokies' defensive efficiency was typically the metric that held them back in evaluation, but this year it's been much better (35th in KenPom adjusted defense entering Dec. 4).
This early in the season, defensive numbers are going to be skewed, because teams haven't been tested by conference play yet.
Teams that play a particularly soft schedule — Nevada, for example, or Texas Tech — are going to look incredible defensively right now, and we won't know for a while whether they're for real.
You might be thinking, Well sure, so Virginia Tech is an unknown too. How do we know they'll be this good for the season?
The answer? We don't. But if we did, would they be 65-1? Of course not. We're projecting, and we're guessing, using the data we have and what we know about the program and the coach, that the price is a little out of whack.
If this is the best Virginia Tech team Williams has ever had, is it unreasonable to expect his best defensive team as well?
Their schedule is conducive to earning a high seed despite a difficult conference
This is the part that is particularly intriguing to me. Even if Virginia Tech isn't THAT strong defensively, we may not even get many chances to see that struggle, because the schedule is quite kind.
The Hokies' next road game is more than a month from now: Jan. 9 at Georgia Tech.
They'll be favored in every game on the schedule until their game against rival Virginia on Jan. 15.
I currently have Virginia Tech as about a 7-point dog in that game, but a small favorite in the rematch later in the season. A split is likely, especially given how feisty the Hokies have been in this matchup.
The rest of the slate is as kind as an ACC schedule can be.
Their twice-a-season matchups this year (in addition to Virginia) are Miami, Georgia Tech, and Notre Dame. Thus far this season, none of those three are in the upper half of the conference in adjusted offensive or defensive efficiency.
In other words, these are three teams you want to play twice.
A fourth team you want to play twice, Pitt, is a team the Hokies only face once, but it's on the road, which is a great way to knock out a conference road game on the schedule.
They only play Duke, Clemson, North Carolina and NC State once, and given what we've seen so far this season, that's looking like a great thing for Virginia Tech.
All in all, these factors point to there being some potential value on a price like 65-1, with the idea that a Hokies team with only 4-5 losses this season could easily sneak onto the 3- or even 2-seed line.
Obviously the rest of their region would be unpredictable, but typical 2/3 seed futures prices are generally much lower, unless the team is a mid-major with a very weak profile.