2021 NFL Futures Bets For All 32 Teams: Win Total Over/Unders, Playoff Picks, Player Props, More
Credit:
Getty Images. Pictured: Russell Wilson, Patrick Mahomes, Jalen Hurts
The NFL season is almost here, which means it's our last chance to get action on futures markets.
Based on my offseason research and training camp developments, here is my favorite way to bet on (or against) every team entering the 2021 NFL season.
---
Navigation
AFC: East | North | South | West
NFC: East | North | South | West
---
AFC EAST
Over 11 Wins (-120) at DraftKings
The Bills' schedule is top-heavy, with road games at Tampa Bay and Kansas City. Other than that, there's not much to fear.
Under head coach Sean McDermott, the Bills have cleared their preseason win total in all four seasons, by an average of 2.5 wins per season. That should leave them some wiggle room for one of the NFL's most well-coached teams.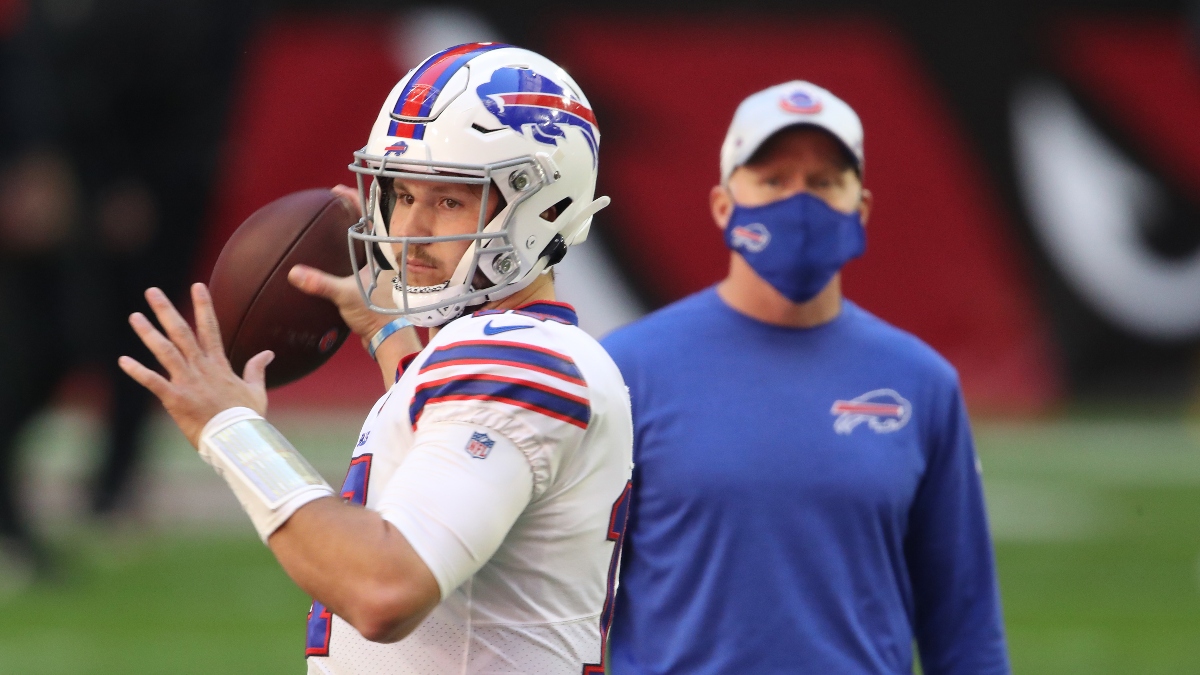 Will Fuller Under 875.5 Receiving Yards at PrizePicks
Fuller's receiving yardage totals in five pro seasons: 635, 423, 503, 670, 879.
Even with an extra game, there's a good chance Fuller falls short of this total. He's in a crowded Miami receiving corps with a quarterback in Tua Tagovailoa who has thus far proven to be nowhere near as efficient as Deshaun Watson.
Limit: 845.5 yards
Under 6 Wins (-105) at FanDuel
The Jets went 2-14 last year and had a Pythagorean expected win total of only 2.9 wins. Though the coaching and quarterbacking should be improved with Robert Saleh taking over for Adam Gase and first-round rookie Zach Wilson for Sam Darnold, the Jets still have the worst coach and likely the worst quarterback in the division.
Damien Harris Over 845.5 Rushing Yards at PrizePicks
Harris averaged 69.1 rushing yards in 10 games last season. At that rate, he could miss four games and still clear this prop.
Harris' volume is likely to go up with veteran mainstay Rex Burkhead and sometimes-starter Sony Michel out of the picture, leaving only receiving specialist James White and lower-pedigree rookie Rhamondre Stevenson behind Harris for carries.
Limit: 900.5 yards
---
» Return to the table of contents «
---
AFC NORTH
Editor's note: Edwards suffered what is feared to be a torn ACL on Sept. 9, so we would no longer recommend this prop.
Gus Edwards Over 850.5 Rushing Yards at PrizePicks
In 13 NFL starts, Edwards has totaled 897 rushing yards on 186 carries. He will take over as the lead back now that J.K. Dobbins is done for the season and should have massive wiggle room to clear this prop.
Limit: 899.5 yards
To Win AFC North (+155) at BetMGM
The Browns were one of the most overrated teams last season based on point differential, but they should be vastly improved this season.
They added difference-makers on defense such as John Johnson III, Ronnie Harrison, Troy Hill, and Jadeveon Clowney. They should also get more than 12 games from Nick Chubb and more than seven from Odell Beckham Jr. And Baker Mayfield, who made strides in Year 1 under Kevin Stefanski, will be protected by the league's top offensive line.
Cleveland's roster is on par with Baltimore's, and the latter has dealt with more bad injury luck throughout camp.
Limit: +140
JuJu Smith-Schuster Over 790.5 Receiving Yards at PrizePicks
Smith-Schuster's average depth of target was 9.0 or higher his first three years in the league before falling to 6.8 last season. Last season's offensive coordinator, Randy Fichtner is out, and Ben Roethlisberger's arm strength looks much improved from last season, when he was coming off elbow surgery.
Smith-Schuster posted 831 in 16 games last season and has fallen short of his number only once in four pro seasons: An injury-plagued 2019 in which he missed four games and Roethlisberger missed 14.
Limit: 830.5 yards
Under 6.5 Wins (-110) at BetMGM
Zac Taylor is 6-25-1 as an NFL head coach and, in addition to playing a brutal division slate against the Ravens, Browns, and Steelers, this Bengals team has home games against the Chiefs, Packers, 49ers and Chargers.
Limit: Under 6.5 (-145)
---
» Return to the table of contents «
---
AFC SOUTH
To Miss Playoffs (+100) at BetMGM
The Colts are such a tempting over — they play in a weak division and are well-coached, but a Super Bowl-winning coach couldn't fix Carson Wentz last season, and Frank Reich is powerless over his team's NFL-low vaccination rate. Injuries are also piling up.
There now looks to be clear separation between the Colts and Titans in the face for the AFC South. The AFC East has three legit playoff-caliber teams (Bills, Dolphins, Patriots), and so does the AFC North (Ravens, Browns, Steelers). And the AFC West has the Chiefs and 1-2 more playoff-caliber teams, depending on how you feel about the Chargers and Broncos.
It's hard to argue the Colts aren't outside the top-seven looking in.
Limit: -150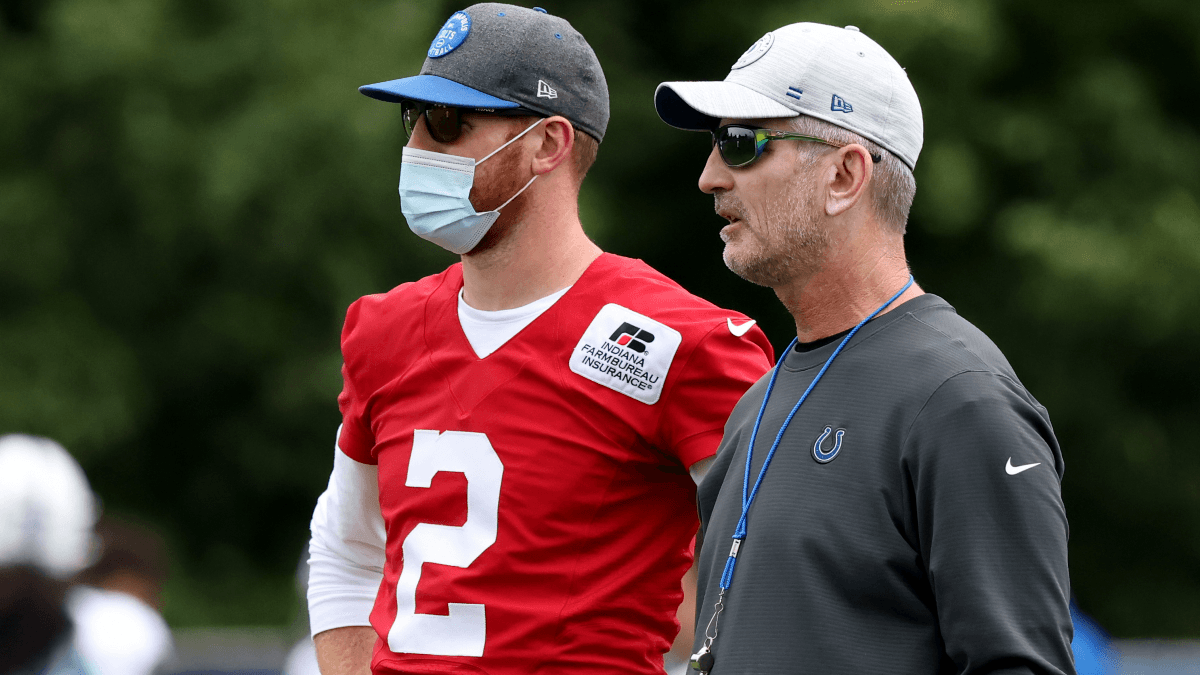 To Win AFC South (-110) at BetMGM
I was down on the Titans earlier in the offseason, but that was before: (1) The Colts rested their hopes on Carson Wentz and unvaccinated players not catching COVID; (2) Deshaun Watson's absence became all but a sure thing for Houston; and (3) Urban Meyer showed his hand as maybe not one of the NFL's more clever coaches.
The Titans have a top-heavy roster, but the Colts are a mess, and rest of the division doesn't even register on the scale.
Limit: -150
Under 6.5 Wins (-135) at FanDuel
Between hiring an allegedly racist strength-and-conditioning coach, signing Tim Tebow, playing dumb with Trevor Lawrence's QB1 status, and leaking illegal decision-making practices regarding players' COVID-19 vaccination status, Urban Meyer's first training camp in the pros has been one collective "uh-oh."
This is a team that won one game last season, and those teams tend to jump by an average of 3-4 wins the next season, still leaving the Jags short of their win total.
Limit: Under 6.5 (-150)
Over 4 Wins (-110) at DraftKings
The Texans are bad. But because their roster is one of the NFL's worst, they aren't as reliant on any one player. They are the NFL's oldest roster — meaning they have more experience than your average trash team — and they also have a bunch of players on one-year deals, so they will be motivated.
Playing in a bad division, this is the type of team that could throw a wrench into bets made on Jacksonville and Indianapolis based on strength of schedule prognostications.
---
» Return to the table of contents «
---
AFC WEST
Over 12.5 Wins (+120) at BetMGM
Andy Reid is 8-0 toward the over as head coach of the Chiefs, and 19-4-1 toward the over including his days in Philadelphia. Oftentimes, I'd look at these numbers and think "regression," but all I see is a top-two NFL coach in Reid, the league's best QB in Patrick Mahomes and a deeper, improved offensive line that thwarts Mahomes' only kryptonite.
Only twice have Reid's overs in KC even come down to the final week.
Limit: Over 12.5 (-110)
To Win the AFC (+250) at DraftKings
As far as winning the conference, the Chiefs are 2-of-3 with Mahomes, and were an offsides penalty away from being 3-for-3. The quarterback they lost to is no longer in the conference, either, while the coach they lost recently handed the quarterbacking reins to a rookie.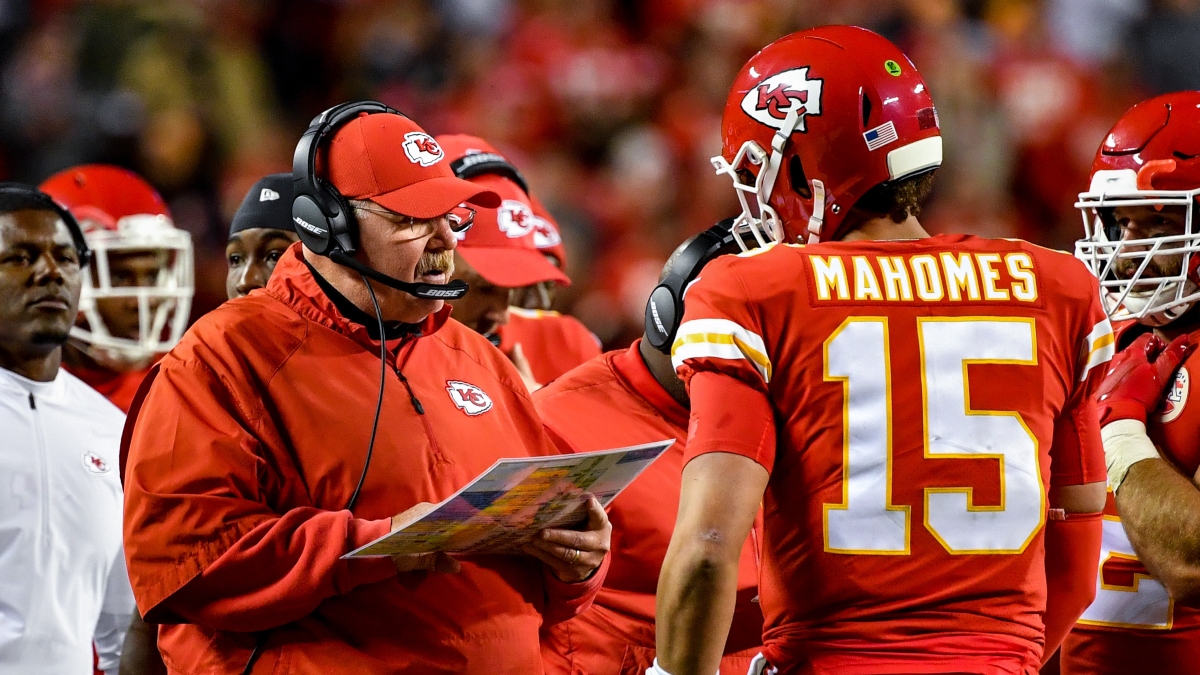 Justin Herbert Most Passing Yards (+1400) at DraftKings
Herbert was fourth in passing yards per game last season (289.1) and should benefit from an improved offensive line highlighted by the acquisition of center Corey Linsley from Green Bay.
Even with defensive whiz Brandon Staley taking over as the head coach, the Chargers lost enough talent on that side of the ball — Melvin Ingram, Denzel Perryman and Casey Hayward — to make shootouts a distinct possibility, especially if oft-injured Derwin James and rookie cornerback Asante Samuel Jr. take some time to get up to speed.
Limit: +1200
Under 7.5 Wins (-145) at BetMGM
Even if this is the year that the Raiders' defense finally improves after they finished 20th or worse in points allowed every season since 2007, they find themselves as the least talented team in their division, where in years past you could have made a decent argument that they were No. 2 or No. 3 at worst.
Limit: Under 7.0 (-110)
To Make Playoffs (+156) at FanDuel
I'm usually down on teams like the Broncos: Mediocre ones that try to sell their fanbases on the new below-average quarterback flavor of the month. That's probably what's happening here with Teddy Bridgewater "beating out" Drew Lock as their Week 1 starter, but if there was ever a team built to withstand "meh" quarterback play, it's this one.
The Broncos defense is elite and deep, and the schedule gives them the gift of four games against the NFC East, plus matchups with the Jets, Jaguars, Bengals and Lions.
Limit: +120
---
» Return to the table of contents «
---
NFC EAST
Dak Prescott to Win Comeback Player of the Year (+220) at BetMGM
The Cowboys have a shaky defense, a favorable schedule and a monstrous group of receivers. Rather than bet on the Cowboys to win the NFC East or go over their win total at less favorable odds, I'd rather bet on Prescott at plus-money.
If the Cowboys hit even their median projection, the award is likely Prescott's.
Limit +200
Win NFC East (+220) at BetMGM
Dallas has a more favorable schedule, but Washington has the more robust season-long outlook. Mike McCarthy is first on most first roach fired leaderboards, after all.
Limit +200
Saquon Barkley Under 1,125.5 Rushing Yards at FanDuel
Just how healthy Barkley truly is is anyone's guess, and the offensive line could be his downfall even if he is truly healthy. Over his last 15 games, Barkley had five games of 30 or fewer rushing yards, including 13 carries for 1 yard and 8 carries for 10 yards.
Limit: 1,000.5 yards
Miles Sanders Under 7.5 Rush TDs at PrizePicks
Sanders had TDs of 82 and 74 yards last year, but for his career, he's scored on 9-of-343 carries (2.6%). At that rate, he would need 307 carries to go over this prop.
Jalen Hurts To Win NFL MVP (+8000) at FanDuel
Hurts is not as talented of a passer as Lamar Jackson, but the Eagles play a last-place schedule in a wide-open division, and Hurts already proved he could put up gaudy stats. Limit: +6500
---
» Return to the table of contents «
---
NFC NORTH
Win NFC North (-145) at FanDuel
The Packers have gone 13-3 in both seasons under Matt LaFleur, had a five-game cushion over second-place in the division last season, and have finished atop the NFC North in seven of Aaron Rodgers' last 10 seasons.
Limit -200
Adam Thielen Under 1,000.5 Receiving Yards (-112) at FanDuel
Thielen is averaging only 54.7 receiving yards per game over the last two seasons, which would equate to a 17-game clip of 929.9 yards — more than 70 short of his prop. Thielen has missed seven games over the past two years and isn't the best bet to play all 17 games at age-31, which would put him up against it to best this prop in Minnesota's low-volume pass offense.
Limit 930.5 yards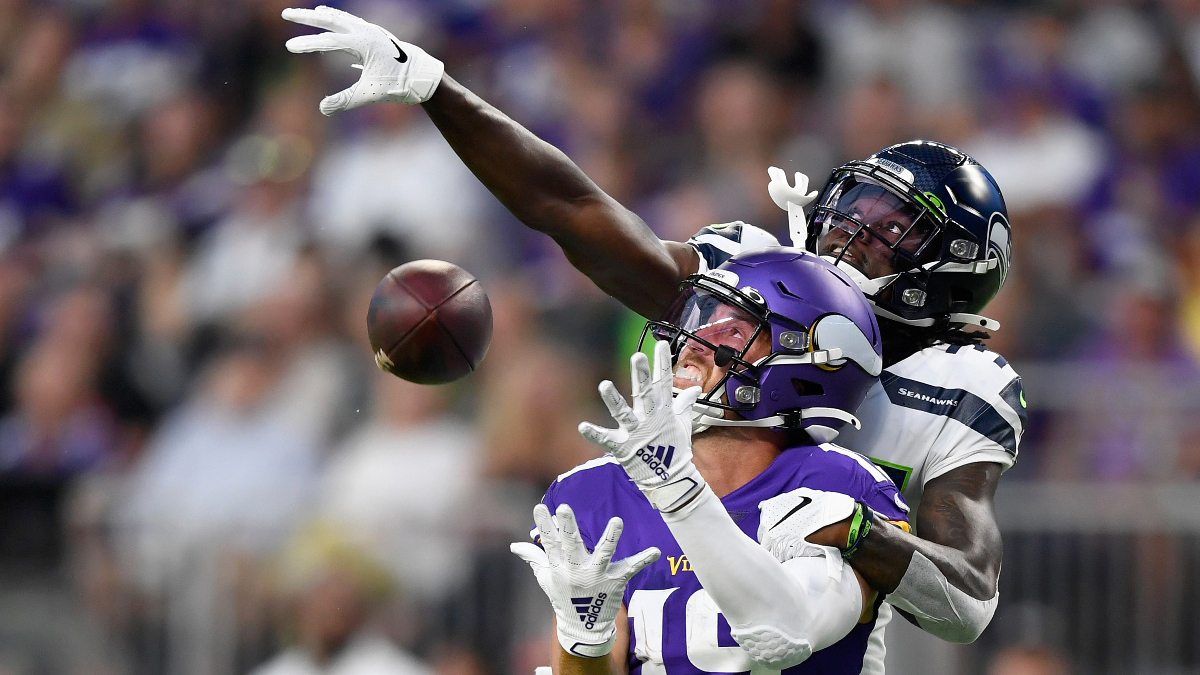 Under 7.5 Wins (-120) at FanDuel
Ask yourself this: Is Matt Nagy good enough to have never had a losing record as an NFL head coach?
I think it starts here.
The offensive line rates as one of the league's worst. The defense is aging, and Khalil Mack will have to make up for more deficiencies in the secondary as he's ever had. The Bears also face the toughest slate of opposing quarterbacks in the league, and even if the transition to Justin Fields is swift, there's the fact that first-round rookie quarterbacks have won only 38.9% of their games over the past 10 seasons.
Limit: Under 7 (-150)
DeAndre Swift Under 900.5 Rushing Yards at PrizePicks
Even if Swift stayed healthy for all 17 games — not a given seeing as how he's already banged up ahead of Week 1 and played in only 13 games last season — he would have to average 53.0 yards per game to go over this prop. That would represent a 12.9 yard per game increase over the 40.1 yards per game he averaged last season (at an above-average efficiency clip of 4.6 yards per carry to boot).
With a new coaching regime taking over for the one that drafted him last season, there's no guarantee that they see him any differently than the guy who struggled to stay healthy while averaging only 8.8 carries per game as a rookie.
The Lions also have the NFL's second-lowest win total (4.5), and thus are unlikely to be in many run-heavy scripts where Swift can pad his totals.
Limit: 800.5
---
» Return to the table of contents «
---
NFC SOUTH
Win NFC Championship (+300) at BetMGM
Tom Brady has reached the Super Bowl in 10 of his 21 pro seasons (47.6% of the time). These odds imply a probability of only half that.
The Bucs have a stupid-easy schedule, especially considering they're Super Bowl champs, and they returned pretty much every player of consequence from their championship-winning team.
Limit: +150
Jameis Winston Under 4,200.5 Passing Yards at PrizePicks
Winston would have to play all 17 games and average 247.1 passing yards per game to go over this prop. Even if Winston isn't benched at any point for Sean Payton's quarterback crush Taysom Hill, Winston is no lock to go over this total.
Holding the job would likely mean conforming to a more conservative style that saw Drew Brees average only 245.2 passing yards per game last season.
Limit: 4,100.5 yards
Sam Darnold Under 23.5 Passing TDs at PrizePicks
Carolina averaged 1.0 receiving TDs per game last season. Is Sam Darnold that much better than Teddy Bridgewater, if it all? Darnold has never played in more than 13 games in a season, and never thrown more than 19 TDs.
I'm not betting on Darnold smashing his career highs, especially after Bridgewater was so underwhelming last season.
Limit: 21.5
Matt Ryan Under 29.5 Pass TDs at PrizePicks
Ryan would need to average 1.74 passing TDs per game in 17 games to go over this total. He averaged 1.6 per game or fewer in three of last four season, and although new head coach Arthur Smith unlocked the best of Ryan Tannehill in Tennessee, the run-heavy coach could prompt a downtick in passing volume for Ryan after the Falcons resided near the top of the league over the past few years.
And though Julio Jones himself wasn't a big TD scorer, he is no longer there to draw red-zone coverage away.
Limit: 27.5
---
» Return to the table of contents «
---
NFC WEST
Darrell Henderson under 850 Rushing Yards at PrizePicks
Henderson would need to average more than 50 yards per game if he played in all 17. He has never averaged more than 41.6 yards per game, and the acquisition of Sony Michel clouds his season-long carry outlook. And with a quarterback he trusts in Matthew Stafford now in tow, head coach Sean McVay may also unleash his most pass-happy offense yet. Limit: 800.5 yards
Jimmy Garoppolo to Win Comeback Player of the Year (+1300) at FanDuel
The 49ers are expected to challenge for the division crown, and if they play well, it makes it less likely that Kyle Shanahan makes a change at quarterback instead of using Trey Lance as a change of pace at quarterback.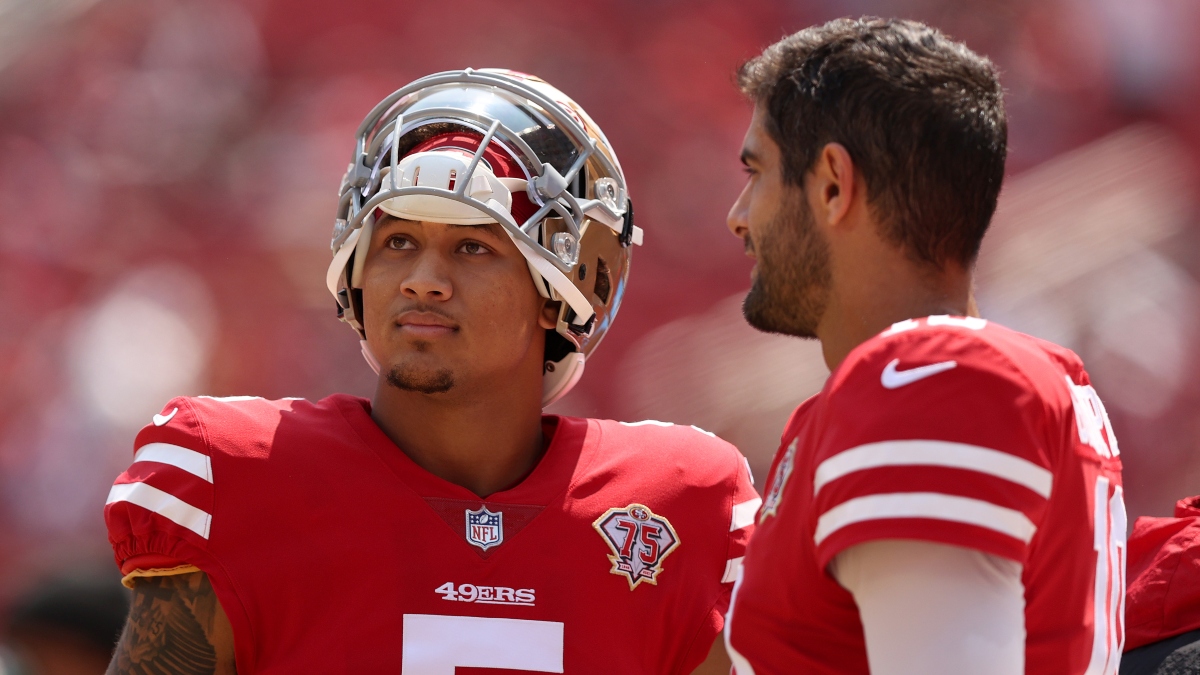 Garoppolo is 22-8 as the starter in San Francisco and averages 8.3 yards per pass attempt, so if he can stay healthy (a big "if"), he has a better shot than the odds imply at winning this award.
Limit: +1000
To Make Playoffs (-130) at BetMGM
The Seahawks are in a tough division, but they've made the playoffs in eight of Russell Wilson's nine seasons, or 88.9% of the time. History says they'll find a way, and the implied odds greatly underestimate their chances.
Limit: -150
To Miss Playoffs (-200) at BetMGM
The Cardinals haven't finished above third in the division in Kliff Kingsbury and Kyler Murray's two seasons, and they will be hard-pressed to finish outside the cellar with the Rams, Seahawks and 49ers all projected with double-digit win totals.
Limit: -220
---
» Return to the table of contents «
---
How would you rate this article?
This site contains commercial content. We may be compensated for the links provided on this page. The content on this page is for informational purposes only. Action Network makes no representation or warranty as to the accuracy of the information given or the outcome of any game or event.