The Buccaneers Are Underrated Super Bowl Contenders — Buy Them Now
Credit:
Getty Images. Pictured: Bruce Arians, Tom Brady
Our senior NFL betting analyst Chris Raybon outlines his case for the Tampa Bay Buccaneers as underrated contenders.
Find out why, based on Super Bowl odds heading into Week 15, Tom Brady and Co. could be a sneaky pick to win it all.
When it comes to Super Bowl contenders, there's the Chiefs, and there's everyone else. But while most Super Bowl hopefuls have a clear weakness — the Steelers can't run, the Titans can't kick or defend, Jared Goff can't handle pressure, Aaron Rodgers has one receiver, etc. — the Buccaneers are very well-balanced on paper.
The Bucs rank as the NFL's second-best team in Football Outsiders' overall DVOA entering Week 15 with dual No. 5 rankings on offense and defense, making them the only team to own a top-five ranking on both sides of the ball.
This type of balance is supposed to make a team dangerous, capable of beating any opponent. Instead, the Bucs are just 8-5 and have floundered against top competition — they're 1-5 against teams ranked 16th or better in overall DVOA, including 0-4 against teams in the top five:
Bucs vs. opponents ranked 1-16 in DVOA: 1-5, -22 point differential
Bucs vs. opponents ranked 17-32 in DVOA: 7-0, +98 point differential
So what exactly are their weaknesses? And can the Bucs start translating their talented roster into wins against playoff-caliber competition?
The Bucs Are Consistently Inconsistent
Despite acquiring the NFL's most consistent quarterback of the past two decades, the Buccaneers offense has been anything but consistent.
Football Outsiders' Variance metric measures the volatility of a team's weekly DVOA performance, with No. 1 being most consistent. The Bucs rank 24th. And despite fielding arguably the NFL's most talented defense that side of Pittsburgh, the Bucs rank 30th on defense.
Overall, Tampa is dead last in Variance, meaning the Bucs are the NFL's least consistent team.
Part of that has to do with the schedule — it's not often that a team will play four games against top-five DVOA teams in one season, much less over the first 12 games.
But part of it also has to do with coaching…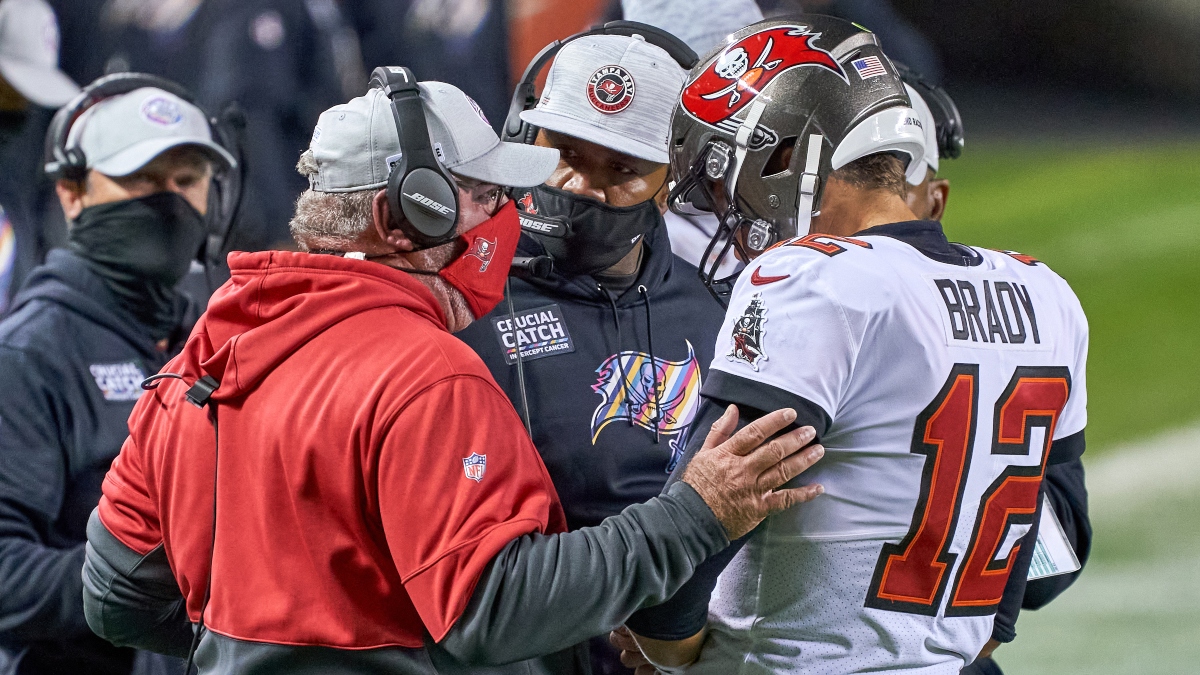 Biscuits Over Everything…?
When Tom Brady signed with the Bucs, it was already well known that Bruce Arians' "no risk-it, no biscuit" downfield offense doesn't jive with the quick-hitting underneath approach that Brady was successful with for most of his time with the Patriots. But it was thought the two would meet in the middle, and a new offense would be borne out of the meshed philosophies of both men. After all, Brady's game is outsmarting the defense and making quick decisions. What the hell else is a 43-year-old quarterback who couldn't run as fast as Lamar Jackson or throw as far as Patrick Mahomes — even when he was 23 — gonna do?
Try to be the best Jameis Winston he can be, apparently, because the offense has changed little.
One way to enable a quarterback to outsmart the defense is playaction — it freezes the linebackers, affording a quick-thinking quarterback like Brady the chance to make high-percentage throws for efficient gains before the defense has recovered. But Brady's playaction rate has dropped from 24.9% in 2019 to 18.4% in 2020, ranking 36th of 39 quarterbacks with 98 or more dropbacks this season. And this despite the fact that of those 39 quarterbacks, 30 see a positive yards per attempt (YPA) differential on playaction vs. non-playaction passes, with Brady averaging an additional 3.3 yards per pass play on playactions, fourth-highest in the league.
But hey, it's biscuits we're after, not efficient pass plays.
Another way to help the quarterback is to use pre-snap motion — it often forces the defense to declare its intentions, providing the quarterback with valuable intel pre-snap. A quick Google search will tell you that pre-snap motion is more effective, adding an extra 0.08 expected points per pass play (and 0.11 per run play) compared to plays with no motion. And yet, the Bucs offense has about as much pre-snap movement as the statues outside Raymond James Stadium.
Pre-snap motion may be efficient, but it's not biscuits.
The one thing the Bucs are doing that is efficient is deep passing, so I'm not going to clown Arians for Brady's league-leading 69 attempts of 20 or more yards. But these plays are still compromised by Arians' route concepts, specifically the lack of outlet receivers underneath.
As Tony Romo put it on a recent CBS telecast: "Brady is used to having one deep route and everyone else underneath outlets, and now he has all deep routes with one underneath outlet." Unsurprisingly, Brady has struggled, ranking 27th in deep passer rating (82.8).
Speaking of Romo, he has slammed the Bucs' game plans, but he's far from the only former NFL quarterback to do so — Dan Orlovsky had a rant for the ages after the Bucs' 38-3 loss to the Saints in Week 9, completely destroying Arians and offensive coordinator Byron Leftwich for their game plan, snap-by-snap.
According to Orlovsky, it was the worst NFL game plan this season, although Orlovsky did seem to be focused on the Bucs winning games and protecting Brady, not biscuits.
All in all, Brady has played well despite the shenanigans.
According to Pro Football Focus, Brady is the only quarterback with a top-six passing grade who is averaging fewer than 8.0 yards per attempt (he's averaging 7.0), which tells you he's performing above the level of his circumstances. But with 11 interceptions in 12 games, he's on pace for a career-high in interceptions, as well as his second-lowest YPA mark since 2014.
The Bucs offense is thriving on talent, but Arians and Leftwich aren't optimizing the potential of their future Hall of Fame quarterback. Three of the Bucs' five losses have come by three or fewer points, so this is a valid concern come playoff time.
Defensive coordinator Todd Bowles has put himself back on the head coaching map with the job he's done with Tampa's defense, but he's not immune from criticism, either. On the Bucs-Chiefs telecast, Romo noted that Bowles often relies on his ability to make second-half adjustments, and the numbers back that up: The Bucs' 8.0 points allowed after the break are the fourth-fewest in the NFL.
But this was a topic of discussion because Bowles' defense had just given up seven catches for 203 yards and two touchdowns to Tyreek Hill not even in the first half, but the first quarter. Despite having enough pass-rushing talent to pressure Patrick Mahomes with a four-man rush and enough coverage talent to hold up on the Chiefs' lesser receivers, Bowles thought it best to employ a scheme that often left cornerback Carlton Davis in one-on-one coverage on Hill.
For the game, Hill caught 9-of-9 passes for 211 yards and three touchdowns in Davis' coverage.
This hasn't been an isolated incident, though — despite their stout underlying metrics and elite second-half performance, the Bucs defense is allowing 14.6 points per game in the first half, the eighth-most in the league.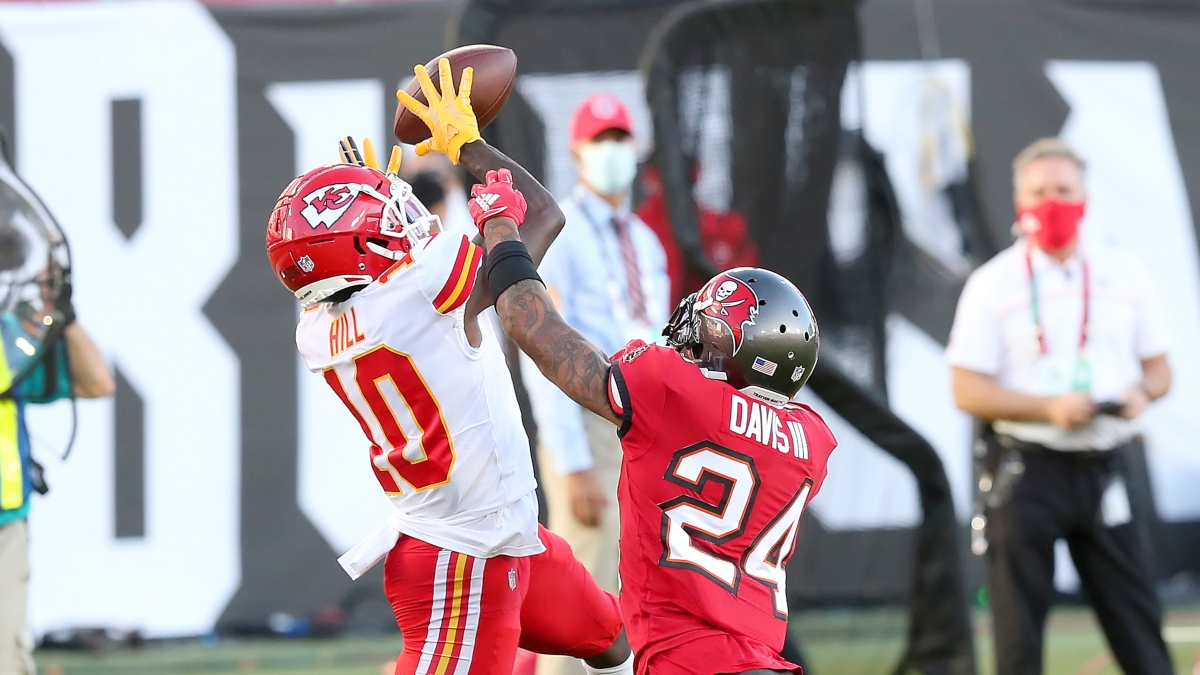 The Bucs Are Still Dangerous
The Bucs may have some maddening issues that have prevented them from looking truly impressive this season, but they also have a lot going for them that makes them a dangerous playoff team that can beat top-level competition.
For one, it's almost impossible to run on Tampa Bay.
Ndamukong Suh and Co. have clogged up the holes for opposing backs to the tune of allowing just 3.18 yards per carry, a half-yard less than any other defense is allowing. This makes it difficult for teams to pull away from the Bucs even if they have managed to build a lead. Case in point: Even with Hill putting the Bucs defense through the blender in the first quarter and giving the Chiefs a 17-0 lead, the Bucs fought back to lose by just three points (27-24), thanks largely in part to allowing Chiefs backs to gain just 59 yards on 16 carries.
Another thing working in the Bucs' favor is more obvious: Coaching and game-planning issues are correctable, and there are a lot of smart people in the building, including Arians himself.
The Week 13 bye is also ideal for an aging roster to make a deep playoff run. Coupled with a warmer late-season schedule, the late bye could be especially valuable for Brady, who struggled in the second half of 2019:
Brady in Weeks 1-8 of 2019: 7.4 YPA, 281.4 yds, 1.62 TD, 0.5 INT
Brady in Weeks 9-17 of 2019: 5.98 YPA, 225.8 yds, 1.38 TD, 0.5 INT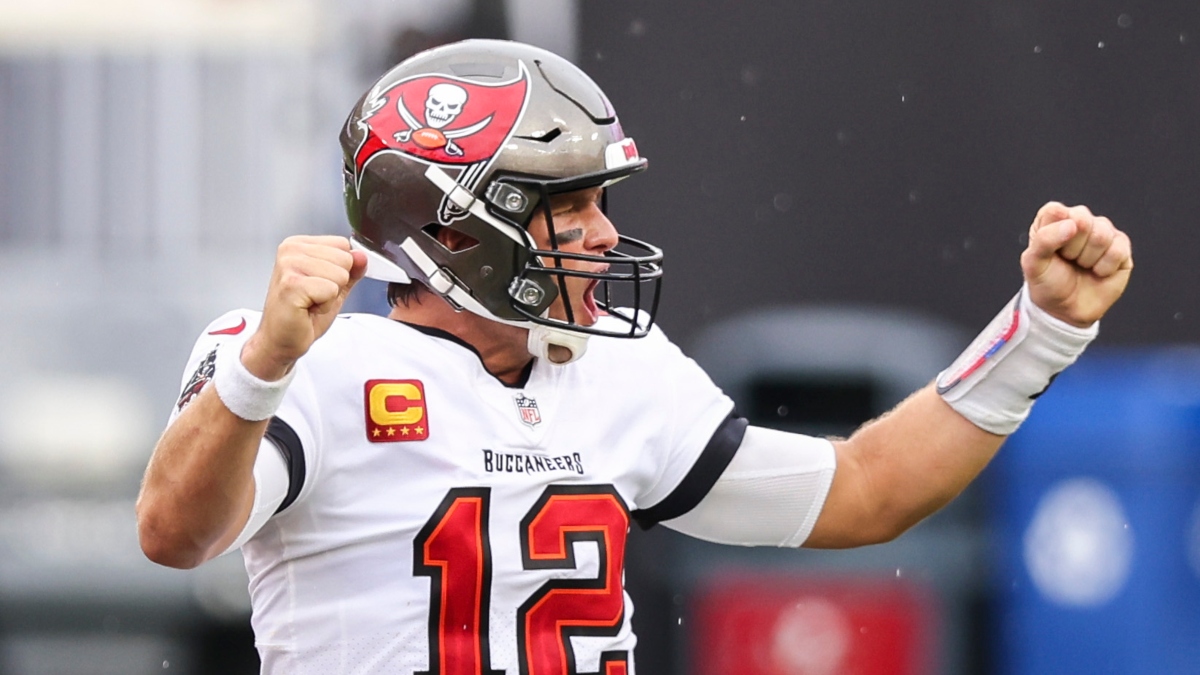 Finally, the Bucs match up well with what is increasingly looking like the NFC's most dangerous team: The Packers.
Tampa Bay slammed Green Bay 38-10 in Week 5, holding the Packers scoreless over the final three quarters. Aaron Rodgers is having an MVP-caliber season, but the makeup of the Packers receiving corps will always cause him to be vulnerable to a defense like Tampa Bay. The Bucs did lose to another top NFC team, falling to the Rams in Week 11, but by only three points — the same margin the Bucs lost to the most likely team they would meet in the Super Bowl, the Chiefs, and we know record in one-score games should even out.
Unlike the losses to the Rams and Chiefs, the Bucs' two losses to the Saints were not close (34-23 and 38-3), which is concerning. But the first did come in Week 1, when it would have been unfair to expect the Bucs to compete with the class of the NFC after an abbreviated offseason.
The second brings the Bucs' primetime struggles — they're 1-3 straight up and 0-4 against the spread in primetime — and the aforementioned game-planning issues into focus. There could be something to the Bucs' primetime struggles given that Brady's bedtime is 8:30, and he did make a pretty sleepy decision that sealed his team's fate in the Chicago loss.
But on the scale of "likely to repeat," Brady forgetting what down it is — or a team led by Arians, Bowles and Brady coming out unprepared for a third straight time against a division opponent — don't register highly.
Ultimately, the Bucs are a well-balanced team without any fatal flaws.
Their special teams hasn't been great (24th in DVOA), but that is much less worrisome than the Steelers' 20th-place ranking on offense — only two teams have made the Super Bowl with an offensive DVOA ranking worse than seventh over the past decade. Meanwhile, the Bucs rank fifth in offensive DVOA and are trending upward with a fourth overall rank in weighted offensive DVOA, which gives more weight to recent games.
The Bucs can absolutely get hot and go all the way.
It's A Good Time To Buy the Bucs
The Bucs close the season with two games against the Falcons with the Lions sandwiched in-between, meaning that the Bucs will play all interim coaches the rest of the way and have a good chance at winning out and going 11-5, which would most likely result in them moving up to the fifth seed and facing the lowly NFC East winner.
The Packers are in the driver's seat for the No. 1 seed, meaning the Bucs could conceivably face the Packers in the second round, another good matchup for the Bucs as non-divisional opponents that won the regular-season meeting are 54-38 in the rematch.
In the most likely scenario, the Bucs would have to overcome one major playoff hurdle to reach the Super Bowl: Beating either the Rams or Saints, both of whom they lost to in the regular season. There have been only seven playoff rematches between teams that lost both meetings since the NFL switched to the four-division format in 2002, and the team that lost the first has gone 2-7 straight up in the playoffs, though that is a small sample size.
Still, given how well the Bucs match up with the NFC's most-likely No. 1 seed, their combination of a top-five offense and defense (and the fact that many of their issues are correctable), the market looks to be underrating them — they have a better shot than most wild card teams of advancing to the Super Bowl.
At DraftKings, the Bucs' odds to win the NFC sit at +600 (tied for fourth) while their Super Bowl odds are +1400 (tied for seventh).
NFC Odds

Packers

+250

Saints

+275

Rams

+450

Seahawks

+600

Bucs

+600

Super Bowl Odds

Chiefs +180

+180

Packers +650

+650

Saints +700

+700

Rams +1100

+1100

Bills +1150

+1150

Steelers +1300

+1300

Seahawks +1400

+1400

Bucs +1400

+1400
Given that their remaining schedule is against teams with a combined 13-26 record entering Week 15, it's likely those odds will only creep up, so if you're a believer that Arians can overcome his love for biscuits at all costs and Brady's body clock can adapt, get your bets in now.
How would you rate this article?