Super Bowl 55 Odds Tracker: Biggest Risers & Fallers After NFL Free Agency Frenzy
Credit:
Wesley Hitt/Getty Images. Pictured: Tom Brady
The initial wave of NFL free agency has had ripple effects throughout the league, including on Super Bowl odds.
The leaders in the clubhouse remain the same with the Chiefs (+600), Ravens (+750) and 49ers (+900) the only three teams with odds better than +1000. But there have been some significant risers and fallers since teams started dealing and free agents started signing.
The biggest risers were the Buccaneers, whose odds have shot up from +5000 to +1800 following the news that Tom Brady intends to sign with Tampa Bay. And of course at the other end of that are the Patriots, who saw their odds fall from +1400 to +1800.
Below we've outlined the latest odds for all 32 teams in order of which got the biggest boost from their moves to which have seen theirs dip the most since the new league year started on Monday.
---
Current odds as of Thursday afternoon and via DraftKings. Get up to a $1,000 sign-up bonus at DraftKings today or see more offers and reviews for the best online sportsbooks.
---
Super Bowl 55 Odds Tracker
Before digging into the odds by biggest risers to fallers, here's a quick snapshot of how Super Bowl 55 odds have evolved since opening.
Super Bowl 55 Odds After NFL Free Agency
Note: Ordered from biggest risers to fallers in terms of the difference in implied probabilities between pre- and post-free agency odds.
Tampa Bay Buccaneers
Current Super Bowl Odds: +1800 (5.26% implied probability)
Pre-Free Agency Odds: +5000 (2%)
Difference: +3.26%
San Francisco 49ers
Current Super Bowl Odds: +900 (10%)
Pre-Free Agency Odds: +1000 (9.09%)
Difference: +0.91%
Buffalo Bills
Current Super Bowl Odds: +2800 (3.45%)
Pre-Free Agency Odds: +3500 (2.78%)
Difference: +0.67%
Baltimore Ravens
Current Super Bowl Odds: +750 (11.76%)
Pre-Free Agency Odds: +800 (11.11%)
Difference: +0.65%
Indianapolis Colts
Current Super Bowl Odds: +2800 (3.45%)
Pre-Free Agency Odds: +3300 (2.94%)
Difference: +0.51%
Arizona Cardinals
Current Super Bowl Odds: +5000 (2%)
Pre-Free Agency Odds: +6600 (1.49%)
Difference: +0.51%
Denver Broncos
Current Super Bowl Odds: +4000 (2.44%)
Pre-Free Agency Odds: +5000 (2%)
Difference: +0.44%
Los Angeles Chargers
Current Super Bowl Odds: +4000 (2.44%)
Pre-Free Agency Odds: +5000 (2%)
Difference: +0.44%
Miami Dolphins
Current Super Bowl Odds: +8000 (1.23%)
Pre-Free Agency Odds: +10000 (1%)
Difference: +0.23%
Carolina Panthers
Current Super Bowl Odds: +7000 (1.41%)
Pre-Free Agency Odds: +7000 (1.41%)
Difference: 0%
Chicago Bears
Current Super Bowl Odds: +4000 (2.44%)
Pre-Free Agency Odds: +4000 (2.44%)
Difference: 0%
Cincinnati Bengals
Current Super Bowl Odds: +10000 (1%)
Pre-Free Agency Odds: +10000 (1%)
Difference: 0%
Cleveland Browns
Current Super Bowl Odds: +3300 (2.94%)
Pre-Free Agency Odds: +3300 (2.94%)
Difference: 0%
Dallas Cowboys
Current Super Bowl Odds: +1800 (5.26%)
Pre-Free Agency Odds: +1800 (5.26%)
Difference: 0%
Detroit Lions
Current Super Bowl Odds: +6600 (1.49%)
Pre-Free Agency Odds: +6600 (1.49%)
Difference: 0%
Kansas City Chiefs
Current Super Bowl Odds: +600 (14.29%)
Pre-Free Agency Odds: +600 (14.29%)
Difference: 0%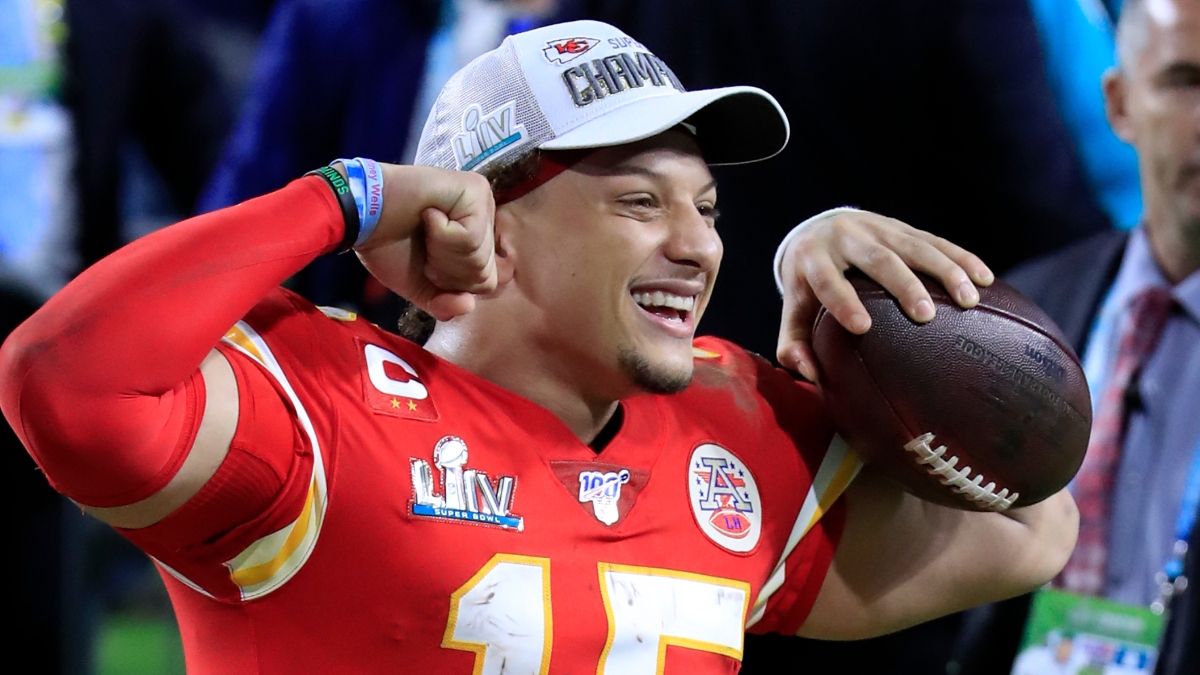 Las Vegas Raiders
Current Super Bowl Odds: +4000 (2.44%)
Pre-Free Agency Odds: +4000 (2.44%)
Difference: 0%
New York Giants
Current Super Bowl Odds: +6600 (1.49%)
Pre-Free Agency Odds: +6600 (1.49%)
Difference: 0%
New York Jets
Current Super Bowl Odds: +7000 (1.41%)
Pre-Free Agency Odds: +7000 (1.41%)
Difference: 0%
Seattle Seahawks
Current Super Bowl Odds: +2000 (4.76%)
Pre-Free Agency Odds: +2000 (4.76%)
Difference: 0%
Washington Redskins
Current Super Bowl Odds: +10000 (0.99%)
Pre-Free Agency Odds: +10000 (0.99%)
Difference: 0%
Tennessee Titans
Current Super Bowl Odds: +3000 (3.23%)
Pre-Free Agency Odds: +2800 (3.45%)
Difference: -0.22%
Jacksonville Jaguars
Current Super Bowl Odds: +10000 (0.99%)
Pre-Free Agency Odds: +8000 (1.23%)
Difference: -0.24%
Philadelphia Eagles
Current Super Bowl Odds: +1800 (5.26%)
Pre-Free Agency Odds: +1700 (5.56%)
Difference: -0.30%
Green Bay Packers
Current Super Bowl Odds: +2200 (4.35%)
Pre-Free Agency Odds: +2000 (4.76%)
Difference: -0.41%
Atlanta Falcons
Current Super Bowl Odds: +4000 (2.44%)
Pre-Free Agency Odds: +3300 (2.94%)
Difference: -0.50%
Pittsburgh Steelers
Current Super Bowl Odds: +2800 (3.45%)
Pre-Free Agency Odds: +2200 (4.35%)
Difference: -0.9%
Los Angeles Rams
Current Super Bowl Odds: +2800 (3.45%)
Pre-Free Agency Odds: +2200 (4.35%)
Difference: -0.9%
Minnesota Vikings
Current Super Bowl Odds: +2500 (3.85%)
Pre-Free Agency Odds: +2000 (4.76%)
Difference: -0.91%
Houston Texans
Current Super Bowl Odds: +5000 (1.96%)
Pre-Free Agency Odds: +3300 (2.94%)
Difference: -0.98%
New Orleans Saints
Current Super Bowl Odds: +1400 (6.67%)
Pre-Free Agency Odds: +1200 (7.69%)
Difference: -1.02%
New England Patriots
Current Super Bowl Odds: +1800 (5.26%)
Pre-Free Agency Odds: +1400 (6.67%)
Difference: -1.41%