2018 MLS Cup Odds and Season Preview
Credit:
Ron Chenoy-USA TODAY Sports
The 2018 MLS season begins this Saturday, March 3rd, and consists of 34 regular season matches for each club (17 home and 17 away). Conference opponents will face each other at least twice, and non-conference opponents will meet once. The regular season ends on October 28th when all clubs play at the same time to make things spicy, and the playoffs conclude with the MLS Cup Final on December 8th.
Last year's MLS Cup was won by Toronto FC over Seattle Sounders 2-0, and it was a rematch of the 2016 MLS Cup where Seattle survived Toronto to win in penalty kicks. Both Toronto and Seattle were title favorites throughout much of last year, but bettors were still able to get good prices during the season compared to preseason. Here's a look at the odds for each Cup Final team over the last three seasons.
Last year, the midseason odds on both Toronto and Seattle were slightly worse than preseason, but not too far off. In 2016, bettors were able to get much better odds on Toronto and Seattle during the season compared to preseason, and in 2015, both Portland and Columbus were still available at +1200 midseason.
MLS is more unpredictable than other sports, as clubs are able to get hot in the second half of the year and make a run into the playoffs.
For 2018, here's a look at the odds at Westgate for each team along with a brief season outlook and a couple worth betting.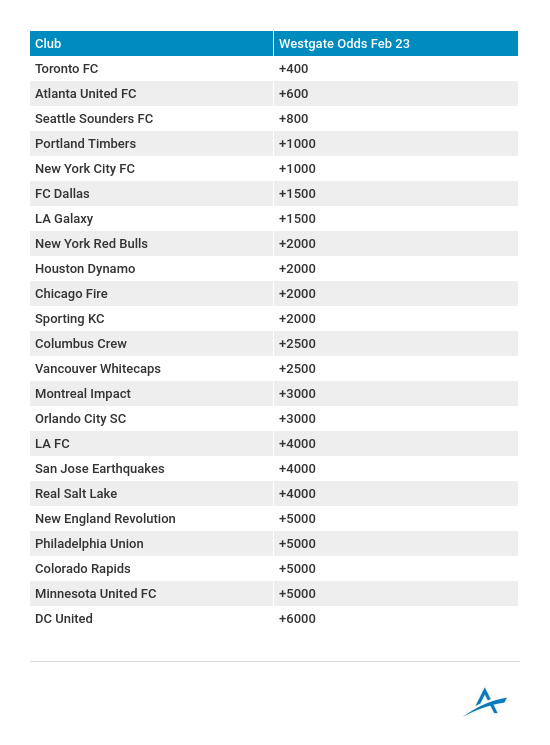 Favorites
Toronto FC (+400)  Toronto put together one of the greatest, if not the greatest, seasons in MLS history. The Canadian club finished with a 69-point regular season, twelve points ahead of the next-best NYCFC, and finished the year with an MLS Cup win over the Seattle Sounders. This season they still have an incredibly strong squad including the best player in the league, Sebastian Giovinco, alongside Jozy Altidore and Michael Bradley, two known names in American soccer. Barring major injuries for big chunks of the season, this team should finish top-3 in the conference heading into the playoffs.
Atlanta United (+600) The second-year club had a great opening season in 2017 and they return a strong lineup with a solid head coach (Tata Martino). Atlanta were really exciting last year, especially the buzz and atmosphere at home, but struggled at the end of the season and failed to score in their home playoff game, losing 3-1 in penalties to Columbus Crew. Heading into 2018,  forward Darlington Nagbe was a big acquisition with the loss of midfielder Carlos Carmona, and they have plenty of offensive firepower yet again. At +600 they're priced correctly so if they struggle early you'll be able to grab better odds. They do appear like a very trendy pick to win it all this year, so you may want to avoid them if going contrarian.
Seattle Sounders (+800) The Sounders were stellar last year and made a big run through the playoffs until being outplayed in a 2-0 loss at Toronto FC in the MLS Cup Final. Until recently, I hadn't see any glaring weaknesses in the club for 2018, and would've expected them to make the Western Conference playoffs fairly easily. However, news just broke that forward Jordan Morris will be out for the season with a torn ACL in his right knee, which significantly alters things. Their odds will likely move to at least +1000 following the injury. Avoid betting on Seattle for now.
New York City FC (+1000) NYCFC are strong again, but replacing Andrea Pirlo and Jack Harrison will be vital. They should have a deep enough squad to remain successful and make the playoffs under head coach Patrick Vieira.
Portland Timbers (+1000) The Timbers lost head coach Caleb Porter and forward Darlington Nagbe, their top scorer, but have one of the best and deepest midfields along with a solid defense. In a weaker Western Conference, I expect them to finish top-3 and comfortably in a playoff position.
FC Dallas (+1500) FC Dallas had a disappointing finish to last season and missed the playoffs entirely, but they're not far off and did make improvements defensively in the offseason. Bookmakers are clearly high on them this year after missing the playoffs in 2017, and their upside is worth the +1500 payout in my opinion.
New York Red Bulls (+2000) The Red Bulls lost key pieces in midfielder Sacha Kljestan and forward Mike Grella, but could still get back to their 2016 form. The downside is that they have a lot of young homegrown players who may not perform straight away. Like many MLS teams, it's hard to predict where this club will finish– they could be a top-2 team in the conference, or completely miss the playoffs, and neither would be too surprising. I'd pass on taking them at +2000, but wouldn't completely rule them out during the season at higher odds.
Darkhorses
LA Galaxy (+1500) LA was terrible defensively last season but have plenty of talent this year and have to be improved by default. However, they aren't the LA Galaxy of old, and I'm not confident they even make the playoffs in 2018. Their name recognition will attract public bettors, but I'd avoid betting them to win the MLS Cup.
Chicago Fire (+2000) The acquisition of Bastien Schweinsteiger last season seemed to invigorate Chicago. While they didn't make a splash this offseason, fans should like where they're at as an organization. At +2000 odds, I'd keep an eye on the Fire to make a run into the playoffs.
Houston Dynamo (+2000) The Dynamo should play a 4-3-3 formation which is always fun, but a potent attack isn't enough to win in MLS.  This club also had the same issues as the New England Revolution last season– allergic to road victories– as they both finished with just 1 road win all year. One would think that things have to improve from that, right? Picking up more points on the road will help their playoff standing, but I wouldn't pull the trigger on +2000 to win the title.
Sporting KC (+2000) This was my pick heading into the 2017 season but they were knocked out of the first round to Houston.  They're solid defensively again in 2018 and will go as far as their forwards take them. Their playing style is to pressure every part of the field, a style that's fun to watch but may take a toll during the season. I'm still more optimistic than pessimistic about Sporting KC heading into the season.
Vancouver Whitecaps (+2500) Another club that is wildly different this year than last year, and will barely be recognizable. However, they acquired one of the top strikers from New England (Kei Kamara) who should fit in much better in their system. Despite their success last year, Vancouver could be in for a letdown season so I wouldn't touch the +2500 odds right now.
Columbus Crew (+2500) The Crew survived another year in Columbus and brought in established players like Gyasi Zardes, Mike Grella and Ricardo Clark. They're more solid at forward/midfield than defense, which always worries me a bit when looking at teams that can win it all. They're one of numerous teams who should be battling for a playoff spot in the tough Eastern Conference.
Montreal Impact (+3000) I was high on them last season but they never put it all together and ended up missing the playoffs entirely. They've turned over a lot of the squad so it's hard to know if that'll translate to success, though it probably couldn't be more disappointing than last season.
Orlando City SC (+3000) Orlando City brought in talent like Oriol Rossell, Stefano Pinho, Justin Meram, Dillon Powers and Sacha Kljestan, but lost the big name stars in Cyle Larin and Kaka which undoubtedly have an impact. Larin was one of the best forwards in the league and Kaka helped attract fans, so I don't feel great about the club heading into the season.
Longshots
Real Salt Lake (+4000) One of the perennial unknowns in the league, Real Salt Lake are a fun young team with eight academy players. The team thrived under new head coach Mike Petke last season, and I think they can make the playoffs in the Western Conference, so +4000 are decent odds to grab before the season.
San Jose Earthquakes (+4000) The Earthquakes were somewhat lucky to have made playoffs last year based on a -21 goal differential, but most metrics say that was a bit overstated. Still, the fact that oddsmakers pit them at +4000 to win the title means there's not a whole lot of optimism heading into 2018. I'm pessimistic along with the market and wouldn't bet them to win the Cup.
LA FC (+4000) This will be LA FC's inaugural season which includes owners Will Ferrell, Magic Johnson, and Mia Hamm, head coach Bob Bradley, as well as notable international players like Mexico's Carlos Vela, Belgium's Laurent Ciman, and USA's Benny Feilhaber and Walker Zimmerman. Last year Atlanta proved that expansion clubs can be successful, but Minnesota proved how tough it can be. If they weren't based in LA, their odds may be closer to +5000 so I'll be laying off them.
Philadelphia Union (+5000) One site actually compares this 2018 Philadelphia team to a Leicester City title run but I'm not sold on them personally. They hardly made any moves in the offseason and there's nothing to get excited about. Pass for me.
Minnesota United (+5000) They didn't enjoy the same success as Atlanta United in their debut season, and things don't look too promising this year either. They've got cool looking uniforms, but that's about it.
New England Revolution (+5000) The Revs were horrible on the road last season and very leaky defensively. Despite lots of talent at forward/midfield, it's yet to translate into success, so they've brought in new head coach Brad Friedel this year to change things.  There's an ongoing saga involving star midfielder Lee Nguyen which would be a huge loss, and they already let forward Kei Kamara go. As a local supporter, last year was an incredibly frustrating season to watch, as blown road leads and red cards galore took them out of matches completely. They've missed the playoffs the last two years but could surprise teams this season, especially if they can pick up some road points. At +5000 I'm keeping my eye on the Revs.
Colorado Rapids (+5000) The bad news is that they were awful last season. The good news is that they have a new manager and a ton of new players, so at least there's something different to look forward to. I wouldn't expect them to be title contender, but it's possible they could sneak into the playoffs.
DC United (+6000) DC United were awful last season and didn't do enough defensively to improve. Don't expect a shocker from United this year.
(Cover photo is Colorado Rapids' goalkeeper Tim Howard)
How would you rate this article?