Premier League Betting: Finding Value In the Relegation Market
According to the betting markets, the battle for relegation in the Premier League will be tight.
Rafa Benitez's Newcastle put together an impressive campaign in 2017-18 but things aren't looking stable this season.
Among the favorites, Cardiff City seems destined for the drop, but there is more value with Watford at +210.
Bookmakers expect there to be a crowded field at the bottom of the Premier League table this season. Only eight teams are longer than +800 to avoid the drop. The cutoff lies right between Leicester City, who are the bottom of that top eight at +1400, and West Ham and Wolverhampton, who are tied with the longest odds of the bottom 12 at +825. That's a huge gap, one that clearly delineates who we should be expected to be safe from the drop, and who is at risk. Let's take a look at the Premier League's "little 12."
---
>> Download The Action Network App to get real-time Soccer odds, track your bets and follow all of our experts' picks.
---
The Relative Longshots
West Ham +825
The Hammers added a new high-class manager in Manuel Pellegrini and a legitimate potential star in Felipe Anderson. The upgrades should be enough to keep them safe after mostly remaining above the relegation fray last year on their way to a 13th-place finish and 42 points. If things go sideways, it will be because their midfield, a thin unit that was only bolstered by Jack Wilshere this summer, doesn't hold up.
Wolverhampton +825
It might seem surprising to see a newly promoted team with such long odds against relegation, but Wolves' strategy of investing heavily in big-time Portuguese talents, thanks to superagent Jorge Mendes, is paying off. They absolutely blew away the competition in the Championship last season and then added Rui Patricio and Joao Moutinho this summer. Handing your club over to a superagent might be shady, but it gets results.
Southampton +700
Another surprise at relatively long odds, Southampton barely survived last season, finishing 17th with 36 points. They were only three points clear of Swansea and Stoke, both of whom were relegated. The reason they're at +700 is that for most of last season their numbers were somewhat better than their results. And that's true: They conceded 56 goals, about 9.5 more than expected goals predicts, and scored 37, five fewer.
But Southampton also changed their team dramatically in the wake of last season. Mark Hughes took over as manager down the stretch, and this summer Dusan Tadic and Sofiane Boufal departed and haven't really been replaced. So it's quite likely that Southampton might be worse this year than last, though last season's results were a harsh reflection of their underlying ability. Still, at +700, markets seem to think last season was a blip and Southampton will return to midtable form. It seems equally likely that it signaled the beginning of a decline, and if things go even a little bit wrong this season, they'll be back to battling for their Premier League lives.
Best Bet: Southampton +700
---
Definitely At Risk
Crystal Palace +550
Everything that could go wrong for Palace did last season. They had a disastrous start, changed managers, had an injury-riddled ride, losing key players for long stretches, and still managed to finish in 11th place despite being dead last for long stretches of the first half of the season. Ruben Loftus-Cheek was an important part of their attack, but his loan ended and he'll be missed. Other than that, Palace seem set to bring back all the major pieces they had last season. (Yohan Cabaye also left, but he's old, and youngster Max Meyer from Schalke is almost certainly an upgrade.) It's hard to see why their relegation price is shorter than Southampton's. They had a better season, better underlying numbers, continuity at manager and roughly the same amount of talent loss. Despite their roller-coaster season, Palace were a fine team last year. They should be again.
Newcastle +500
Usually a newly promoted team that finished 10th wouldn't need to strengthen their squad. But Newcastle are taking that idea to extremes. Manager Rafa Benitez has been publicly complaining about the lack of reinforcements, and owner Mike Ashley has steadfastly refused to invest. The only significant signing has been Yoshinori Muto from Mainz. On talent alone, Newcastle are probably good enough to survive, although a number of teams who finished below them have added talent this summer, but there's a pretty high crazy quotient under Ashley.
It wouldn't be entirely surprising to see Benitez not survive the year, possibly by his own choice, and the wheels entirely fall off. Newcastle are a totally fine team; they're just also a team that might absolutely collapse under the weight of a terrible owner.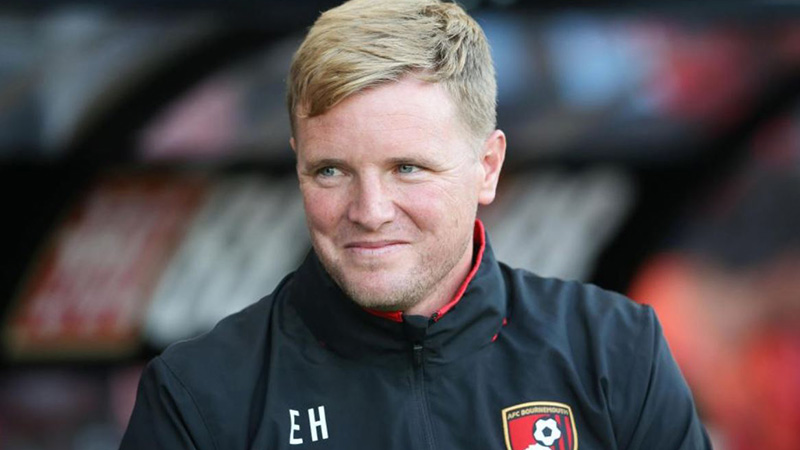 Bournemouth manager Eddie Howe
Bournemouth +500
They weren't that good last season, and they haven't made themselves better this summer. It's exceedingly hard to tread water in the bottom half of the Premier League.
Burnley +400
The most fascinating team in the Premier League. This squad finished seventh last season and qualified for the Europa League. They also scored 36 goals — the sixth-lowest in the Premier League — and that was still three more than the almost 33 goals their expected goal totals projected. Markets clearly don't have faith in manager Sean Dyche's defensive magic. At 39 goals conceded, Burnley had the sixth-best defensive record in the league, but that's somewhat tempered by the fact it was 13 fewer than their expected goals.
Dyche has a reputation as a defensive magician, and there's some thought that perhaps his strict conservative positioning has unlocked hidden gains that expected goals misses. However, it's worth noting that Burnley's jump from 16th two seasons ago to seventh last year was built almost entirely on outrunning defensive expected goals. When they finished 16th, they conceded 55 vs. 55 expected, and then they finished seventh after conceding 39 vs. 52 expected.
The fact that they're so short for relegation clearly is an indication that oddsmakers see last season as a variance-driven fluke and expect Burnley to struggle as a light-scoring, hard-defending, but ultimately relegation-threatened side. Dyche has done enough over two years to suggest at least some of what Burnley brought to the table is real and repeatable. Don't expect seventh again, but a slide to 13th or 14th seems more likely than a relegation battle.
Best Bet: Newcastle +500
---
>> Sign up for The Action Network's daily newsletter to get the smartest conversation delivered into your inbox each morning.
---
Fighting For Their Lives
Brighton +250
Brighton had a solid first season after promotion, finishing in 15th with 40 points. They've since been very aggressive about building up their squad, adding in defense, midfield and most crucially in attack. Alireza Jahanbakhsh, the leading scorer in the Eredivisie (the top league in the Netherlands) last season, brings exactly the kind of creative attacking skills Brighton needs. That's not to say he'll easily make the transition.
Many attackers have failed when they leave the open spaces of the Eredivisie for the more defensive confines of England. But this number almost certainly hinges on how Jahanbakhsh adjusts. If he comes in and really gives Brighton a creative spark, then they should be more assured to stay up than this number. If he struggles, Brighton will be fighting all season long.
Fulham +220
Fulham are invested in playing a pretty style. They've added Jean Michael Seri and Andre Schurrle to bolster their play on the ball, and tacked on Alfie Mawson in defense. Playing fun soccer near the bottom of the table is great for fans, but it's a scary proposition. Trying to keep the ball while not having enough talent to pull it off is often a recipe for getting shredded by better teams. It should be fairly straightforward to tell early on whether Fulham are about to spend the season being overmatched, or if their slightly more expansive style of play can pay dividends against the better competition in the Premier League.
Watford +210
They have a good defensive manager in Javi Gracia, and underwhelming attacking talent, an even bigger problem than last year with Richarlison now gone to Everton. Watford feel like a typical newly promoted side rather than one that's enjoyed several years of decent performances in the Premier League. They're rightfully at risk.
Huddersfield Town +110
Huddersfield have worked hard to add talent after managing to survive last season. They had a whopping -30 goal differential, the second-worst in the Premier League, so they're going to need to improve to survive. If they'd had a transfer window like Fulham's, full of possible stars, then maybe there would be a case for more optimism. But instead they've spent on the kinds of solid defensive additions and castoffs, like Ramadan Sobhi from Stoke, that look designed to help them weather a relegation battle, not avoid one. The field is wide open, so they could survive, but it'll be a season-long scrap.
Cardiff -150
They're terrible. They played a terrible brand of long ball, physical soccer in the Championship that worked because they executed well and beat the snot out of opponents. It's not a style that translates to the Premier League, where the better teams are also bigger and stronger.
Best Bet: Watford +210
How would you rate this article?