Premier League Betting Notebook: Spurs and Chelsea Look Like Legitimate Title Contenders and Why You Should Buy Low on Brighton
Credit:
Charlotte Wilson/Offside/Offside via Getty Images. Pictured: Gareth Bale
The Premier League season is on the second international break of the season, with most of the league having played eight of 38 games thus far in the 2020-21 campaign. Four teams (Manchester City, Manchester United, Burnley and Aston Villa) have played seven and have a game in hand on the rest of the competition.
Unlike last season when Liverpool ran away with the league title early, there are six teams within three points of the league leaders Leicester City.
While eight games is a small sample size, it's more than 20 percent of the season, and it's about the time we can start to draw conclusions about how good or bad teams are.
Here are 10 takeaways from the first two months of the Premier League season that can help you bet the league when it returns on Nov. 21:
1. There are very troubling underlying signs for Pierre-Emerick Aubameyang and Arsenal
Arsenal sit in the mid-table with four wins and four losses eight games into the season. Their 12 points puts them 11th in the league, though losses to Leicester, City and Liverpool are hardly a disaster for the Gunners. However, the underlying numbers are quite troubling.
---
Expected goals (also known as xG) is an advanced statistic that gives an indication of whether results are based on sustainable factors like a steady creation of scoring chances, or whether it is down to aspects such as luck or outstanding goalkeeping.
---
Mikel Arteta's decision to line-up his top attacking player, Pierre-Emerick Aubameyang, out on the left flank is not working. Aubameyang has registered just 0.59 non-penalty expected goals in 717 minutes this season. Aubameyang was one of Europe's most prolific strikers for many years. Not anymore.
Below is Auba's offensive profile since he arrived at Arsenal from Borussia Dortmund in the 2017-18 season by non penalty xG (NPxG).
2017-18 with Dortmund: 0.86
2017-18 with Arsenal: 0.65
2018-19: 0.65
2019-20: 0.42
2020-21: 0.07
The Aubameyang decline could be partially explained by him moving out of the center and to the left, but he's also beyond his age peak at 31 years old.
The result of Aubameyang's decline has cascading effects down the rest of the team. Arsenal won't produce enough shots if their talisman is not creating opportunities. Aubameyang has yet to take more than three shots in a single game.
Arsenal rank sixth lowest in pressing intensity, based on passes per defensive action. They may have won a trophy with manager Mikel Arteta, but their xG numbers are getting progressively worse, and they are attempting fewer shots per game than Burnley. They're relying on chance conversion rate, which ranks near the top of the league right now, but is not sustainable.
Betting takeaway: There are flashing red lights suggesting you may want to fade Arsenal in their upcoming fixtures, and I'll be looking to do so as well.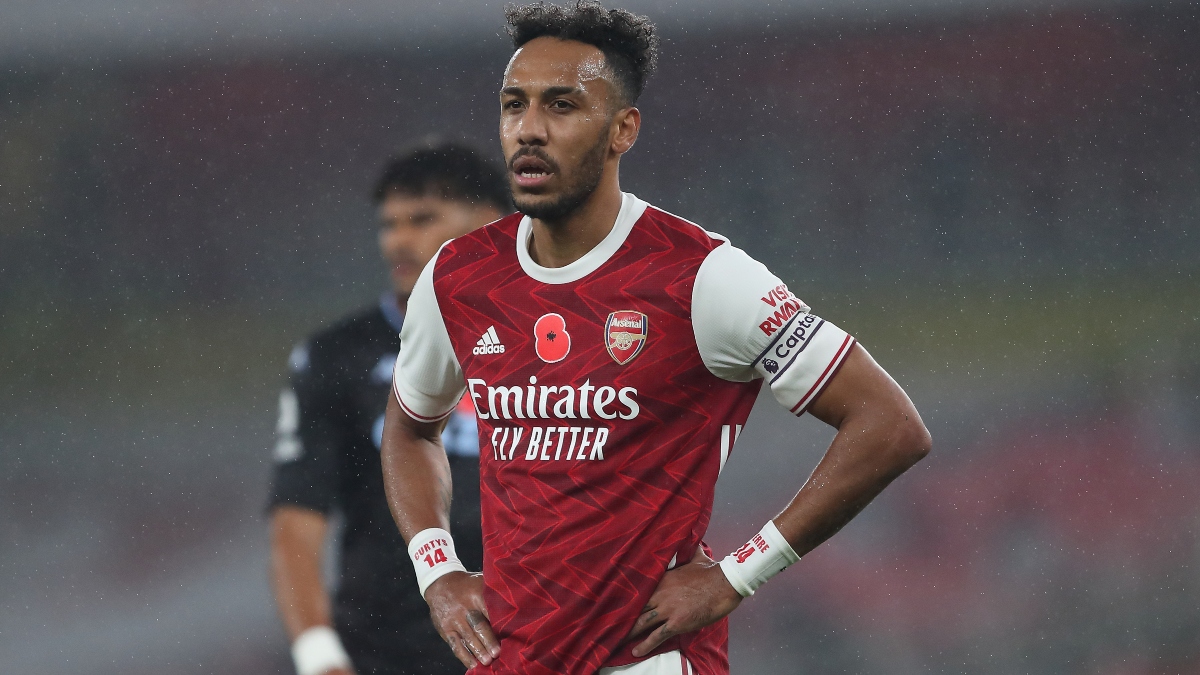 ---
2. Injuries are mounting, but Liverpool is still the league's best team
A few years ago, or maybe even last season, injuries to Fabinho and Virgil van Dijk would have wrecked Liverpool's play style, hurt their ability to control games and left them vulnerable.
While they are certainly not as good without them, they are better able to cope without them now because most of their game control comes through the midfield.
Manager Jurgen Klopp has learned to slow the game and sacrifice some shots for some control, and Liverpool look like the league's best team.
Yes, the defensive regression has hit, and hit even before van Dijk was hurt. They've conceded 16 goals from 10.04 xGA, but with Allison back, they should positively regress defensively.
What's most impressive about the Reds is the progressive passes and control of the opponent's penalty area they have. Liverpool has completed 32 more passes than any other team in the PL from within 20 yards of the opponents' goal. Defensively, they have conceded the fewest, along with Manchester City.
This is a testament to three players, who are among the best at progressive passing and ball progression in the world: Mo Salah, Andy Robertson and Trent Alexander-Arnold. It's why Liverpool are first in xG difference and xGF/90. They've played 80 more progressive passes than any other team, mainly because those three rank in the top 10 in the league individually.
Liverpool won the league partially because they avoided injuries to all of their key players last season. Alexander-Arnold's injury is a concern now, but if the main core of full backs and wide attackers (including Sadio Mane) stay healthy, they have enough through the midfield and front to win this league.
Betting takeaway: Liverpool's injuries are likely to be overrated in the market
---
3. Move over Manchester United, Leicester City are the 2020-21 penalty darlings
Because 76% of penalties are scored, and the games are generally pretty low scoring in soccer, penalties have an immense impact on the perceptions of teams. Manchester United finished top four last year because they had a record number of penalties.
So far, Leicester City are on top of the league because of penalties. It's generally random and subject to very high variance who gets penalties, and there's no reason to think the Foxes are doing anything different to win them more often.
When regression does hit, the Foxes underlying numbers are a bit worrisome. They've had eight penalties called for them, scoring seven. Only once has a penalty decision gone against them, and it was not scored.
Therefore, Leicester is third in xG difference per 90 minutes. When we control for penalties, and take them out of the sample, the Foxes drop to 14th. Penalties are dramatically impacting the narrative of this very average team thus far.
The dropoff in performance is undeniable in attack. The Foxes dropped from fifth last season to 12th this season in progressive passes completed. The loss of Ben Chillwell to Chelsea, injury to Ricardo Periera and intermittent absence of James Maddison is impossible for them to replace.
Plus, Jamie Vardy's NPxG/90 has dropped from 0.50 to 0.40. It may not seem like much, but he's been less effective this season when he's not getting penalties.
They are prime for significant offensive regression, even if their defense remains excellent.
Betting takeaway: Leicester City aren't nearly as good as their spot in the table indicates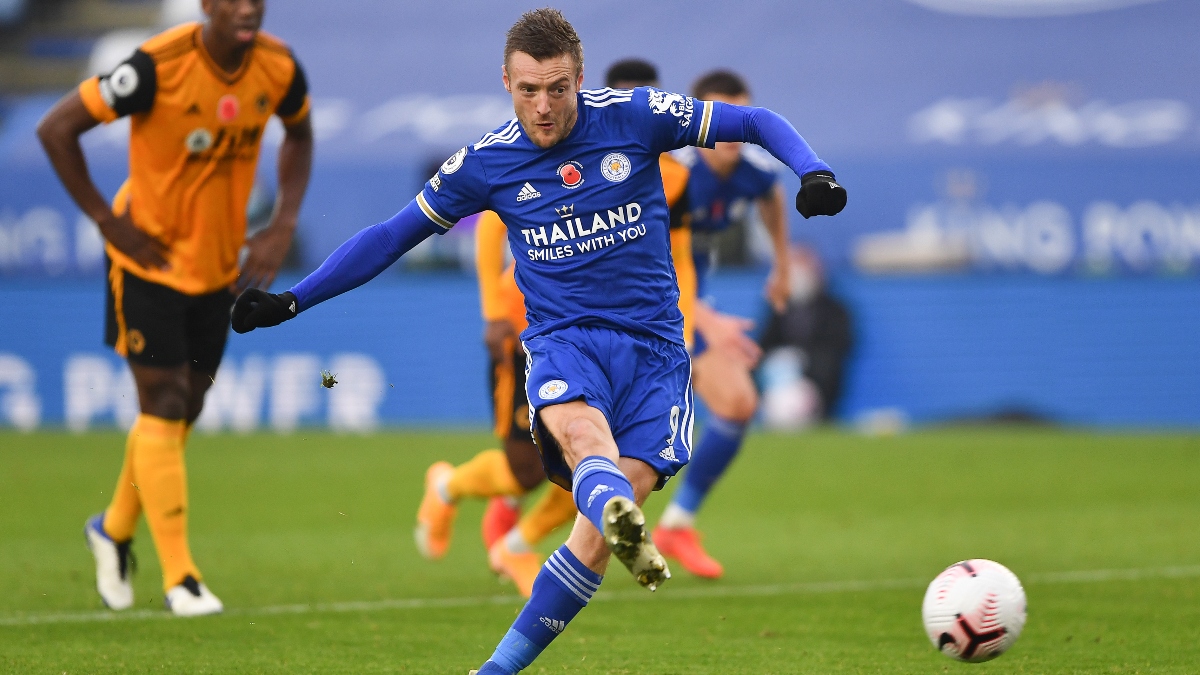 ---
4. Manchester City are playing differently, and the market hasn't caught on…yet
Manchester City have dominated the xG charts in the Premier League for years. Lots of shots, lots of goals, lots of points, two PL titles. But the 2019-20 season exposed a glaring weakness for manager Pep Guardiola, and that is the ability to get easily counter-attacked.
He's turned to a more controlled, less shots per game style to combat this. City are content winning games 1-0, or 2-0, or 2-1, instead of trying to pile on the goals. The partnership of Rúben Dias and Aymeric Laporte has improved in each game they've played together.
Since Leeds ripped them open, they've allowed four total xG in eight matches, and only allowed more than one xG once, in the tie with Liverpool at the weekend where Kyle Walker gave away a penalty.
The markets are still showing too much respect to City's attack because of past seasons:
2017-18: 2.10 xG per 90 minutes
2018-19: 2.15
2019-20: 2.45
2020-21: 1.43
The dropoff is noticeable because they're also just getting way fewer shots this year. It's the first season under Guardiola they are not first in shots per game.
Betting takeaway: Look to play Manchester City unders
---
5. West Brom is really, really bad. Fulham is just bad.
Entering the season, I projected West Brom and Fulham as the league's two worst teams. Through eight games, West Brom definitely is, and Fulham is close. WBA ranks last in xG, last in xG difference, and second to last in xGA. They don't have nearly enough attacking options to remain in this league and are headed straight back to the Championship.
As for Fulham, the results of late are not quite as bad as they were early on in the season. In retrospect, how bad does the 3-0 thrashing at the hands of Arsenal look given what we know about the Gunners? Fulham are middle of the league in shots, middle in progressive passes.
The defensive issues remain and I still believe they are more likely than not to be relegated, but they have enough firepower and shots to give themselves a chance. I'll be looking to bet on them against some of the league's other bottom feeders given their team's profile.
Betting takeaway: West Brom is +200 to finish bottom on DraftKings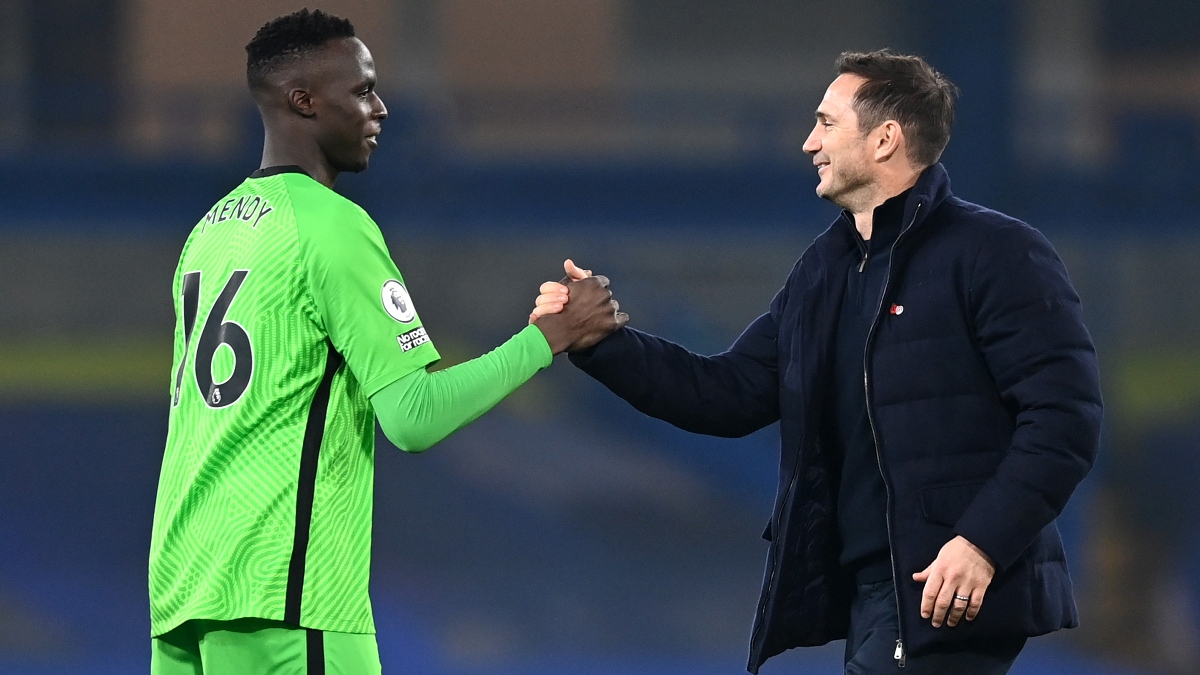 6. Chelsea have all the makings of a sleeping giant
With just two wins from their first six matches, it would have been fair to mock me for betting Chelsea to win the title before the season. Things have changed, though.
They're still not the best team in the league, but to me, Chelsea are certainly in the top four and will be in the mix. The summer signings are finally clicking, and this team looks improved across the pitch.
At the back, anyone is an improvement on Kepa Arrizabalaga, including new keeper Edouard Mendy. Kurt Zouma and Thiago Silva are finally working well together, as the Blues have allowed less than 0.7 xGA in six consecutive games.
With the defensive problems remedied, our attention turns to Chelsea's list of good attackers. Hakim Ziyech has made an immediate impact through chance creation and expected assists. Timo Werner is a proven shot monster. Tammy Abraham is on the verge of breakout stardom. They also have Christian Pulisic, Kai Havertz and Mason Mount floating around. A potential front three of Ziyech, Werner, Abraham, with Havertz and Mount in the midfield is a dynamic attack.
They rank fifth in progressive passes, fourth in shots per game, and fourth in xG. Let's see what happens going forward, but my optimism for Chelsea's title chances has never been higher.
Betting takeaway: Chelsea at +800 or better is worth a look to win the league
---
7. Brighton are way too low in the Premier League table, and they're not going to stay there
Manager Graham Potter plays the kind of football that isn't typical of a club like Brighton. The results early on were rocky, and many wondered if he'd survive. Looking at the Seagulls now, it's remarkable they have just one win.
Every other metric will tell you this is a top-half team based on performances. Yet they have four points. According to Understat's xPoints, they rank fifth. They've conceded five more goals than they should have, based on xG, and are one of the league's only teams to not benefit from the absurdly good finishing rates that have defined the early PL season.
Brighton are winless in five, and have outplayed the opponent on xG in four of those five games. They rank fifth in progressive passing, press with the third-highest intensity in the league, eighth in shots per 90 and rank fifth in passes completed within the opponents' 20 yards of goal.
My model shows value on them almost every match, and I'm about convinced that either Brighton and Graham Potter are cursed, or the better results are on the way.
I'll be betting on Brighton quite a bit in upcoming weeks.
Betting takeaway: Brighton are way undervalued in the market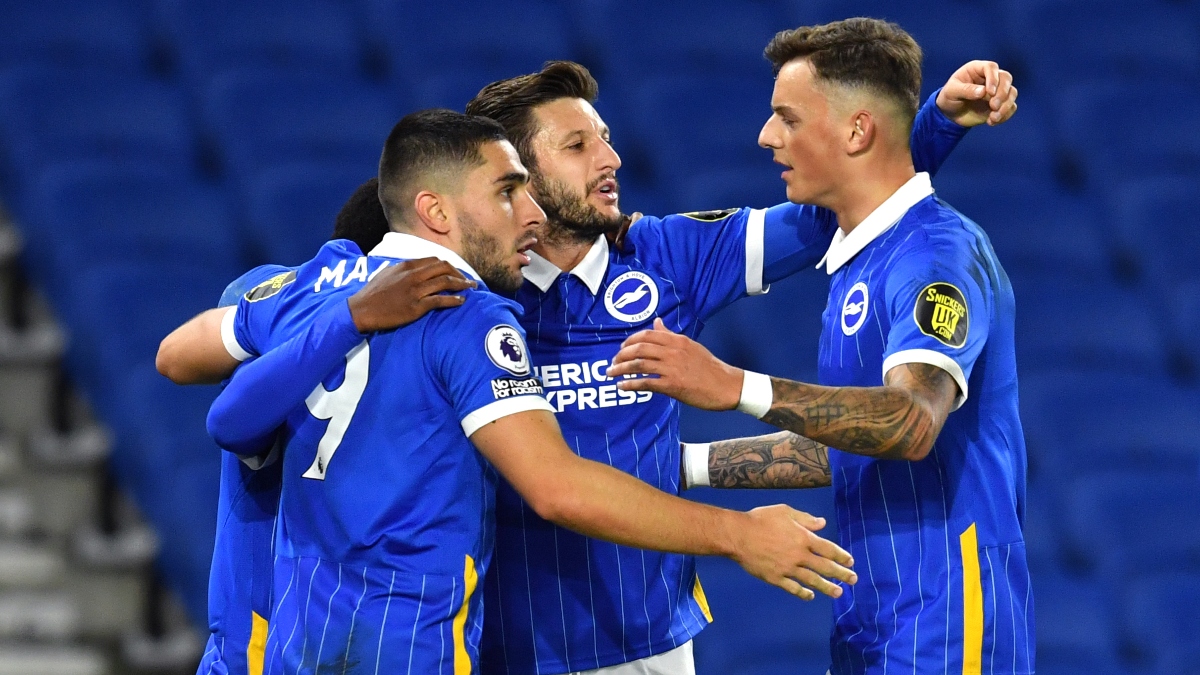 8. Away teams are winning at a ridiculous rate
A quick look through the Action Network's Bet Labs data gives light to a fascinating trend that hasn't existed in previous Premier League seasons. Away teams have won 34 of the 78 games so far this season, good for a 34% ROI and a scoring margin of 0.19 goals per game.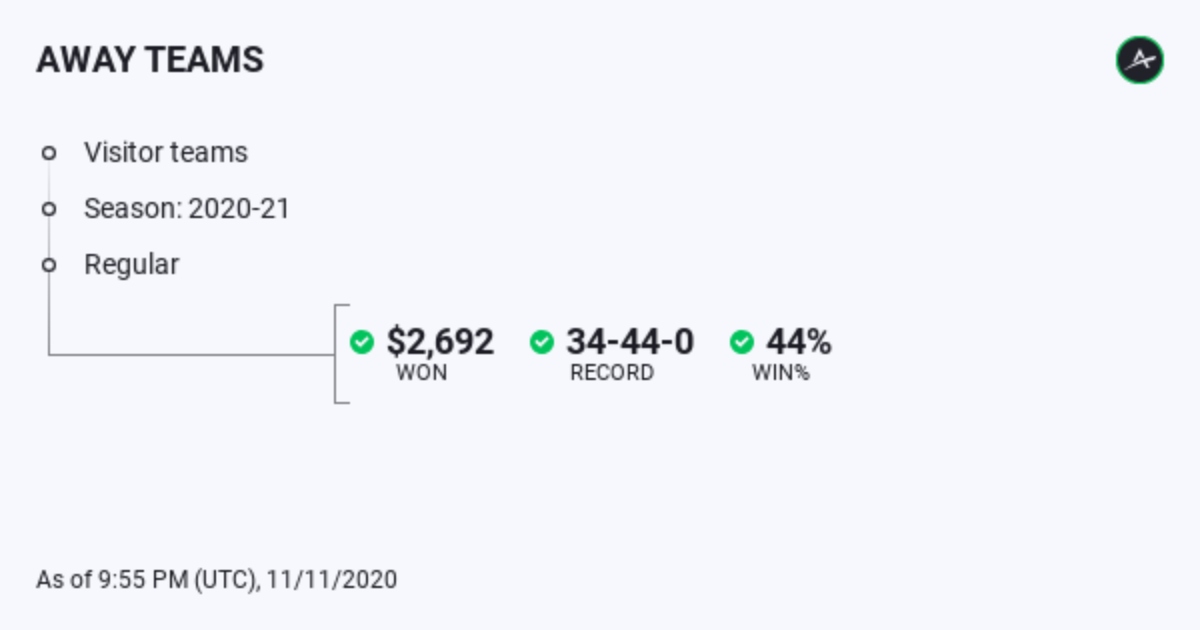 When we look at xG, the away teams are winning xG by 0.62 goals per 90, suggesting away teams should be even more profitable than they have been so far. Compare this to 2017-18 and 2018-19, the last two full seasons with fans, and the margins shift toward favoring home teams.
In past seasons, blindly betting road teams has not been profitable. Only one time (2015-2016) in the last six seasons has it been profitable to take every road team. Normally, I'd consider this statistical noise without much meaning, especially given how bad away teams were during the PL restart (-24.4% ROI) in June and July. However, I'm watching it closely.
One of the toughest things to model is the impact of home-field advantage without fans. In the Bundesliga restart, we saw there was almost zero home field. In the PL, it remained constant.
I'm not ready to say home field is zero without fans, but the markets are certainly still pricing it in, and that just may be wrong.
Betting takeaway: Keep an eye on how away teams perform as the sample gets bigger
---
9. Goal scoring is up, but it's not sustainable
Four weeks into the Premier League season, punditry had declared defending dead. We had all kinds of explanations from the pundit class about why goals were so high, even more than just the absurd number of penalties being called. I looked at the underlying xG numbers to see if something was fundamentally changing. The answer was no. Players were just finishing chances at unsustainably high rates.
Right on cue, the regression has come, a little.
In the first four matchweeks of the season, Premier League overs were 24-11-3, good for 32.6% ROI. Since then, overs are 12.5-22.5-5, a -26.9% ROI. Premier League defenses did not all of a sudden get good again, and offenses did not get worse.
There is tons of research that suggests that finishing is quite random and very streaky. The best teams create more chances, they don't finish better than others. If not for the very high number of penalties being called, this would actually be a low scoring PL season.
Last year, the first eight match weeks produced 221 NPxG, but just 204 goals. Finishing wasn't in a good run and thus goals were down. This year, there's been 181 NPxG, and 203 goals from non-penalties.
Betting takeaway: There's more scoring regression to come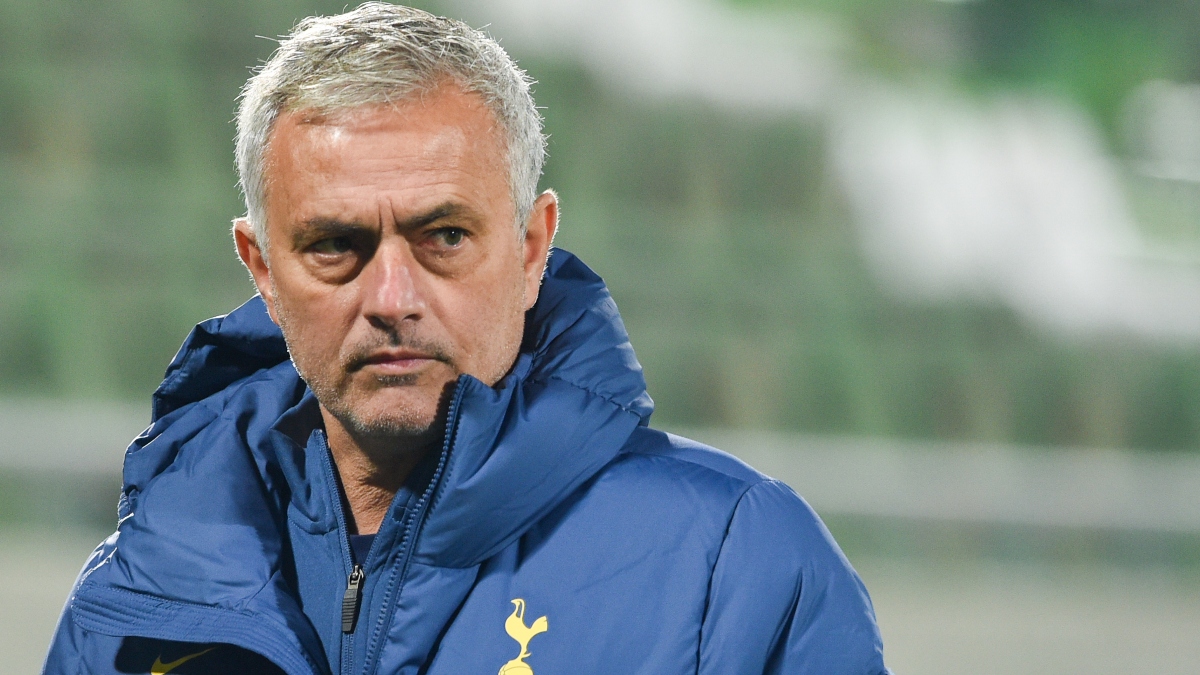 10. Spurs might be legitimate title contenders, stay tuned
The magic of José Mourinho's second season is back. After a sluggish performance on opening day, Spurs have soared with dominating performances against Newcastle, West Ham, Manchester United and Southampton. They haven't been quite as dominant in their last three PL matches, but won all three. They sit second in the table with a difficult run of fixtures coming up with Man City, Chelsea and Arsenal.
No team has improved more in my numbers than Spurs since the start of the season, a team I was much lower on than the consensus.
While they still do allow too many shots, and have question marks in defense, Spurs' ability to get shots has rebounded to its 2016-17 levels just as Harry Kane looks like England's best striker again.
Kane saw an injury-related drop off in shots and xG per 90, but in eight matches, he's averaging 0.66 NPxG/90 and actually leads the Premier League in xA.
I expected to see some regression looming when I looked at Spurs advanced numbers, and was surprised to see they are legitimately good. Progressive passes, pressing rate, shots per 90, xG numbers, all suggest they can win the league.
Kane's versatility and their fixed central midfield makes them legitimate title contenders, especially if City isn't quite as good as previous years and Liverpool keeps losing players to injury.
These next few games will tell us if Mourinho's Spurs are actual title contenders, or just had a good start. Either way, they are easily one of the Prem's four best teams thus far.
Betting takeaway: If you can find a 10-1 or better future laying around, it's worth a play.
How would you rate this article?