Rubenstein: Week 1 College Football Picks for the Bravest Bettors in the World
Credit:
Jennifer Buchanan-USA TODAY Sports. Pictured: Washington QB Jake Browning
College football is back, and we've got four great games on tap for opening weekend.
Auburn is a 2-point favorite over Washington, Michigan is a slight road underdog vs. Notre Dame, Miami is a 3.5-point favorite against LSU, and Virginia Tech travels to Florida State as a 7.5-point underdog.
I'm here to pick all four of those games -- and a few more! -- for those of you brave enough to dive in headfirst on Week 1.
Holy hell, it's Week 1.
Wait, before that, I won't drag this out, but I'm new here. My name is Dan Rubenstein, I've covered college football for a good amount of time at places like SI.com, SB Nation and my award-eligible college football podcast, The Solid Verbal.
And with that, pumped to be here to pick some games and have some fun.
As I've said before, you can breathe easy when deciding whether or not you like my picks and reasons thereof — I'm either right or wrong 100% of the time.
These are facts, so let's do this, gambling gods.
Obvious Week 1 Disclaimer: Because of college football's crazy year-over-year player/coach turnover, confident Week 1 bettors are either the bravest or dumbest among us, and for that, I have a strange amount of admiration. With that in mind, there are some sensible applications of strategy to be made during this glorious, glorious opening week.
All spreads below as of 11 p.m. ET on Wednesday evening. Check out our CFB live odds page for real-time data.
---
The Headliners
#9 Auburn vs. #6 Washington
Spread: Auburn -2
Over/Under: 48.5
Kickoff: Saturday, 3:30 p.m. ET
Location: Atlanta, Ga.
The big, glaring narrative here (for decent reason) is that a Pac-12 team is going to the South to play someone good, and ultimately won't be able to hang with a deeper, more talented team over the course of four quarters.
Yes, it hurts me to admit the above, but also, yes, trends exist until they don't.
In this case, I like how complete Washington appears to be on both sides of the ball (and on the sidelines with that coaching staff), so much so that I'm willing to buy into this Husky team being built to slow down and beat Auburn outright.
It doesn't hurt that Gus Malzahn's Auburn teams have recently looked like the kids in back-to-school commercials, sluggishly trailing behind their excited parents as they make their way into September.
The Pick: Washington +2, and I also don't hate the under (48.5) with both teams facing wide receiver uncertainty.
#14 Michigan at #12 Notre Dame
Spread: Notre Dame -1
Over/Under: 47
Kickoff: Saturday, 7:30 p.m. ET
Location: South Bend, Ind.
Nothing would make me happier than taking Michigan, seeing Michigan win comfortably behind a strong performance from big transfer quarterback Shea Patterson, and seeing the looks on the faces of Michigan's excellent defensive players as they realize the Wolverines have a second competent side of the ball.
And you know what?
Maybe that'll happen at some point this year, but with Michigan playing at Notre Dame against a good Irish defense AND relying on a new QB who hasn't played a snap in a new scheme AND having a suspect O-line AND missing one of its best receivers AND doing it all in Week 1 when defenses are typically ahead of new-look offenses?
Too many ANDs for me.
The Pick: Notre Dame -1
#8 Miami vs. #25 LSU
Spread: Miami -3.5
Over/Under: 46.5
Kickoff: Sunday, 7:30 p.m. ET
Location: Arlington, Texas
In a game featuring two starting QBs whom we should be looking at skeptically (at least for the time being), let's roll with strange things — turnovers, special teams, goofy clock management, dubious penalties — deciding the outcome.
And when I think "strange things," I think LSU and what its defense can look like at full health. I think about a pick-six here, a short field there, and maybe a healthy dusting of a blocked punt or something.
I also think about taking points that are being handed to me.
Miami was pretty good last year, but maybe relied on turnovers and narrow wins a little too much before things came crashing down against Pitt.
The Pick: LSU +3.5, and that sweet, sweet under (46.5).
#20 Virginia Tech at #19 Florida State
Spread: Florida State -7.5
Over/Under: 55
Kickoff: Monday, 8 p.m. ET
Location: Tallahassee, Fla.
With a complete coaching overhaul on one side and some pretty big defensive changes on the other, this one has ¯_(ツ)_/¯ written all over it.
I'd be happy to take the points with that much uncertainty, but with how much the Hokies are rebuilding on defense, relying on big improvement from an offense that struggled down the stretch last year (16.6 ppg from November on) seems like a stretch.
And with Willie Taggart taking over at — [checks notes to verify Taggart squad this year] — Florida State, expect the Seminoles, especially on offense, to play with newfound energy from what they sunk to last year after starting QB Deondre Francois went down for the season in Week 1.
The Pick: Florida State -7.5
---
The Field
Appalachian State at #10 Penn State
Spread: Penn State -23.5
Over/Under: 54
Kickoff: Saturday, 3:30 p.m. ET
Location: State College, Pa.
It's tempting seeing "Appalachian State" right there on the scoreboard, but take a deep breath. Let logic prevail.
With a new QB and defensive coordinator going on the road to a tough place, expect an eventual blowout as Penn State tries to get younger players reps on both sides of the ball, partially ahead of the Pitt game next week, but mostly to build some depth before Ohio State at the end of the month.
The Pick: Penn State -23.5
Akron at Nebraska
Spread: Nebraska -26
Over/Under: 54.5
Kickoff: Saturday, 8 p.m. ET
Location: Lincoln, Neb.
With Scott Frost's return to Lincoln, we finally have some good vibes around the Huskers' program. And you know what? That'll continue this week in Frost's first game coaching Big Red, and set up some "Wait, is Nebraska already good?" buzz that'll come crashing down pretty quickly.
The Huskers will be fine, but take them this week and then happily sell high when they play a team that's actually good down the road.
The Pick: Nebraska -26
Florida Atlantic at #7 Oklahoma
Spread: Oklahoma -21
Over/Under: 72
Kickoff: Saturday, noon ET
Location: Norman, Okla.
Lane Kiffin's Owls will be fun and weird in 2018, and by the end of the year, he may name an actual owl as a quality control coach, but it won't matter in Norman on Saturday.
I take that back. The threat of Kiffin hiring an actual owl and outfitting it in a mini FAU visor is all I want out of this fall.
If you like the spread, go for it, but the play here may be the under. The Sooners should eventually have a comfortable lead, and given quarterback Kyler Murray's size and MLB future, they'll probably be pretty conservative with him early on ahead of Big 12 play.
The Pick: Under 72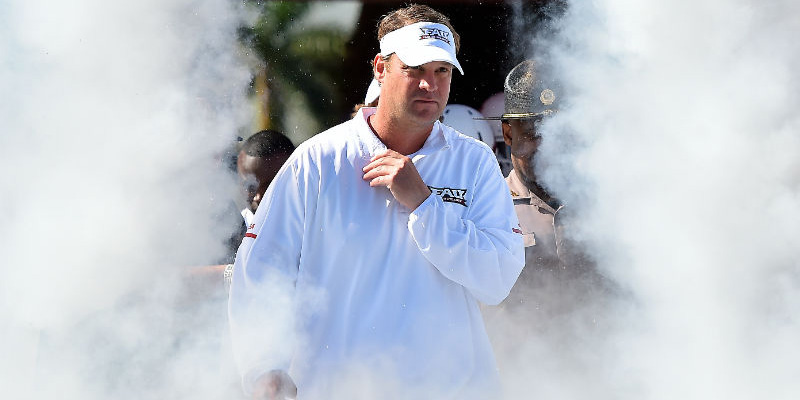 Tennessee vs. #17 West Virginia
Spread: West Virginia -10
Over/Under: 61.5
Kickoff: Saturday, 3:30 p.m. ET
Location: Charlotte, N.C.
The Vols are going to need a minute to gather themselves.
(West Virginia's defense probably won't be all that good this year, but it just might be good enough against Tennessee.)
The Pick: West Virginia -10
#22 Boise State at Troy
Spread: Boise State -10
Over/Under: 48.5
Kickoff: Saturday, 6 p.m. ET
Location: Troy, Ala.
Troy's a double-digit dog at home with what should be a pretty good, experienced defense? I'm in, not overthinking this.
Boise State's defense should be killer (probably the best in the Mountain West), and coupled with an experienced QB, the Broncos should win this game.
But! There's a good chance the turf could be soggy on a stanky, rainy 90-degree day in Alabama. Sure does feel low-scoring and tight to me.
The Pick: Troy +10
---
Life Pick of the Week
The Coffee Nap: I can't say enough good things about this.
If you know you'll be staying up into the wee hours of the night on the East Coast because you've got some American currency riding on something out west, be your best self when 10:30 p.m. or 11:52 p.m. or 2:18 a.m. rolls around by doing what the pros do: Take a coffee nap.
It's the easiest thing in the world. Chug a small iced coffee mid-afternoon — I recommend before the big 3:30 p.m. ET games start if nothing big is happening at the end of the nooners — and find a quiet place to shut your eyes for around 20 minutes. This is how long caffeine generally takes to kick in, so when you wake up, you're shot out of a cannon with a full reboot.
Here's what smarter people have to say.
And with that, enjoy your Week 1, especially to my new friends who also want to see an owl wearing a visor.
---
Editor's note: The opinion on these games is from the individual writer and is based on his research, analysis and perspective. It is independent of, and may not always match with, the algorithm-driven Best Bets from Sports Insights.