College Football Expert Picks: Favorite Bets for Week 1
Credit:
Mark J. Rebilas-USA TODAY Sports. Pictured: Tua Tagovailoa, Nick Saban and Jalen Hurts
Our 11 college football experts give their picks for Week 1 of the 2018 season.
The best bets range from big spreads to high totals, with everything in between.
Week 0 was a sham, but it's still fun to have football back. Thursday was a little more entertaining and I'm sure Friday will have its moments, but college football betting won't be truly BACK until tomorrow when we have our first massive card of the season.
From the first Saturday morning scramble to the seemingly limitless afternoon sweats to the late night Hawaii game, tomorrow is always a truly special day for college football bettors everywhere.
In honor of this betting holiday on this holiday weekend, I decided to ask some of our colleagues for their one favorite against-the-spread bet on Saturday.
Here's what they came up with.
Expert College Football Picks:
For my favorite play on Saturday, we go down to the Sun Belt to back a new head coach who inherits a roster with plenty of potential. Steve Campbell left FCS contender Central Arkansas to take over a talented offense that features wide receivers Jamarcus Way, Malik Stanley and Jordan McCray.
That trio of SEC-sized wideouts will give Louisiana Tech fits. Cornerback Amik Robertson is one of the best Group of 5 defenders in the country, but La Tech has no corner depth.
My numbers have this game at +6.5, so I'll graciously take +10 with the Jaguars.
It's always nice when one of the teams you want to ride early in the season meets one of the teams you want to fade. That's exactly what we have here with Wyoming (which I'm high on) and Washington State (which I'm very low on).
Washington State's defense should end up being decent once again, but I anticipate some growing pains early in the season with a new defensive coordinator and the departure of their best defensive player in Hercules Mata'afa. The now-Minnesota Viking was the anchor of the 2017 WSU defense.
On offense, the Cougars still haven't officially named a starting quarterback for Mike Leach's Air Raid offense. That's not an encouraging sign for a season opener on the road against one of the best Group of 5 defenses in the nation.
Speaking of season openers on the road or a neutral field, Washington State is 0-7 straight up and 1-6 ATS in that scenario since 2005. Overall, the Cougars are 2-11 ATS in season openers since 2005.
I think they start slow once again this weekend against a Wyoming team that plays well in Laramie and will come in full of confidence after a dominant Week 0 road victory.
John Ewing: Ohio State-Oregon State Over 64
Ohio State is favored by 38.5 points in The Shoe against Oregon State. Historically, it has been profitable to bet the over in games with a large home favorite.
Since 2005, the over is 287-238-9 (55%) when the home team is favored by 33 or more points. A steam move (indication of sharp money) was also triggered on the over, which moved the over/under from 60.5 to 64. Of that previous sample size, overs are 114-85-4 (57%) when the total rose from its open.
My love for the Rebels' offense knows no bounds. They return the nation's best wide receiver group and a quarterback in Jordan Ta'amu who is poised to truly break out after an excellent second half of 2017. He's one of three returning FBS quarterbacks to average 9-plus yards per attempt and complete 65% of his passes (min. 100 attempts).
Texas Tech will be no slouch on defense this year, weirdly enough. The Red Raiders improved from 125th to 88th in defensive S&P+ and rank second in returning production.
But they lost cornerback Octavius Morgan, who started five games last year, in mid-August, and starting DB Jah'Shawn Johnson is a game-time decision with a shoulder injury. Look for Ole Miss wide receivers A.J. Brown and D.K. Metcalf to feast.
The line has swung in Texas Tech's favor in this "neutral site" game (Oxford and Lubbock are almost equidistant to Houston), but I'm taking Ole Miss moneyline; I anticipate the Rebels' offense picks up right where it left off last season.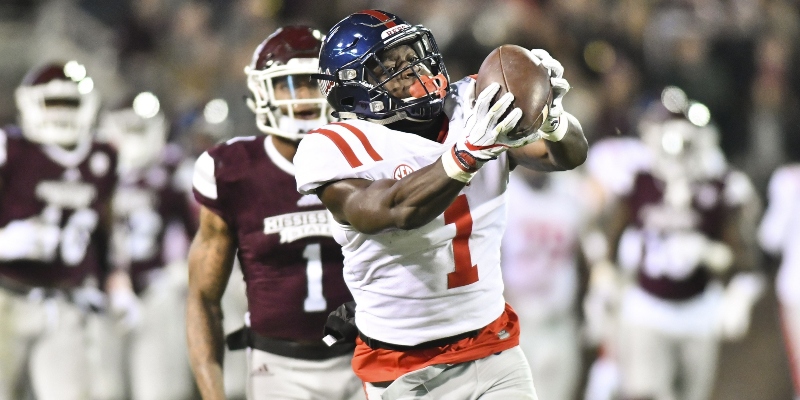 PJ Walsh: Michigan-Notre Dame Under 47
This under has been a consistent target of professional action, likely due to the overwhelming advantage Michigan's defense should have over the Notre Dame offense based on experience.
Throw in the fact that Michigan wide receiver Tarik Black is out with a broken right foot, and it's easy to like the under. I've already bet this twice and will again if the number floats back up above 47.
I'm looking for under 10 points, but will settle for -10 if I don't find 9.5 or better. One of the reasons why I will be backing the Broncos includes what our college football writer Collin Wilson calls the "myth of the blue turf."
Boise is 9-17 ATS (-8.8 units) on the blue turf under head coach Bryan Harsin and 15-8 ATS (+5.7 units) on the road. During the past decade, bettors have lost -16.4 units betting Boise at home — the third-least profitable team in FBS during that stretch. Point is… the Broncos are and always have been overvalued at home and undervalued on the road.
From a matchup perspective, Boise owns big advantages on both sides of the ball. On offense, it returns four-year starting QB Brett Rypien around plenty of weapons. And the defense brings back the ninth-most returning production (88%) in FBS.
That spells trouble for a Troy offense that ranks 117th in returning production. Among those who departed was senior QB Brandon Silvers.
Washington is a team I'm pretty excited about. I think they have a good chance to win the Pac-12 and make the CFB Playoff. Led by quarterback Jake Browning and running back Myles Gaskin, I think the Washington offense can do enough to pull out this win.
The defense will also be extremely talented, and head coach Chris Petersen's teams are always well-prepared. Auburn is talented, but I think the Huskies are just as talented and more experienced. I like Washington to get the job done in Saturday's big test in Atlanta.
Danny Donahue: Middle Tennessee State ML (+135) 
I missed a good deal of value by not hopping on this line earlier (sharp action has taken Vandy from -6.5 to -3), but I don't mind being on the sharp side in a game I think MTSU wins outright.
Small road underdogs have been a profitable bet in college football, especially in Week 1. Since 2005, Week 1 road dogs of six points or less have gone 33-35 for a profit of 14.3 units.
Plus, my colleague Collin Wilson — whom I'd trust with my newborn baby if my newborn baby's needs included being fed college football information — makes the Blue Raiders a one-point favorite.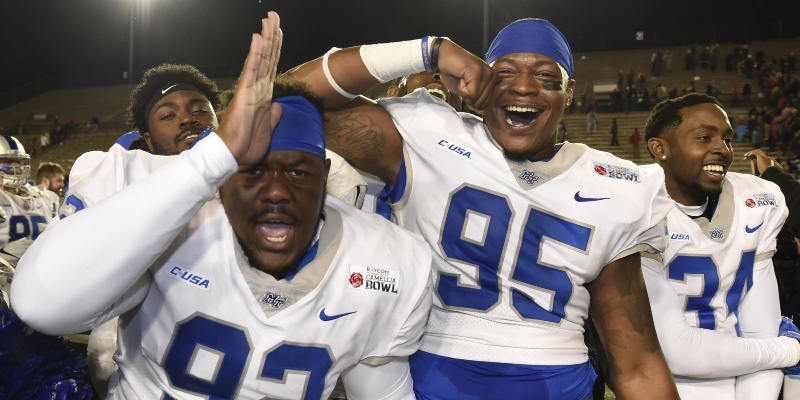 Josh Ward: Louisville-Alabama Over 62
This might be the most dynamic Alabama offense we've ever seen under head coach Nick Saban. The question all summer has been whether Tua Tagovailoa or Jalen Hurts will start at quarterback, but I don't think it matters for this one. Regardless of who gets the gig, the Crimson Tide should score at will against a completely revamped Louisville defense.
I also think Louisville can add on at least a couple touchdowns while Alabama works in a new crop of talent under the guidance of new defensive coordinator Tosh Lupoi.
I know everyone already thinks head coach Ed Orgeron's seat is on fire. And it might be by November, but he still has a very talented team. LSU also won't look like a Les Miles team, which might be a positive. This version might actually have an explosive passing attack.
No matter where you turn in Baton Rouge, you'll seemingly find a 6-foot-4, 220-pound wide receiver. Add offseason prize Joe Burrow (Ohio State transfer) under center and an offensive coordinator that seems bent on a more pass-happy offense — and you potentially have something on that side of the ball to balance out what should be a solid defense.
On the flip side, Miami struggled to find an identity at the end of last year before getting completely exposed by Clemson and Wisconsin. I know LSU has flaws, but this game has Mark Richt loss written all over it.
I didn't even need to know the spread to know that I was betting Alabama this weekend. As soon as I saw Louisville head coach Bobby Petrino (along with half of his team) talking trash, I couldn't get my money down quick enough on the Tide.
Alabama has also made an annual ritual out of embarrassing opponents in these neutral site openers under Saban (8-0 record with a 22.1 point margin of victory).
Remember that poor sap from Vanderbilt last year who had the audacity to say, "Alabama is next?" Well, the 59-0 blowout that followed was the most savage beating since the Russian took down Apollo.
Don't play Alabama in a neutral site opener, but if you do, certainly don't poke the elephant. Somebody throw in the damn towel.
I took Ohio State at -35.5 during the Urban Meyer saga, and the line only keeps creeping higher.
I bet by kickoff that it's at 40. But that doesn't matter.
Oregon State is bad. Like maybe only-one-win-against-an-FCS-team bad, which would match last season's win total. Starting quarterback Jake Luton missed most of last season with a thoracic spine fracture, but even before he was injured, the team wasn't any good. The Beavers lost by margins of 31, 34 and 29 to powerhouses such as Colorado State, Minnesota and Washington State, respectively.
There isn't a single reason to believe Oregon State can cover this line. As we often see in these situations, Ohio State will rally as a team with Meyer suspended and put up 70 on the Beavers.