Grading Week 3 XFL WR/CB Matchups: The Roughnecks Will Dominate the Vipers
Credit:
Ken Murray/Icon Sportswire. Pictured: Roughnecks WR Cam Phillips
Wide receiver-cornerback showdowns might be the most important individual matchups in football.
In this piece, I leverage snap data from Pro Football Focus to project Week 3 XFL WR/CB matchups.
I'll update my WR/CB projections throughout the week.
Week 3 XFL WR/CB Matchups
---
You can bet on the XFL at FanDuel, where Action Network users get a risk-free bet up to $500.
---
Houston Roughnecks at Tampa Bay Vipers
Saturday, 2 p.m. ET on ABC
Roughnecks WRs: In Cam Phillips, Sammie Coates, Kahlil Lewis and Nick Holley, the Roughnecks have the league's best receiving quartet.
Phillips especially has distinguished himself as a playmaker, putting up a 12-130-4 receiving line on the season and breaking out as a hat-trick hero with three touchdowns in Week 2.
In their run-and-shoot offense, the Roughnecks tend to line receivers up in the same spot each time. Phillips has played 96.6% of his offensive snaps out wide to the right. Coates: 96.2% out wide to the left. Lewis and Holley: 98.8% and 94.4% in the slot.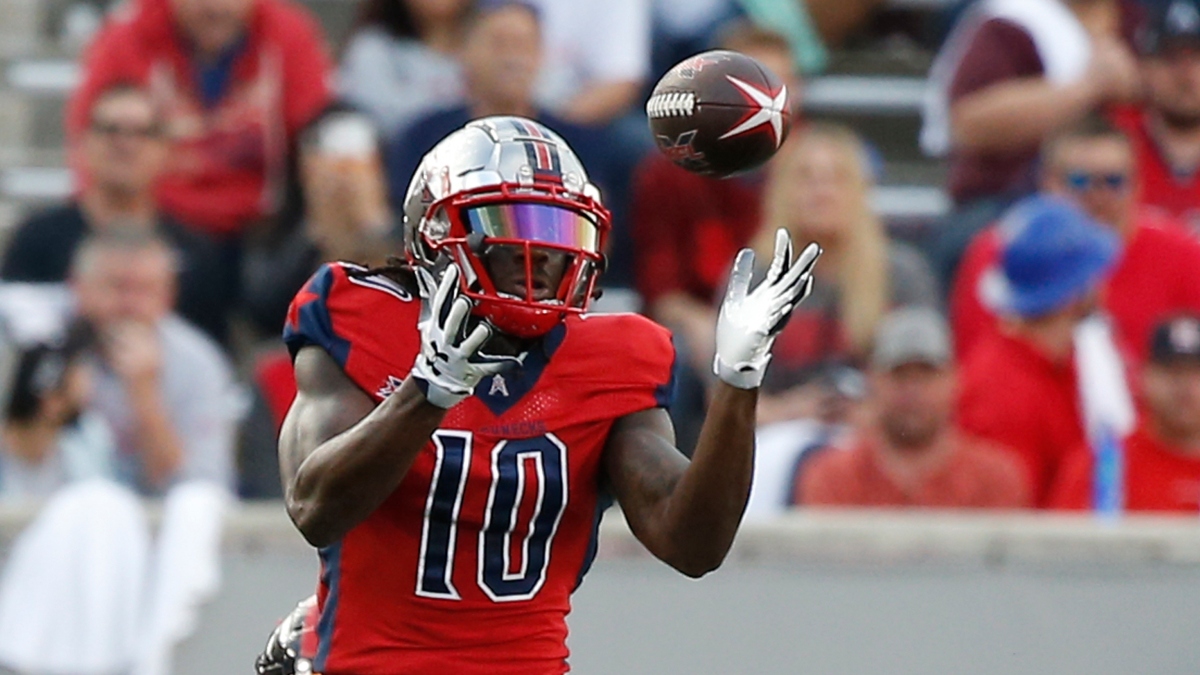 All four of these guys are locked into their roles.
Vipers CBs: It's hard to project WR/CB matchups involving the Vipers because of how they deploy their corners and the state of their secondary.
Perimeter corners Anthoula Kelly and Tarvarus McFadden systematically switch sides every quarter, so although they're not deployed in shadow coverage, they're likely to play roughly the same number of snaps on both sides of the field.
On top of that, the Roughnecks almost exclusively use four wide receivers, which means the Vipers will likely have four corners on the field, and aside from Kelly and McFadden, the Vipers are very unsettled at corner.
Robert Priester has been the team's most frequent slot defender, but it's a mystery who will play as the second slot corner this weekend. Right now I'm projecting backup cornerback Jalen Collins, but it could just as easily be free safety Micah Hannemann or backup safety Bryce Canady.
With their four-wide formation, the Roughnecks will stretch the Vipers defense at a position where it's already perilously thin.
Kelly and McFadden are both above-average corners. They've collectively held receivers to 46 yards and a 30.8% completion rate on 13 targets. They might do a passable job of keeping Phillips in check.
But collectively, the Vipers corners will likely struggle against the Roughnecks receivers.
UPDATE (Feb. 21): The situation has gone from bad to worse for the Vipers. Collins (ankle) missed practice this week and seems likely to be out despite his questionable tag. As a result, I'm projecting Canady to play as the No. 2 slot corner, although the Vipers might give benched Week 1 starting outside cornerback Shelton Lewis a shot on the inside.
Vipers WRs: In Week 1, Daniel Williams and Jalen Tolliver lined up across the formation, but in Week 2 — perhaps because starting quarterback Aaron Murray (foot) was out — Williams and Tolliver lined up primarily out wide to the left and right respectively while Reece Horn manned the slot.
After them, no wide receiver has played even 30 snaps.
Williams is ostensibly the No. 1 receiver, and he has a team-high 145 yards, but Williams, Tolliver and Reece all have 11-13 targets. Any one of them could lead the team in receiving in any given week.
Roughnecks CBs: No. 1 cornerback Ajene Harris plays almost exclusively on the right side, so as long as Williams' Week 2 alignment tendencies extend to this week, they should be matched up for most of the game.
Ranked No. 3 with a 71.0 PFF coverage grade, the Roughnecks present the Vipers with a tough overall matchup in the passing game.
---
Dallas Renegades at Seattle Dragons
Saturday, 5 p.m. ET on FOX
Renegades WRs: Entering the season, I thought Jazz Ferguson would be not just the No. 1 wide receiver on the Renegades but also the No. 1 wide receiver in the league.
He is an elite athlete (6-foot-5 and 227 pounds with a 4.45-second 40-yard dash), he has excellent precursors (four-star recruit, LSU signee) and he dominated in his final college season at Northwestern State-Louisiana (66-1,117-13 touchdowns receiving). But after seeing limited snaps in Week 1, he was a surprise inactive in Week 2, replaced in the lineup by Josh Crockett, who joined Jeff Badet and Flynn Nagel in three-wide sets.
Badet, Nagel and Crockett all have played at least 75% of their offensive snaps at their respective positions.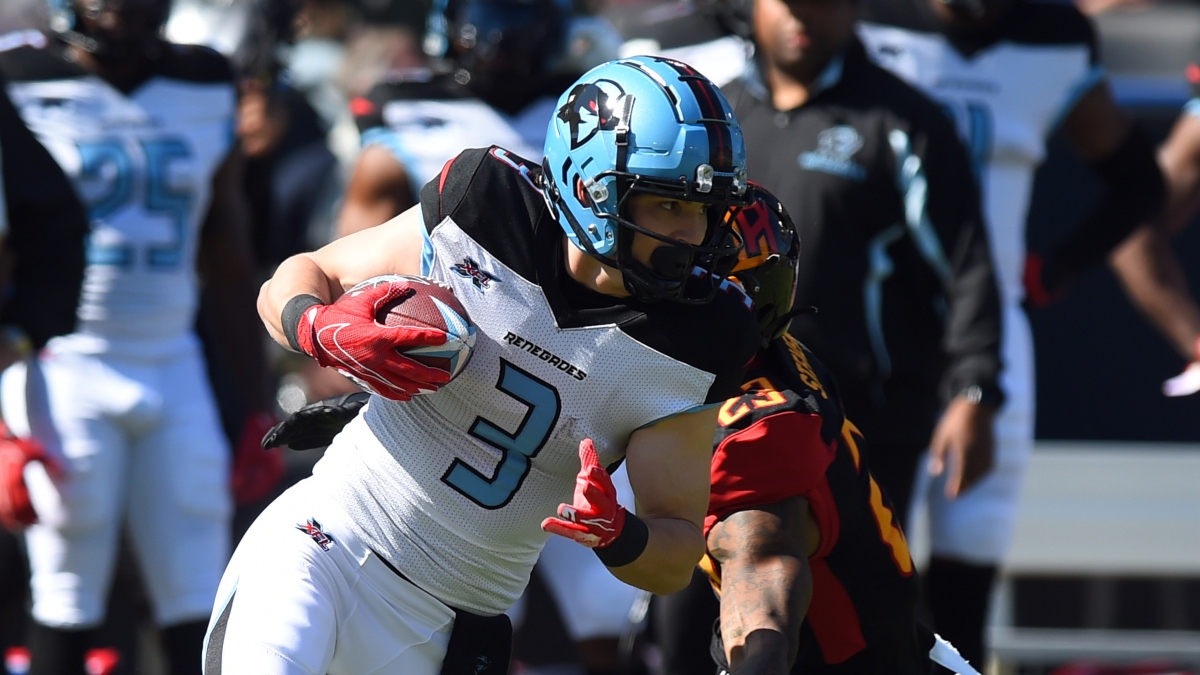 Dragons CBs: The Dragons rank No. 7 with a PFF coverage grade, and slot cornerback Steve Williams is especially exploitable, having allowed a team-high 13 targets, 12 receptions and 93 yards receiving through Week 2.
This is a great matchup for the Renegades in general and for Nagel in the slot in particular.
Dragons WRs: Keenan Reynolds is locked-in as the No. 1 receiver with a team-high 119 snaps, 15 targets and 92 yards receiving.
After him, slot man Austin Proehl is a close No. 2 option. Although Proehl has played on just 73 snaps, he's gotten 13 targets and converted them into a solid 6-87-2 receiving line.
Rotating in the No. 3 role, Dontez Byrd and Alonzo Moore have combined for just three receptions and 37 yards on 10 targets.
UPDATE (Feb. 21): Wide receiver Kasen Williams (quad) is technically listed as a starter on the depth chart, but he is yet to play a snap and will miss his third straight game.
Renegades CBs: The Renegades are dead-last with a 46.1 PFF coverage grade, but that number might not be representative of their current talent.
In Week 1 Treston Decoud played primarily at left corner, but Donatello Brown rotated in and flashed in limited action, so in Week 2, Brown played on the left side and Decoud moved into the slot.
Ranked No. 2 in the league with an 87.4 PFF coverage grade, Brown is likely to defend Reynolds for a majority of the game in what should be an excellent matchup.
New York Guardians at St. Louis BattleHawks
Sunday, 3 p.m. ET on ESPN
Guardians WRs: For the Guardians, it's pretty much Mekale McKay and then everyone else. McKay leads the team with 11 targets, six receptions and 88 yards, which isn't a lot, but he's limited by his quarterbacks, who have passed for just 277 yards through two weeks.
After McKay, who lines up all over the field but mainly on the outside, Colby Pearson, Joe Horn Jr. and Teo Redding had a nearly even rotation as the Nos. 2-3 receivers in Week 2.
UPDATE (Feb. 21): Horn (shoulder) is listed as questionable, but he practiced on a limited basis this week and seems likely to play.
BattleHawks CBs: Right cornerback David Rivers (head) missed Week 2 and is uncertain for Week 3. Robert Nelson played well in his place, and if Rivers is out, Nelson figures to get the start again.
The BattleHawks are No. 2 with a 73.1 PFF coverage grade and present a tough matchup for a Guardians team that just got shut out last week.
UPDATE (Feb. 21): Rivers is officially questionable, but he practiced in full on Friday. He's almost certain to suit up.
BattleHawks WRs: The BattleHawks are the league's run-heaviest team with their 55.2% rush rate, but that doesn't mean they can't throw the ball — they're No. 2 in the league with a 77.8 PFF passing grade, and rookie quarterback Jordan Ta'amu is No. 1 with a 78.1% completion rate.
And he's getting the ball to his wide receivers, who all play different though roughly equal roles.
L'Damian Washington: Field-stretching X receiver, 11-97-1 on 13 targets
De'Mornay Pierson-El: Shifty slot receiver, 13-114-1 on 15 targets
Alonzo Russell: Big-bodied Z receiver, 8-91-1 on 10 targets
Despite relying on their running game, the BattleHawks have one of the league's best wide receiver trios.
UPDATE (Feb. 21): Washington (ankle) missed practice early in the week but got in a limited session on Friday. He's questionable, but his late-week action puts him on track to play.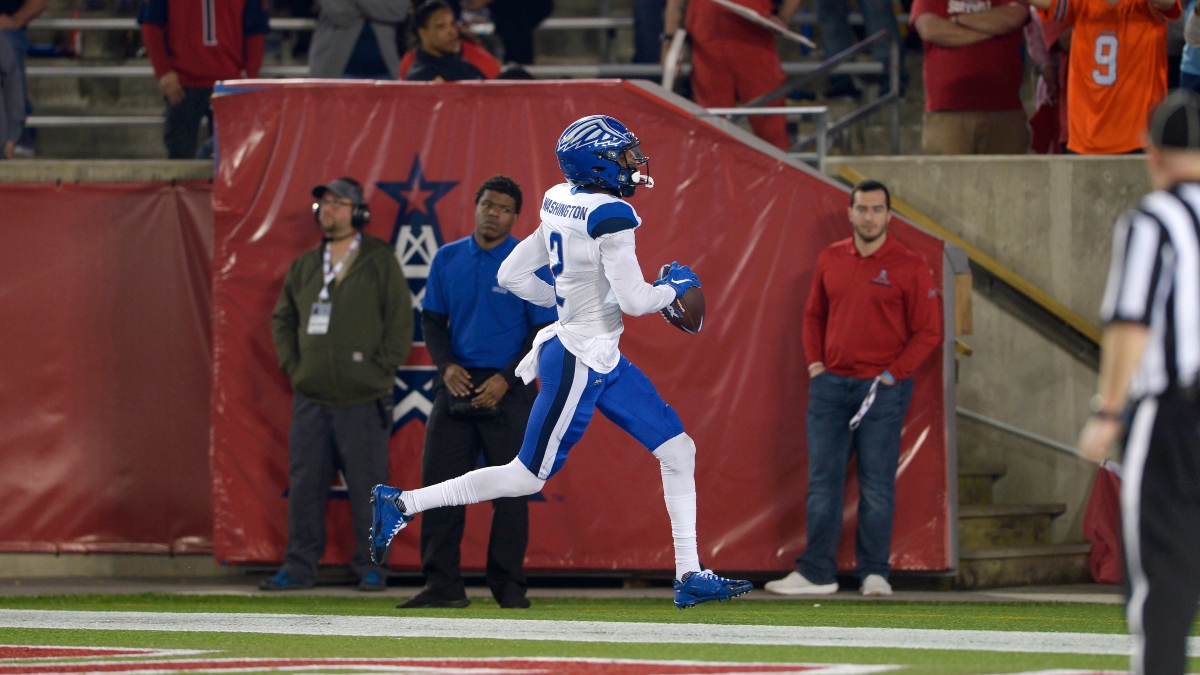 Guardians CBs: Left corner Jamar Summers is one of the league's better pass defenders, holding receivers to a catch rate of just 25% in his coverage.
Opposite him, right corner Bryce Jones has allowed a league-high 117 yards receiving.
Washington and Russell seem likely to take turns exploiting Jones all game long.
---
DC Defenders at Los Angeles Wildcats
Sunday, 6 p.m. ET on FS1
Defenders WRs: He missed Week 1, but DeAndre Thompkins looked like the No. 1 receiver in Week 2, leading the team with nine targets and six receptions and lining up all over the field.
Eli Rogers and Rashad Ross are locked into the slot and perimeter in three-wide sets with Malachi Dupre regularly rotating in as the No. 4 receiver.
UPDATE (Feb. 21): Dupre (shoulder) is questionable but seems likely to play after practicing on a limited basis on Friday.
Wildcats CBs: In Week 1, Jaylen Dunlap and Harlan Miller started at corner, but in Week 2, Dunlap (thigh) was out while Miller (ankle) saw only limited action as he played through his doubtful designation.
Dunlap and Miller are uncertain for Week 3, and if they're unable to play, Arrion Springs and Roman Tatum will likely start in their place once again. Both played well enough last week, but the Defenders are No. 1 in the league with an 88.7 PFF passing grade,
Against backup corners, Thompkins and Ross could go off on the perimeter.
UPDATE (Feb. 21): Dunlap had a limited practice on Friday and will probably play through his questionable tag, but Miller is out.
Wildcats WRs: Saeed Blacknall played a position-high 60 snaps in Week 1, but he had zero receptions on three targets, and then Blacknall (thigh) missed Week 2.
Even if he returns in Week 3, Blacknall might play as the team's rotational No. 4 receiver behind Nelson Spruce, Jordan Smallwood and Adonis Jennings.
Despite playing 82.5% of his snaps in the slot, Spruce has emerged as the team's clear No. 1 receiver. Through two weeks, he easily has a league-high 24 targets, 17 receptions and 181 yards, to which he's added two receiving touchdowns.
The sample is small, but Spruce has looked like an NFL player in 2020.
UPDATE (Feb. 21): Blacknall is listed as probable. Although he was a Week 1 starter, I expect him to play in a rotation with Smallwood and Jennings.
Defenders CBs: The secondary is by cornerback Elijah Campbell, who has a position-best 90.7 PFF coverage grade and has held receivers to just 19 yards and four receptions on eight targets.
Desmond Lawrence starts opposite Campbell while Tyree Kinnel mans the slot, but second-string cornerbacks Doran Grant and Shamarko Thomas respectively rotate in with them on a regular basis.
Even after they traded away high-end backup cornerback Bradley Sylve last week for edge defender Anthony Johnson, the Defenders are still deep at the position.
In PFF coverage grade, the Defenders are No. 1 in the league with an 84.7 mark.
Spruce has a good matchup against Kinnel and Thomas in the slot and could still go off, but this is a tough spot for the Wildcats receivers on the whole.
---
Week 3 XFL WR/CB Matrix
I take a cautious approach to injured players I expect to be questionable or out. If by the weekend it seems likely that they will play, I will include them in my updates.
Pos = left, right or slot WR or CB
Projected shadow matchups are CAPITALIZED
WR Exp = Wide Receiver Expectation: I rank from 3 to -3 how much I think we should adjust expectations for wide receivers based on matchups. 3: Large upgrade. 2: Medium upgrade. 1: Small upgrade. 0: No change. -1: Small downgrade. -2: Medium downgrade. -3: Large downgrade.
How would you rate this article?