Freedman's XFL Rankings: How I Stack All 8 Teams & What I'll Consider When Betting Them
Credit:
Thomas Campbell/XFL via Getty Images. Pictured: Roughnecks CB Jeremiah Johnson
We're all still trying to figure out what is going on in the XFL.
But with two weeks of action in the books, I've decided to rank all eight teams and give my key betting takeaways for each.
---
You can bet on the XFL at FanDuel, where Action Network users get a risk-free bet up to $500.
---
1. Houston Roughnecks (2-0, +24 Point Differential)
Under the guidance of head coach June Jones — a run-and-shoot savant — the Roughnecks lead the league with 32.5 points per game and have jumped out to a 2-0 record.
Quarterback P.J. Walker is the early MVP frontrunner with a 62.3% completion rate and league-high seven touchdowns to just one interception. With 442 yards passing and 53 yards rushing, Walker is a well-rounded dual-threat option who can operate in the pocket and extend plays with his legs.
Using a four-wide set as their base formation and sporting a 68.6% pass play rate, the Roughnecks have smartly steered into the swerve of the league's pass-friendly nature, throwing more frequently than any other team except the Renegades.
In Cam Phillips, Sammie Coates, Kahlil Lewis and Nick Holley, the Roughnecks have the league's best receiving quartet, and Phillips especially has distinguished himself as a playmaker, putting up a 12-130-4 receiving line on the season and breaking out as a hat-trick hero with three touchdowns in Week 2.
The Walker-Phillips connection might already be the league's best, and both guys look like potential 2020 NFL players.
On defense, the Roughnecks are all about the big play. They've allowed six touchdowns — more than any other team has yielded except for the 0-2 Wildcats — but the Roughnecks also have a league-high four interceptions and eight sacks.
The defense isn't perfect, but it's exploitative.
As a result, Roughnecks games have been high-scoring affairs. In the entire league, only two games this year have hit the over: The Roughnecks played in both of them.
I don't think that's a fluke.
Betting Takeaway: When the Roughnecks face a team without a strong quarterback, I'll probably like them to cover. And almost regardless of opponent, they seem likely to have the offensive power to drive most games to the over.
---
Where is online sports betting legal?
---
2. DC Defenders (2-0, +39 Point Differential)
In Week 1, the Defenders scored four touchdowns, all of which were a little random.
Blocked punt return
Double-flea flicker
Deep pass on fourth-and-6
Interception return
In Week 2, they had fewer touchdowns — they settled for three Ty Rausa field goals of fewer than 40 yards — and one of their scores was a pick six. But at least to my eye, they moved the ball with a little more consistency, and there was nothing fluky about either of their offensive scores.
This team just looks good. Literally. Head coach Pep Hamilton might be the league's sexiest and coolest offensive play caller. Right now he certainly looks like one of the best.
In Week 2, Hamilton called I believe the first double-forward pass in XFL history.
Quarterback Cardale Jones stands tough in the pocket and can improvise when needed. He has above-average ability as a scrambler.
Running backs Donnel Pumphrey and Jhurrel Pressley might be the league's most talented backfield tandem.
And their wide receiver unit is deep. DeAndre Thompkins is an all-around well-rounded pass catcher. Rashad Ross is an effective field stretcher. Eli Rogers is a reliable slot producer. Malachi Dupre is a good rotational player.
On defense, they are utterly opportunistic, consistently creating turnovers with their ball-hawking aggressiveness. For the season, they have four interceptions and two fumble recoveries.
If they can improve their PAT efficiency — they are 1-of-7 converting their PAT attempts — they will have everything working for them.
Betting Takeaway: I certainly don't want to bet against this team right now.
3. St. Louis BattleHawks (1-1, +2 Point Differential)
This team really intrigues me. The BattleHawks are 2-0 against the spread, beating the Renegades in Week 1 and playing the Roughnecks to a four-point loss in Week 2 despite opening their season with two straight games as road underdogs.
With their league-high 77 offensive plays per game, the BattleHawks are the only team to live up to my preseason expectation of 75 plays per team per game, and even though they have had neutral or negative game script for literally every offensive snap through Week 2, the BattleHawks have been the league's run-heaviest team with their 55.2% run rate.
For context: The Defenders are No. 2 in run rate at 46.7% — and that makes sense, as the Defenders have won both of their games by 12-plus points. For the BattleHawks to be out-running the team with the largest point differential by 8.5 percentage points is extraordinary.
And it's all the more noteworthy considering that the BattleHawks are averaging just 3.7 yards per carry.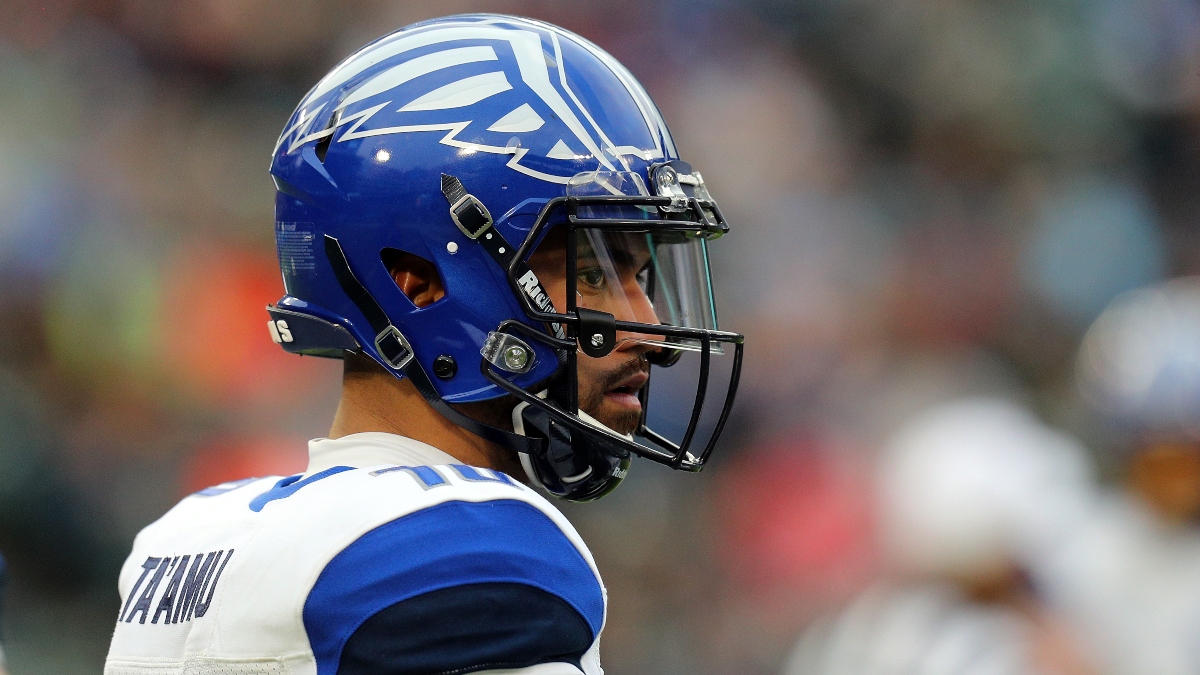 While I generally think that teams run the ball too much, I must acknowledge that, within the system, rookie quarterback Jordan Ta'amu is playing well, and maybe the team's reliance on the running game is a contributing factor in his performance.
Ta'amu is No. 1 in the league with a 78.1% completion rate, and he's No. 2 — behind only Jones — with 7.7 yards per pass attempt. In Week 2, Ta'amu threw two interceptions, but one of them probably should've been called back: A defender seemingly jumped offside, so Ta'amu threw the ball deep thinking he had a risk-free play.
In general, Ta'amu has looked like the league's No. 3 quarterback.
Entering the season, I knew almost nothing about head coach Jonathan Hayes, but I kind of like him. He seems like a hard-nosed no-nonsense strategy-focused thinker.
A lot of coaches show up to their press conferences, say a few random sentences and then give some half-baked cliché-laden answers to whatever questions they're willing to take. Hayes, meanwhile, talks to the press as if he's a chief executive officer reporting to the board of directors.
He has notes. He has numbers. He has actual thoughts.
When a reporter asks him about being road underdogs for the first two weeks, he responds with this answer.
The first two games, we knew we were going to have to be on the road, and you have to be road warriors, you have to be resilient and you have to embrace those moments. You can't shy away from it. You can't have any trepidations about it. You got to embrace it wholeheartedly and go after it. I think our team is growing that way. They're maturing that way. And I think even at the end, no one quit. Everyone was fighting to try to find a way to win, and that will make us much better going down the road.
To me, that sounds like a coach who has the will — even in the worst situations — to get his team to cover.
On defense, the BattleHawks are fairly nondescript but probably above average. In Week 2, they held the Roughnecks to 28 points even though their offense put them in horrible field position multiple times because of turnovers.
Betting Takeaway: With competent quarterback play, the BattleHawks look like a team to back, and because of their run-heavy approach, I expect them to drive most of their game totals to the under.
4. Dallas Renegades (1-1, +1 Point Differential)
It's a little hard to know what to make of the Renegades. In Week 1, they lost at home as big favorites, and then in Week 2 — against the uninspiring Wildcats — they did almost nothing on offense till the final nine minutes, when they scored three touchdowns.
But all of that is somewhat excusable: In Week 1, they were without starting quarterback Landry Jones, and in Week 2 they were on the road, and it took Jones a little time to get going in his XFL debut: He missed most of training camp with a knee injury, and he hasn't played in the NFL in a couple of years.
Jones threw two interceptions in Week 2, but even with those turnovers, his performance was encouraging: He had a 70% completion rate, averaged 7.6 yards per attempt, passed for 305 yards, threw a touchdown and added 13 yards rushing on four carries.
A week after tying for the team lead with six targets, tight end Donald Parham had an aggressive 11 targets as Jones' No. 1 option in Week 2, putting up a 5-76-1 receiving line that could've been much bigger if Jones hadn't missed Parham deep a couple of times downfield when he was open.
If Parham continues to strut his stuff, he'll have a real shot at the NFL in the fall.
With head coach Bob Stoops and offensive coordinator Hal Mumme, the Renegades are Air Raid to the core. On the one hand, that's great. The Renegades are No. 1 in the league with a 71.2% pass play rate, and it's fun to see them throw the pigskin around the yard.
On the other hand, Stoops and Mumme are still rather conservative. For most of the past two weeks, they have been far too willing to settle for field goals and field position via the punting game. If not for Landry's sudden emergence in the fourth quarter of Week 2, the Renegades would probably be 0-2 despite entering the year as the preseason favorite to win the championship.
Perhaps the Renegades will become more situationally aggressive as Jones rounds into form, but the way Stoops and Mumme manage third and fourth downs should be monitored.
On defense, the Renegades look about average. They're the only team in the league not to have an interception. But they're also the only team besides the Defenders to hold both their opponents to fewer than 20 points in Weeks 1-2.
We need more time to evaluate, but the Renegades might have a real bend-but-don't-break unit on defense.
Betting Takeaway: Betting on the Stoops/Mumme duo makes me nervous. With Jones back, I might be willing to invest in the Renegades when they face quarterback-deficient teams, but otherwise, I'll probably stay away.
5. Seattle Dragons (1-1, -4 Point Differential)
After Week 1, I thought the Dragons looked like the worst team in the league — and that was probably because they played on the road against one of the best teams.
After Week 2, I think they're probably about average — and that might be because they played at home against one of the league's worst teams minus its starting quarterback.
There's nothing exceptional about head coach Jim Zorn and quarterback Brandon Silvers, who will likely throw at least one that-didn't-look-good interception each game.
But they are one of the league's better running teams with 97 and 117 yards rushing over the past two weeks, and they use running backs Kenneth Farrow, Ja'Quan Gardner and Trey Williams in an almost even split.
On defense, it's hard to know what to make of them. In Week 1, they had a league-worst 49.0 Pro Football Focus coverage grade against the Defenders. In Week 2, they had three interceptions off two backup quarterbacks. They're probably about average.
In one area they're certainly not average, and that's their home-field advantage: Seattle sports fans are truly fanatical about their teams, and in Week 2, the Dragons had an XFL-record attendance of 29,172 for their home debut.
Betting Takeaway: I'll probably look to bet on or stay away from the Dragons when they're at home. On the road, they might be a team to bet against.
6. Los Angeles Wildcats (0-2, -27 Point Differential)
The Wildcats might be the worst team in the league. Head coach Winston Moss is the league's only defense-focused head honcho — and his team has easily allowed a league-high 62 points. For context: The Roughnecks have the second-worst mark at 41.
The Wildcats were so bad in Week 1 against the Roughnecks that Moss fired defensive coordinator Pepper Johnson and traded away defensive captain and edge rusher Anthony Johnson.
In his Week 2 post-game press conference, Moss sounds like a guy who hates his job.
Seriously, I can't imagine watching that video at anything less than 2x speed.
But I have the Wildcats at No. 6 because — unlike the two teams ranked lower — they at least have a quarterback.
Starter Josh Johnson missed Week 1, so I'm ignoring most of what I saw out of the Wildcats without him. In Week 2, they were much improved, maybe even almost competent.
Johnson wasn't great last week. He completed just 52.9% of his passes and had only 5.8 yards per attempt. And he rushed for only three yards on four carries: He's clearly not yet 100% healthy.
But he avoided massively negative plays — he had no interceptions and took just two sacks for -2 yards — and he tossed two touchdowns in a one-score loss to a respectable opponent.
At a minimum, Johnson is not a liability.
And he has a pretty good player to throw to in slot man Nelson Spruce, who has flashed with 17-192-2 receiving on 24 targets this year. Thanks to the Johnson-Spruce connection, the Wildcats should be able to stay competitive in most games — even if they don't cover.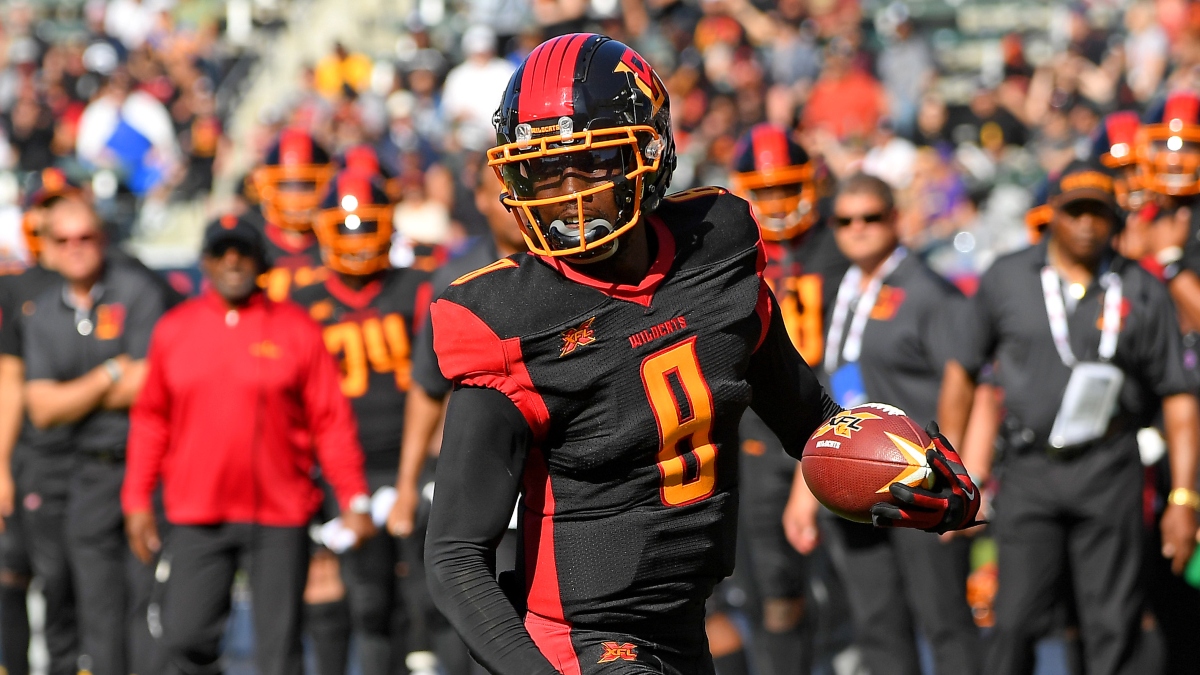 On defense, they've forced a respectable three interceptions, but in the second half of both their games, they've been significantly outplayed. In the first half, they held the Roughnecks and Renegades to a combined 21 points. In the second half, they allowed 41 points.
If they're to improve, the Wildcats will need to tighten up their second-half defense.
Betting Takeaway: If Johnson remains limited as a runner, the Wildcats will be a tempting team to bet against. If, though, he gets back his legs and plays as a true dual-threat option, I'll probably stay away. For now, I'm still evaluating.
7. New York Guardians (1-1, -7 Point Differential)
Random question: Did the Guardians get their name from LaGuardia Airport?
On the one hand, the name makes no sense: There's anything particularly guardian-esque about New York.
On the other hand, the name is perfect: Like LaGuardia, the Guardians under head coach Kevin Gilbride have an offense that at best is outdated and at worst is straight up trash.
Through Week 2, the Guardians have operated at a sloth-like pace, easily ranking last in the league with just 45.5 offensive plays per game.
They scored touchdowns on two of their first three drives of the season, but since then they have turned 18 drives into exactly one field goal. Over the past six quarters, they have scored zero points on offense.
Quarterback Matt McGloin has a 47.9% completion rate and was benched late in Week 2. He's probably two subpar quarters of action away from giving backup Marquise Williams a sustained shot at the starting job.
In Week 2, he had one of the ugliest come-and-get-it interceptions I've ever seen.
At wide receiver, Mekale McKay is perhaps a top-six player at the position, but you wouldn't know it by looking at his 6-88-0 receiving stat line through two games. In all fairness, it's hard to get a lot of receiving yards when your team has passed for just 277 yards on the season.
On defense, they got five sacks, two interceptions and one fumble recovery in Week 1, but that might have been a matchup mirage courtesy of the Vipers. In Week 2, against the Defenders, they had zero sacks and one psuedo-lucky turnover.
Betting Takeaway: This team is dustier than a forgotten LaGuardia corridor. I have no problem betting against it.
8. Tampa Bay Vipers (0-2, -28 Point Differential)
Before the season started, Caesar's gave the Vipers a league-high win total of 7.5. On the award-winning Action Network Podcast, we recommended that you bet the under.
I hope you listened.
The schedule hasn't been kind to the Vipers, giving them two straight road games to open their season, and they were without starting quarterback Aaron Murray in Week 2, but besides those they have a whole host of problems, many of which head coach Marc Trestman touched on in his Week 2 post-game press conference.
The main problem is that the Vipers have been horrible at converting yards into points.
They are No. 2 with 70.5 offensive plays and No. 3 with 365.5 scrimmage yards per game, but they are yet to score an offensive touchdown this year.
Interceptions, sacks, penalties and turnovers on downs have sabotaged this offense. The Vipers have a league-worst five interceptions thrown and 12.9% sack rate allowed. Every time they start to get going, they do something to sidetrack themselves.
Defensively, they're not horrible, but they're not special. In Week 1, the Guardians offense scored a modest 17 points against them, and in Week 2, the Dragons offense managed just 11.
But the Guardians and Dragons are offensively below-average, and on the season, the Vipers have just two sacks.
Perhaps the Vipers will finally strike in Week 3 as they make their home debut. Eventually, yards tend to turn into points. But right now they look fangless.
Betting Takeaway: With Murray out (and perhaps even when he returns), the Vipers look like a team to bet against — as long as they struggle to turn yards into touchdowns.
How would you rate this article?