2022 Fantasy Baseball Rankings and Draft Strategy: Trea Turner Tops Our Tiers at Second Base
Credit:
Harry How/Getty Images. Pictured: Trea Turner
Long gone are the days of second basemen with a lot of speed and no power. This season we have a mixture of every type of player. You also now have fantasy's crème de la crème, Trea Turner.
Overall, the position is deep, with 11 players with a top-100 ADP. The first three tiers include 10 total players I am fully comfortable rostering heading into the season. Once past those tiers, it gets murkier, but you still have players with upside like Gavin Lux and Brendan Rodgers.
Let's get into it.
---
Other Fantasy Baseball Tiered Rankings:
Catchers
First Base
Third Base
Shortstop
Outfield
---
Fantasy Baseball Rankings: Second Base
Tier 1
1. Trea Turner, Los Angeles Dodgers
There isn't much to be said about the Dodgers speedster. He is the consensus No. 1 overall pick in fantasy, providing speed and power while hitting for a high average. This season very well can see him produce 30 HR/30 SB for the first time in his career, and I would not be shocked to see it. He will be hitting at the top of the Dodgers' lineup and rack up counting stats like candy.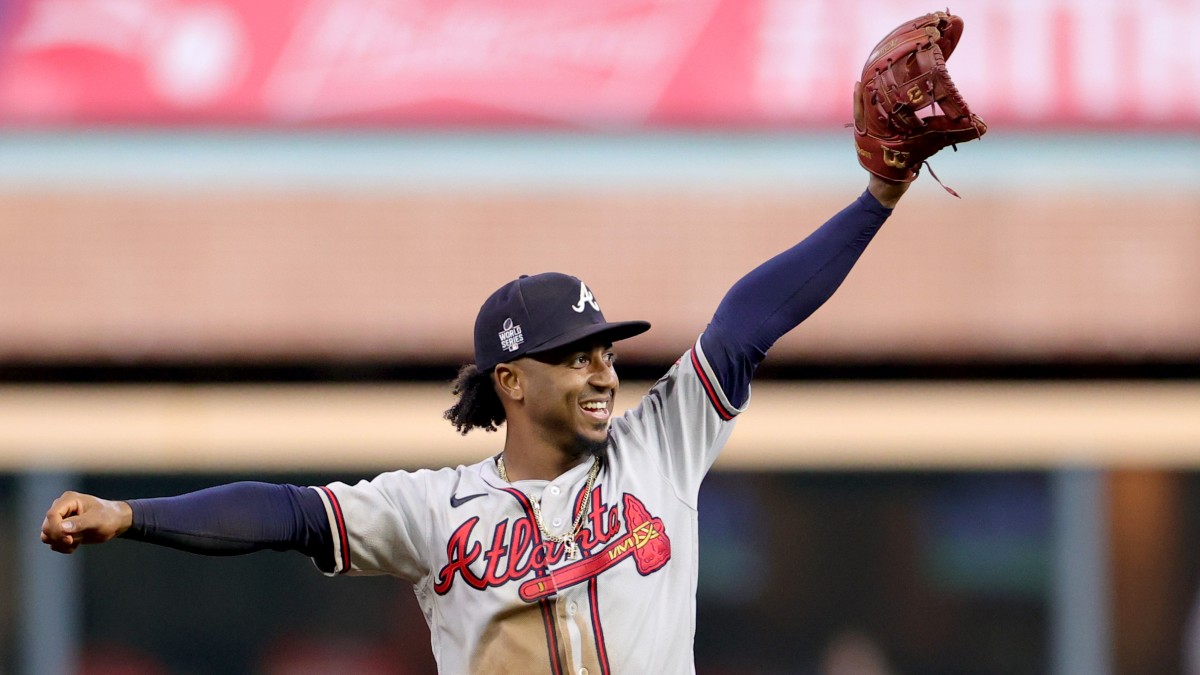 Tier 2
2. Ozzie Albies, Atlanta Braves
3. Marcus Semien, Texas Rangers
A gentle reminder that despite 2022 being Ozzie Albies' fifth year in the league, the switch-hitting demon is still only 25. Albies is Turner without the lofty average. That is why you see his average draft position (ADP) down at 20.
He will hit anywhere from leadoff to clean-up in the Braves' lineup and rack up counting stats. In the last three full seasons, he has produced at least 100 runs, 20 HR, and 10 SB.
Albies is a safe bet to replicate his 2021 season. It will anchor your team in all categories allowing you to build it out however you see fit. 
Oh, yes, everyone's favorite over performer, Marcus Semien. Realistically I don't think anyone expects another 45 HR season, but Semien doesn't need to hit 45 HR to have value still. The newly-acquired Ranger pairs a 20.3-degree Average Launch Angle with a 48.1% Fly-Ball Rate and an Average Exit Velocity of 94.5 mph on Fly Balls + Line Drive.
All of those ingredients are a mixture that will continue to produce power. The real worry is if he can maintain a .260 average like he did last season, or it will be closer to the .240 xBA from 2021.
Semien is a gamble, so weigh your risk with the 32 ADP he currently has and see if you are willing to take your shot.
Tier 3
4. Whit Merrifield, Kansas City Royals
5. Javier Baez, Detroit Tigers
6. Jose Altuve, Houston Astros
7. Jonathan India, Cincinnati Reds
8. Ketel Marte, Arizona Diamondbacks
9. Jorge Polanco, Minnesota Twins
10. Brandon Lowe, Tampa Bay Rays
In these more extended tiers, I'll talk about a few players I like and am mainly targeting in my drafts (or not targeting in the case of Whit Merrifield). I typically don't leave the draft without one of these names on my list. 
I would assume most people have Merrifield in the tier above, and I can see why. He is "safe." He has been doing it for years now with no natural decline. My real worries are what happens if and when the steals dry up. He stole 40 bases last season after just 20 in 2019. He just turned 33 this year, and he will no longer provide that safe .300 average floor he did early in his career.
My reason for putting Merrifield in this tier is a risk-aversion ranking; I don't want to be caught holding the bag if this is the year his speed starts to disappear. 
I have to admit I am a glorified Mets homer, and last season after the trade of Javier Baez to the Mets, I watched a lot of the excellent version of Baez. At the same time, he can be frustrating to watch. Yes, Baez is a free swinger, but he quietly has hit above .280 two separate seasons in his career. The newly-acquired Tiger slashed .299/.359/.493 while increasing his Line Drive Percentage from 14.6% to 23.4%. The overall point is that Baez will not kill your team's batting average and can very well go 30 HR paired with 15+ SB. I love his value with an ADP of 72. 
I am honestly surprised to see Jonathan India with an ADP below the likes of Tommy Edman. The 2021 NL Rookie of theYear isn't sexy, but he will contribute across all five categories. He steals bases, mixes in 20+ HR power and with a walk rate of 11.3%, he will get on base and rack up counting stats even if the Reds' lineup was weaker in 2021.
I'm betting on India building off the skills he showed last season. His plate discipline is elite. His 8.9% Whiff Rate is well below the league average of 11.2%, and his O-Swing Percentage was 25%, right there with great hitters like Alex Bregman and Mookie Betts. Those are incredible to see as a rookie, and I think he will build on that to take his game to the next level in 2022.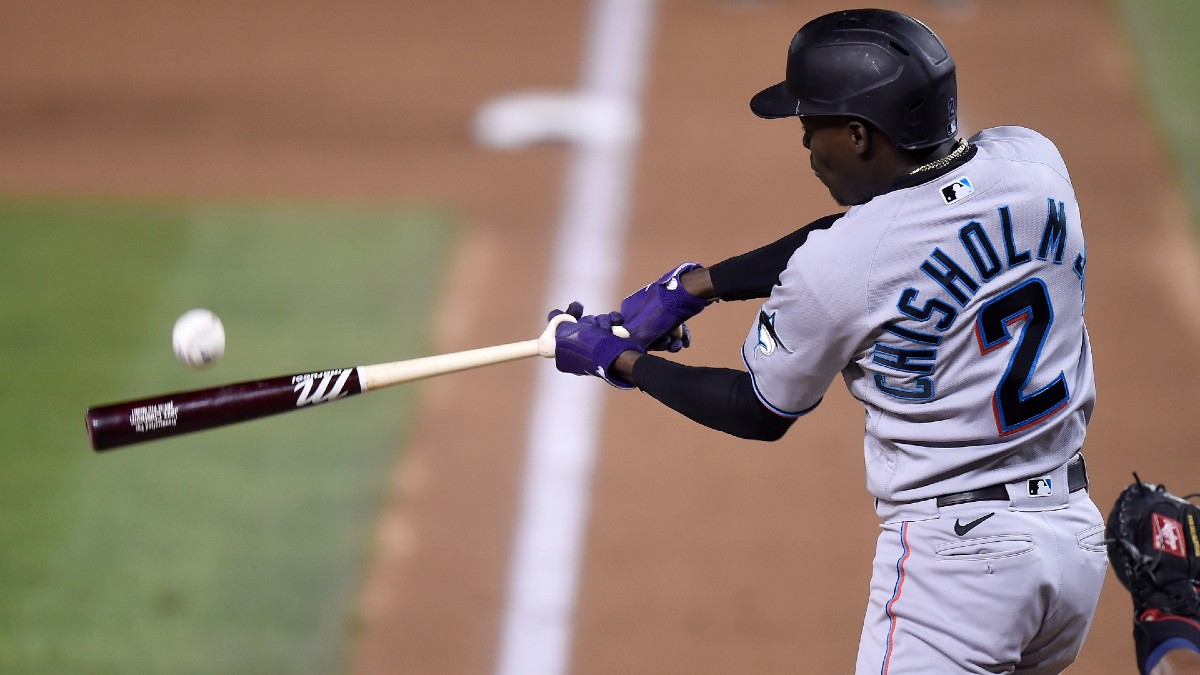 Tier 4
11. Jazz Chisholm Jr., Miami Marlins
If the players in Tier 3 have been snagged up above their ADP, I don't mind shooting for the moon with one of the most explosive players in the MLB.
Honestly, I am surprised to see Jazz Chisholm Jr.'s ADP down at 90 this season. The Marlins' young gun started the season as the darling of the league. He hit .311, stole nine bags, and popped four homers in the season's first month. Unfortunately, the rest of the season didn't go as planned, and Chisholm was slightly disappointing.
Nevertheless, I love Chisolm as a target with his discounted 90 ADP this season. He offers you the rare blend of power and speed, which is usually more expensive than his current ADP. 
The primary warts with the Marlins' youngster are the strikeouts. He struck out 28.6% of the time, but that was down to only 24.8% in the second half of the season. I hope Chisolm makes the needed adjustments this offseason and works on hitting off-speed pitches. He mashes against fastballs with a .289 BA and a .292 SLG. At the same time, against breaking or off-speed pitches, he sees his swinging-strike percentage rise to 15+ percent and a batting average of sub .200. 
Tier 5
12. Tommy Edman, St. Louis Cardinals
13. Chris Taylor, Los Angeles Dodgers
14. Jake Croneworth, San Diego Padres
15. DJ LeMahieu, New York Yankees
16. Gleyber Torres, New York Yankees
This tier is a mixed bag. Depending on how you built up your team in the previous rounds, you can venture into any of these guys. Do you need steals with little power? Tommy Edman is your guy. Need safe, high floor guys? LeMahieu and Taylor are there. Are you looking for a potential bounce back? Gleyber Torres fits the bill. Again, you can zag whichever path you need to build out to fill out your team. 
I prefer a build with Croneworth at second base versus using him in your first base spot. His current ADP of 120 seems cheap for a guy who is locked into the middle of an excellent Padres lineup. The counting stats regarding runs and RBI should be there. The power should play up to the 20 HR pace he set last season. He is a better hitter than the .266 average he produced last season and even had an xBA .282.
Croneworth is a steady bat to fill your team with a player who can contribute across four categories.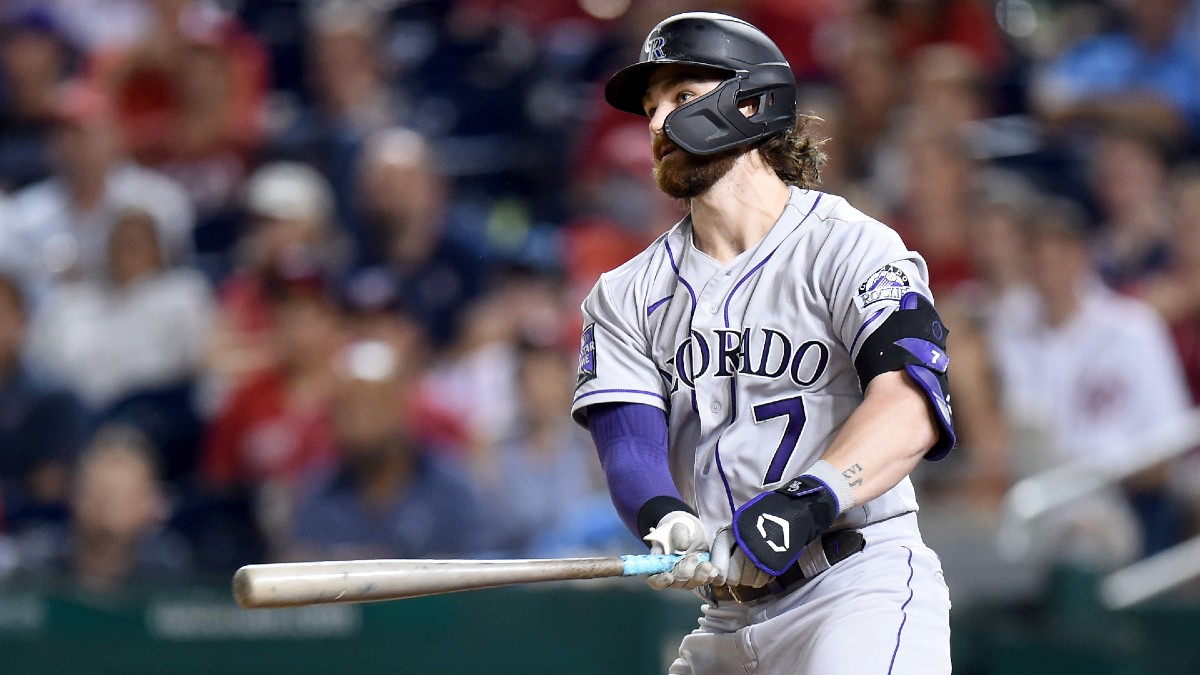 Tier 6
17. Max Muncy, Los Angeles Dodgers
18. Brendan Rodgers, Colorado Rockies
19. Ty France, Seattle Mariners
20. Gavin Lux, Los Angeles Dodgers
I hope you have picked up a second baseman by this point and are now looking to find potential breakouts that will help bolster your roster. I love Max Muncy at his projected cost, but you need to follow his injury updates. He still hasn't swung a bat, but the report is he might be ready for Opening Day (whenever that happens). If he gets positive statements regarding his injury, he will move up to Tier 3 or 4. 
Ultimately I like taking a shot on either Gavin Lux or Brendan Rodgers at this point in the draft. Both offer former top prospect pedigree. They will be in positive run-scoring lineups, whether it is the Dodgers lineup of Coors Field. 
Rodgers quietly put together a cheeky little season in 2021. He smacked 15 HR while combining 100 RBI + Runs and hitting for a .284 average in 415 plate appearances. While the young Rockies hitter doesn't possess much speed and he has never stolen a base in the major league, the average mixed with a solid HR floor is something I would like to bet on with a cheap 176 ADP. 
How would you rate this article?
This site contains commercial content. We may be compensated for the links provided on this page. The content on this page is for informational purposes only. Action Network makes no representation or warranty as to the accuracy of the information given or the outcome of any game or event.