2022 Fantasy Baseball Rankings and Draft Strategy: Vladimir Guerrero Jr., Freddie Freeman Top First Base Tiers
Credit:
Mark Blinch/Getty Images. Pictured: Vladimir Guerrero Jr.
The MLB season may be on hold, but once there is baseball, there will be fantasy baseball, so it's best to stay prepared for your draft, and we're here to help with exactly that.
Today, we have the "cold corner." First base is in a weird spot this season. We have Vladimir Guerrero Jr nestled safely in the top-5 and mainstay Freddie Freeman sitting in the second round as he usually is.
However, outside of that, you have the likes of Paul Goldschmidt, Pete Alonso, Jose Abreu and Matt Olson in their own tier in rounds five through seven. After that, you see a significant drop-off, and question marks arise.
Personally, I have found the best strategy is to either attack Freeman in the second round or wait until late to pick up your first baseman … unless the mid-tier players fall well below their ADP (average draft position).
Drafts are always about adapting to the picks in front of you, but generally speaking, these tiers should help you in formulating an attack strategy as you prepare.
---
Other Fantasy Baseball Tiered Rankings:
Catchers
Second Base
Third Base
Shortstop
Outfield
---
Fantasy Baseball Rankings: First Base 
Tier 1
1. Vladimir Guerrero Jr., Toronto Blue Jays
Guerrero was everything as advertised and more in 2021.
The big talking point after his first two seasons in the bigs was his launch angle. He had always hit the ball hard, but the 4.6-degree launch angle in 2020 was a concern. In 2021, Vlad remedied that with a 9.4-degree launch angle, and with that translated to an absurd 48 HR and a .311 AVG.
Again, there isn't much to discuss; Vlad is as good as they get at the plate. The only real knock is the lack of stolen bases (4 in 2021). That is keeping him out of the first overall pick discussion for most, but don't be scared to scoop him up as soon as the Trea Turner/Fernando Tatis Jr. group is gone. 
Tier 2
2. Freddie Freeman, Free Agent
Mr. Consistent. Freeman is a rock. You are all but locking in the cornerstone of your team with Freeman, who should provide you with 30+ HR, 200+ RBI/runs, a .300 AVG, and will even swipe 5-10 bags in the process.
This pick in the second round gives you the flexibility to pivot your draft strategy however you want in the next few rounds. Keep tabs on where he decides to take his talent in free agency once the lockout ends, since that could affect his runs and RBIs.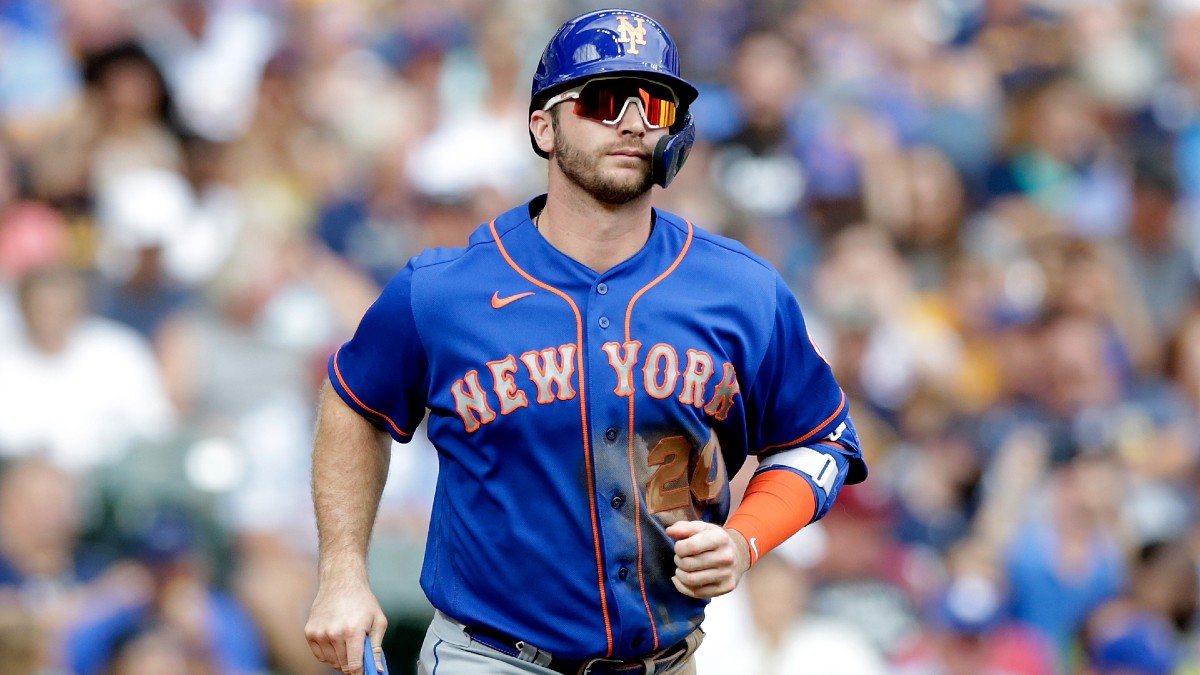 Tier 3
3. Pete Alonso, New York Mets
4. Matt Olson, Oakland Athletics
5. Paul Goldschmidt, St. Louis Cardinals
6. Jose Abreu, Chicago White Sox
This is your reminder that Pete Alonso put up an incredible 53 HR as a rookie in 2019. Yes, in 2021, we saw a decrease in counting stats from his 2019 season, but what the counting numbers don't show is his K-rate dropping 19.9%. His elite barrel rate kept pace with his 2019 season with a rate of 14.8%, and he hit 47.3% of his batted balls 95+ mph. Alonso can contribute power in droves. We have all seen his potential, and I expect 40+ HR in 2022. 
I was divided on putting Alonso or Olson at three, and there is really no wrong answer. Both players offer that power you are looking for at the first base position. Olson has blasted 39 HR and 36 HR in the last two full seasons. In addition, he dropped his K-rate to an impressive 16.8% rate in 2021 due to his swinging-strike rate dropping below 10%. Olson, like Alonso, is a bonafide 35+ HR guy that pairs them with a stellar .265 average. 
The days may be gone when Goldschmidt put up 20 HR/20 SB seasons. Still, he quietly swiped double-digit stolen bases last season after only stealing a combined 10 between 2018-2019. Goldy, like Freeman, has been a cornerstone of the fantasy first baseman for the past five years. He will deliver an immaculate average, hit 30 HR and swipe a few bags. Those guys are not easy to come by at this position. 
 I have been talking about consistency in these last few blurbs, but that is what you aim for at this position for these middle rounds. Abreu has been consistent since joining the league. He will hit you 30 home runs, and he will give you 180 R + RBI. In addition, he will be hitting in the middle of a dangerous White Sox lineup which can lead to a spike in potential RBI. 
Tier 4
7. Joey Votto, Cincinnati Reds
8. C.J. Cron, Colorado Rockies
9. Jared Walsh, Los Angeles Angels
10. Jake Croneworth, San Diego Padres
11. Ryan Mountcastle, Baltimore Orioles
12. Kris Bryant, Free Agent
13. Kyle Schwarber, Free Agent
I don't love anyone on this list, and there is a very clear drop-off from Abreu at No. 6 to any of these guys. Keep that in mind as your draft board begins to take shape.
As the saying goes, father times remain undefeated … unless Joey Votto is involved. Votto saw a resurgence last season to the tune of 36 HR and 99 RBI. I am ranking him this high because I think the power is legit. Since Statcast began tracking barrel percentage in 2015, Votto's career average was 9.8%. In 2021, Votto posted a disgusting 17.2% barrel rate and saw an average exit velocity of 92.9 mph (his previous career high was 90.1 mph in 2015).
Votto is one of the best pure hitters of this generation, hitting in the Great America Band Box, and I am always willing to bet on him. 
I love Coors Field, and it's has hard to pass on any Rockies hitter who will be a mainstay in the middle of a lineup. Cron has good bat-to-ball skills with a 21.8% K-rate in 2021 and mixed in an excellent 10% walk rate. Cron should be a nice, steady 25-30 HR guy and mix in above-average contact skills. That can be rare, particularly this late, among first basemen.
People love Jared Walsh, but I am just not seeing it. Walsh is anemic at the plate versus left-handers, slashing .170/.208/.357 against them last season. He managed to hit 10 home runs versus lefties last season, but I don't think that's a trend that will continue in 2022. He also has very pronounced first-half splits compared to his second half, with 22 of his 29 home runs coming in the first half.
Pitchers adjusted to him, not allowing him to pull the ball as much as he would like. His Pull% dropped 7% from the first half to the second half last year, and with his inability to pull the ball, his power seemed to vanish. Walsh needs to adjust, which is why I still have a little bit of faith in him relative to his ADP.
Did you know that Ryan Mountcastle popped 33 HR last season? I know. I was shocked, too. He did it on the back of an increased launch angle and barrel rate. I am worried about the dimension changes to Camden Yards affecting Mountcastle, however, who hit 22 of his 33 long balls at home.
While his 89.1 mph average exit velocity looks solid on the surface, there are underlying metrics that say otherwise. His AEV (average exit velocity) on fly balls plus line drives is just 92.5 mph, which is a far cry for someone you expect to put up 35 HR on a consistent basis.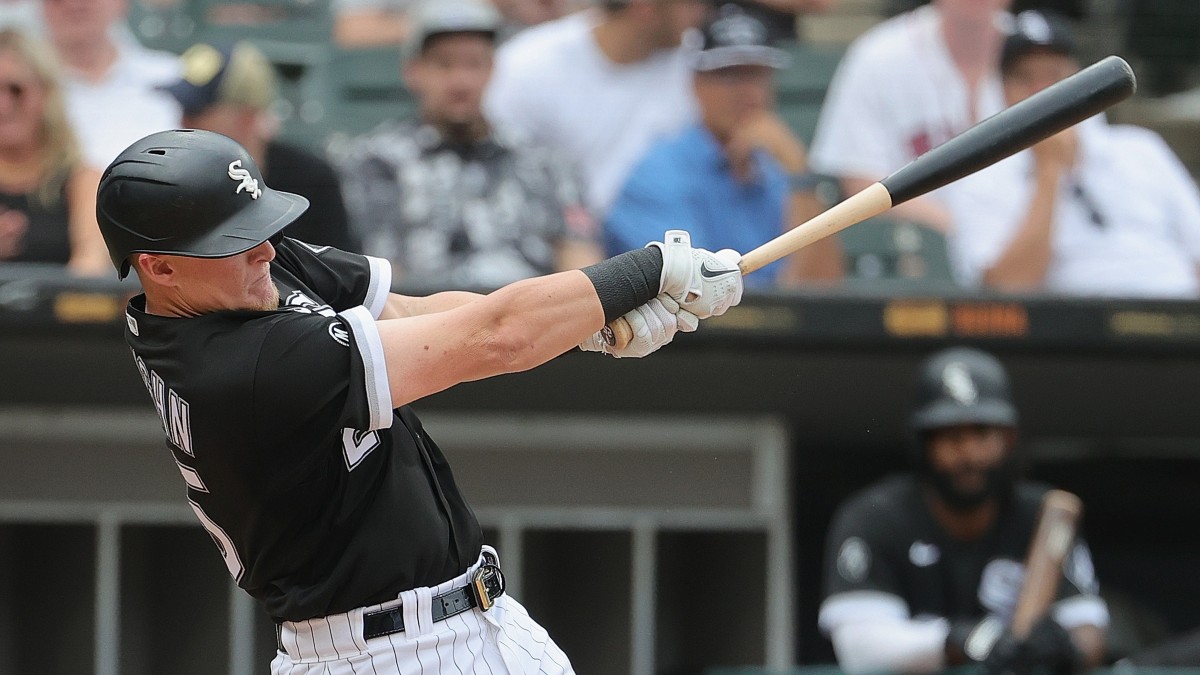 Tier 5
14. DJ LeMahieu, New York Yankees
15. Rhys Hoskins, Philadelphia Phillies
16. Josh Bell, Washington Nationals
17. Max Muncy, Los Angeles Dodgers
18. Yuli Gurriel, Houston Astros
19. Anthony Rizzo, Free Agent
20. Andrew Vaughn, Chicago White Sox
This last group is a mixed bag. Before going into your draft, try to find "your guys" or the ones you think will beat projections and offer you value late. If any of these guys end up your No. 1 first baseman, you'd better have found plenty of value elsewhere on your roster. 
My personal favorite among the group is Andrew Vaughn and his 200 ADP. Yes, his rookie season was a disaster. There's no looking past that. But the former No. 3 overall pick was put into a challenging position in 2021. He was forced to learn the outfield on the fly after Eloy Jimenez was injured. He was uncomfortable at the plate and was not playing every day.
His batted ball metrics were encouraging, however, with a 10.9% Barrel rate paired with a 9.7-degree launch angle. Evaluators were grading his future hit tool as a 70.
While all prospects don't live up to the hype, I am willing to bet on Vaughn with his discounted ADP.
How would you rate this article?
This site contains commercial content. We may be compensated for the links provided on this page. The content on this page is for informational purposes only. Action Network makes no representation or warranty as to the accuracy of the information given or the outcome of any game or event.