2022 Fantasy Baseball Rankings and Draft Strategy: Deep Top Tier of Outfielders Features Juan Soto, Mookie Betts, Luis Robert and More
Credit:
Rob Leiter/MLB Photos via Getty Images. Pictured: Juan Soto
Most fantasy baseball leagues start between three to five outfielders, so the position is typically pretty deep, as you can expect. This season is no different, with 29 outfielders being drafted in the top-100 of drafts according to FantasyPros.
My personal strategy is to try and attack the outfield early and often. I like to grab two players from the first three tiers and then fill out my roster with some of the players falling down the draft. Let's get to the rankings!
---
Other Fantasy Baseball Tiered Rankings:
Catchers
First Base
Second Base
Third Base
Shortstop
---
Fantasy Baseball Outfield Rankings
Tier 1
1. Juan Soto, Washington Nationals
2. Mookie Betts, Los Angeles Dodgers
3. Luis Robert, Chicago White Sox
4. Bryce Harper, Philadelphia Phillies
5. Kyle Tucker, Houston Astros
6. Mike Trout, Los Angeles Angels
7. Ronald Acuna Jr., Atlanta Braves
This is the largest first tier of any position, and you cannot go wrong with any of these players in your draft's first or second round.  
My favorites of the group in terms of value relative to their ADP are Mookie Betts and Luis Robert.
Betts is among the best hitters in the MLB. He has a combination of speed and batting average while hitting atop arguably the best lineup in the National League. While he only stole 20 bases in his last 177 games and probably is well past his 30-steal pace of yesteryear, a return to the 20s over a full season is within reasonable range.
Robert has been steadily climbing draft boards all offseason and it's hard to pass up the speedster. Robert has dealt with a few injuries since making his debut in 2020, but since his debut he has produced 31 homers and 15 steals while hitting .294. He is a mix of speed and power, which I love to target at the end of the first round. The gravy is him hitting atop the excellent White Sox lineup. I expect 30 dingers, 15-20 steals and a pristine batting average. Sign me up.
Tier 2
8. Yordan Alvarez, Houston Astros
9. Teoscar Hernandez, Toronto Blue Jays
10. Aaron Judge, New York Yankees
11. Cedric Mullins, Baltimore Orioles
12. Starling Marte, New York Mets
13. George Springer, Toronto Blue Jays
14. Eloy Jimenez, Chicago White Sox
This tier is mostly raw power guys with the likes of Starling Marte and Cedric Mullens sprinkled in. 
My favorite to target in this area is Teoscar Hernandez. He will rack up plenty of run and RBI opportunities hitting behind the likes of Bo Bichette, George Springer and Vladimir Guerrero Jr. That alone is incredibly valuable. Add in the fact he can steal double-digit steals bases and has 40-HR potential and the sky is truly the limit. Hernandez was in the top 85% of the league in most batted ball categories last year, including Barrel percentage, Hard-Hit percentage and Exit Velocity, and he was in the 85th percentile in Sprint Speed, too.  
Starling Marte is also exciting at this level given his skillset. Last season, Marte stole 47 bases as a 32-year-old between the A's and Marlins. His profile pairs particularly well  in the second round if you grabbed someone like Vladimir Guerrero Jr. or Juan Soto in the first. His move to the Mets should provide a boost to his counting stats, but my main worry for him is if the stolen bases end up in the 20-25 range. He will turn 33 during the season, and if the SB dry up, we will be stuck with a guy without power and without that top-end speed.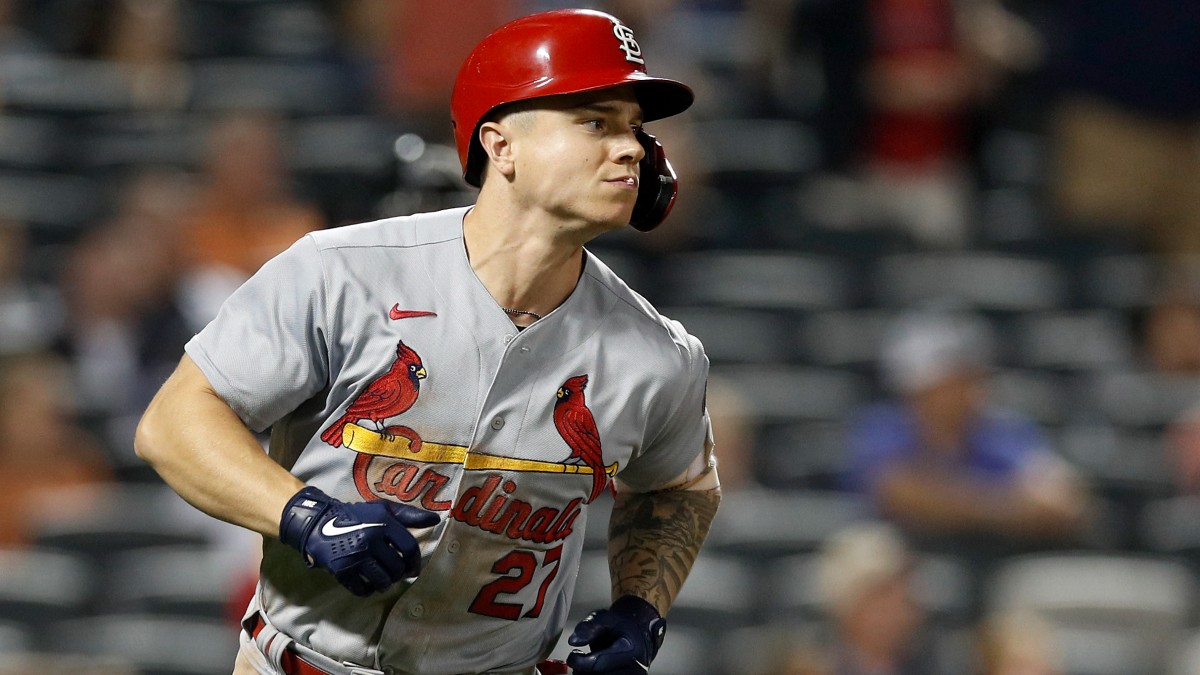 Tier 3
15. Tyler O'Neill, St. Louis Cardinals
16. Randy Arozarena, Tampa Bay Rays
17. Byron Buxton, Minnesota Twins
18. Giancarlo Stanton, New York Yankees
19. Nick Castellanos, Free Agent
20. Kris Bryant, Colorado Rockies
21. Whit Merrifield, Kansas City Royals
22. Ketel Marte, Arizona Diamondbacks
23. Brandon Lowe, Tampa Bay Rays
24. Franmil Reyes, Cleveland Guardians
25. J.D. Martinez, Boston Red Sox
This tier is where the outfield depth starts to dwindle. After this tier, you fall more into some murky water. I want to leave my drafts with at least two players from the first three tiers. If not, you can leave your roster depth will likely be a little suspect. 
My favorite among this group has to be Tyler O'Neill at his 62 ADP. The Cardinals' breakout star from last season put up 35 HR and 14 SB while hitting a solid .286 at the plate. He hits the ball as hard as any player in the league with a Barrel%, Exit Velocity, and Hard-Hit% all in the 90th percentile.
A .366 BABIP is incredibly high and a little concerning, but O'Neill now has a .338 career BABIP in 987 career plate appearances, so even if fewer hits are falling it shouldn't be too extreme. Most projection systems expect him to drop into the .260-.265 batting average range.
Another redeeming quality of O'Neill's profile is that he is fast. Really fast. He was in the 98th percentile in Sprint Speed last season while stealing 15 bags in 19 attempts.
Byron Buxton is anoter exciting player at his 48th overall ADP. He is electric when he is actually on the field, which is sadly rare. In his age 26 and 27 seasons, he played a combined 100 games. In those 100 games, he produced 32 HR, 69 R, 59 RBI, and 11 steals while hitting around .280.
When healthy, Buxton delivers top-20 value, but health is the real question mark. So when you see him on the board in the fourth round, you should think about your risk tolerance.
Tier 4
26. Bryan Reynolds, Pittsburgh Pirates
27. Jesse Winker, Seattle Mariners
28. Christian Yelich, Milwaukee Brewers
29. Cody Bellinger, Los Angeles Dodgers
30. Mitch Haniger, Seattle Mariners
31. Austin Meadows, Tampa Bay Rays
32. Jared Kelenic, Seattle Mariners
33. Tommy Edman, St. Louis Cardinals
There's a big drop between tiers 3 and 4 and you have to kind of talk yourself into getting excited about any of the eight players listed here. Each has significant question marks that have pushed them down this far on the list.
Will Christian Yelich and/or Cody Bellinger reclaim their former glory? Can Mitch Haniger stay healthy again? Will Jarred Kelenic make the necessary adjustments to major-league pitching? 
Haniger quietly put together a solid 2021 season. He was a mainstay in that two-hole all year, which allowed him to rack up counting stats, with more than 100 runs and RBI. I can't see anything changing for Haniger, and he should keep that spot in the lineup and keep producing counting stats. While hitting 39 HR last year, Haniger delivered his best Barrel percentage and saw his Hard-Hit rate spike to 45%. I think he is a lock to hit 30 again.
So the question is, why is he down here ranked 30th overall? He doesn't steal bases (one in 157 games in 2021), and his average leaves some to be desired. But the real reason is the history of injuries. He has only played in more than 100 games twice in his career. However, many of the injuries he suffered aren't your typical shoulder or wrist injuries that can linger throughout a career, so while others in your league might consider him a bigger risk, that could allow you to get solid value once he comes your way.
Haniger's teammate, Kelenic, was downright bad in his first cup of coffee in the majors a year ago. He slashed .181/.265/.350 in his first 93 games. But not everyone can be Juan Soto and immediately come up and rake. I think with his 142 ADP, his price is low enough price to take a shot on his immense talent. Overall, his counting stats were not bad, and he produced 20 HR+ SB in 93 games, which is acceptable. He added another 80 Runs + RBI. Sadly, that .181 average is a backbreaker in most leagues.
He will need to improve on that to see relevance on your team. I feel with Kelenic that I like to bet on talent, and if he doesn't put it together in the first month or two of the season. Then, we can move on and find a better OF bat at a position that sees players break out each season.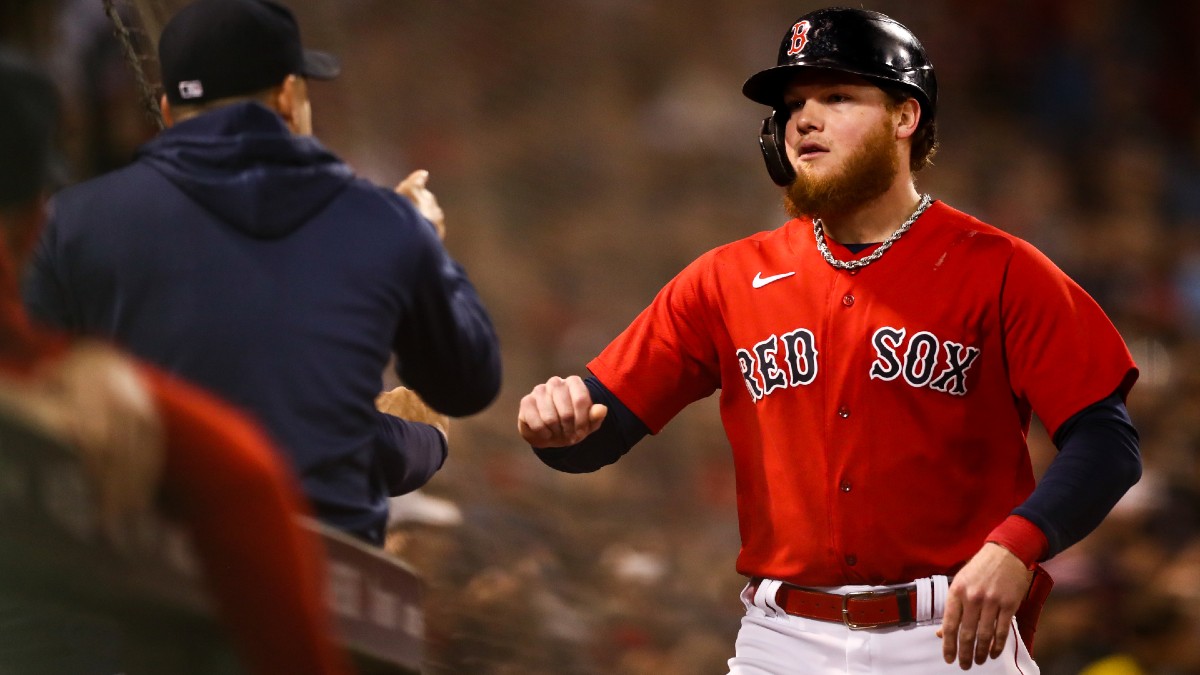 Tier 5
34. Kyle Schwarber, Philadelphia Phillies
35. Trent Grisham, San Diego Padres
36. Jared Walsh, Los Angeles Angels
37. Joey Gallo, New York Yankees
38. Lourdes Gurriel Jr., Toronto Blue Jays
39. Chris Taylor, Los Angeles Dodgers
40. Alex Verdugo, Boston Red Sox
At this point in the draft, you are trying to find either guy who can shore up your roster with steady players like Chris Taylor or chase upside in the likes of Joey Gallo. 
I typically lean toward trying to snag Alex Verdugo late in the draft. His current ADP is 147, and I think we can easily see him provide some easy value to your team. It's not often you can get a guy who has the potential to hit .300 and combine for 150 RBI + R this late in the draft. He is a steady floor guy who has the upside to provide counting stats on the top of the impressive Red Sox lineup. 
In 2021 Verdugo posted his career-high in Exit Velocity Barrel percentage, while also upping his Launch Angle from 5.9 degrees to 7.7 degrees in 2021. He is such a good hitter that I am willing to bet on him making improvements and continuing to make the adjustments to his profile that can turn him into a 20+ HR bat who can hit .300. 
How would you rate this article?
This site contains commercial content. We may be compensated for the links provided on this page. The content on this page is for informational purposes only. Action Network makes no representation or warranty as to the accuracy of the information given or the outcome of any game or event.