2022 Fantasy Baseball Rankings and Draft Strategy: Shallow Third Base Position Sees Jose Ramirez on Top
Credit:
Tim Warner/Getty Images. Pictured: Jose Ramirez
Major League Baseball is back! And that can only mean one thing: Rankings.
In this addition to our fantasy baseball rankings, we will go in-depth on the lack of depth of third base this season. It is incredibly top-heavy this year and no longer the strong position we are used to. Jose Ramirez, Rafael Devers and Manny Machado spearhead the group this year. It gets a bit crazy after that, so buckle in!
---
Other Fantasy Baseball Tiered Rankings:
Catcher
First Base
Second Base
Shortstop
Outfield
---
Tier 1
1. Jose Ramirez, Cleveland Guardians
The Guardians star is the cream of the crop this year, sitting atop a surprisingly shallow third base group. The first round is where you want to target players who will contribute in all five categories and Ramirez fits the bill. These players are getting more valuable as the years go on, and steals are becoming more scarce. 
Ramirez is sixth in stolen bases since 2018 while swatting 115 HR. While he isn't in the best team situation, he managed to combine for 214 R+RBI last season. It shouldn't be a surprise to see him repeat that this year.
If you are feeling crazy, I can't even argue with the possibility of him going No. 1 overall due to the lack of depth at third base. It may not be something you agree with, but it is at least worth it to take the time and think about him first overall.
Tier 2
2. Rafael Devers, Boston Red Sox
3. Manny Machado, San Diego Padres
Raffy Big Stick is still only 25-years-old despite making his debut in 2017. The Red Sox slugger put together an incredible 2021 season, setting a career-high in home runs. He managed another season of more than 200 R+RBI while chipping in five SB.
His batted ball data suggests that this is only the start for Devers. He was in the top-10 percentile in average exit velocity, xwOBA, xBA, xSLG, Barrel%, Hard Hit%, exit velocity and max exit velocity. The Red Sox lineup is still fearsome, and I think Devers is a slam dunk investment starting at the end of the first round. 
Manny Machado feels like he had fallen out of the public radar when he got to San Diego. However, he is a consistent bat at a shallow position. You can draft him and expect some 25-30 HR, an above-average batting average and around 200 R+RBI. He even stole 12 bases last season, the second-most in a season since 2015.
Machado was a tad unlucky last season, underperforming his .295 xBA and .531 xSLG. We hope to see a change to more neutral luck in 2022 rather than the bad luck he saw last year, and Machado is a solid addition to your team starting around the third round.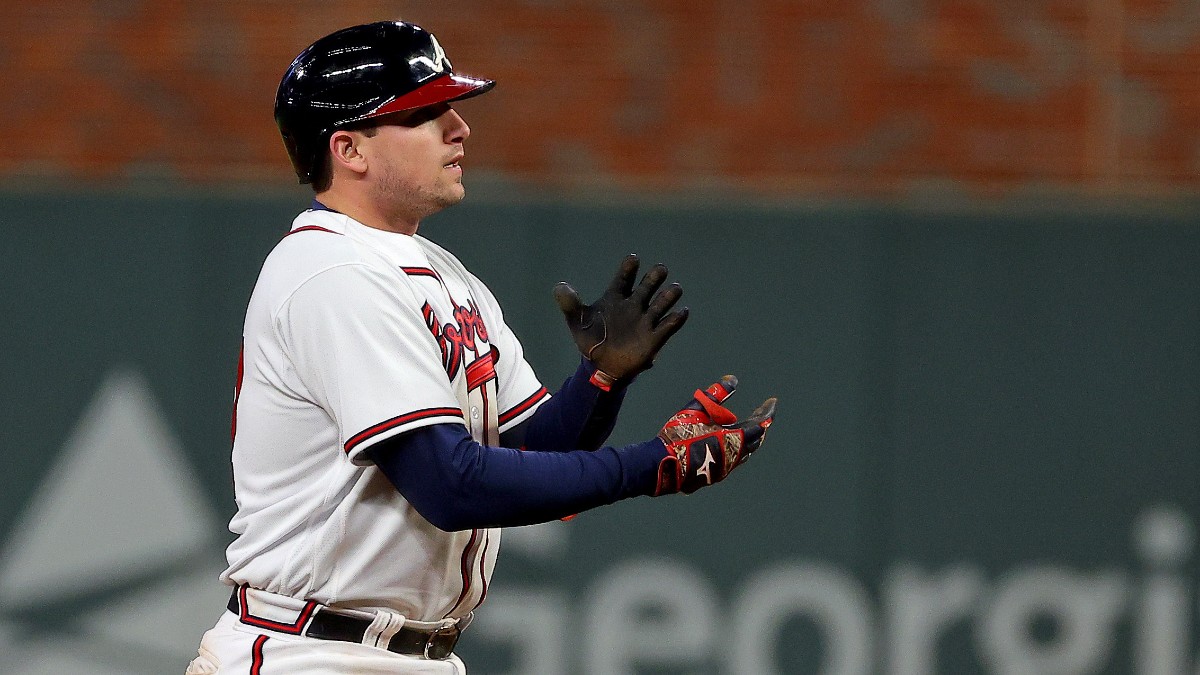 Tier 3
4. Adalberto Mondesi, Kansas City Royals
5. Austin Riley, Atlanta Braves
After this tier, the position becomes filled with plenty of what-ifs. Even this tier has question marks, but they are questions that I am confident I know the answer to … if that makes any sense. 
Adalberto Mondesi is an enigma within the baseball community. Some love him, some hate him. Last season, he was a fringe first-rounder, but he can now be scooped up in the fifth round with an average draft position (ADP) of 65. When healthy (and that is the big if), Mondesi is electric. He will steal you a load of bags. In the last four seasons, he has played 271 total games and stolen 114 bases. For reference, Trea Turner has stolen 122 in the same time in 491 games.
Mondesi is a player who can win you the steals category on his own, and with the increasing scarcity of steals, that cannot be taken lightly. The Royals SS also provides a little power to his profile, projected to smack around 20 HR this year. Mondesi is a risk-tolerance pick. If healthy, he is a top-25 pick.
I was big into Austin Riley last season, mainly because we share the same first name. But hey, it still counts. The Braves' young slugger finally broke into the elites of the baseball world last season by hitting over .300 and recording 100 RBI. He also hit 33 HR, doubling his career total.
Riley's success is partially fueled by a .386 BABIP, which will be hard to replicate. However, the improvement in plate discipline is also a significant factor. His K-rate dropped to 25.4% after having a putrid 36.4% in his rookie season. In addition, his swinging-strike rate was 13.1% last season, a far cry from the disgusting 20.5% in his debut season.
Riley has the tools to put together a season similar to 2021. Still, I am expecting a touch less in the batting average category. 
Tier 4
6. Alex Bregman, Houston Astros
7. Nolan Arenado, St. Louis Cardinals
8. Anthony Rendon, Los Angeles Angels
Flashback to 2020 and these three names were locked in top-20 picks. Each has that name factor that can cause your fellow drafters to reach for them earlier and expect 2020 production. But you can find similar production later and at a cheaper price.
As many predicted, once Arenado left Coors he turned from a .300 hitter fueled by a. 300 BABIP to a .260 hitter with a BABIP in the range of .250-.260. Long gone are the days of 220 R+RBIS and a .300 average. Arenado still brought the power last season with 34 HR, but at this point of his career, HR+RBI are the two categories he will help you in. Unfortunately, the lack of average and speed leave a lot to be desired, with an ADP of 61. 
If I had to choose which player I would take from this group, I would lean towards Rendon due to his cheapish 99 ADP, but none inspire confidence. The Angels' $245 million man has had many injuries since joining the team in 2020. Last season, he only played in 58 games and put up the worst year of his career, posting just a BABIP which was a far cry from his .312 career average. A healthy Rendon, who should see an average back to his career norms, should produce some value in the draft.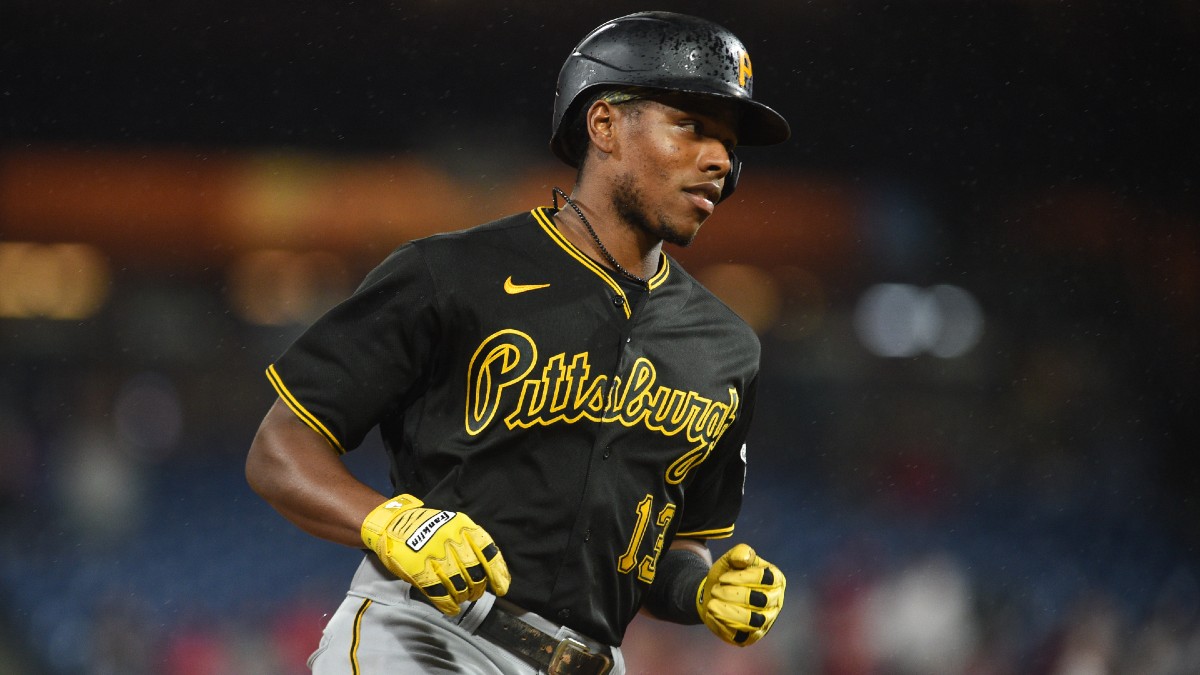 Tier 5
9. Justin Turner, Los Angeles Dodgers
10. Ke'Bryan Hayes, Pittsburgh Pirates
11. Yoan Moncada, Chicago White Sox
12. Josh Donaldson, Minnesota Twins
Based on ADP, this tier is the one I would prefer to draft from if you miss out on Tier 1 or 2 guys. It is not sexy, but I can see a world where these players produce nearly 75% of what Tier 4 could and at a cost outside the top-140 picks. 
My personal favorite from this tier is the electric Pirates third baseman Ke'Bryan Hayes. Currently, Hayes has an ADP of 147, according to FantasyPros, which is behind both Turner and Moncada. The 25-year-old burst onto the scene in 2020 with 195 wRC+ in 100 plate appearances. His glove is among the best in the league, and while that doesn't count in fantasy, it does mean he will be on the field every day in the middle of the Pirates' lineup. 
Hayes had a disappointing 2021 season which was ultimately derailed by a slew of wrist and hand injuries. It zapped his power, and he hit just six home runs in 400 plate appearances after having five during his brief stint in 2020. The wrist injury affected some of the pop in the third baseman's bat, leading to a decrease in average exit velocity, barrel rate and hard-hit%.
I think we can see a healthy Hayes jump into the 20+ HE range, with an average of around .260. He will play every day in the middle of the Pirates lineup, so he will inevitably rack up runs and RBI. He has also shown some speed, and all projections systems think he will steal at least 10 bases. Take a chance on Hayes making the next step; I don't think you will regret it. 
Tier 6
13. Jeimer Candelario, Detroit Tigers
14. Matt Chapman, Oakland Athletics
15. Eugenio Suarez , Cincinnati Reds
16. Alec Bohm, Philadelphia Phillies
17. Patrick Wisdom, Chicago Cubs
18. Gio Urshela , New York Yankees
19. Jonathan Villar, Free Agent
20. Mike Moustakas, Cincinnati Reds
None in this group are exceptionally costly, and each has its own separate set of warts. Matt Chapman and Eugenio Suarez both have light-tower power. Still, they also come with the ability to hit sub .200 and ruin your batting average. If you have to take a shot at one of these guys, I suggest looking into Jeimer Candelario and his very cheap 244 ADP. 
The 28-year-old is coming off an excellent season where he accumulated 3.2 fWAR. He will be hitting every day in the middle of an improving Tigers lineup. The recent addition of Javy Baez should help the Candy Man with RBI opportunities. Potential call-ups of elite prospects Riley Greene and Spencer Torkelson could make the Tigers' lineup dangerous as soon as this year, and I expect runs and RBIs to be flowing for Candelario. 
He has all the opportunities to rack up counting stats and what we saw out of him in the second half last year was nothing to sleep on. Post-All-Star break, Candelario slashed .282/.358/.525 while adding 11 HR. His K-rate dropped to 18.8% while he started to pull the ball more. His .375 wOBA in this second half put him tied with Giancarlo Stanton and just behind Mookie Betts.
Candelario is cheap, he will get every day at-bats in a sneaky Tigers lineup, and I really think he is a steal at his 244 ADP. 
How would you rate this article?
This site contains commercial content. We may be compensated for the links provided on this page. The content on this page is for informational purposes only. Action Network makes no representation or warranty as to the accuracy of the information given or the outcome of any game or event.