2022 Fantasy Baseball Rankings and Draft Strategy: Loaded Shortstop Position Topped by Turner, Tatis, Bichette
Credit:
Matt Thomas/San Diego Padres/Getty Images. Pictured: Fernando Tatis Jr.
As shallow as third base is, shortstop is the complete opposite direction.
This season, it is as deep as the Marina Trench, filled with young studs and established vets. As a result, it has 16 total players in the top-100 of FantasyPros ADP.
Keep in mind that some players have multi-positional eligibility. Marcus Semien (2B), Javier Baez (2B), Trea Turner (2B) and Jazz Chisholm Jr. (2B) were talked about in previous editions of these rankings. 
---
Other Fantasy Baseball Tiered Rankings:
Catchers
First Base
Second Base
Third Base
Outfield
---
Tier 1
1. Trea Turner, Los Angeles Dodgers
2. Fernando Tatis Jr., San Diego Padres
3. Bo Bichette, Toronto Blue Jays
Head over to our second base rankings for my thoughts on why Turner is the No. 1 overall player in fantasy this season, but the fact that he has eligibility at both positions is obviously huge this year. Tatis Jr. and Bichette are the young guns — the sons of former major leaguers — and proof that time is simply moving too fast.
Tatis Jr is electric on the field and has captured the nation's heart after his debut in 2019. He can do it all. He will steal bases, hit for a ton of power, accrue tons of counting stats and even possess OF eligibility just for kicks. The Padres superstar blends elite power, with barrel %, exit velocity and hard-hit percentage all within the top-2% of the MLB. Oh, and a 29.3 sprint speed. The only knock keeping Tatis Jr. out of the No. 1 overall pick for me is the health issues. He would be the de facto top pick if he had a fully healthy shoulder. 
Bichette just put together an incredible age-23 season. Like, truly unbelievable. According to ESPN's player rater, he was the second-most valuable player in all of fantasy baseball last year. I would be hard-pressed to see why Bichette can't repeat his season; if not, improve on it. I would love to see him try and elevate the ball a bit more — the near 50% groundball rate isn't my favorite — but he made it work. Bichette is a slam dunk anywhere in the first round. He is a five-category superstar.
Tier 2
4. Xander Bogaerts, Boston Red Sox
5. Tim Anderson, Chicago White Sox
6. Marcus Semien, Texas Rangers
7. Trevor Story, Free Agent
8. Carlos Correa, Free Agent
9. Wander Franco, Tampa Bay Rays
Arranging this particular tier was especially hard. Each player is incredible in their way. Unfortunately, this tier has an average draft position (ADP) ranging from 32 (Semien) to 79 (Correa), so you will be paying a hefty price for your favorite among the group.
I find myself drifting more and more towards Wander Franco at his 47 ADP. It is not often that a player comes up at 20-years old and holds their own the way Franco did last season. He showed remarkable plate discipline in his rookie season with a 12% BB rate, a contact rate well above league average. The Rays phenom lacked the batted ball data that inspires confidence, but I am fine to chalk that up to it being his brief debut. I am willing to bet on Franco, who has dominated every level he has been at, to adjust and put together an incredible sophomore season. He very well can make the leap that we saw Bo Bichette make last season. 
The other favorite I have from this group has to be the current free agent Carlos Correa. He has a current ADP of 79, significantly cheaper than his fellow peers in this tier. While you will need to keep an eye on where the former top prospect lands, he will produce anywhere. In 2021, he put up a career-high 26 HR and 104 runs. He possesses an above-average batted ball profile fueled solid 12.1-degree launch angle and 9.4 Barrel rate. The batted ball profile paired with an 18.1% K-rate leads to that .296 XBA which is top-4% in the league. Correa will positively contribute to four of the five categories and be an excellent addition to your roster.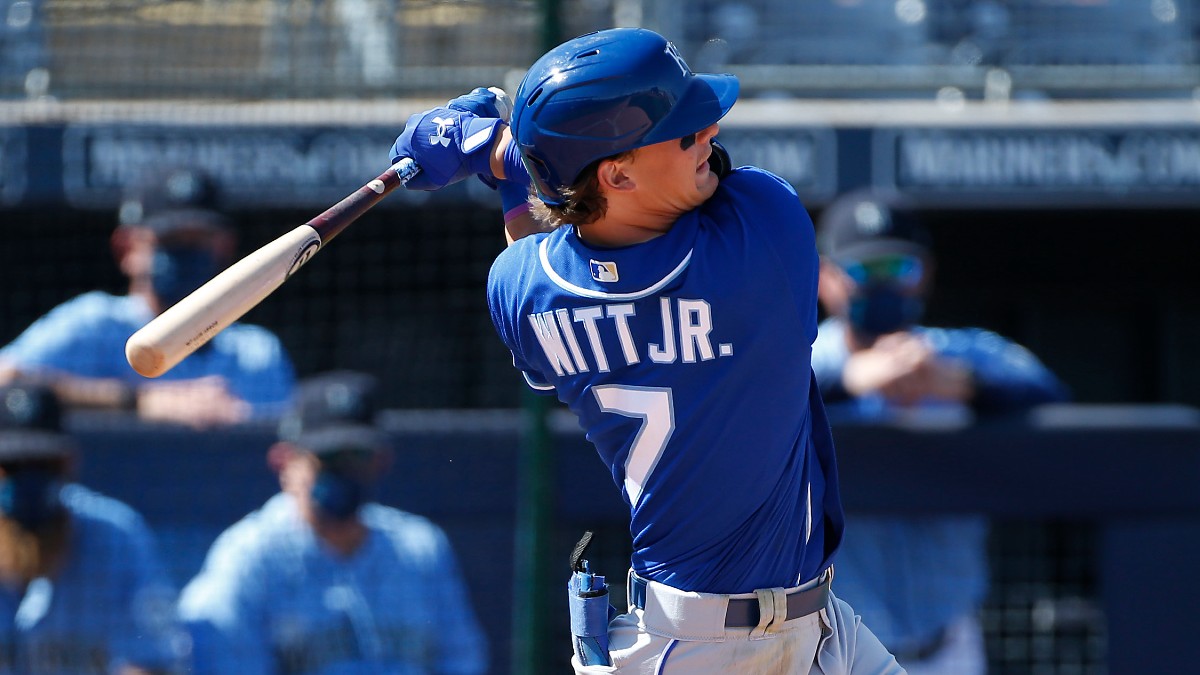 Tier 3
10. Francisco Lindor, New York Mets
11. Corey Seager, Texas Rangers
12. Bobby Witt Jr., Kansas City Royals
13. Javier Baez, Detroit Tigers
Everyone has extreme opinions about Witt, and he's yet to even appear in a major-league game. The 21-year-old offers both speed and power that is often so coveted when drafting. He is currently being selected around the 100th pick, and I don't think you can find anyone else with his upside around that pick. 
His minor league track record is spectacular. As a 20-year-old between Double- and Triple-A last season, Witt Jr. totaled 33 HR, 29 SB and a .290 average. He has the effortless power you look for in prospects when transitioning to the majors. Witt might not immediately be a positive contributor with his average, and I would expect something along the lines of .250. You can get away with that average when you carry potential 25 HR-25 SB potential while hitting atop an underrated Royals lineup.
I won't reach for Witt, but if he falls to around the 90th pick or later, I am ready to take my shot and bet on the talent. 
Tier 4
14. Jorge Polanco, Minnesota Twins
15. Jazz Chisholm Jr., Miami Marlins
It was easy to miss amid the trainwreck that was the 2021 Twins, but Polanco raked. He hit .269 with 33 HR and 195 R+RBI. The Twins' second baseman saw a considerable increase in his batted ball profile, which led to the jump from 22 HR to the 33 we saw last season.
In addition, he increased his Barrel rate to 10.1% and his exit velocity to 89.4 mph. These aren't elite numbers, but they improved from his 6.7 Barrel rate in 2019. The increased power can be traced to the increased pull% and jumping up to over 52.7% last year. Combining better batted-ball data with increased pull percentage will produce better power numbers. 
I am not sure his 15.8% FB/HR rate will follow him in 2022, but he will still bring at least 25 HR pop. His average should remain steady at .260, and he should rack up counting stats hitting in the middle of the order.
Depending on your roster makeup, he is an excellent pick at his ADP of 85. If you need speed or high ceiling, I might go for Bobby Witt Jr. instead.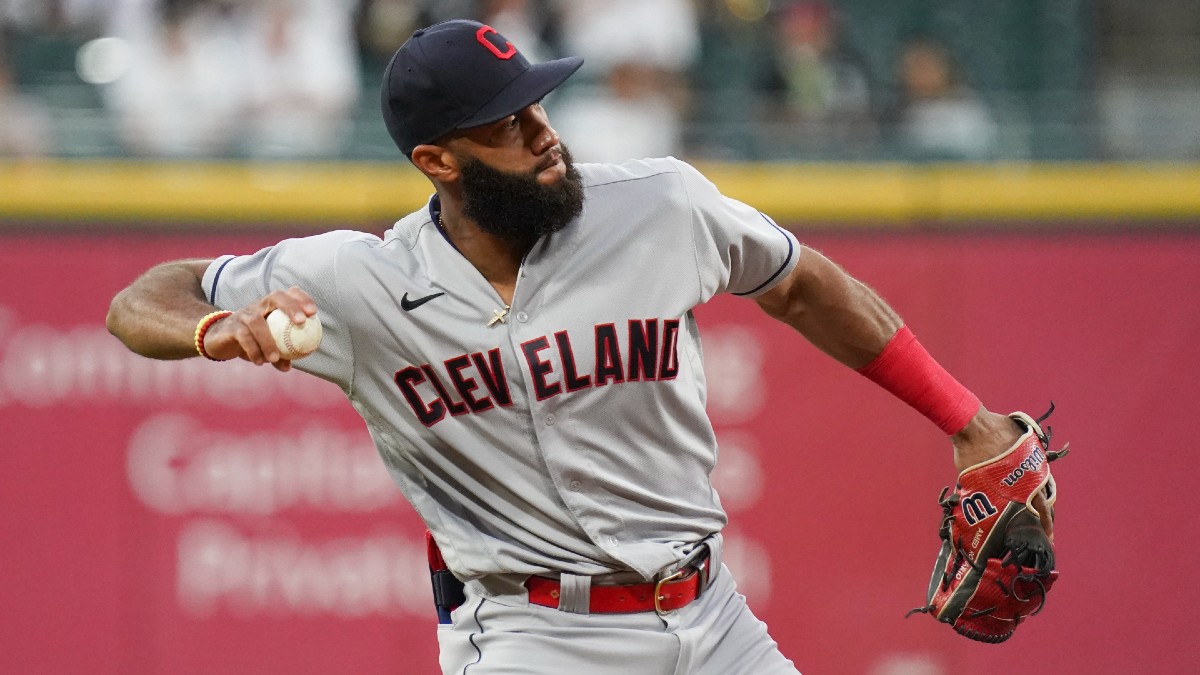 Tier 5
16. Dansby Swanson, Atlanta Braves
17. Willy Adames, Milwaukee Brewers
18. Amed Rosario, Cleveland Guardians
19. Jake Croneworth, San Diego Padres
20. Oneil Cruz, Pittsburgh Pirates
I honestly enjoy this tier of players, especially at a discount. You can get them. You have a wide variance of ADP between players. Adames Swanson and Croneworth are around 120, while Rosario and Cruz are almost free in the 230-pick range.
I feel myself leaning towards trying to leave with either Cruz or Rosario if I punt the shortstop position until this point. Which, to be fair, is relatively rare. Rosario in particular showed strides during 2021, especially with his plate discipline, which has always been an Achilles' heel of his past profile. In addition, he dropped his swing percentage to league average last season after spending years as a free swinger. The former top prospect will not win you leagues, but he is virtually free and will provide cheap speed at the end of drafts. 
Cruz is a lot like Witt but without the top-100 cost. He is a shortstop who has 80-grade raw power. Let me repeat that: 80-grade raw power from the shortstop position. He had a quick cup of coffee last season, resulting in just five total batted balls, and managed a max exit velocity of 118.2 mph in those five batted balls, the 21st-hardest hit ball in the majors last season.
He also swiped 19 bags in his minor league season. This is all a recipe for a shot worth taking. Even if he disappoints, he is worth the risk at the price of his 237 ADP. 
How would you rate this article?
This site contains commercial content. We may be compensated for the links provided on this page. The content on this page is for informational purposes only. Action Network makes no representation or warranty as to the accuracy of the information given or the outcome of any game or event.