2022 RSM Classic: Expert Sees Value on J.J. Spaun In Round 3
Credit:
Picutred: J.J. Spaun. (Photo by Cliff Hawkins/Getty Images)
It has been an excellent start to this week after going 3-0 in the head-to-head sector between pre and in-tournament plays, but I have found this Saturday board to be troubling for multiple reasons.
I will include some of my top head-to-head candidates below if you would like to find any matchups of your own, but I do want to stress the importance to everyone reading that you do not need to force action when the value isn't there. Betting is sometimes more about the wagers you don't place than the ones you do, and a dollar saved is a dollar earned when it comes to your bankroll growing over time. Keep that in mind when you get to my three-ball recommendation of the day.
If you aren't doing so already, you can find me on Twitter @TeeOffSports. There I will provide my pre-tournament model, a powerful and interactive data spreadsheet that allows user inputs to create custom rankings for golf. That sheet is free and released every Monday, so be sure to check it out and construct your own numbers from my database of information.


Model Differential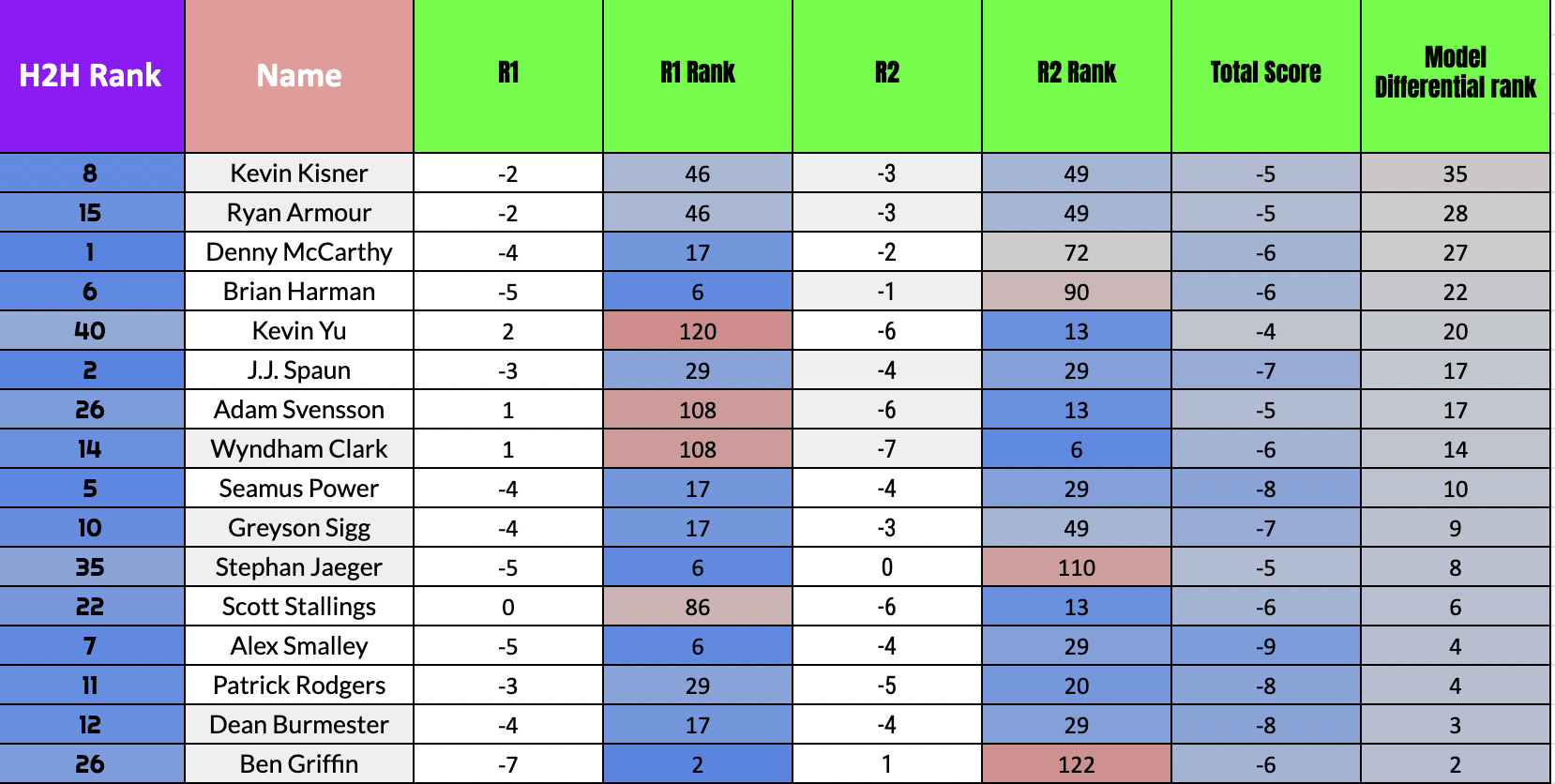 These are the top underachieving players when it comes to their rank on the leaderboard versus my projected output on the model. I do want to note the lack of trackable data over two days has somewhat flawed the data. However, I regressed the weight I used for that reason and softened some of the back-end metrics to prevent wild overcorrections.
I seem to be much higher than the public when it comes to Kevin Kisner, Ryan Armour, J.J. Spaun, Greyson Sigg, Alex Smalley, Wyndham Clark and Denny McCarthy, but consider this a condensed version of what we want to be looking at Saturday since the entire spectrum from top-to-bottom is equally as important.
Top-25 H2H Ratings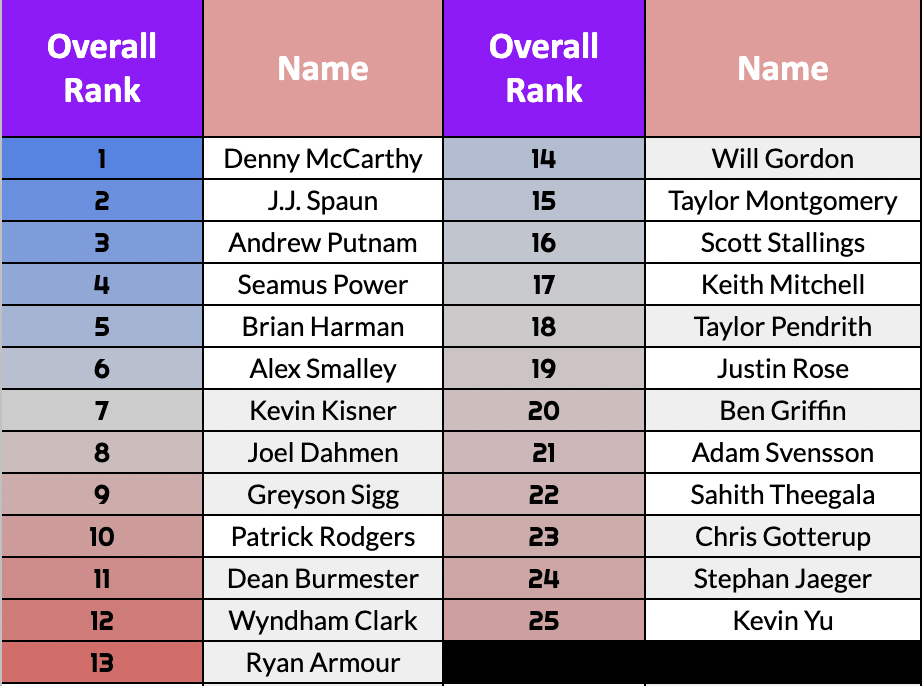 With a promising pre-tournament outright card in hand after backing options like Denny McCarthy (40/1), Andrew Putnam (55/1) and Brian Harman (22/1), I decided to add J.J. Spaun (80/1) to the mix at his easily found price throughout the space.
Spaun was a golfer I considered pre-tournament, but ultimately removed because of his lack of positive trajectory in the outright market. However, the 30-point inflation we have received on a player sitting only five shots back entering the weekend was too much for me to ignore since I had him priced closer to 50/1.

Three-Ball Action
J.J. Spaun +150 over Hayden Buckley and Paul Haley (BetMGM)
I want to preface this by saying I won't be tracking anything for Saturday since nothing technically qualified when it came to the threshold needed to recommend a wager. In fairness, I will give a bet that I am placing for myself in round three, which was a three-ball play of J.J. Spaun over Hayden Buckley and Paul Haley, but this isn't the board I would highlight if writing a dissertation into profitable gambling.  
The 32-year-old Spaun ranks as one of the safest options I have on my sheet for the day, but these wagers are always more about who we are facing than who we are backing, and the profiles of Haley and Buckley are attractive to evaluate because of the reverse nature of what is being uncovered in my model.
I will start with Haley, but only six players were weaker cut-makers than him after I regenerated my totals entering Saturday. Part of that stemmed from the par-four scoring metrics that were mimicked toward Sea Island when I built my model on Monday, but the broader sense of the image gave us a golfer who was projected to provide his best outing on the one-off Par 72, something we saw come to fruition after he generated 71% of his tournament total on that course. That is not something you want to see out of a fade candidate when we are heading back to the weekend track, and even if his chances are better than perception, I still believe any of the +250 numbers you can find on him in this market are reduced too far and have zero value.
On the other hand, Buckley is a little more intriguing of a choice when we look into his 18 consecutive rounds of shooting par or better, but my model has seemingly been lower on him from the start of the event when comparing it to bookmakers. It does seem like the recent form is propelling a price tag in most areas, including here in a three-ball battle against Haley and Spaun.
According to my math, Spaun should have been around -135 against Buckley if priced together in a head-to-head matchup.
As I keep saying, be cautious if you decide to place this wager for your tournament portfolio, but we are about 15 points off between the +135 tag I have and the +150 total on BetMGM, making this something that qualified for consideration, even if it isn't a wager that will make my final tracking card.

How would you rate this article?
This site contains commercial content. We may be compensated for the links provided on this page. The content on this page is for informational purposes only. Action Network makes no representation or warranty as to the accuracy of the information given or the outcome of any game or event.