Canelo vs. Jacobs: Recent Fight History, Odds and Connections To GGG
Credit:
Tom Hogan-Hoganphotos/Golden Boy Promotions and Ed Mulholland/Matchroom Boxing USA. Pictured: (left) Canelo Álvarez and Daniel Jacobs.
Canelo Álvarez and Daniel Jacobs will clash on May 4 in Las Vegas to determine the unified middleweight world champion.
Both fighters share a similar foe, who may be a key figure in how to bet this championship bout.
Saul "Canelo" Álvarez enters Saturday's bout against Daniel Jacobs as a -450 favorite, while Jacobs is a +350 underdog (To win $100 on Canelo, a bettor would have to place a $450 bet, while a $100 bet on Jacobs nets you $350).
In Canelo's past three fights — two against Gennady "GGG" Golovkin and one against Rocky Fielding — his odds have been distinctly different based on the competition.
In both fights against GGG, Canelo was listed as the underdog, with the first fight ending in a draw and their most recent bout ending in a majority decision for Canelo.
For Jacobs, his fight on May 4 against Canelo will be the first time he is listed as an underdog since fighting against GGG in March 2017. Ironically enough, Golovkin is the most recent common opponent for both Canelo and Jacobs. Last September, Canelo beat GGG by majority decision, while Jacobs lost by unanimous decision against GGG in a close fight on the cards.
Canelo Álvarez' Recent Fight History
December 15, 2018 vs. Rocky Fielding 
Odds: -2500 | Result: Canelo by TBO in Round 3
Notes: Canelo's fight after his massive contract with DAZN worth $365 million. Canelo knocked Fielding down four times in his third-round win.
September 15, 2018 vs. Gennady Golovkin 
Odds: +145 | Result: Canelo by Majority Decision
Notes: The rematch of their fight a year earlier ended with Canelo winning by majority decision with judges Dave Moretti and Steve Weisfeld scoring the fight 115-113 to Canelo. Moretti was the lone judge who scored both Canelo-GGG fights, giving the first fight 115-113 to GGG.
September 16, 2017 vs. Gennady Golovkin 
Odds: +135 | Result: Split Draw
Notes: According to CompuBox, GGG landed a higher percentage of total punches and power punches against Canelo. At the end of the fight, judge Don Trella had it tied, Moretti scored it 115-113 for GGG, and Adalaide Byrd scored the fight 118-110 for Canelo (meaning Álvarez won 10 rounds on her scorecard), ending the bout in a very controversial split draw.
May 6, 2017 vs. Julio Cesar Chavez 
Odds: -750 | Result: Canelo by Unanimous Decision
Notes: All three judges scored the fight 120-108 in favor of Canelo and really it wasn't even that close. The highlight of the fight? GGG in attendance to face-off in the middle of the ring with Canelo during the post-fight interview.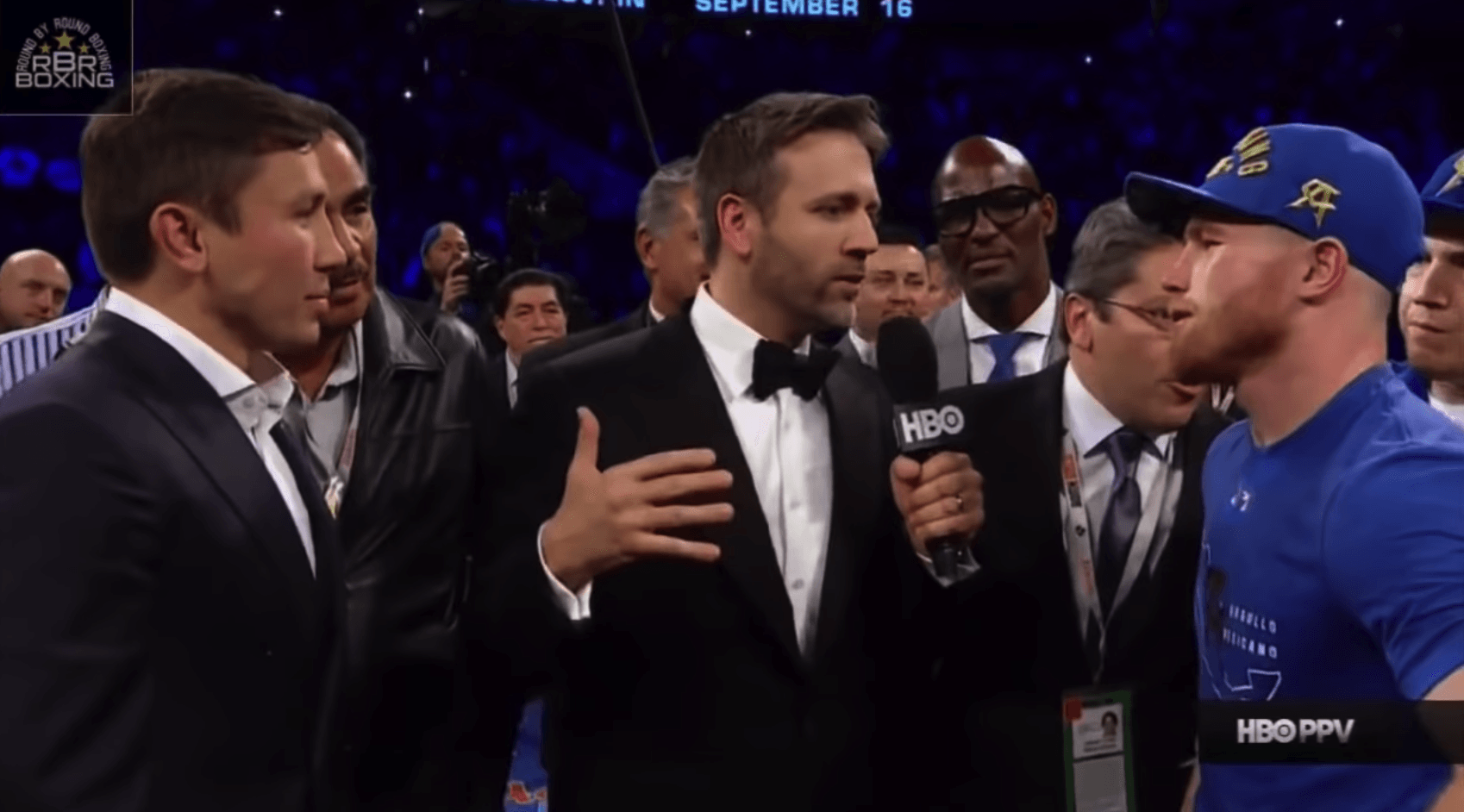 Daniel Jacobs' Recent Fight History
October 27, 2018 vs. Sergiy Derevyanchenko 
Odds: -250 | Result: Jacobs by Split Decision
Notes: Jacobs' first fight at Madison Square Garden since fighting GGG there 18 months prior. When looking at the stats via CompuBox, Jacobs dominated landing 7% more total punches and 18.4% more power punches.
April 28, 2018 vs. Maciej Sulecki 
Odds: -2000 | Result: Jacobs by Unanimous Decision
Notes: This fight against Sulecki was in the Barclays Center in Brooklyn, New York, Jacobs' current residence and home. In Jacobs' career, he is 6-0 when fighting at the Barclays Center. He scored a late knockdown in the 12th round to secure the victory.
November 11, 2017 vs. Luis Arias 
Odds: -1400 | Result: Jacobs by Unanimous Decision
Notes: In Jacobs fight directly after facing GGG, he faced Arias eight months later as a massive favorite. Jacobs dominated Arias landing almost 100 more punches in total throughout the fight.
March 18, 2017 vs. Gennady Golovkin
Odds: +500 | Result: Golovkin by Unanimous Decision
Notes: Jacobs entered the fight 32-1 in his career, with his only loss coming against Dmitry Pirog all the way back in 2010. The highlight of the fight was a GGG knockdown of Jacobs in the fourth round, which pretty much led to his demise in the later rounds.