Canelo Alvarez vs. Gennady Golovkin II Betting Preview
Credit:
Joe Camporeale, USA Today Sports. Pictured: Canelo Alvarez (L) and Gennady Golovkin
Betting odds: Canelo Alvarez vs. Gennady Golovkin
Canelo: +130
Golovkin: -150
Over/Under: 11.5 Rounds (-245/+205)
Time: Approx. 11 p.m. ET
Channel: Pay-Per-View
---
Almost a year to the day after fighting to a controversial draw, Saul "Canelo" Alvarez (49-1-2, 34 KOs) and Gennady "GGG" Golovkin (38-0-1, 34 KOs) will settle their score in a rematch at the T-Mobile Arena in Las Vegas. Just as he was in the first fight, Golovkin is a slight favorite around the market.
As much as I want to just break down this Saturday's bout, there's no getting around what's transpired since the bell rang at the end of Round 12 last September.
As the bell sounded, the general consensus was that Golovkin had won a close fight. That wasn't the case.
Judge Dave Moretti scored the fight 115-113 (seven rounds to five) for Triple-G, Don Trella had it 114-114 (six rounds even), which was also acceptable. The shocker came from Adelaide Byrd, who inexplicably scored the contest 118-110 (10-2) for Alvarez.
As HBO's Jim Lampley put it, "That [score] didn't happen for either fighter — it particularly didn't happen for Canelo. Immediately you knew you were in Looney Tunes land."
It was the second time that a wonky, outlier of a scorecard was delivered in a megafight involving Alvarez in Sin City. Five years ago, Canelo fought Floyd Mayweather at the MGM Grand.
He was soundly beaten and while two judges scored the fight in favor of Mayweather (117-111, 116-112) C.J. Ross scored it 114-114. She stepped down pretty soon thereafter.
---
>> Sign up for The Action Network's daily newsletter to get the smartest conversation delivered into your inbox each morning.
---
Scorecards aside, the first meeting was exciting to watch. It's easy to forget just how anticipated it was — it ranks as the third-largest grossing boxing gate in the history of the Nevada State Athletic Commission.
Nobody expected the draw to define this rivalry and a rematch was scheduled for Cinco De Mayo weekend in Vegas. In March, that fight was put on hold after Alvarez twice tested positive for Clenbuterol, a banned substance.
Alvarez's camp blamed tainted meat from Mexico and took a reduced suspension from the Nevada Sports Commission while Golovkin took a 'stay-in-shape' fight against veteran also-ran Vanes Martirosyan. Triple-G made quick work of Martirosyan and here we are. — Michael Leboff
Breaking Down the Tape: Canelo-GGG I
The Early Rounds
Canelo seemed like the more comfortable fighter early on. Golovkin is used to coming directly at opponents and overwhelming them with his power, but Alvarez is one of the best counter-punchers in the sport and his power — while not on the same level as Golovkin's — is considerable.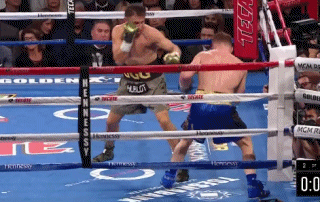 GGG continued to work the jab in the first and second rounds trying to feel his way into the fight. This wasn't a typical heat-seeking performance and he wasn't in rhythm yet, but Golovkin was still clearly the aggressor.
Even though he's known as an in-fighter who just wants to brawl, Golovkin doesn't get enough credit for his boxing ability and IQ. Canelo wanted this to be a boxing match and to his credit, he got the Kazakh to fight on his terms. Still, Golovkin was able to play that game well enough to win a couple of early rounds.
The Middle Rounds
GGG started to distance himself during the meat of the fight. He came alive after being told he gave the third round away by Abel Sanchez. Golovkin's longtime trainer seemed to light a spark because he was clearly the better fighter for the next six rounds.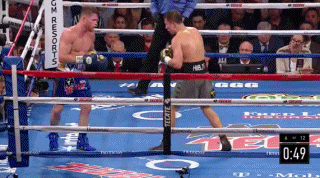 Golovkin was cutting off the ring and inflicting steady damage. Alvarez — while still moving well and countering where he could — looked uncomfortable.
The End
By the time we reached the 10th round it seemed like Golovkin was ahead on the cards and Canelo fought the last three rounds like he knew it. Alvarez abandoned his counter-punching style a bit and began to throw combinations.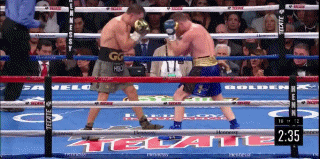 The change in tactic worked and seemed to catch Golovkin off guard after he was in rhythm for the meat of the fight. In the final round both fighters emptied the tank, leaving most people with GGG ahead by a couple of rounds. — Michael Leboff
What to Watch For
Golovkin is one of the biggest punchers in the sport in any weight class. In two 2017 fights he didn't manage a knockout win, but prior to his close fight with Daniel Jacob, GGG stopped 23 consecutive opponents.
His knockout power aside, his greatest weapon is that left jab that keeps pressure on his opponents and continuously moves them backward. Golovkin lands more than 10 jabs per round, which is double the middleweight average.
Alvarez is an equally strong puncher and has the ability to finish opponents in devastating fashion (see Amir Khan). He is more of a counter puncher and has shown adaptability depending on the style of his opponent throughout his history.
The biggest variable in this fight is animosity. Both fighters were frustrated with the draw (though GGG probably has more reason to be upset) and both fighters are disappointed with the cancellations and disputes over the past year.
Don't be surprised if either fighter abandons their normal strategy to try and prove a point on Saturday. — Malik Smith
The Picks
Both of these boxers are master tacticians and the first fight was a chess match.
There are two things I expect to see from Golovkin. First, I expect Golovkin to come out hot. His sluggish start in the first tilt probably cost him the win and you know Sanchez and Team GGG know that. I also believe we'll see Triple-G go to the body early.
Had Golovkin done that in the first fight, it's unlikely Canelo would have been able to finish as strong as he did. Look for the Kazakh to put water in the basement.
Both of these dudes have incredible chins. A lot was made about Golovkin walking through Canelo's best shots like they were nothing, but credit to Canelo for staying upright after eating Kazakh thunder all fight, too.
In the end, I think this will come down to the fact that Canelo's one-punch counters won't do enough to shake GGG. If the Cinnamon Kid wants to win this fight, he'll need to land two or three punches after misses from GGG. Tall ask.
I think Golovkin's jab and discipline will rule the day. As Malik said above, his jab doesn't stop and it's hellacious. No matter how tentative Golovkin looked in his bad rounds against Canelo, his jab was still there, getting acquainted with Canelo's face. That one, simple punch will be the difference.
Putting aside any potential shenanigans from the judges, I think Triple-G wins this fight around 65% of the time, so there's plenty of value on Golovkin -150 and would back him up to -170. — Michael Leboff (Boxing record: 11-6-1, +18.1 units)
---
Odds from 5Dimes as of 8 a.m. ET, Friday.