Shawn Porter vs. Errol Spence Jr. Odds, Betting Picks: Is Spence Getting Too Much Love?
Credit:
Premier Boxing Twitter. Pictured: IBF welterweight champion Errol Spence Jr. (left), WBC welterweight champion Shawn Porter (right).
Errol Spence Jr. vs. Shawn Porter Odds
Errol Spence Jr. odds: -834
Shawn Porter odds: +540
Over/Under: 11.5 Rounds (-228/+160)
Time: Approx. 11 p.m. ET
TV: FOX PPV
Location: Staples Center, Los Angeles, Calif.
---
All odds above as of Friday and via PointsBet, where Action Network users get an exclusive 200% deposit match (deposit $50, bet with $150).
---
This fight may not have the mainstream hoopla to be billed as the "Fight of the Year" but if you ask boxing fans, there's probably not going to be a more entertaining fight in 2019 than the welterweight unification fight between pound-for-pound list staple Errol Spence Jr. (25-0, 21 KOs) and all-action brawler Shawn Porter (30-2-1, 17 KOs).
Spence is well on his way to becoming one of the best boxers of this generation and there's an argument to be made that he is the best pound-for-pound fighter on the planet.
Even though there's a gulf in talent between Spence and Porter, there's no pugilist who embodies the "anything can happen in boxing" cliche than Porter. The 31-year-old Akron, Ohio native is fearless, relentless and violent in the square circle.
Spence Jr. vs. Porter Odds Movement
Spence has always been a significant favorite and opened as -400 favorite in Vegas. His mean odds have steadily risen since opening in July to -850 around the market.
It's been a while since Porter was this long of an underdog in a fight.
In Porter's past five bouts, which includes two fights where he was seeking to win a title, his longest odds were +200 against Keith Thurman.
Spence vs. Porter Picks
There's a couple of things I want to unpack here.
Porter will need to go back to his maul-and-brawl style to have a chance. Porter was lucky to get the decision in a less-than-impressive effort against Yordenis Ugas earlier this year. Porter decided to try and out-box the Cuban in March and that decision almost cost him the chance to take on Spence.
Porter did execute a box-and-score gameplan against Danny Garcia in the fight prior to his Ugas kerfuffle, but Garcia is a known counter-puncher and Porter's adjustment in that fight was a great calculation.
Either way, he needs to ditch that style and go back to being the Shawn Porter we all love to watch and boxers hate to fight.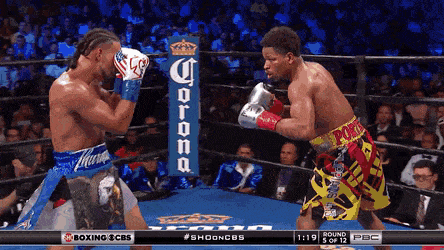 Spence is a much more dangerous boxer than Garcia and Ugas, so if Porter thinks he can sit on the outside and go move-for-move with Spence, he surrenders any chance he actually has in making this thing interesting.
Porter is at his best in a phone booth, roughing it up and tiring out his opponent. Considering Spence's size, reach and power advantage, Porter backers better hope Showtime rings Spence's doorbell early and often.
The line value is certainly on Shawn Porter. I don't think "Showtime" will win this fight, but these odds are a bit too wide considering Porter's level. When you convert these odds to implied probability, you get an 85/15 split in favor of Spence.
Porter is not a top-two 147-pounder, Spence and Terence Crawford are clearly the class of the division, but he's got a decent claim to be No. 3. There's a talent gulf between these two pugilists, but I think Porter has better than a 15% chance of pulling the upset.
Porter has been tested over and over again. Spence has not. Errol Spence has two class victories on his record, a KO-victory against Kell Brook and a dominant decision against Mikey Garcia.
Even those two wins need context, though. Spence's stoppage of Brook was his first truly big moment, going across the pond to cave in the Englishman, but that was Brook's first fight since Gennady Golovkin broke his face (literally). Spence was able to take advantage of that and injured Brook en route to a win.
Garcia is one of the best technical fighters alive, but he's a natural lightweight. Brook is a big welterweight. The gap in size and power was apparent from Round 1 and Spence walked through El Mikey.
This isn't Porter's first time taking on a big-ticket opponent. Porter has defeated Ugas, Garcia, Andre Berto, Adrien Broner and Paulie Malignaggi and has been vanquished by Brook and Keith Thurman. Going up against someone better than him is nothing new for Porter, and he's a master at making his opponent — no matter how good he is — uncomfortable in the ring.
Spence is certainly a step up over every opponent Porter has ever faced, but I think the flipside is true and don't think this will be a walk in the park for The Truth.
Additionally, Porter's style — when he's on — is very pleasing on the eye. If he's aggressive early, he can steal a few rounds before Spence gets going.
I think Porter's true odds are closer to 22-25%, so the value is on Showtime even though you should know that you're unlikely to win the bet.
The consensus is that Spence will win a decision, but I'm not sold on this fight going the distance. Most people see Spence separating himself on the cards and then cruising to victory. That is definitely a distinct possibility, but at +160 I think there's value in going the other way.
Like I said before, Porter's only legitimate chance at winning this fight is to get in Spence's kitchen and turn this into a brawl. No matter if he's successful or not, constantly mucking it up with a fighter of Spence's caliber will do damage and wear out any fighter.
A tired fighter makes mistakes. A tired fighter who is behind on the cards takes risks. That is a recipe for getting caught.
I know Porter's chin is terrific and he's never been stopped, but he's not faced anybody with the lightning that Spence carries in his mitts. And hey, this dude was once floored by Adrien Broner. — Michael Leboff
Bet: Porter +540, Fight Will Not Go Distance +160
---
A fight like this elicits a few of my favorite boxing clichés, but none more than the old saying "styles make fights." As Michael noted, Porter showed his ability to adjust his traditional bully-ball style and adopt a more skillful approach in back-to-back title fights.
It worked pretty effectively in his win over Garcia. Not so much in his fight with Ugas. Sure Porter got the win, but the strategy was, at the very least rushed based on Porter's account of that night.
Per Sean Nam of Premier Boxing Champions:
"We were in the back room and my dad looked at me, out of his mouth, 'God spoke to me and God told me that he can't keep up with your hand speed or your foot speed. Tonight, we're going to box him. This is how we're going to win.'" recalled Porter. "This is where the audible came in…about 20 minutes before we walked out to the ring to fight."
If Porter plans on calling an audible from God against Spence, he might not want to do it during the national anthem.
At the end of the day, this fight will likely come down to who can gain an edge first. If Porter plans on switching up the strategy again so close to fight time, I think it will ultimately work against him.
Spence has most, if not all of the advantages here, but at his current price, there doesn't seem to be much value on him to win outright. That said, this is likely a fight I'll stay away from, but I could be enticed to bet the draw leading up to fight time. — Malik Smith
How would you rate this article?