2021 PDC World Darts Championship Odds, Picks and Best Bets: Which Longshots Can Upset van Gerwen, Price and Wright at Alexandra Palace?
Credit:
Alex Burstow/Getty Images. Pictured: Peter Wright
The 2021 PDC World Darts Championship begins on Tuesday, Dec. 15 and runs through Jan. 3 with 96 of the best players on the planet competing to lift the trophy.
World No. 1 Michael van Gerwen is the favorite with Gerwyn Price and defending champion Peter Wright next on the board.
Michael Leboff previews the Worlds and gives a few bets, including a couple of longshots, that are worth a bet.
2021 PDC World Darts Championship Odds and Preview
| Player | Odds |
| --- | --- |
| Michael van Gerwen | +225 |
| Gerwyn Price | +450 |
| Peter Wright | +600 |
| Michael Smith | +1400 |
| Jose de Sousa | +1600 |
| Nathan Aspinall | +2000 |
| Dmitri van den Bergh | +2000 |
| Gary Anderson | +2800 |
| Devon Petersen | +2800 |
| Glenn Durrant | +3000 |
| James Wade | +3300 |
| Dave Chisnall | +5000 |
| Rob Cross | +5000 |
| Krzysztof Ratajski | +5000 |
| Simon Whitlock | +5000 |
| Damon Heta | +6000 |
| Dirk van Duijvenbode | +6600 |
| Joe Cullen | +8000 |
| Daryl Gurney | +8000 |
| Luke Humphries | +8000 |
| Mensur Suljovic | +8000 |
| Ian White | +8000 |
| Jeffrey de Zwaan | +8000 |
| Johnny Clayton | +10000 |
| Gabriel Clemens | +10000 |
| Adrian Lewis | +10000 |
| Mervyn King | +12500 |
| Chris Dobey | +15000 |
Odds via DraftKings. Scroll to the bottom of this article for the full betting odds for the 2021 PDC World Darts Championship. The World Championships begin on Tuesday, Dec. 15 and run through Jan. 3, 2021. The matches will be televised on DAZN in the USA.
---
When I tell people that the PDC World Darts Championship is the best betting event on the planet the reaction usually goes one of two ways. Most of them thumb their nose at me and go back to grinding out a Titans-Texans game on Thursday Night Football. But some people (like Tiger Woods) see the light.
The Darts are like The Wire, Mad Men or Deadwood. You may need to convince someone to watch, but when they finally do it, their lives will be changed for the better.
We all complain about sports — and sports media — taking itself too seriously these days, but the Darts are a last bastion of sorts. Sure, there's a ton of TV and sponsorship money in the Darts, but the powers that be wisely decided against buttoning-up what is a beautifully simple game played by some larger-than-life characters like defending champion Peter "Snakebite" Wright, who has his wife paint a viper on his head before every match.
Instead of trying to turn the Darts into something serious, the networks and promoters went all in on production value and, like those three shows I mentioned above, turned the Darts into incredible television.
The PDC World Championships combine all the best parts of gambling into one ridiculous event. It brings together the tension of betting on baseball, the atmosphere of big college football games and the one-and-done tournament format of March Madness under one roof.
Like boxing or tennis, it's mono-e-mono. Like hockey, your heart won't stop beating. And like the NFL — actually the Darts are nothing like the NFL and that's why they rock.
Another great thing about the darts is that the learning curve is not steep at all. The best way to get acclimated is to read the rules (they're at the bottom of this page), watch a match and then you're basically ready. You'll pick it up and be ready to sweat in no time.
PDC official statistician Christopher Kempf put it perfectly when I spoke with him earlier this month:
"One of the attractive things about darts is that hitting targets is largely a binomial variable; either you hit it or you don't. There is relatively little strategy to the game compared to, say, snooker; in general the player who hits the most targets wins more matches. This makes it unnecessary to get too complex with the statistics."
So let's take a look at the field and make some bets.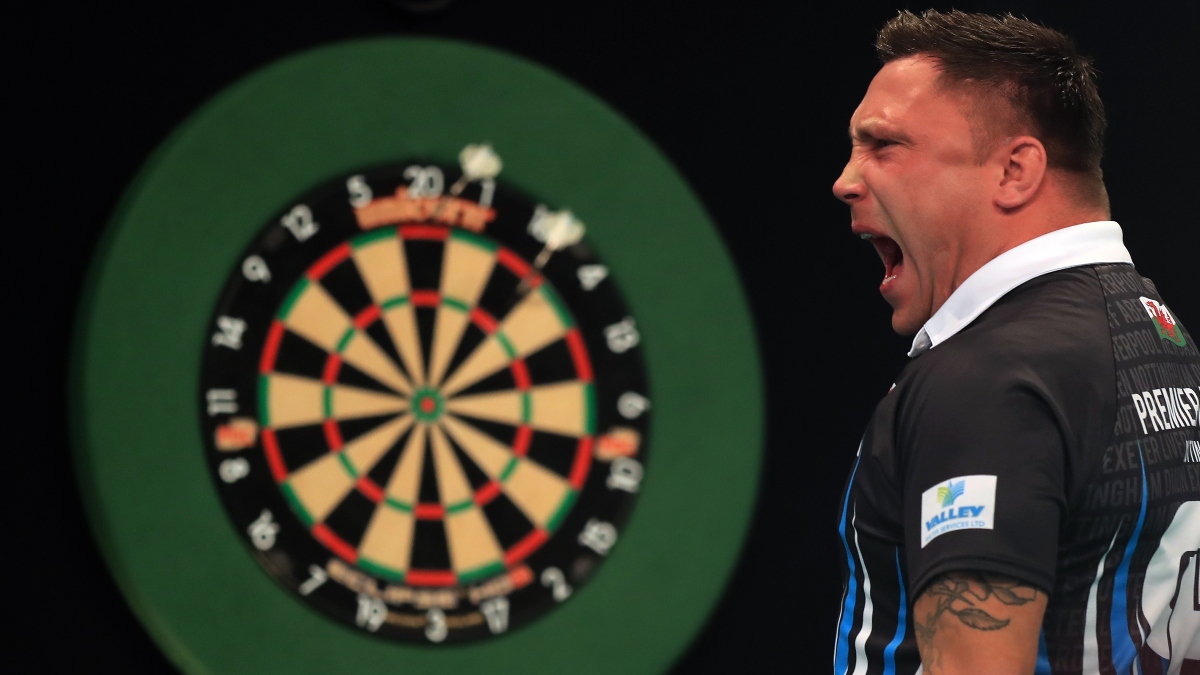 Not too dissimilar to the PGA TOUR, the PDC Tour is currently seeing a monumental influx of talent and that means the big tournaments have become wide-open affairs.
Dan Dawson and Wayne Mardle of The Good Darts Podcast said they think that there are two-dozen players that are capable of winning the World Championship. That said, there are three players who are a cut above the rest.
The Favorites
As the odds show, there are three clear favorites in the Darting World right now: Michael "MvG" van Gerwen of the Netherlands, Gerwyn "Iceman" Price of Wales and defending champion Peter "Snakebite" Wright of Scotland.
Michael van Gerwen (+225): The world's most famous dartsman, van Gerwen is in his familiar spot atop the odds heading into the Alexandra Palace for the World Championships. MvG is sort of like the Tiger Woods of Darts. He's clearly the best player in the field and if he's on song, there's not much anybody else can do to beat him. Unfortunately for the rest of the field, MvG seems to be peaking at the right time as he is coming off a
The shiny-headed Dutchman has reached the semifinals in seven of the last eight World Championships with three wins and two runner-up finishes. He's fun to watch, but not that much fun to bet since you're going to be laying some serious wood if you want to get near MvG.
Gerwyn Price (+450): The Darts are chock-full of likable characters. Gerwyn Price isn't one of them. That's not necessarily a bad thing nor is it a slight against Price; every sport worth its salt needs a villain and the Welshman wears The Black Hat with aplomb. He's cocky, loud and sometimes I wonder if he's genuinely crazy.
The big moments never seem to phase him, and he's a master at getting inside the head of his opponent. It's what makes betting against him such an enjoyable experience, up until he storms back from two sets down, lets out one of his trademark roars and ruins your afternoon.
Price was a semifinalist at the Alexandra Palace last year and won the World Grand Prix a few months back, so there are few questions about his form. That said, Price has struggled in the early rounds of big tournaments so if you're looking to fade this maniac, you're better off doing it during the first few rounds where the matches are shorter.
Peter Wright (+600):  That brings us to Snakebite, who finally exorcised his demons with his first World Championship last year. The well-painted Scotsman has been in great form in 2020 with a win at the European Championship and an appearance in the semifinals at the 2020 Players Championship.
Wright leads the PDC in scoring average over the past year, just ahead of van Gerwen, but has some serious competition at the top of Quarter 3. Simon Whitlock — who was bit by a snake a few weeks ago — was a top-10 player not too long ago, while Gabriel Clemens was a dark horse pick last year and Krzysztof Ratajski is one of the best scorers on tour.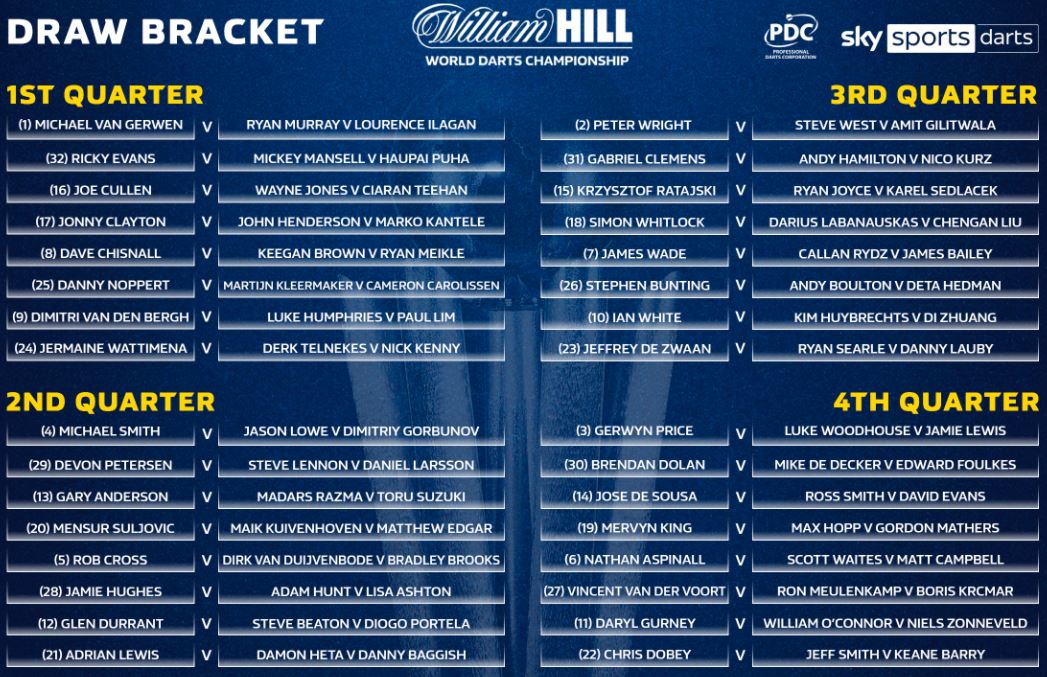 Quarter 2 is Open for Business
Betting an outright at the World Darts Championship isn't all that different from March Madness or a tennis major. Talent and form matter, but getting a good draw can open doors up for potential sleepers. That brings us to Quarter 2, where Michael "Bully Boy" Smith is the lukewarm favorite at +250.
Smith was a finalist at the Ally Pally two years ago, but he's yet to rediscover that form and has had an inconsistent and largely unimpressive showing in 2020. Over the past year, Smith is 11th in the field with 96.43 points per trip (three throws). That puts him behind three players in his quarter alone: Devon Petersen, Gary Anderson and Glenn Durrant.
And that barely scratches the surface of talent in Quarter 2, which is also home to 2018 Champion Rob Cross and two-time winner Adrian Lewis, both of whom are staring down brutal potential Round of 64 matches against 2020 Grand Prix finalist Dirk van Duijvenbode and the in-form Damon Heta.
This will be a lively section of the draw and is far and away the most attractive from a betting standpoint. You can make a sound argument for half the players in this quarter, which should create some chaos. Whether you're looking to back an up-and-comer like van Duijvenbode or buy low on a proven veteran like Mensur Suljovic, there are plenty of paths to success to explore in this section.
My strategy is to back a few players in this section in a couple of different ways:
Glenn Durrant (+3300): Durrant is ninth on the PDC in scoring over the calendar year and enjoyed a run to the quarterfinals in his first trip to the Alexandra Palace last year. Duzza has had a ton of success on the BDO (the other Darts Tour) throughout his career and that has already started to translate over to the PDC in his first full year on the varsity tour.
Dirk van Duijvenbode (+8000): Betting is supposed to be fun and there are very few athletes on the planet who are more enjoyable to back than DVD. He's a fan favorite for a reason:
van Duijvenbode had a break-out performance at the 2020 World Grand Prix, finishing runner-up to Gerwyn Price, but what's more impressive is that the 28-year-old works a full-time job on an eggplant farm.
It's unlikely that van Duijvenbode has the talent to flip this field on its head and win it all, but a small flutter on the Dutchman is well worth it just for the ride.
Steve Beaton to win Quarter 2 (+12500): It is absolutely worth betting a longshot to come out of this quarter, and I landed on Beaton. He would be a big underdog against Durrant in the Round of 64 but if he squeezes by Duzza, he'd have already cleared the biggest hurdle in the bottom section of this quarter.
He's a longshot for a reason, but Beaton did get to the fourth round of this tournament last year and this is his record-breaking 30th appearance at the Worlds, so a run in this wide-open quarter is not out of the question for the 56-year-old, and what a story it would be.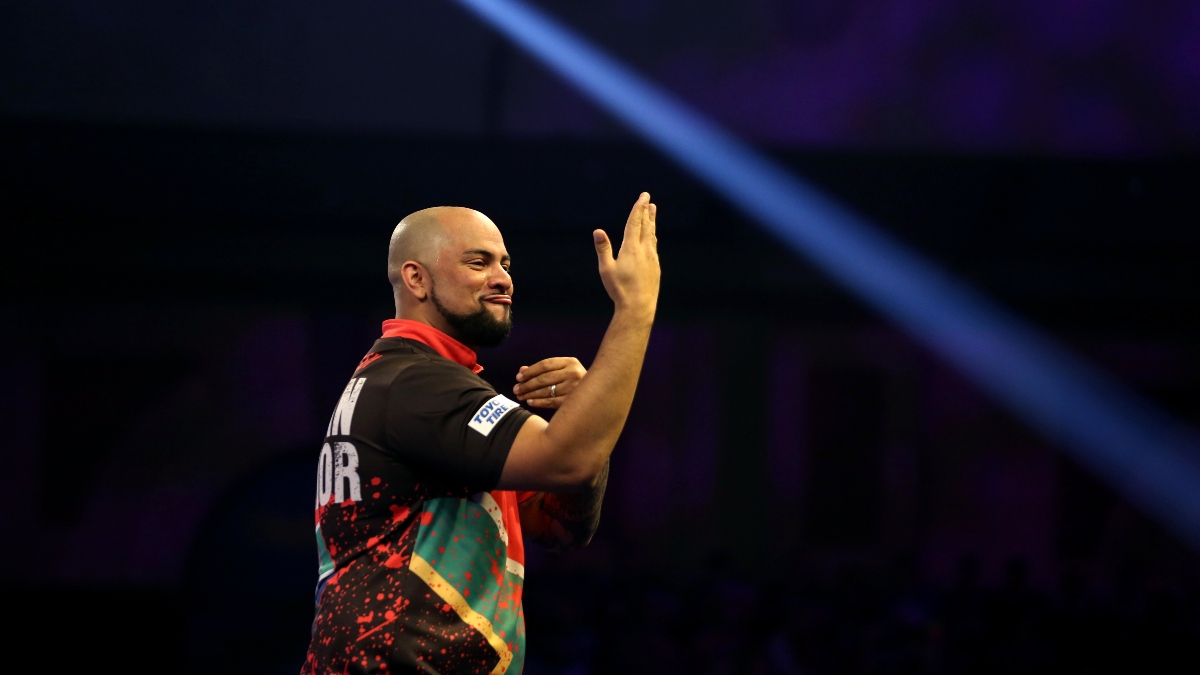 Other Players to Watch
Whether for betting purposes or just because they are larger-than-life characters, here are a few names that first-timers should get acquainted with ahead of the World Championships. 
Devon Petersen (+2800): A few months ago Dancin' Devon Petersen was 500/1 to win this tournament. I know that because I bet him (and even convinced a few of my colleagues to do so, too) at that number. At the time "The African Warrior" was rolling through the European Championship. That run ended in the semis, but it was on the heels of a win at the German Darts Championship.
Like van Duijvenbode, Petersen is a joy to watch play. His walk-up dance is pageantry at its finest and his emotion on the stage makes him the type of guy you want to be in the Betting Foxhole with. Petersen winning this tournament would significantly change my life, so here's to him.
Krzysztof Ratajski (+5000): The Polish Eagle has never won anything of note, but he's been one of the most consistent scorers on the PDC Tour for quite some time. The 43-year-old is seventh on the PDC with a 97.75 average over the calendar year, but has never put it all together on the big stage. At some point things will click for Ratajski and I'd be damned if I missed out. I'll be having some of The Polish Eagle at these odds.
Darryl Gurney, Chris Dobey,
Keane Barry (+25000): Surely by now you've heard of Barry, the next big thing in Darts. The 18-year-old Irishman opens up with a pick'em against Jeff Smith but if he gets that win under his belt look out, because the seeded players in the bottom section of Quarter 4 (Chris Dobey and Darryl Gurney) have really struggled in 2020. I'll be kicking the tires on Barry to either win the Quarter or perhaps I'd just use him in a rolling parlay.
Paul Lim (+100000): Playing in his 25th World Championships, Paul Lim has become one of the Darts' favorite sons. Lim is a big underdog in his opening-round match against Luke Humphries, but "The Singapore Slinger" always has something up his sleeve for the crowd at Ally Pally, so be sure not to miss out on one of the game's biggest legends.
Luke Humphries (+8000): Speaking of Humphries, this is the 25-year-old's third trip to the Ally Pally and he's already made two quarterfinals (2019, 2020), so it's worth keeping him in the back of your mind if you think that Michael van Gerwen is vulnerable and can get picked off by Joe Cullen or Johnny "The Ferret" Clayton.
John Henderson (+50000): Perhaps my favorite athlete on the planet, it's hard to find a more affable figure in sports than Big John Henderson aka "The Highlander." Hendo is a favorite in the opening round, but if he gets through that contest he could be a fun bet as an underdog against Johnny Clayton in the Round of 64.
Lisa Ashton (+75000): The Darts did find their way into the mainstream last holiday season when Fallon Sherrock became the first female player to win a match at the World Championships. Sherrock upset David Evans in the opening round and then went on to beat Mensur Suljovic as a huge underdog in the Round of 64.
Ashton is one of two women in this year's field and is no stranger to the bright lights of the Ally Pally, having played at the 2019 Worlds. Ashton is +200 in her opening round match against Adam Hunt on Wednesday, Dec. 16.
2021 PDC World Darts Championship Bets
Glenn Durrant (+3300)
Krzysztof Ratajski (+5000)
Dirk van Duijvenbode (+8000)
Steve Beaton to win Quarter 2 (+12500)
Keane Barry to win Quarter 4 (+5000)
PDC World Darts Championship Rules, Scoring and Format
Rules of 501
In a game of 501 the object is for one player or a team to be the first to reach zero from the starting total of 501.
In simple terms, after three darts are thrown, the throwing player subtracts the total scored from his current total until he reaches zero.
Here's the important part: In order to reach zero each player must finish by throwing a double. To do that, your dart must land on the outer green- or red-colored ring of the dart board. The inner ring is a triple. So if your throw lands on the inner ring of the "18" section, you'd score 54 points (18×3).
If Player A has 36 remaining he or she must hit double 18 to win, while if Player B has 45 remaining he must hit single 5, double 20 to win — or another combination of scores provided the final dart lands on a double.
The wrinkle of needing a double to close out a leg adds an incredible amount of tension to darts. It's the equivalent of needing to sink a 10-foot putt on a big hole or hitting a game-winning free throw. It's far from automatic and players often crumble under the pressure, allowing their opponent to come back to steal a leg. There is a saying in the darts world, "Scoring is for show, doubles are for dough."
Match Format
If Player A gets to zero first, he or she wins the leg. To win a set, you must be the first player to win three legs (i.e. each set is a best-of-five legs).
At the World Darts Championship, the length of the match increases as the tournament progresses. The format for Rounds 1 and 2 is best-of-five sets. Rounds 3 and 4 are Best-of-7, the quarterfinals is Best-of-9 sets, the semifinals is Best-of-11 and the Final is Best-of-13.
Since the first two rounds feature shorter matches, upsets happen at more frequency in the early rounds. By the time we get to the business portion of the tournament, talent usually wins out over the course of longer matches.
2021 PDC World Darts Championship Odds
| Player | Odds |
| --- | --- |
| Michael van Gerwen | +225 |
| Gerwyn Price | +450 |
| Peter Wright | +600 |
| Michael Smith | +1400 |
| Jose de Sousa | +1600 |
| Nathan Aspinall | +2000 |
| Dmitri van den Bergh | +2000 |
| Gary Anderson | +2800 |
| Devon Petersen | +2800 |
| Glenn Durrant | +3000 |
| James Wade | +3300 |
| Dave Chisnall | +5000 |
| Rob Cross | +5000 |
| Krzysztof Ratajski | +5000 |
| Simon Whitlock | +5000 |
| Damon Heta | +6000 |
| Dirk van Duijvenbode | +6600 |
| Joe Cullen | +8000 |
| Daryl Gurney | +8000 |
| Luke Humphries | +8000 |
| Mensur Suljovic | +8000 |
| Ian White | +8000 |
| Jeffrey de Zwaan | +8000 |
| Johnny Clayton | +10000 |
| Gabriel Clemens | +10000 |
| Adrian Lewis | +10000 |
| Mervyn King | +12500 |
| Chris Dobey | +15000 |
| Ryan Searle | +15000 |
| Danny Noppert | +20000 |
| Jermaine Wattimena | +20000 |
| Vincent van der Voort | +20000 |
| David Evans | +20000 |
| Stephen Bunting | +25000 |
| Max Hopp | +25000 |
| Jamie Hughes | +25000 |
| Ryan Joyce | +25000 |
| Ross Smith | +25000 |
| Callan Rydz | +25000 |
| Keane Barry | +25000 |
| Scott Waites | +25000 |
| Steve West | +25000 |
| Darius Labanauskas | +30000 |
| Steve Lennon | +30000 |
| Ron Meulenkamp | +30000 |
| William O'Connor | +30000 |
| Jeff Smith | +30000 |
| Boris Krcmar | +30000 |
| Jason Lowe | +30000 |
How would you rate this article?