What is a Same Game Parlay+ or SGPx at FanDuel, DraftKings?
Credit:
Photo Illustration by Budrul Chukrut/SOPA Images/LightRocket via Getty Images.
Over the last few years, same game parlays have become wildly popular with online sportsbooks.
This practice wasn't allowed for much of the 21st century, but that all changed when FanDuel introduced the same game parlay in 2019 because it figured out how to price in the correlation of events in the same game — i.e. if you bet Steph Curry to go over his point total, the Warriors are more likely to win, and you shouldn't get the full parlay payout.
And now we've seen an extension of these beloved bet types with the same game parlay plus (SGP+) at FanDuel and the same game parlay extra (SGPx) at DraftKings.
An SGP+ or SGPx just combines a same game parlay with another single bet, parlay or even another SGP. It's really just one giant parlay, with at least one of the legs as an SGP.
Explaining a Same Game Parlay
First, a same-game parlay is when you combine multiple bets from one game. The odds increase as you add more options, making it harder to hit but more lucrative if it does.
As we mentioned, sportsbooks figured out the intricate math to price in correlation. If you bet Travis Kelce and Jerick McKinnon to score touchdowns and the Chiefs to win, you shouldn't get the 6-1 payout that normally comes with a 3-leg parlay. It will be less, because those. two scoring means the Chiefs are more likely to win.
Bettors must hit every leg of a same-game parlay to earn the full payout. They won't earn any money if five legs hit and one doesn't.
Markets like the spread, moneyline, and point total are the popular for an SGP, but player props are becoming a bigger and bigger part of the ecosystem. However, sportsbooks don't allow you to put every prop into the same game parlay. Bettors can view their options when they select "SGP" for any game.
SGP+ and SGPx, Explained
FanDuel was the first to launch the same game parlay, and they proudly boast the SGP+. DraftKings is behind the SGPx. Other sportsbooks offer similar products with similar names.
FanDuel (SGP+)
FanDuel is one of the premier sportsbooks for same-game parlays.
Users can click on a sporting event and scroll to the "same game parlay" tab. From there, they'll see all the options that can be combined into a same game parlay.
From there, you simply create multiple parlays to build the SGP+, and FanDuel will build it into the bottom of the bet slip.
Let's say we make two different SGPs — one from Warriors vs. Clippers, which is priced at +363. Then we make another in 76ers vs. Cavaliers that's priced at +419.
FanDuel will parlay those two separate SGPs together in the bet slip for a 6-leg SGP+ that comes out to +2307 (you can verify the price with our parlay calculator).
DraftKings (SGPx)
The SGPx is what DraftKings calls this feature. Bettors can access this feature by selecting a sporting event and clicking the "SGP" bar above the odds for said game.
The execution is slightly different at DraftKings. You need to enter each game, create an SGP, and then add it to your bet slip. Then you'll go to another game, create an SGP, and add it to your bet slip.
At FanDuel you can more freely take legs in and out.
In this example, we have a +475 SGP and a +500 SGP, which comes out to +3350.
Tips for Building a SGP+/SGPx
What are the best strategies for building an SGP+ or SGPx? Let's check out a few tips that should help you win money.
Find Correlation
There's plenty of strategy behind building an SGP. You have to look at various factors beyond one player being on a hot streak.
If you have an NFL matchup where the point total is north of 50, it'll likely be a high-scoring game. That's an excellent opportunity to take the over on passing yards and receiving yards for the WR1.
Building off that, if there's a strong pitcher's duel, you may want to take the under on most hitting props while betting the over for strikeouts.
On the contrary, you may find certain lines that are inversely correlated that can give you a big boost. Say you bet Mets pitcher David Peterson 7+ strikeouts — it's more likely the Mets win, right? But if you think Peterson will pitch well but the Marlins can still win a tight game because they have ace Sandy Alcantara going, you can get this parlay at +621. If you put in a Mets win instead, it will only be +387.
Bet on One Player Having a Big Game
This can serve as an extension to our last SGP+ or SGPx tip, but backing one player to have a massive game could be key to hitting the SGP.
This likely works best for the NBA and MLB because players can accumulate multiple stats. If you believe Steph Curry will have a big game, check out the example below.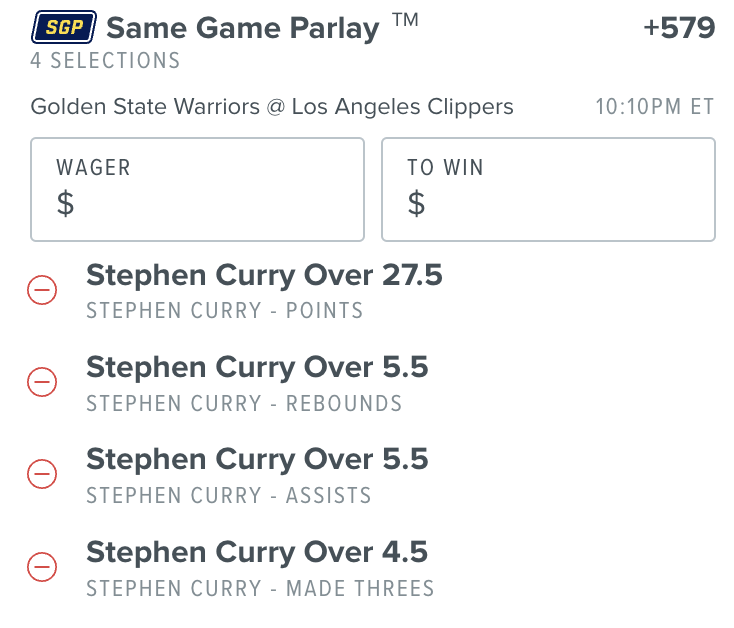 Of course, we'll need another SGP to make an SGPx. That's where you can bet on an MLB player hitting a home run, scoring an RBI, recording multiple hits, etc.
This tip could also go the other way if you think a player will struggle. Take the under on his props.
Don't Be Afraid to Use Alternate Lines
DraftKings and FanDuel boast alternate lines that can be used for the spread, point total, and player props. These can be used on SGP+ and SGPx in two ways.
If you want to go on the safe side, you could combine multiple props with -300 odds to form an SGP with +100 odds.
If you're feeling really confident, you could take an alternate line or two with +200 odds. You could even combine the markets to give your SGP+ or SGPx value.
It's literally an alternative way to approach your parlay.
For more information, check out our guide to same-game parlays.
How would you rate this article?
This site contains commercial content. We may be compensated for the links provided on this page. The content on this page is for informational purposes only. Action Network makes no representation or warranty as to the accuracy of the information given or the outcome of any game or event.