Strikeout Props
How Do Strikeout Props Work?
Pitcher strikeout props are among the most popular in all of MLB betting. Before legal sportsbooks emerged in the United States, K's were one of the only MLB props available.
In this market, you're betting on whether or not a player will go over or under the set number of strikeouts. Because there are a limited number of strikeouts, the juice could be heavily weighted on either side.
Sportsbooks will only list the two starting pitchers, as there's no guarantee any other pitchers will enter the game.
Here's how pitchers will look in our props comparison tool -- the pitcher on the left, then each sportsbook listed left to right with overs at the top and unders at the bottom.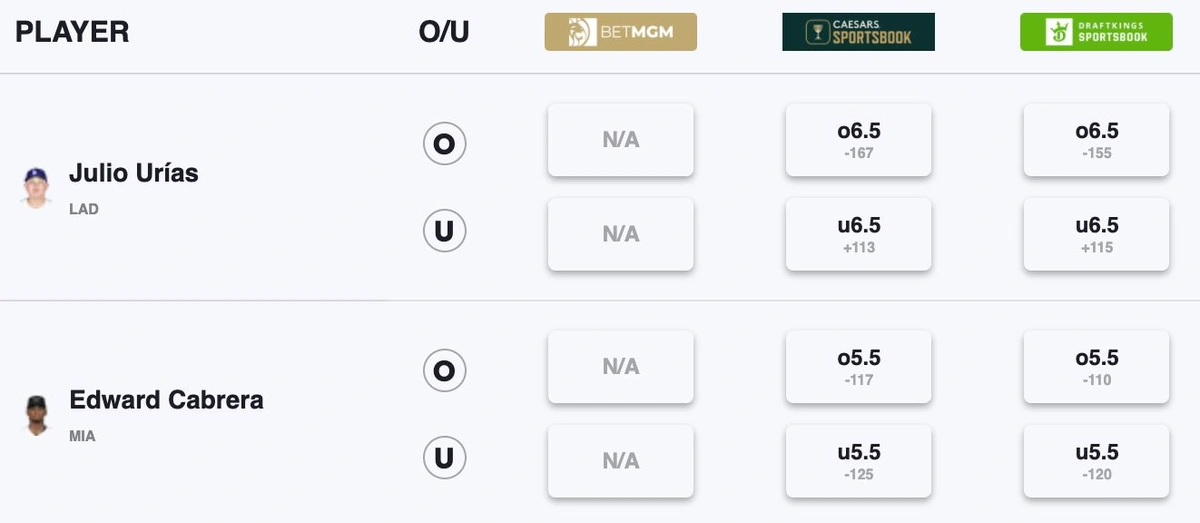 Strikeout Prop Examples
Let's use the example above. Dodgers starter Julio Urias was listed at 6.5 K's for this August game against the Marlins. But sportsbooks were projecting him to go over 6.5 more often -- that's why he's listed at -55 to the over at DraftKings. A bettor would have to risk $15.50 to win $10 on that over, and betting the under would net $11.50 on a $10 bet.
Why? Because Urias is likely to have around 7.2 strikeouts, so you can't price him exactly at -110 on both sides. And if you priced him at 7.5 K's, you'd have to juice the under more heavily.
Edward Cabrera is listed at 5.5 strikeouts, with more balanced juice on each side. At DraftKings, you have to risk $11 to win $10 on him going over 5.5 K's, and if he gets six or more, you'll win your bet. If he strikes out 5, you'll lose your over bet.