Rookie Fantasy Fit Grades For All 13 First-Round Prospects of 2021 NFL Draft
Credit:
Todd Kirkland/Getty Images. Pictured: Alabama Crimson Tide wide receiver DeVonta Smith (6).
General team fit isn't the only chemistry we're worried about during the 2021 NFL Draft.
For fantasy football enthusiasts, the most important type of "team fit" for first-round prospects is regarding their immediate and future fantasy opportunities: Did Running Back X inherit a potential workhorse role or land in a committee? Are there enough targets to go around for Wide Receiver Y?
Our analysts Chris Raybon, Samantha Previte and Sean Koerner are evaluating fantasy fits for the top rookies throughout Round 1 — specifically whether their landing spot positively (stock up) or negatively (stock down) impacts their fantasy outlook. Find their latest reactions listed first.
NFL Draft Fantasy Fits
Ravens Make Rashod Bateman 5th WR Drafted In Round 1 (No. 27)
Previte: No stock change
Bateman adds much-needed depth to the Ravens' receiving corps, but his fantasy value will be limited given Baltimore's run-first offense. The Minnesota product joins an underwhelming depth chart consisting of Marquise Brown, Sammy Watkins, Miles Boykin and Devin Duvernay, which means Bateman could vie for the No. 1 role and present WR3/flex upside in Year 1.
Lamar Jackson is already an elite fantasy quarterback and the addition of a new pass-catching weapon can only serve to bolster his value heading into 2021.
Raybon: Stock Down
The 21-year-old out of Minnesota offers the Ravens an intriguing combination of decent size (6-foot, 190), speed (4.39 40 at Pro Day) and versatility (67.2% of routes from the slot in 2020, 79.2% of routes from out wide in 2019).
Bateman should be able to replace Willie Snead and immediately slide in as a top-three wide receiving option for the Ravens, but it's not a guarantee Bateman will play over Sammy Watkins from the jump. This is important, as the Ravens passed from formations with fewer than three wide receivers on the field 33% of the time last season, according to Sharp Football Stats. Baltimore also averaged the fewest pass attempts per game in the league last season (25.9).
Bateman has an outside shot at earning the No. 1 receiver role in this offense as a rookie. Marquise Brown hasn't put a stranglehold on that role and could be better suited as a No. 2, while free-agent acquisition Watkins has been in decline for years.
Still, we can't avoid the fact that this is an extremely low-volume offense in which Bateman may not even be an every down player. The Packers would have been a much better landing spot.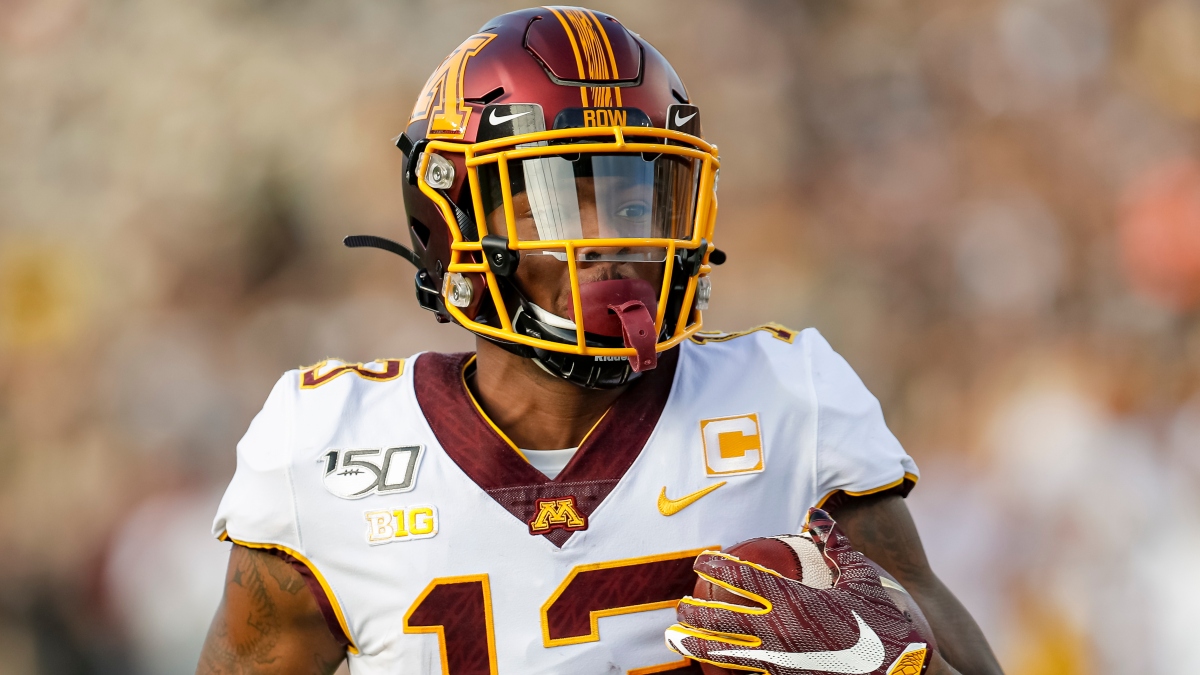 Koerner: Neutral
I expected the Ravens to land Bateman with one of their two picks. I'm a bit torn on the landing spot. He has the potential to become the Ravens No. 2 WR in his rookie season, but is that worth much in fantasy? The Ravens are an extremely run-heavy team, with not many targets or yards to go around.
Bateman will likely a teammate to miss time in order to be on my WR3 radar. Lamar Jackson's value gets a boost with the pick.
---
Travis Etienne Second RB Drafted — 25th to Jaguars
Koerner: Stock down
This is the first truly annoying pick of the draft. It isn't the best landing spot for Etienne due to James Robinson's impressive rookie season. We may see close to a 50/50 timeshare between Etienne and Robinson. This pick hurts both of their values.
Raybon: Stock down
Even though I thought Harris was a slightly better prospect, I by no means am down on Etienne, who was arguably the best back in college football for a large part of his career prior to last season.
With that said, this is a scary landing spot. Usually, we expect running backs drafted in the first round to come in and lead the team in usage, and James Robinson is an undrafted player from a prior coaching regime, but Robinson was simply too good in 2020 to bank on him just going away, racking up 1,414 yards from scrimmage and 10 total touchdowns.
Carlos Hyde is also in the mix, and apparently might even be a thing if we're giving any weight to April coach speak.
Previte: Stock down
Etienne joins James Robinson, who is coming off of a huge breakout season in 2020, and Carlos Hyde on the Jaguars' RB depth chart. Robinson took on a ridiculous workload last year which helped him finish as a top running back for fantasy. That's likely to change with fresh competition on the roster.
Jaguars' head coach Urban Meyer was quoted (see: above) after the pick that he wants Etienne to play third-down back role behind Robinson and Hyde, which isn't a good sign for fantasy purposes.
I expect Etienne to produce somewhat in Year 1, but this will likely be some sort of running back committee which also hurts Robinson's value heading into 2021.
---
Steelers Draft First RB: Najee Harris at 24
Previte: Stock up
This is the perfect landing spot for Harris, who will have the immediate opportunity to become a workhorse running back in Pittsburgh's offense with James Conner gone.
The Steelers run game was in desperate need of assistance after finishing last in the league in rushing yards in 2020. Next on the depth chart are Benny Snell Jr., Anthony McFarland Jr. and Kalen Ballage — none of whom will vie for that bell cow role.
Harris instantly vaults into the fantasy RB2 conversation with upside.
Raybon: Stock up
James Conner somewhat quietly averaged 15.7 touches per game for the Steelers last season, so this is a nice role for Harris to step into from a volume standpoint.
As I mentioned in our pre-draft debates, I lean Harris over Travis Etienne, but I think Harris is an especially good fit for the Steelers compared to Etienne because Harris won't be as dependent on the offensive line.
Harris led the nation with 93 forced missed tackles last season and can help cover for an offensive line that finished No. 31 in Pro Football Focus' run-blocking grade in 2020 (50.3). That offensive line is still a major concern, but there simply weren't many landing spots that would have afforded Harris the opportunity for 15-20 touches per game, and this is one of them.
Koerner: Stock up
Mike Tomlin loves having a workhorse back. Drafting Harris in the first round indicates to me they intend to use him as a 3-down back. I view him as a solid RB2 with this landing spot. Benny Snell's and Anthony McFarland's stocks take a massive hit, though — they'll be upside backups to stash in deeper leagues.
Giants Make Kadarius Toney the Fourth WR Drafted (No. 20)

Koerner: Stock up
I think the best landing spot for Toney would have been the Saints, but the Giants reaching for him at No. 20 raises his value, although he's not likely to see a ton of volume given he will have to compete with Kenny Golladay, Sterling Shepard, Evan Engram and Saquon Barkley for targets.
Toney is great after the catch and will likely have a fairly low average depth of target, and I'm worried his presence could impact Barkley's receiving stats a bit. Toney also makes Darius Slayton irrelevant unless an injury opens up playing time.
Daniel Jones gets a boost from the pick and will be under pressure to perform this season given the talent surrounding him.
Previte: Stock down.
The Giants — who reached significantly for Toney at No. 20 overall — are a suboptimal landing spot for any receiver in light of quarterback Daniel Jones' limitations and their crowded depth chart.
Toney will have to compete for targets with recently-acquired star wideout Kenny Golladay, as well as receivers Sterling Shepard and Darius Slayton and tight ends Evan Engram and Kyle Rudolph. It's unlikely he will be fantasy-relevant at all out of the gate.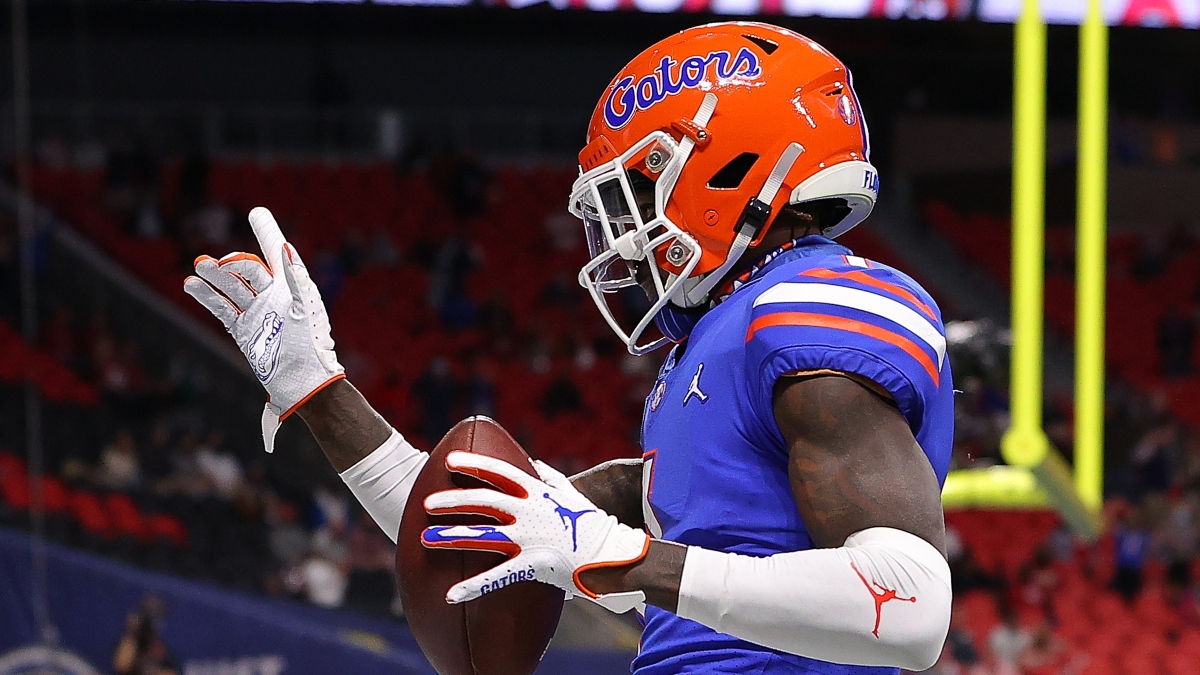 Raybon: Stock down
Toney is a player who is hard not to like: He's can start and stop on a dime and shake defenders out of their cleats. But landing with the Giants raises questions about how much opportunity he'll get in Year 1.
After acquiring Kenny Golladay, the Giants projected to start Golladay and Darius Slayton outside with Sterling Shepard in the slot. Toney ran more than 80% of his routes from the slot in his final two seasons at Florida, and even though he is more explosive than Shepard and has higher long-term upside, it's not a given that Toney will start over Shepard in Week 1 — or even at any point this season.
Toney also has some Antonio Gibson to his game: Toney carried 67 times for 580 yards and two touchdowns in four years at Florida. The Giants would do well to give him the bulk of the carries not allotted to Saquon Barkley, although that too is far from a given. The versatile 6-foot, 193-pounder can also provide value as a returner given his skillset, but as with lining up in the backfield, Toney could have done that anywhere.
Shepard and the other wide receivers notwithstanding, the Giants also have plus pass catchers at tight end in Evan Engram and at running back in Barkley. This is an explosive player that Giants fans should be excited about, but he landed in an awfully crowded situation from a fantasy perspective.
There was thought Toney could go to a team like the Packers or Ravens, where he'd have a better shot at starting from Day 1 (and a better quarterback situation).
---
Mac Jones Falls to Patriots At No. 15
Raybon: Stock up
Jones' most likely landing spot heading into the draft was thought to be San Francisco, but Cam Newton is an easier starter to beat out than Jimmy Garoppolo at this stage — Garoppolo's issues were more so related to durability than performance.
This is also a perfect Patriots pick. The "Patriot way" team values mental ability and decision-making, which are Jones' strengths. The Patriots are also strong in the middle of the field with hunter Henry and Jonnu Smith, which also plays to Jones' strengths.
For a quarterback marred in an epic free-fall, this is about as good of an outcome as he could have hoped for.
Previte: Stock down.
Jones' value would have been higher had he landed in a slightly more fantasy-friendly system like the 49ers.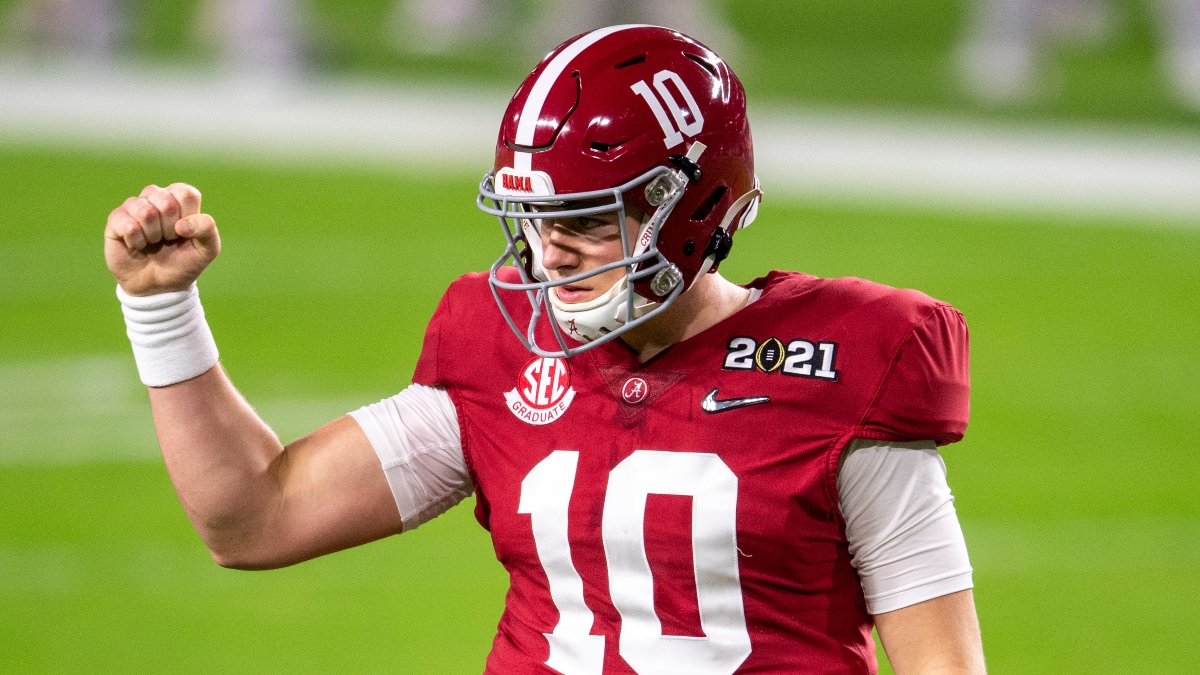 I'm not optimistic about Jones' ceiling in New England. First, he'll likely begin the season behind veteran quarterback Cam Newton, whom the Patriots re-signed this offseason. He will also be limited by the lack of a true No. 1 receiving threat on New England's depth chart.
If and when Jones starts, his passing prowess will improve the fantasy values of newly-acquired receiver Nelson Agholor and tight ends Jonnu Smith and Hunter Henry.
Koerner: Stock down
If the 49ers drafted Jones at No. 3, he would have a shot at being the Week 1 starter. This was probably the next-best landing spot as Cam Newton will likely have a short leash this season. Jones gets to play in an improved offense with Nelson Agholor, Jonnu Smith and Hunter Henry.
I view Jones as a low-end QB2, but he may add some stability to the offense and raise the value of their pass catchers.
Bears Trade Up From 20 to 11 To Draft QB Justin Fields
Koerner: Stock Up
Fields slipped outside of the top 10, but this was the best outcome for fantasy — all things considered. Andy Dalton might start Week 1, but it'll only be a matter of time until Fields replaces Dalton.
Fields has the rushing ability to provide high-end QB2 value, though Allen Robinson's stock takes a bit of a hit here.
Previte: Stock down
Chicago is a suboptimal landing spot for Fields from a fantasy perspective. Aside from wideout Allen Robinson, the Bears have limited pass-catching options compared to that of the 49ers, Panthers, Broncos or Patriots, for example (all of which were in the conversation to land Fields).
However, Fields is a highly athletic specimen who will offer a high floor to fantasy managers in light of his rushing abilities. He probably won't begin the season atop the Bears' QB depth chart which currently consists of Andy Dalton and Nick Foles, but if/when he does start, he will quickly be in the conversation as a high-end QB2 with QB1 upside.
Fields' addition should help the fantasy value of Robinson, as well as that of receiver Darnell Mooney and tight end Cole Kmet once he starts.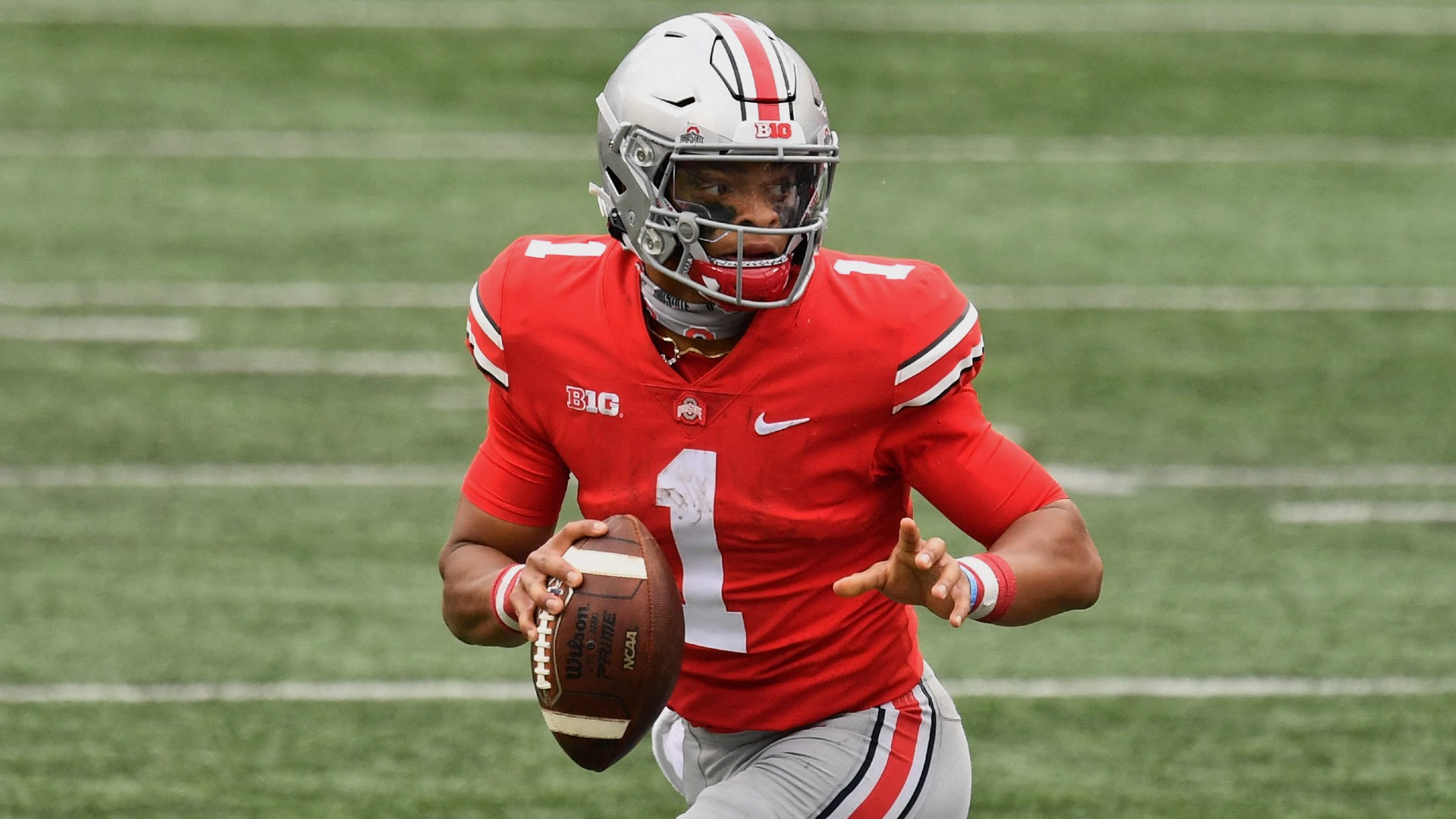 Raybon: Stock down
From a fantasy standpoint, I would have liked to see Fields go to a more explosive offense in Denver that features Courtland Sutton. Noah Fant, Jerry Jeudy, Tim Patrick, K.J. Hamler and Melvin Gordon at the skill positions. I even think Carolina — given that the Panthers project to be trailing a lot but have three top-tier weapons in Christian McCaffrey, D.J. Moore and Robby Anderson — would have been a more ideal landing spot.
Comparatively, the Bears' pass-catching corps featuring (for now) Allen Robinson, Darnell Mooney and Cole Kmet, among others, is a step down. I doubt the Bears keep Nick Foles after acquiring Andy Dalton and drafting Fields, but it's unclear if Fields was ever in the Bears' plans until he became available via his free-fall and is still a muddled situation. If Fields does get on the field (no pun intended), he will immediately be in the QB1 streaming conversation, but it's hard to project his amount of starts in Year 1 as of right now. Fields is similar to Trey Lance in that regard, but Lance is in a better situation.
---
Eagles Trade Up From 12 to 10 To Draft WR DeVonta Smith
Raybon: Stock up
I love Smith as a prospect and the Eagles should, too: The dude simply gets open with ease. He should immediately step in as No. 1 wide receiver and the one with the most separation on the field on most plays.
Smith should be a viable fantasy WR3 from Day 1 with upside for more.
Koerner: Stock up
The Eagles traded up to get Smith, which means they value him highly. He has a chance to be the team's No. 1 WR in Year 1. Jalen Hurts limits Smith's upside somewhat, but I view Smith as a WR3/Flex on the Eagles.
Hurts' stock, meanwhile, is way up with this pick. The Eagles added a weapon for Hurts and decided to pass on Justin Fields (who was still available).
Previte: Stock up
Smith is a much-needed addition to the Eagles' receiving depth chart, which is currently led by 2020 first-rounder Jalen Reagor, Greg Ward, and Travis Fulgham. He could easily assume WR1 status in this offense given the lack of competition, though his value will be capped by quarterback Jalen Hurts' passing limitations.
Smith's addition improves the fantasy value of Hurts, whose rushing abilities give him a very high floor. He was already penciled in as a potential low-end QB1 value, which could increase now with a new weapon.
---
Jaylen Waddle Second WR Drafted, Goes To Dolphins
Previte: Stock down.
Waddle becomes the second WR off the board and joins an anemic Tua Tagovailoa-led Dolphins offense, which comes at a detriment to his future fantasy value.
He also joins a semi-crowded pass-catching depth chart which consists of receivers DeVante Parker and Will Fuller V and tight end Mike Gesicki.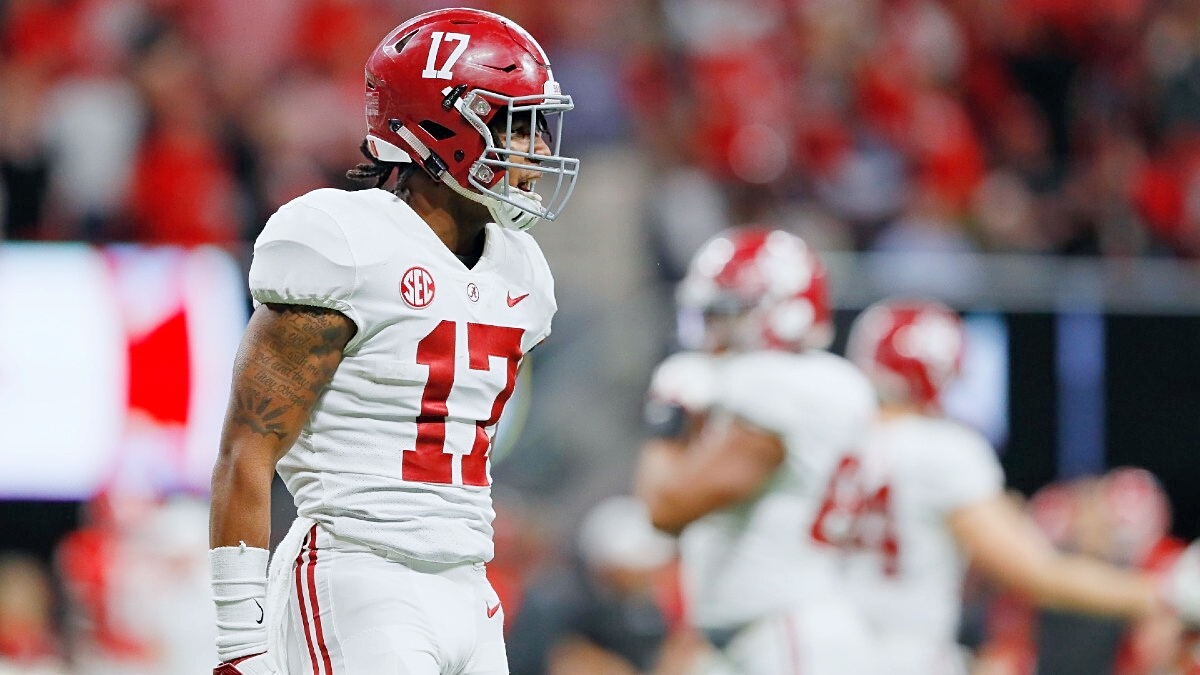 Koerner: Stock down
We get another college QB/WR reunion with Waddle heading to Miami to join Tua Tagovailoa. I thought Detroit or Arizona would have been the best landing spots for Waddle, though. I'm worried that the Dolphins offense will be a bit too conservative for Waddle to hit his ceiling in Year 1.
Waddle will have plenty of competition for targets with DeVante Parker, Will Fuller and Mike Gesicki. Tua's stock goes way up with this pick.
Raybon: No change
Waddle has freakish speed, but I'm considering this a neutral landing spot in terms of the impact on his value because I think Detroit was his ideal landing spot. With the Lions, he would have had a chance to step in and lead the team in targets from Day 1 with only Breshad Perriman and Tyrell Williams atop the wide receiver depth chart.
In Miami, I think Waddle will be a big part of the offense, but there are other guys that will command targets such as Will Fuller, Devante Parker and Mike Gesicki. Given the emphasis head coach Brian Flores places on special teams and Waddle's chops as a returner — he's considered by many the best returner in the draft — I wouldn't be surprised to see him play a role there, which could limit his role on offense initially.
Still, Waddle has Tyreek Hill like upside and went to a team with a smart coaching staff and a promising young quarterback, so I can't knock the landing spot too much.
Bengals Draft WR Ja'Marr Chase At No. 5
Raybon: Stock Up
Similarly to Pitts to Atlanta, Chase to Cincinnati was not an absolute lock. As a result, I'm considering this a stock up because I consider reuniting with his former quarterback, Joe Burrow, a better situation than going to Miami, where there are more questions about Tua Tagovailoa and the Dolphins already have a deep threat in Will Fuller.
I also consider Cincinnati a better landing spot than Detroit, since Jared Goff has never been at his best throwing downfield and would have likely struggled to maximize Chase's strengths.
Teaming up with Burrow at LSU in 2019, Chase caught 84 passes for 1,780 yards and 21 touchdowns. Cincinnati is still the fourth-best team in its division and thus should be in a lot of trailing situations, which should help maximize pass attempts for the Bengals, who finished sixth in 2019 (38.5) and 13th in 2020 (36.5) under Zach Taylor.
Tee Higgins and Tyler Boyd form an elite receiving corps with Chase, but Chase is talented enough to lead the team in targets in Year 1. A.J. Green left 30% of the team's air yards up for grabs, and I'd expect Chase to fill that void and then some.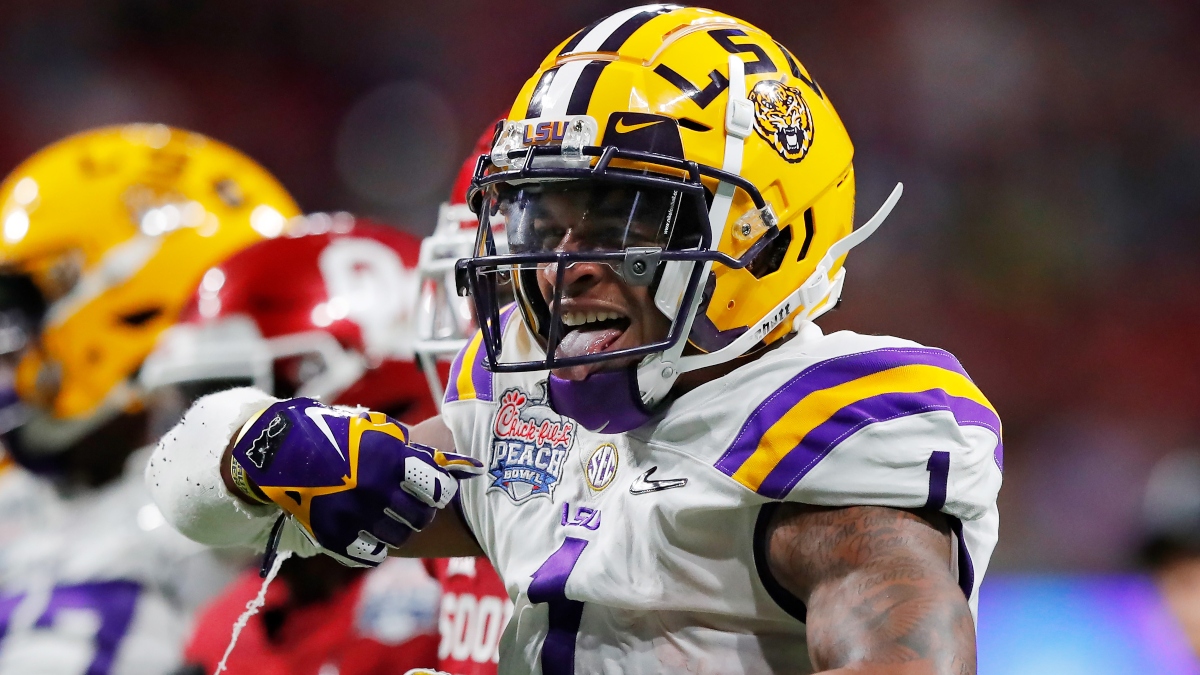 Previte: Stock up
Chase is the first WR off the board and reunites with fellow LSU alum Joe Burrow. Their chemistry alone should bolster his fantasy stock which could have WR2 upside. Chase's addition should also help Burrow, who could easily flirt with QB1 numbers this season.
Chase joins 2020 second-rounder Tee Higgins and Tyler Boyd on the Bengals depth chart, which could hurt Higgins' and Boyd's fantasy values slightly.
Koerner: No change
We expected Chase to reunite with former LSU teammate Joe Burrow. Chase is talented enough to have WR2/3 upside as a rookie. Burrow will now have Tee Higgins, Chase and Tyler Boyd at his disposal.
Chase's stock goes up with this selection.
TE Kyle Pitts Goes Fourth To Falcons
Koerner: No stock change
Pitts was expected to be selected fourth. I feel like the Bengals would have been the better landing spot (for fantasy purposes). Atlanta still has Hayden Hurst, so Pitts may have to share snaps with Hurts (initially).
Pitts' stock would go up if the Falcons end up trading away Hurst and/or Julio Jones.
Raybon: Stock up
This is a great spot for Pitts.
He wasn't a lock to go to the Falcons since they did not need a quarterback and were considering trading out of the No. 4 hole.
Now Pitts not only gets to go into an offense with Matt Ryan — who has attempted 600-plus passes in seven of the past nine years — but he also doesn't have to be worried about being the primary focus of the defense with Julio Jones (though he could be traded) and Calvin Ridley also on the team. And we know offensive coordinator Arthur Smith can get the best out of veteran quarterbacks after seeing his work with transforming Ryan Tannehill from an afterthought draft bust into one of the league's most efficient quarterbacks. Smith has also done great work with tight ends and often played in a two-tight end base offense while with Tennessee.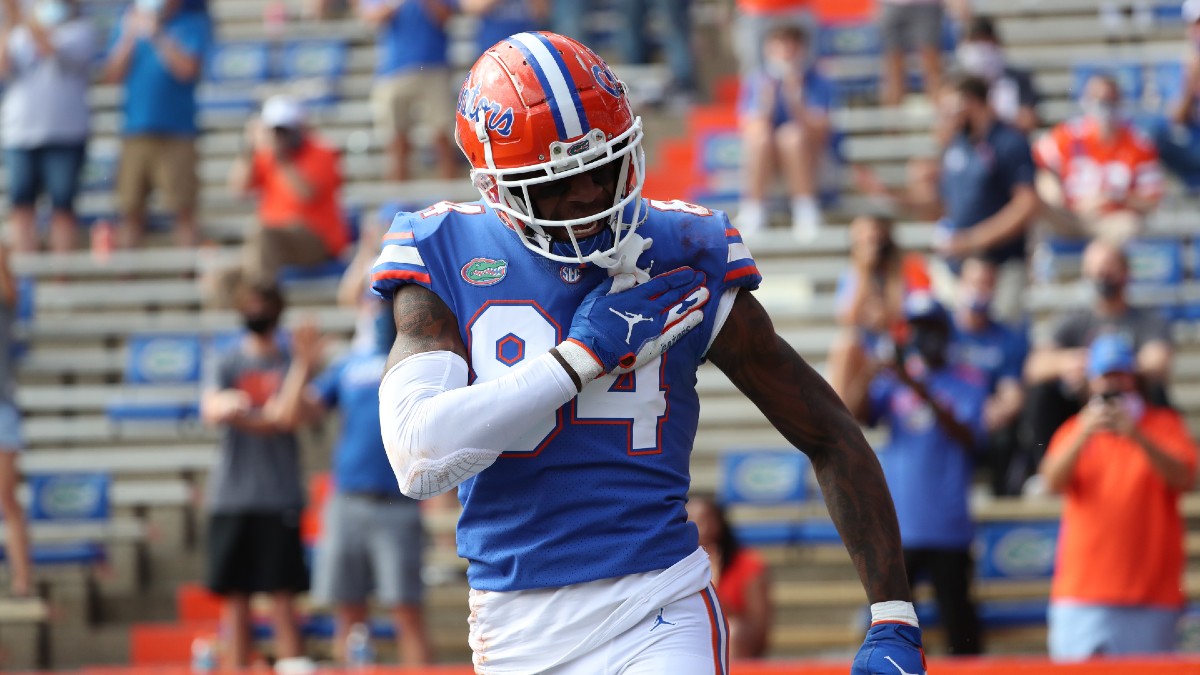 But my biggest reason for calling this a stock up for Pitts is that not only does this pick ensure Ryan will be the starting quarterback, but it also ensures the Falcons won't be using top-tier draft capital to address a defense that finished 19th in points and 29th in yards allowed last year, which should lead to plenty of pass attempts once again for the Falcons.
Previte: No change.
This comes as little surprise since Pitts to the Falcons gained a ton of traction over the past couple of weeks. It's a positive — albeit crowded — landing spot for Pitts for fantasy football. He joins a high-powered offense in Atlanta led by quarterback Matt Ryan.
Pitts will share the field with fellow tight end Hayden Hurst, whose value will go down with this addition.
49ers Draft Trey Lance At No. 3
Previte: Stock up
With all eyes on the 49ers heading into this draft, we finally have closure as Lance officially heads to San Francisco.
Lance lands in a positive fantasy situation in head coach Kyle Shanahan's system which has a bevy of offensive weapons including star tight end Travis Kelce, receivers Deebo Samuel, Brandon Aiyuk and running back Raheem Mostert. His athleticism and rushing abilities bolster his fantasy value, which could be as high as low-end QB1.
Lance's presence will also improve the fantasy value for all of the San Francisco pass-catchers, whose ceilings have been limited by Jimmy Garoppolo's conservative play.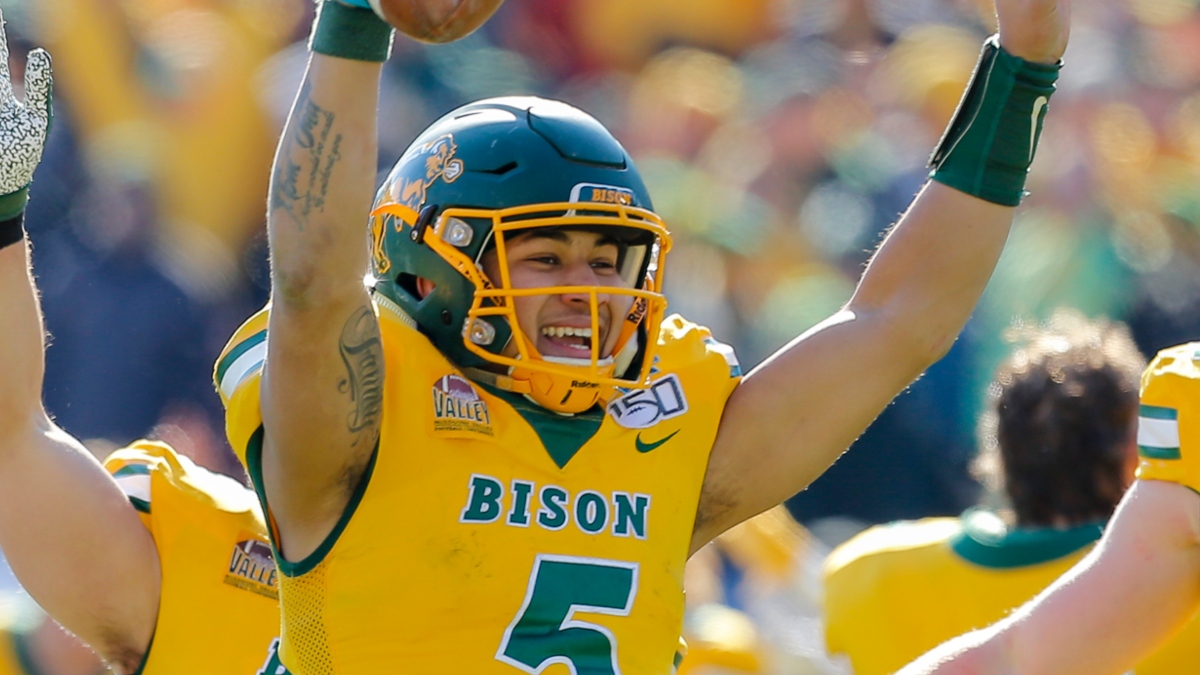 Raybon: Stock up
Lance gained late buzz to San Francisco and ended up being the choice, which is a major boom to his stock as he would have no doubt landed in a lesser situation if he had not landed in San Francisco.
The 49ers have an offensive mastermind coach in Kyle Shanahan, a strong offensive line and an excellent, young group of pass catchers in George Kittle, Brandon Aiyuk and Deebo Samuel. The only issue for fantasy owners is the gratification of his rising stock may have to be delayed as long as Jimmy Garoppolo is still on the roster.
There have been questions about Lance's pro-readiness, although he started to hear positive things about his mental ability the more the process wore on, so I wouldn't be surprised to see him make starts this season — especially since Garoppolo has missed 23 games over the past three seasons.
Koerner: Stock up
The 49ers traded up to No. 3 and left everyone in suspense up until their pick was announced. The fantasy impact is still unknown — he's a raw prospect who may need a year on the bench before being NFL ready. We also need to see what happens to Jimmy Garoppolo now.
Lance will offer QB1/2 value in Kyle Shanahan's offense when he eventually starts.
Zach Wilson Goes Second To Jets
Koerner: No stock change
Wilson was expected to go to the Jets and will be the Jets' Week 1 starter, which makes it a great landing spot for him. However, it's essential to realize that Wilson is much closer to the Justin Fields/Trey Lance/Mac Jones Tier than the Trevor Lawrence Tier.
Wilson carries a fairly low floor heading into his rookie season. I view him as a low-end QB2 with upside.
Previte: No change
Wilson heads to Gang Green as the No. 2 overall pick in another anticlimactic selection to kick off the draft. Though the Jets have a dearth of fantasy-relevant weapons, the BYU product should positively impact any of the pass catchers on this squad — namely, recently-acquired WR Corey Davis, WR Jamison Crowder and TE Chris Herndon (if he can ever stay healthy).
Wilson's individual upside as a fantasy QB will be limited by the Jets' lack of weapons and offensive line woes.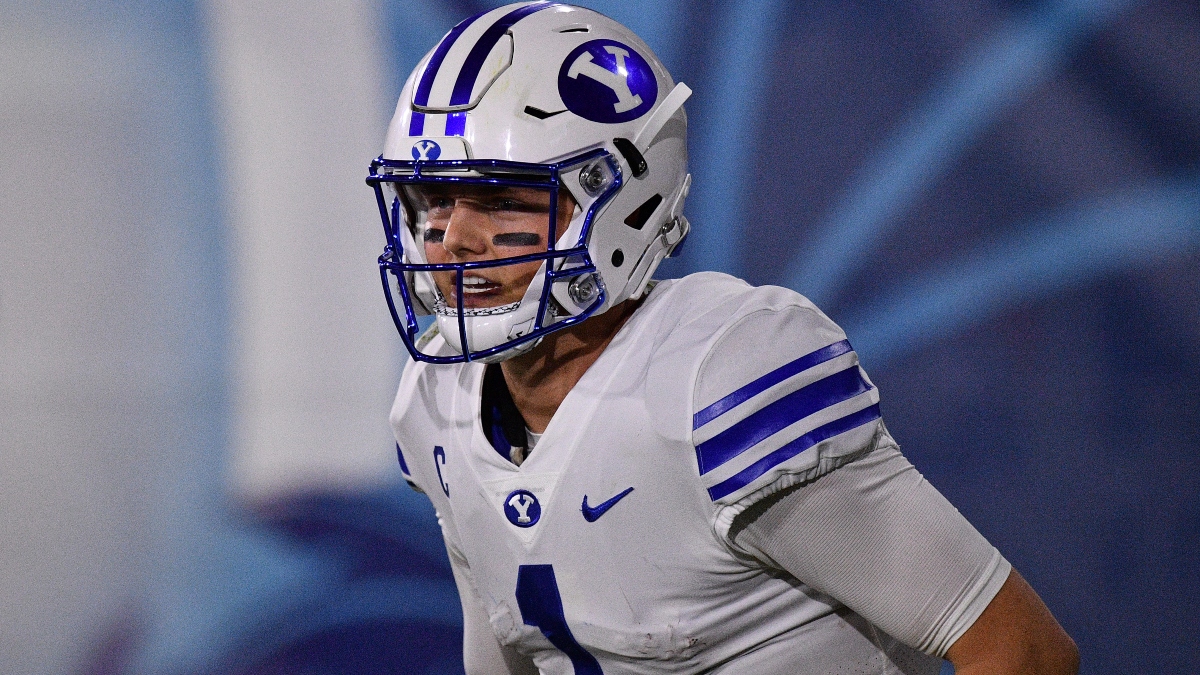 Raybon: No change
There have only been four QBs taken No. 2 overall since the NFL switched to 32 teams in 2002, all in the past decade: Mitchell Trubisky (2017), Carson Wentz (2016), Marcus Mariota (2015), and Robert Griffin III. Those QBs averaged a fantasy finish of 19th with a median of 22 as rookies, but RGIII did finish in the top-five.
Wilson is more talented than any of those passers, and may be more talented than anyone behind center for the Jets since Joe Namath. Wilson's arm talent is out of this world: He can make any throw from any angle with pinpoint accuracy without setting his feet. Many of the knocks on Wilson (competition level at BYU, jump in play from 2019 to 2020) don't hold as much weight when you consider that most of those evaluations are made so a quarterback can compensate for not having the arm talent of Wilson.
I'm in agreement with Chris Simms, who sees Wilson as "clearly" the No. 1 quarterback. This carries a lot of weight because Simms' track record at quarterback evaluation is second to none: At the time, Simms was considered contrarian when he had Justin Herbert ahead of Tua Tagovailoa last year, Dwayne Haskins behind Drew Lock in 2019, Lamar Jackson and Josh Allen over Baker Mayfield and Sam Darnold in 2018, and Patrick Mahomes over Deshaun Watson and Mitch Trubisky in 2017.
Wilson should be in good hands with Mike LaFleur and has a promising receiving corps with Corey Davis, Denzel Mims and Jamison Crowder and a high-end tackle in Mekhi Becton. Mims needs to take a step forward to truly maximize Wilson's upside, but there's major upside here especially with the Jets moving on from Sam Darnold.
I'd have Wilson rating in the QB15 range to start, similar to Trevor Lawrence.
---
Trevor Lawrence Drafted First Overall By Jaguars
Koerner: No change
We have known he was going to be a Jaguar for months now.
Lawrence is a generational prospect who lands in an ideal scenario — at least from a fantasy perspective.
The Jaguars' defense is still being rebuilt and should offer up plenty of pass-happy game scripts. He also inherits a solid trio of wide receivers in D.J. Chark, Marvin Jones and Laviska Shenault.
Lawrence's floor in Year 1 will be a solid QB2. Head coach Urban Meyer has a history of maximizing his quarterbacks' rushing ability, and if Lawrence ends up averaging 5-6 rushing attempts a game, it will unlock his QB1 ceiling.
Previte: No change
Lawrence lands in a very positive situation in new head coach Urban Meyer's system in Jacksonville from a fantasy perspective.
The former Clemson quarterback could make an immediate impact as a fantasy-relevant quarterback with solid QB2 value and low-end QB1 upside.
His presence will elevate the fantasy stock of the players around him, who had to catch passes from Gardner Minshew, Jake Luton and C.J. Beathard last season. It's good news for receivers D.J. Chark, Marvin Jones and Laviska Shenault, as well as running back James Robinson, all of whom will benefit from the addition of Lawrence.
Raybon: No change
Since the NFL switched to 32 teams in 2002, there have been nine quarterbacks taken with the No. 1 overall pick who went on to start at least eight games in their rookie season. Below are their fantasy rankings among QBs in terms of season-long and points per game.
2020: Joe Burrow QB24 season-long/QB16 points per game
2019: Kyler Murray 8/11
2018: Baker Mayfield 16/20
2015: Jameis Winston 19/16
2012: Andrew Luck 10/10
2011: Cam Newton 3/3
2010: Sam Bradford 20/25
2009: Matthew Stafford 26/21
2002: David Carr 24/27
To get a better idea of Lawrence's range of outcomes, we can look at the summary data:
Season-long: AVG 16.7, MAX QB3, MED QB19, MIN QB26
Points per game: AVG 16.6, MAX QB3, MED QB16, MIN QB27
Lawrence is considered one of the top QB prospects ever — even relative to his fellow No. 1 overall selections — so it's fair to expect his outcome to fall somewhere between the median outcome and the higher range, meaning based on past history, he should push for No. 1 value.
Jaguars offensive coordinator Darrell Bevell's average percentile rank in pass attempts for his career is the 35th percentile, but over his past four seasons — two with the Seahawks and two with the Lions — he has finished between 13th and 18th in pass attempts each season. It is worth noting that the only time Bevell coordinated an offense with a rookie QB was with Russell Wilson in 2012, when the Seahawks finished 32nd in pass attempts — although that may have have had more to do with their No. 1 defense.
Lawrence is going into a situation where he'll be given every opportunity to flourish from Day 1, but his stock could change depending on how the rest of the draft plays out. The Jaguars made strides on defense in the offseason, and the more they improve their defense via the draft, the less volume upside Lawrence will have. The Jaguars would also do well to add another piece or two to their passing attack: DJ Chark, Marvin Jones, Laviska Shenault each profile more as high-end No. 2 wide receivers rather than true No. 1s, and the team also needs to add a legitimate threat at tight end. As of now. I'd rank Lawrence as a high-end QB2/fringe-QB1 in deeper leagues, but that could change depending on how the draft unfolds
How would you rate this article?
This site contains commercial content. We may be compensated for the links provided on this page. The content on this page is for informational purposes only. Action Network makes no representation or warranty as to the accuracy of the information given or the outcome of any game or event.