Raybon: My First Experience Playing the Ponies at Belmont 150
The Highlights
My basic strategy was to take some shots and not bet too much chalk.
I should have lost money, but didn't thanks to a key tip from Paul Lo Duca.
We had a hilarious encounter with Bill Belichick.
---
ELMONT, NEW YORK — In my lifetime, I've already bet on most of the major sports: NFL, NBA, MLB, NHL, college basketball, college football, golf and NASCAR. I've also bet on everything from video games, to rock-paper-scissors, to presidential elections. Hell, in the last few months alone, I've bet FantasyLabs' Joe Holka on whether Editor-in-Chief Matthew Freedman would edit a d–k joke out of an NHL article (I won; I still owe you one, Freedman), and my dude G-Reg over which song Biggie tells the story about the girl who asked him to take a dump on her chest (I lost; I was confusing "I Got a Story to Tell" with "Nasty Boy").
But I've never bet on horses.
Until now.
My Look
When Action Network Head of Media Chad Millman told me I'd be going to my first horse race, the first thing I had to do was figure out what to wear, because I knew I'd be competing with this: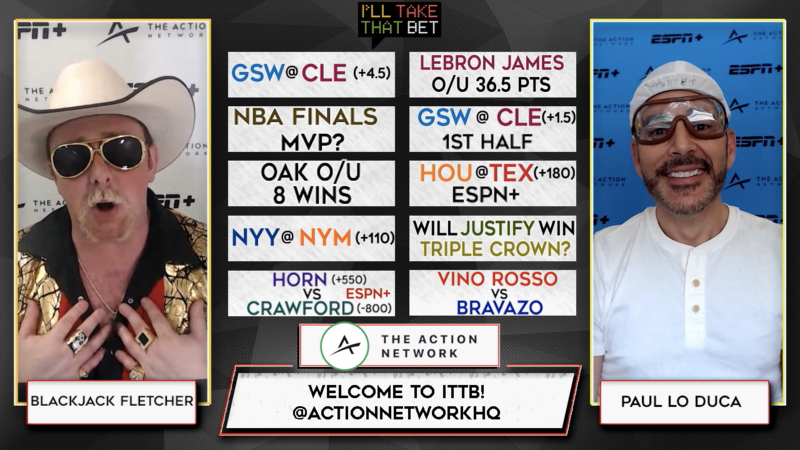 So, you can imagine how disheartened I was when I ended up as the third-best dressed person in the picture below. The only upshot is that the photo is capturing Lo Duca telling us how much he liked the No. 6 horse in Race 7, Still Having Fun, at 13-1 odds, because I later took his advice and bet that horse, and he won.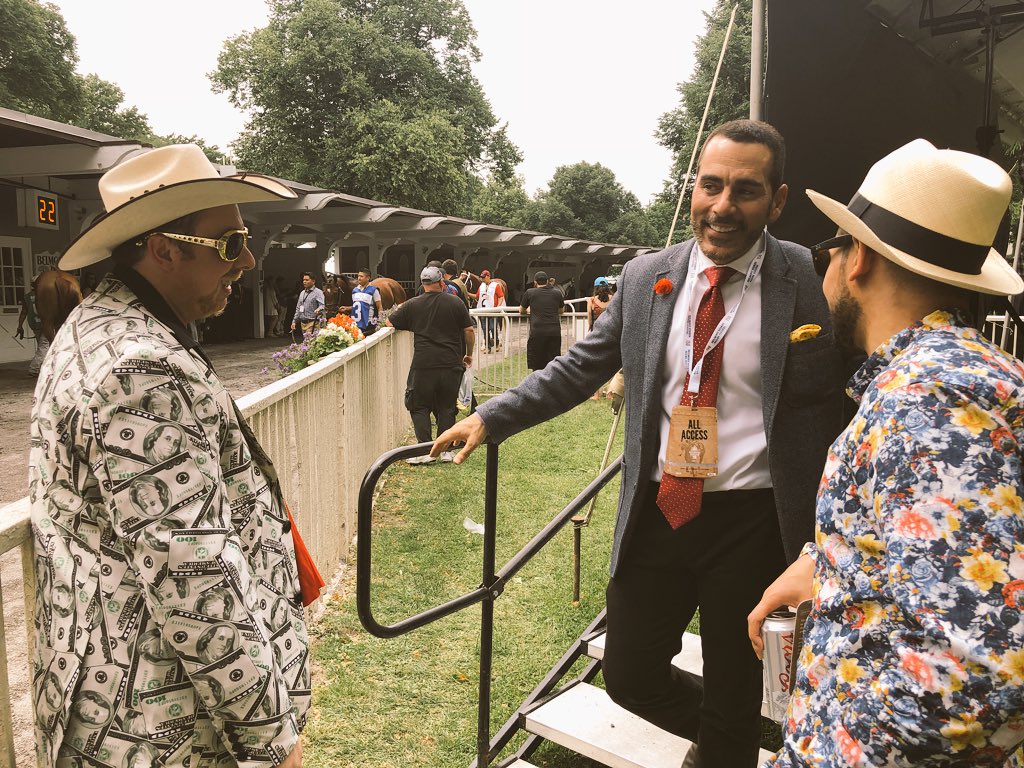 First Impressions
Despite the fact that I've always been interested in betting to varying degrees, horse-racing culture was something I was never too familiar with, which is probably why Millman thought it would be fun to send me out here in the first place. I'd seen a few of the bigger races of my time on TV, but I mostly knew the Belmont Stakes for the pages in the New York Daily News and New York Post I had to flip past to get to the MLB box scores when I was a kid.
My first impression of the scene was baseball game (you don't mind missing some of the live action early) meets frat party (there was literally a dance floor with people getting down to Flo Rida) meets casino (betting!) meets church attire.
My Strategy
For the first time in probably two decades — I used to bother to keep score during baseball games in the late '90s and early 2000s — I bought a program at a sporting event. BlackJack taught me how to read the Daily Racing Form and explained the language, and we immediately bee-lined it to the automated ticket windows to beat the clock before the next race started.
Since I couldn't tell my Stormy Liberals from my Limousine Liberals, my basic strategy was to bet whichever horses BlackJack or Lo Duca were on — that, and to put $1 on the horse with the longest odds in every race to win, which didn't work out too well (read: at all). Strange, how odds work.
I'm still not sure if my colleagues Evan Abrams and Conor Davidson were serious or not when they were talking about using the Martingale system, but if they were, they weren't the only members of the team not using much of a data-driven approach, because I played this a lot more loosely than I normally would if I were betting a sport I was knowledgeable about.
Most races, I'd just go up to the ticket counter with a few plays from BlackJack, and with Lo Duca's article open in our app, and punch in small bets on different horses, sometimes dabbling in exactas, trifectas, and even superfectas. I'm almost certain this was -EV like parlays, but I also knew that I could just expense all my losses to The Action Network (they just didn't know that yet).
Luckily for The Action Network's forensic accounting team — oh, we don't have one of those? Even better — I had a profitable day. I bet more on Still Having Fun than any other horse — another thing that I would almost never do under normal circumstances. I also hit the winner of Race 9, Bee Jersey, although that one almost cost me a pastrami sandwich when Action Network writer Michael Leboff knocked part of it on the floor in celebration because he also bet that horse. I say "almost" because I picked it up off the floor and ate it– I don't go by the five-second rule as much as the however-many-seconds-it's-been-on-the-floor-until-I-pick-it-up-and-still-eat-it rule.
That race was close, too, and for a sec we thought we all jumped the gun celebrating, with a guilt-ridden Leboff lamenting that if No. 10 hadn't actually won, he deserved to be punched in the face as punishment. Never that. If I really wanted to punish him, I would have just made him eat the pastrami sandwich (okay, maybe it wasn't that bad, but it was no Katz sandwich).
I did show some discipline in not betting Race 8, the only race between the time I got there (before Race 5) and left (after Race 11). Lo Duca liked the chalk in that race and BlackJack concurred, and I had no real interest in betting much chalk in a sport I'd never bet before (outside of Justify, which I'll get to in just a moment), so that was about the time we got on line for food.
The Triple Crown Atmosphere
This race spoiled me. Not only did Lo Duca's longshot call (which he enjoyed gloating about on Twitter) allow me to profit despite some clearly -EV decisions, but I got to, you know, witness a Triple Crown.
I'll never forget the roar of the crowd as Justify crossed the finish line. It was probably the loudest I've ever heard a crowd in my life.
Also, I would have profited slightly more if I'd realized I was never going to cash my only Justify ticket even if it hit, so there was no point on betting more than the lowest amount possible on the potentially historic memorabilia. Instead, I put $10. Rookie mistake.
I Think I Like Horse Racing Now
I mean, I definitely liked this experience. Even though seeing a Triple Crown in my first day at the tracks is probably like Josh Gordon's 2013 season — as much I want to see it again, it may very well never happen — the overall experience is something I'd always be down for. It would never take over for the NFL or NBA, but my third-favorite sport is always a revolving door these days. I'd probably stick to the big three races, and I'd like to hit up the Kentucky Derby at some point.
Bonus No. 1: The BlackJack Chronicles
In case you couldn't tell from the photos above, or from his debut on "I'll Take That Bet," or from his new podcast, "Live From the Strip," there's never a dull moment with Blackjack Fletcher:
To a fan requesting a picture as he washed his hands in the bathroom: "Let's take this outside the men's room."
To a woman who remarked she'd never seen rings as nice as the ones he was wearing: "Then you haven't met the right man, sweetheart."
To one of our interns, Gil Gross, after Gil spilled his second slab of pastrami sandwich on the floor in as many bites: "What are you, an intern at eating, too?"
Bonus No. 2: "Gronkowski!!!"
As you could imagine when you combine an event attended by more than 90,000 people with New York City traffic, leaving the Belmont Stakes is a zoo. Lo Duca did us all a solid by driving us from the lot to the LIRR/spot we could wait 20 minutes to catch an Uber, and on the way out of the lot, we happened to pass a man who looked like Bill Belichick that was, in fact, Bill Belichick, prompting Lo Duca to scream, "Gronkowski!!!":
I don't know if Belichick looked because he was startled or because he just wanted some attention — countless people walked right past him and it seemed like racetrack security were the only other people who had any idea who he was. Either way, this was one of my favorite moments of the day.
Also, shout out to our social media director, Connor Nolte, for cashing a ticket on Gronkowski to show at 24-1 odds.
How would you rate this article?