Enter Our Name-A-Horse Contest: Win Naming Rights to a Thoroughbred Colt, Share of $1,000 in Bet Credits
Credit:
Max Mumby/Indigo/Getty Images.
Ever wanted to name an actual race horse? One that could run in some real stakes races over the next few years?
Now is your chance.
The Action Network has partnered with The American Jockey Club, the Breeders' Cup and LNJ Foxwoods, which has an un-raced, un-named two-year-old colt, for our first-ever Name-A-Horse Contest.
The winner's horse name will be assigned to the colt owned by LNJ Foxwoods, partial owner of 2019 Kentucky Derby champion Country House.
The winner will also receive apparel from the breeder, including photos of the horse, and an opportunity to meet the horse at a later date.
The top eight names will win a share of $1,000 TVG bet credits, with $300 going to the winner and $200 to second place.
Here's How to Enter:
And How Do You Win?
All entries will be reviewed by a panel, including members of The Action Network and LNJ Foxwoods, with the top eight names being chosen as finalists. All finalists are subject to approval by The American Jockey Club and The Breeders' Cup.
Who's the Horse?
The horse is a 2-year-old colt who has not raced yet, but could by the end of this summer or fall.
The colt's father is Tapit, a top sire who stands for $200,000 at Gainesway Farm in Lexington. His dam is Mystery Strike, an eight-year-old mare who also has an impressive pedigree — she's Secretariat's granddaughter.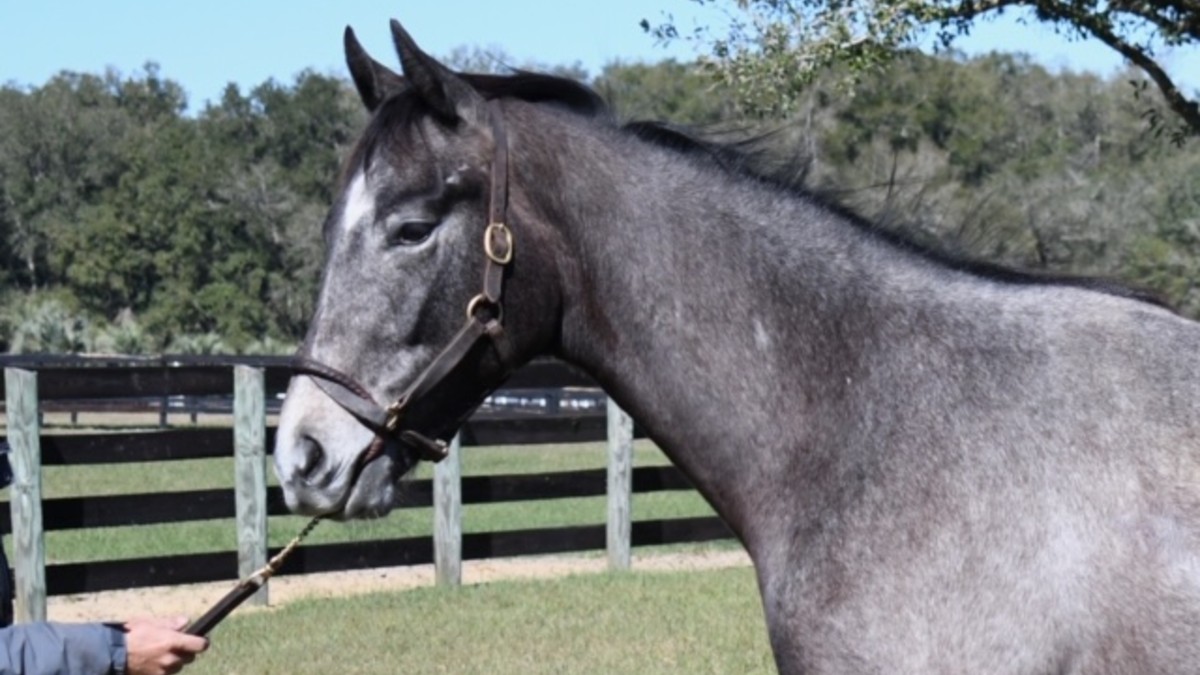 That makes this unnamed horse Secretariat's great-grandson.
The colt was recently sent to Woodbine, the major track outside of Toronto, for trainer Josie Carroll (who has 827 career wins and more than $47 million in career earnings).
What Goes Into a Name?
The Jockey Club has rules about what you can and can't name horses. The selections submitted on Twitter must meet these criteria to be eligible.
Seventeen rules, to be exact. You must follow them to be eligible to win.
18 letters or fewer.
No names that are entirely initials (C.O.D., F.O.B.)
No names ending in "filly," "colt," "stud," "mare," "stallion," or any similar horse-related term.
No names consisting entirely of numbers. Numbers above 30 may be used if they are spelled out.
No names ending with a numerical designation such as "2nd" or "3rd."
No names of a living person, unless written permission to use their name is on file with The Jockey Club.
No names of persons no longer living unless approval is granted by The Jockey Club based upon a satisfactory written explanation.
No names of racetracks or graded stakes races.
No names clearly having commercial, artistic or creative significance.
No names that are suggestive or have a vulgar or obscene meaning; names considered in poor taste; or names that may be offensive to religious, political or ethnic groups.
No names that appear to be designed to harass, humiliate or disparage a specific individual, group of individuals or entity.
No names that are currently active either in racing or breeding.
No names of winners in the past 25 years of Grade 1 Stakes races.
No permanent names. The list of criteria to establish a permanent name is as follows:
a. Horses in racing's Hall of Fame;
b. Horses that have been voted Horse of the Year;
c. Horses that have won an Eclipse Award;
d. Horses that have won a Sovereign Award (Canadian Champions);
e. Annual leading sire and broodmare sire by progeny earnings;
f. Cumulative money winners of $2 million or more;
g. Horses that have won the Kentucky Derby, Preakness, Belmont Stakes, The Jockey Club Gold Cup, the Breeders' Cup Classic or the Breeders' Cup Turf; and
h. Horses included in the International List of Protected Names.
No names similar in spelling or pronunciation to the classes of names listed above.
No names of horses previously recorded in The American Stud Book by the same sire or out of the same dam as the foal for which the attempt is made.
No names of horses appearing within the first five generations of the pedigree of the foal for which the attempt is made.
How would you rate this article?