Sports Betting Brings Another Factor in Horse Racing's Future
Credit:
Sarah Stier / Getty Images. Pictured: 147th Kentucky Derby
Legal sports betting's steady growth across America will not end the nation's pari-mutuel horse racing industry, but it gives leading gaming operators another revenue-generating option to accompany far-more profitable casino options – and one less reason to invest in the often money-losing races.
Horse Racing Background
With the decline of horse racing interest and participation in the later half of the 20th century – along with the proliferation of Native American-run casinos in the 1990's – state policymakers increasingly embraced commercial gaming, frequently at existing horse tracks.
These new options were welcome news to many horse track operators. As slots and table games expanded and generated more profits, the tracks' corporate interests increasingly prioritized the more lucrative options over horse racing.
For an increasing number of states, that has also meant sports betting as more legalize single-game wagering in the wake of the Supreme Court's 2018 decision that struck down the federal ban.
To protect horse racing, which for generations had strong financial and emotional ties with American culture, many states passed laws that required operators to host a certain number of races each year to maintain their casino gaming abilities. Other states bolstered the industry further by subsidizing horse racing stakeholders via taxes on the casino games.
Removing these racing requirements and/or the subsidiaries is known as "decoupling." Speaking at an industry conference in Saratoga Springs, New York, Monday, Florida-based gaming attorney Marc Dunbar said a nationwide decoupling trend is here to stay.
That is not good news for horse racing stakeholders, said John Faraldo, Standardbred Owners Association of New York President, at Monday's Racing and Gaming Conference at Saratoga.
"This decoupling concept is an existential threat to all of racing, agriculture and non-agricultural industries," Faraldo said.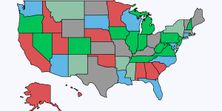 Decoupling Debate
Decoupling has gained political momentum as horse racing interest in many tracks continues to wain as other gaming options become more prominent. But, despite these declines, horse racing maintains a prominent role in American culture.
Major events such as nationally televised Triple Crown races continue to draw hundreds of thousands annually. Certain marquee, historic tracks such as Saratoga Race Course also still draw strong crowds; Joe Appelbaum, President of the New York Thoroughbred Horseman Association, told conference attendees Monday the track was on pace "to set records" this year.
Still, dozens of tracks have closed in recent decades. Arlington International Racecourse, a historic course in the Chicago suburbs, is expected to run its final races in 2021 after nearly 100 years in operation.
In Pennsylvania, state horse tracks are drawing less than lower-tier minor league baseball teams, said Sharon Ward, former director of the state budget office. These tracks are held afloat by $3.3 billion in annual subsidies, the largest economic incentive in the state, Ward said at Monday's conference.
This sets up a natural financial and emotional conflict. Horse racing advocates argue the industry providers thousands of jobs and significantly more in economic impact. Proponents argue the intangible, emotional utility of horse racing is also worth the steep financial investment.
Other argue the investment from tax payers for financial subsidies are no longer worth the cost. Lawmakers have increasingly headed this argument, most notably in Florida earlier this year.
Sunshine State lawmakers passed decoupling legislation that will allow the state's jai alai frontons, standardbred horse tracks and former greyhound facilities to offer more lucrative poker and card rooms without having to put on live competitions or races.
Notably, the state's two thoroughbred tracks (which conduct non-harness racing in the style of Triple Crown races) are still required to host a certain number of live events.
This could lead their respective owners to sell their properties for redevelopment, Dunbar said, and means the last two major tracks in the nation's third-most populated state could soon close.
Tracks Turn to Sportsbooks
Sports betting, a comparatively low-margin gaming offering, is not alone enough to end horse racing, but for a growing number of gaming operators it presents another revenue generator – or at least something easier to manage than horse racing.
Delaware and New Jersey, the second and third states after Nevada, respectively, to accept legal single-game sports bets, opened race track sportsbooks in 2018.
That same year, Arkansas voters approved casino gaming and sports betting at Oaklawn Racing Casino Resort, the state's lone thoroughbred horse track.
Pennsylvania, Indiana and West Virginia were among states that allowed certain horse tracks to offer casino gaming (and become "racinos") and also permit sportsbooks. Ohio, which like its neighbors legalized racinos, is also set to legalize casino sports betting as early as this year.
Leading operators are also shifting toward sports betting as more and more states legalize wagering.
Penn National, for decades better known as horse track operator, has invested billions in sports betting through high-profile acquisitions of Barstool Sports and theScore, two media companies-turned sportsbook brands.
Stronach Group, owner of multiple iconic horse racing facilities, could open its first racetrack sportsbooks at either Laurel Park or Pimlico (home of the Triple Crown's Preakness Stakes) later this year.
As sports betting grows, tracks are also considering "fixed-odds" wagering on horses. Instead of the traditional pari-mutuel betting where all bets in a certain raced are placed and a proverbial pot, odds shift based on bets placed and winnings are paid out from the full purse, fixed-odds wagering allows bettors to wagering like they would team sports.
This style has gained popularity in more than 50 country markets across the globe and is one of the most popular betting options in established markets such as Australia.
With fixed-odds betting, particularly via mobile devices, bettors can also wager on horse finishes, comparisons to other horses and literally of hundreds of additional options not available with a pari-mutuel model.
New Jersey is the first state to approve fixed odds wagering on horses. It remains to be seen how well this new gaming format catches on in America, but it underscores the impact single-game sports betting's spread has on the overall gaming industry.
Meanwhile, sports betting continues to grow rapidly while pari-mutuel wagering remains stagnant. Horse racing has generated roughly $11 billion in handle every year in the past decade. In just over three years, legal wagering has garnered roughly $65 billion while increasing handle each year – and that is without most states still not able to legally accept bets.
Future Developments
Though the nation's most iconic horse tracks and races may continue to survive and even thrive, industry observers from all prospectives agree much more needs to be done, especially for less viable tracks.
Many horse racing stakeholders, unsurprisingly, continue to defend subsidies and race requirement regulations, arguing a lack of investment is hurting the industry and more resources are needed for its revival.
Others – including some horse racing ownership interests themselves – say its time to turn away from money-losing equestrian events and toward casino gaming.
Sports betting will not be a savior, but it could be a boost. Even Churchill Downs, home to the Kentucky Derby and arguably the nation's most famous horse track, has supported legislation that would allow in-venue sportsbooks.
So too could increasing casino options. With more lucrative slots, table games and now sportsbooks to back them up, horse tracks-turned-racinos have withstood dwindling horse racing markets.
The question remains if there should be continued investment in the industry at non-profitable venues or if the focus should turn entirely toward revenue generating options.
What is certain is the political pressure to decouple through tax investments and regulatory requirements will continue to build momentum in the foreseeable future.
How would you rate this article?
This site contains commercial content. We may be compensated for the links provided on this page. The content on this page is for informational purposes only. Action Network makes no representation or warranty as to the accuracy of the information given or the outcome of any game or event.