2019 Home Run Derby Betting Odds, Picks: The Longshots and Matchups That Have Value
Credit:
Wendell Cruz, USA Today Sports. Pictured: Pete Alonso
The 2019 Home Run Derby takes place on Monday night (8 p.m. ET, ESPN) at Progressive Field.
Josh Bell is the current favorite at +350 with Vladimir Guerrero Jr. right behind him at +450.
Check out our comprehensive betting guide for the 2019 MLB Home Run Derby.
2019 Home Run Derby Odds
Josh Bell +350
Vladimir Guerrero Jr. +450
Joc Pederson +500
Pete Alonso +500
Carlos Santana +700
Alex Bregman +800
Matt Chapman +800
Ronald Acuna Jr. +1000
Odds via the Westgate SuperBook and current as of 10 p.m. ET on Sunday. Odds will vary book to book.
The 2019 Home Run Derby takes place tomorrow at Progressive Field in Cleveland, Ohio beginning at 8 p.m. ET on ESPN.
This year's Derby will take place over three rounds, with the top hitters from each side of the bracket squaring off in the final.
In each round, the players have four minutes to hit as many homers as possible. If they hit two home runs over 440 feet, they receive an additional 30 seconds.
In case of a tie, a 90-second swing off will occur. If the tie is not broken by that, the winner will be decided by three swings, and if a victor is not determined by that, it will come down to sudden death.
Let's dive in to our experts' favorite bets, along with some helpful info on Progressive Field's dimensions and how each batter's pitchers will influence the proceedings.
Progressive Field Park Factors and Dimensions
Per ESPN's MLB Park Factors, Progressive is the 10th-most home-run friendly ballpark this season. It is considered a neutral park with dimensions of 325-370-405-375-325 from left to right field. There is a 20-foot wall in left field but the rest of the field is surrounded by an eight-foot wall.
Progressive field sits next to Lake Erie and winds may shift from game-to-game. Monday night's forecast calls for 10 mph gusts blowing in from right field.
Any lefties in the contest (Joc Pederson) may have issues getting the lazy can of corn over the wall.
Josh Bell and Carlos Santana are the only switch hitters in the contest. Santana has a better home run to flyball rate (HR:FB) from the right side over the past few seasons while Bell's HR:FB is better on the left side. — Collin Wilson
Personal Pitchers
Pitcher continuity can play a role in determining the Derby winner. Generally batting practice coaches and fathers know the Derby contestant best. With the new timing elements added to the contest in 2015, speed and location have never been more important. Some of the worst performances in the Derby can come from a player who is using an unknown thrower on the mound.
Last year's winner, Bryce Harper, used his Dad, who has spent a lifetime throwing to the All Star. The year before that, Yankees batting-practice pitcher Danilo Valiente threw to Gary Sanchez and eventual winner Aaron Judge. Todd Frazier did win the 2015 Home Run Derby with his brother as a pitcher, but that marked the second time the pair had competed in the contest. Here is a list of the contestants and who will be toeing the rubber in the contest.
Pete Alonso: Using his second cousin Derek Morgan as his personal pitcher. Morgan's baseball playing experience is unknown. This could be a death sentence to Alonso's chances, despite being listed among the favorites.
Ronald Acuna Jr.: Utilizing Braves infield instructor Tomas Perez, who partnered with Freddie Freeman in the 2018 derby. Freeman tied for a first-round low with 11 home runs.
Alex Bregman: The only repeat participant from 2018 in the field, Bregman will make another derby attempt with Astros bullpen catcher Javier Bracamonte. He lost 16-15 to Kyle Schwarber in the first round in 2018.
Joc Pederson: Will bring along Dodgers third base coach Dino Ebel, who won the 2007 derby with Vladimir Guerrero Sr. and pitched to Albert Pujols in the 2015 derby. Pederson eliminated Pujols in that 2015 derby, before losing to Todd Frazier in the finals.
Josh Bell: Named his former minor-league roommate and teammate Jon Schwind as his derby pitcher. Schwind has already cautioned that it will be difficult for the duo to replicate their timing.
Vladimir Guerrero Jr.: Will receive pitches from John Schneider, a Blue Jays coach, and Guerrero's preferred batting practice coach.
Carlos Santana: Tabbed Indians assistant hitting coach Victor Rodriguez as his derby pitcher. Rodriguez has thrown batting practice to Santana all season.
Matt Chapman: A last-minute replacement for Christian Yelich, Chapman will fulfill his dad's dream (and Matt's childhood promise) of being able to pitch to his son on the derby stage. — Sean Zerillo
2019 Home Run Derby Matchup Odds
Matt Chapman (+115) vs. Vladimir Guerrero Jr. (-135)
Alex Bregman (+120) vs. Joc Pederson (-140)
Josh Bell (-190) vs. Ronald Acuna Jr. (+160)
Pete Alonso (-150) vs. Carlos Santana (+130)
2019 Home Run Derby Betting Picks & Strategies
John Ewing
The Bet: Anybody But Josh Bell
Christian Yelich (back) has pulled out of the Home Run Derby and oddsmakers now list Bell as the favorite. Bell's 27 homers ranks 5th in the majors and he leads all hitters this season with seven homers of at least 440 feet and has crushed five dingers at least 450 feet. Bell is a legit favorite but this is a random event and historically there has been no value wagering on the chalk.
Since 2001, the favorite has only won this event twice and on average the winner had +500 odds according to SportsOddsHistory. Casual bettors love wagering on the favorite, be smarter than that and fade the chalk. — John Ewing
Evan Abrams
The Bet: Joc Pederson (+500) and Alex Bregman (+800) to win.
These two players are squaring off in Round 1 but I like the winner of that matchup to make it to the final.
Bregman has 54 home runs to his name over the last two seasons and showed his power in the Derby last year, belting 15 dingers in a losing effort in Round 1. As Sean noted above he is bringing back longtime Astros bullpen catcher Javier Bracamonte, so the two of them should be familiar with the rhythm of the Derby. I think Bregman has great value.
As long as Pederson doesn't have to deal with a southpaw on the mound he should be a live play in this thing. Of Pederson's 107 career home runs, 98 of them came off right-handed pitching. Since 2015, he has the 10th-fewest at bats per home run against righties.
Like Bregman, Pederson has Derby experience. He competed in the 2015 showcase, defeating Manny Machado and Albert Pujols before falling to Todd Frazier in the Final.
Sean Zerillo
The Bet: Ronald Acuna Jr. (+160) over Josh Bell
With Yelich out of the home run derby, I see three clear frontrunners, as I project Pete Alonso (19.2%), Ronald Acuna Jr. (16.2%), and Josh Bell (16.1%) to win this contest a combined 51.5% of the time.
The group separates themselves from the pack in terms of average flyball distance, average home run distance, and their ability to consistently barrel up baseballs:
I see the first-round matchup between Josh Bell and Ronald Acuna Jr. as a battle between the players whom I view as the clear second and third choices, yet Bell is listed as a big favorite. As you can see above, not much separates the pair on paper.
The switch-hitting Bell will also have to decide which side of the plate he will bat from. He has been more efficient from the right side in 2019, homering seven times in 78 at-bats.
For his career, Bell has homered in 4.4% of his left-handed at-bats, compared to 4.7% of his right-handed at-bats.
As for Acuna Jr., he's a 21-year-old prodigy who is pacing for 35-40 home runs in his second MLB season and he is launching home run balls further than any player with at least 15 round-trippers on the year.
The odds suggest that the Braves star outfielder has roughly a 37% chance (without adjusting for vig) to defeat Bell in the first round. By the metrics, there's a legitimate argument that Acuna Jr. should actually be favored.
I'll take a stab in the head-to-head battle at plus-money, and I also see some value on Acuna Jr. to win the derby at 10-1.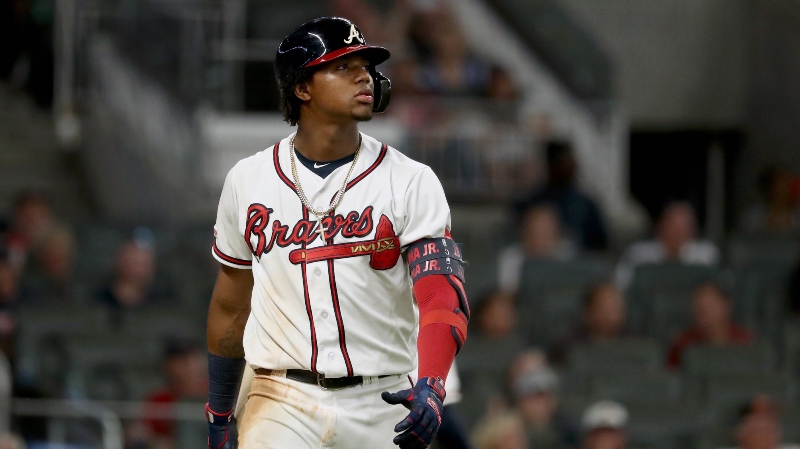 Collin Wilson
The Bets: Joc Pederson (+800) to win, Matt Chapman (+115) over Vlad Guerrero Jr., Joc Pederson (-140) over Alex Bregman, Josh Bell (-190) over Ronald Acuna Jr. and Carlos Santana (+130) over Pete Alonso
Plenty of gamblers will tell you this is as much of a crapshoot as the total number of frankfurters eaten at the Hot Dog Eating Contest. However, I think you can use some advanced metrics and other factors — like familiarity with the pitcher — to get an edge.
Let's start with the Chapmans. Jim Chapman received a text from his son asking to be a pitcher in the Home Run Derby, which turns out to be a dream come true for the father of the A's third baseman. Surprisingly, this will be the first batting practice for the Chapmans since Matt was in high school.
Vlad Guerrero Jr. is a lot more familiar with his pitcher — Toronto's batting practice coach John Schneider — but it's hard not to give the edge to Chapman based on his raw power numbers this season. Chapman has the better ISO (isolated power, slugging percentage minus batting average), HR:FB% and ground-ball rate.
I'll back Chapman and hope Jim has his best stuff on the mound.
In the Pederson-Bregman battle, the numbers point to the Los Angeles Dodger. He's got the higher ISO and a better HR:FB%, and has had success in this tournament before.
I think the Carlos Santana vs. Pete Alonso matchup could be the one where the pitcher choice plays the biggest role. Santana — who will have the crowd behind him — will use his current batting practice pitcher while Alonso's second cousin will throw to him.
Alonso has a very high ISO rating but if his timing is off it will open the door for Santana, who has 12 home runs at Progressive this season compared to seven on the road.
I think both Ronald Acuna and Josh Bell will struggle a little bit with their pitchers, but Bell has the edge in ISO and HR:FB%.
Assuming Bell's pitcher can make it work, I think he should get through Acuna.
If Pederson gets by Bregman, I like his chances against either Vlad Jr. or Chapman. His most-likely opponent in the final would be Josh Bell and I like Pederson's chances to beat Bell considering the Pirates' slugger has a higher line-drive rate and an unfamiliar pitcher on the mound.
Matt LaMarca
The Bet: Pete Alonso +500
It has been another massively disappointing season for the Mets, but Alonso stands out as the lone bright spot. He's been phenomenal this season, exceeding even the most optimistic projections in his first big league campaign. He's slugged 30 HRs and 68 RBIs before the All-Star break, which puts him in rarefied air as a rookie:
Pete Alonso finishes the first half of the season with 30 home runs, becoming the 3rd rookie to have 30 HR before the All-Star break since 1933; joining Mark McGwire and Aaron Judge.

Alonso also ties Dave Kingman in 1976 for most HR prior to the All-star break by a Mets player. pic.twitter.com/krmarVVKiV

— ESPN Stats & Info (@ESPNStatsInfo) July 7, 2019
His most impressive attribute has been his power. Virtually everyone in the derby has power, but not every participant has POWER. Alonso clearly does.
Alonso owns two of the top three home runs this season in terms of exit velocity and ranks third in the MLB in HR:FB rate. Basically, when he hits the ball in the air, it tends to fly a really long way.
There's also a nice motivation factor with Alonso. He's currently making the major league minimum, so the $1 million prize for first place should mean more to him than some of the other competitors.
It's been a brutal year for Mets fans. At least let us enjoy one meaningless day in July before coming back to reality later this week.
How would you rate this article?