Wednesday Sharp Report: Pro Players Eyeing Multiple Interleague Matchups
Credit:
Jay Biggerstaff-USA TODAY Sports
Much of the betting world will be fixated on tonight's stacked NBA playoff slate and Bruins/Leafs Game 7, but wiseguys remain focused on their first true love: baseball.
After analyzing Wednesday's massive 16-game slate using Sports Insights' Sportsbook Insider Pro betting tools, I've pinpointed three MLB bets that professional players are focusing on, including games that start at 6:40, 7:10 and 8:15 p.m. ET.
All data as of 3:30 p.m. ET
Atlanta Braves at Cincinnati Reds (-103) 
6:40 p.m. ET
The ultimate wiseguy play. The Reds are still the worst team in baseball (5-18, -12.25 units), but they've won two in a row and look to sweep the Braves at home tonight. Gambler's Fallacy says the Reds are destined to lose, but sharps aren't scared. Cincinnati is only getting 18% of bets but 35% of dollars, indicating smart money is on their side. Professional bettors hit the Reds all day across the market, triggering four steam and reverse line moves that pushed Cincinnati from +108 to -103. An added bonus for Goodfellas on the Reds: Brian O' Nora will be calling balls and strikes, a profitable "home" ump since 2005.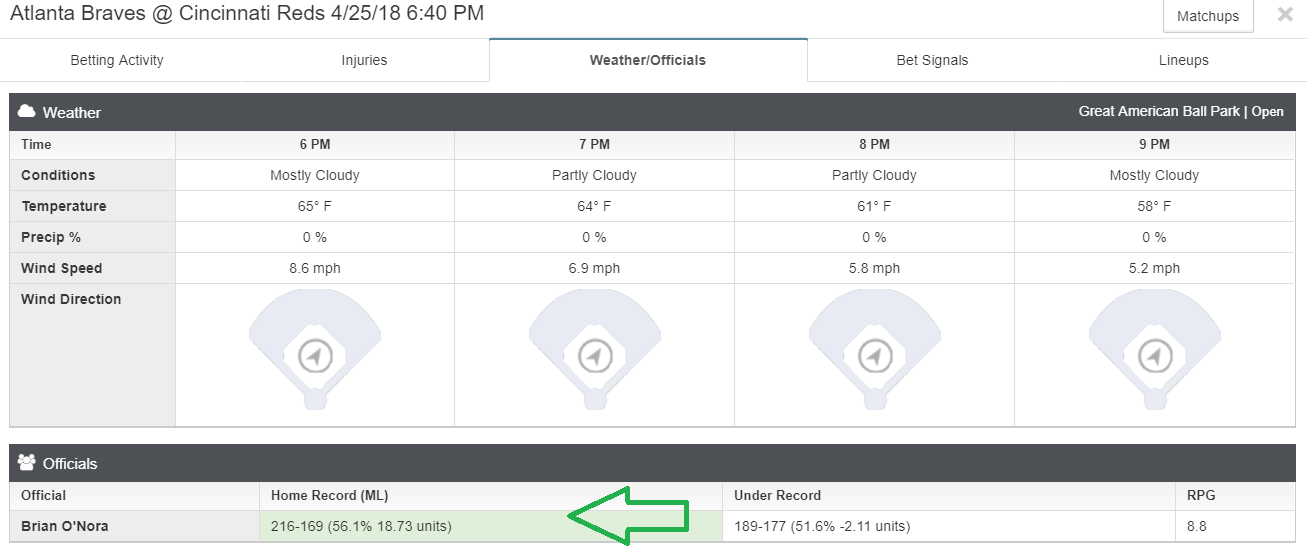 Chicago Cubs – Cleveland Indians Under 7.5
7:10 p.m. ET
Despite the marquee pitching matchup of Lester (2-0, 3.10 ERA) vs. Bauer (1-2, 2.67 ERA), public bettors aren't expecting a low-scoring game. More than 60% of bets are taking the Over, yet the total has fallen from 8 to 7.5. Why are books dropping the total to give public Over backers a better number? Because they have big sharp liability on the Under (38% bets, 43% dollars). Wiseguys hit Under 8 at JustBet and Pinnacle, causing market-wide reverse line movement. Two reasons the wiseguys are confident in the Under: the wind is blowing straight in at 10 mph and Lance Barksdale is behind the plate, the second best "Under" ump since 2005.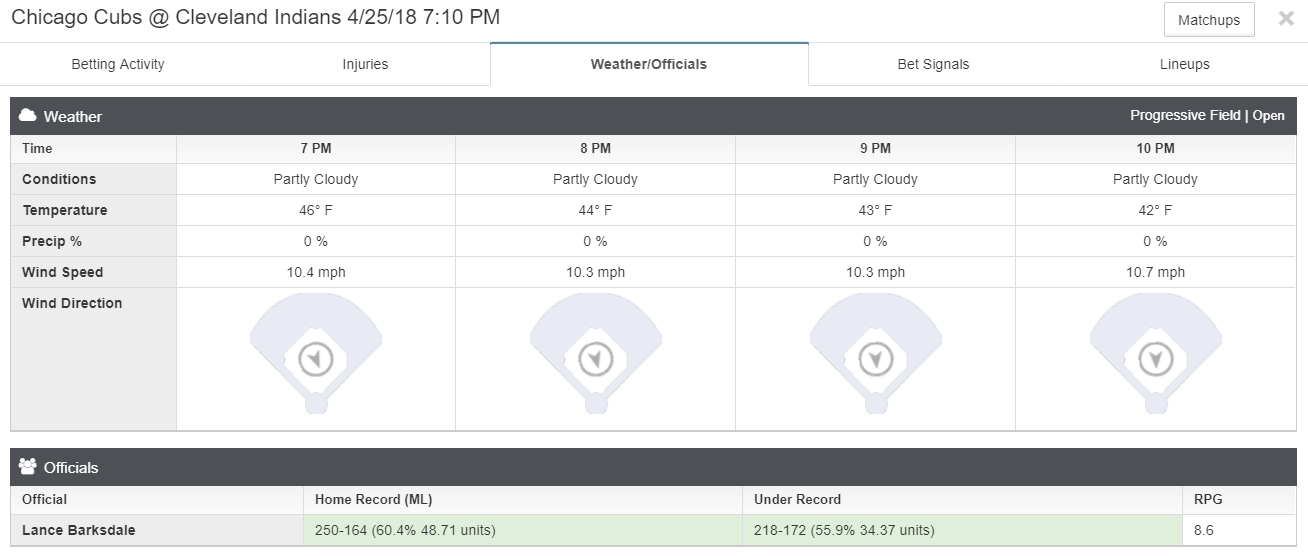 Milwaukee Brewers at Kansas City Royals (+106)
8:15 p.m. ET
The Royals have crushed bettors all season (5-16, -9.28 units), but sharps see a profitable buy-low opportunity. Kansas City is only getting 31% bets but 48% dollars, making them one of the top bet vs. dollar discrepancy plays of the day. Pro players got down hard on KC at Pinnacle and Carib, causing market-wide reverse line movement in their favor (+118 to +106 since opening). American League teams have crushed Interleague Play historically, a cherry on top for sharp KC backers.


Looking for more in-depth betting analysis? Sign up for a Sports Insights Pro trial and join our Live Betting Hangouts where we break down the board every weeknight from 6:30-7 p.m. ET.
The Pro membership also gives you a fully customizable live odds page with lines from 50+ books, the number of bets on every game, best bet picks, steam and reverse line moves, Sharp Action Report, weather, injuries, line watcher, line predictor and more.
For more betting info and customer support, you can find me on twitter @Josh_Insights
Pictured: The Royals Alex Gordon (4) is congratulated by Jon Jay (25) after scoring a run against the Milwaukee Brewers.