Betting MLB Doubleheaders: Fade or Follow the Game 1 Winner?
The first postponements of the season came on Opening Day, when the Pirates-Tigers and Nationals-Reds games were postponed due to weather related issues. In the first 21 days of the season, 25 games have been rescheduled because of Mother Nature.
According to The Associated Press, this season's weather-related postponements through April matched the record set in 2007 since Major League Baseball began keeping records in 1986. The postponed games have to be made up, which means doubleheaders.
Six doubleheaders have been played or are scheduled for April. That is one shy of the April record set in 2011 since ESPN began tracking doubleheaders in 2002. Thirteen doubleheaders are planned for the 2018 season and more will be added.
A common approach among bettors when handicapping a doubleheader is to fade the Game 1 winner in the second matchup — the idea being that the team that lost the previous game will be more motivated while the winner might rest starters to avoid fatigue.
The Kansas City Royals and Detroit Tigers are playing a doubleheader Friday (1:10 p.m. ET and 7:10 p.m. ET) as a makeup for a postponed game on April 4. Is this theory true or is there a more profitable strategy when betting MLB doubleheaders?
Using the Bet Labs software, we found that MLB teams off a loss in the first game of a doubleheader are 153-162 (48.6%) straight-up in the second game since 2005. Underdogs in this situation perform even worse with a 63-105 (37.5%) record, costing a $100 bettor $2,433.
Clearly, it has not been profitable to bet on a team after it loses the first game of a doubleheader. However, bettors can gain an edge by going against the commonly held theory. Game 1 winners that are favored in the second game are 104-63 (62.3%) straight-up.
If the team was also favored in the first game, the record improves to 84-46 (64.6%) straight-up, meaning a $100 bettor would have earned $1,569 betting these teams. The smart play is for bettors to target the winner from the first game if they are favored on the road in the second: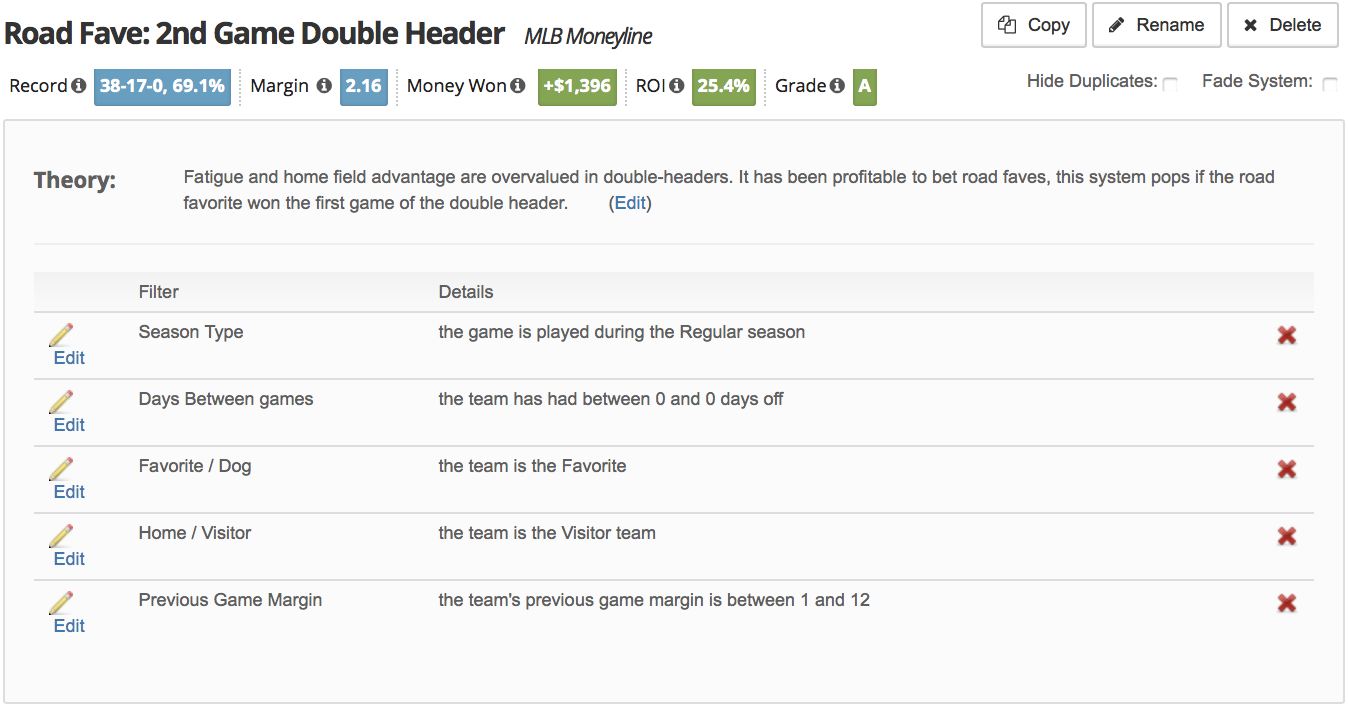 This system reduces our sample size, but the results have been consistent year-to-year, and the return on investment soars to 25.4%. On Friday, I'll be cheering for the Royals to win the first game and be favored in the second. If KC doesn't match this system, there are plenty more doubleheaders to come, thanks to the already record number of games postponed this season.