MLB Betting Trends, Notes, Systems Entering Opening Day
Credit:
Photo Illustration by Matt Roembke.
MLB season has arrived! Let's dive into a few notes, stats and trends, but more importantly, some betting systems we can follow along with through the regular season.
From moneylines to run lines to over/unders, let's dive into it all right now.
---
MLB Regular Season 
Click on one of the categories below to navigate to specific content.
---
Moneylines 

Beating The Best
This system looks at betting contrarian in MLB against the best teams in the league. The focus is a team under .500 on the moneyline on a losing streak, facing an above-average team.
---

Road Dogs
In interleague play, road underdogs have shown themselves to be profitable on the moneyline recently. They have only a 43.3% win percentage, but those teams have turned a 4.6% ROI for bettors since 2016 and have been profitable in five consecutive seasons.
---
» Return to the table of contents «
---

Fade The Public Early On
We've heard the mantra, and it tends to work across sports, but for MLB, here is a version for highly bet games early in the season. This system shows underdogs in June or earlier who get a low bet percentage and also see their line get smaller.
Using one of our new PRO Systems, here is an additional angle/edge to betting underdogs early in the season. The focus is within the first 10 games of the season while the market still has some major volatility.
---

Get Out Of Town
This is an interesting one. Between 2005 and 2019, road underdogs on a two-game losing streak heading into the third or fourth game of a series with a single opponent cashed at a 39.8% rate, a -5.6% ROI, losing a $100 bettor $7,633. But, since 2020, the script has flipped. These teams are cashing at a 46.3% rate, for a 16.2% ROI.
---
» Return to the table of contents «
---
Run Lines 
Here is some wide scope run line data over the last few seasons before we dive in. Favorites on the run line were about 200 games under .500 last season (1,130-1,333-5; 45.9%) and in the last five years it's about 45% flat.
Only three teams in baseball made $1,000+ on a $100 run line bet as a favorite last season: the Dodgers, Mets and Cardinals. The rest of baseball lost almost $15,000 combined in that spot.
From last season, here is a list of the best and worst pitchers on the run line as underdogs — the pitchers who got blown out and the pitchers who kept it close.

---

Unfamiliar Foes
Betting on run lines for underdogs can be tricky depending on the juice. Here is a system that focuses on small dogs off short losing streaks facing good opponents.
The biggest issue with many run line systems is recently the low-bet underdogs off losing streaks are about even over the last few years, but this one incorporates non-divisional games which helps weed out the unfamiliar matchups. Divisional games have just a +0.8% ROI, while non-divisional profits bettors are at almost +12% ROI.
---
» Return to the table of contents «
---

Fear The Bounce Back
Never assume teams bounce back after a loss, especially favorites. High win percentage favorites in the second game of a series or later, coming off a loss, are just 484-616 (44.3%) on the run line over the last decade, for a -6% ROI.
---

Lay The Wood?
A simple question: How do big favorites perform on the run line? We started seeing big favorites really in 2017 — since that year, we've seen 286 teams close as a -300 favorite or higher. Those teams are 167-119 (58.4%) on the run line, losing a $100 bettor $1,575, for a -5.5% ROI.
Of those six seasons since 2017, only one produced a profitable season for big favorites on the run line.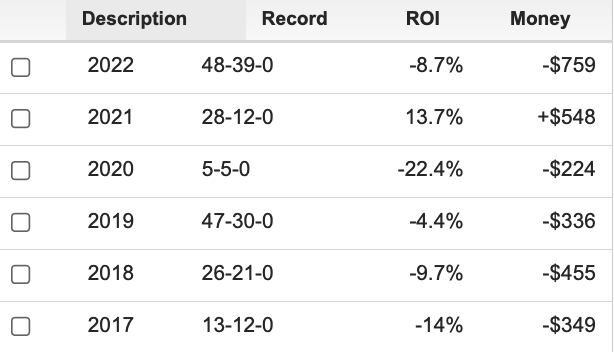 Over/Unders 
Unders have been the rage in MLB for some time now. Even though its been a small margin, unders have been above .500 for six consecutive seasons dating back to 2017 (basically a 51% unders, 49% overs situation). In that almost 13,000 game sample size since 2017, here are a few notes on unders:
Unders on higher totals (10 or more; 50.8%) have performed slightly better than unders with lower totals (below 8; 48.7%) in that span, while the sweet spot of totals in the 8 to 9.5 range have actually turned a profit at 51.7%, with a $100 bettor up $2,822.
Beware of trendy unders, though. When the betting public loves an under — basically in the 66%+ to 70%+ range — both sample sizes are about 15-20 games under .500 and tend to go over the total vs. under.
A recent trend to watch for is large home favorites and unders. Last year, when home teams were listed at -250 or higher — especially the -300 or higher range — the under cashed at basically a +10% ROI. Between 2017 and 2021, the under was 24 games under .500 in this spot.
---

Win The Weather
When the wind is blowing in, bet the under. Truthfully, it's been that simple sometimes. Since 2005, the under is 230 games above .500 with this filter, for a +4.8% ROI — only two seasons have ended with a net negative profitability in that span. When the wind is 5+ MPH, the ROI raises to 6.1%
Here is our "Weather: Wind Blowing In" PRO System which pinpoints high wind games with a normalized total range.
Watch for wind in Cleveland and Texas. In Guardians and Rangers home games with 10+ MPH winds, the over has been the play, going 30-18-2 at Globe Life Field in Arlington and 48-35-3 at Progressive Field.
The other angle for wind is when its blowing "out" — a specific filter you can use in Bet Labs. If you want to see just how powerful this filter is, check out the most profitable wind filters for the over since 2005: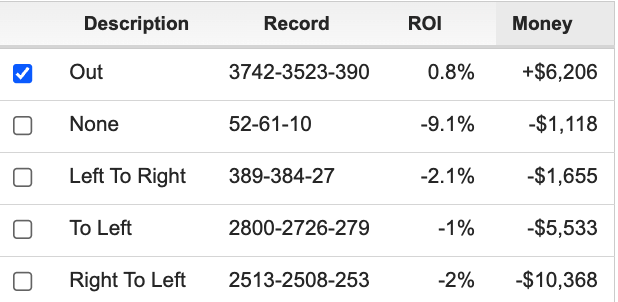 The home teams that have turned the most profit for when the wind is blowing out are as follows:
---
» Return to the table of contents «
---
Wrigley Field
Unders at Wrigley Field are 723-643-66 (52.9%) overall, including 42-30-9 last season and 187-153-21 (55%) since 2018. But is there an angle aside from betting every single game? Here are the best betting splits for full game unders at Wrigley Field based off of the wind direction.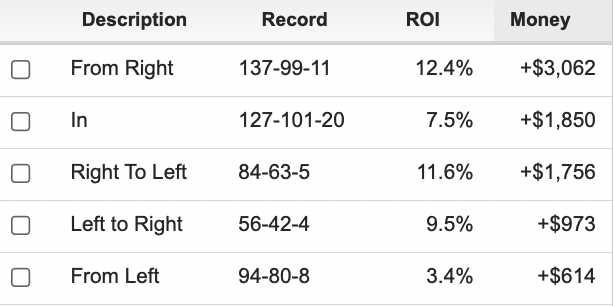 Take a look at our Wrigley Field "PRO System" available for PRO users on web and in the Action App. This takes into consideration the total, wind speed and direction filters.
---

Early on the South Side
In the Bet Labs database, which team is the most profitable for unders in day games? That would be the Chicago White Sox and Guaranteed Rate Field. In games before 4 p.m. ET, the under is 242-177-20 (57.8%) in White Sox home games. A $100 bettor would be up $5,277 for a +12% ROI. Over the last two seasons, the under is 30-20-3 in day games at Guaranteed Rate Field. The under in day games on the South Side have been .500 or better eight consecutive years.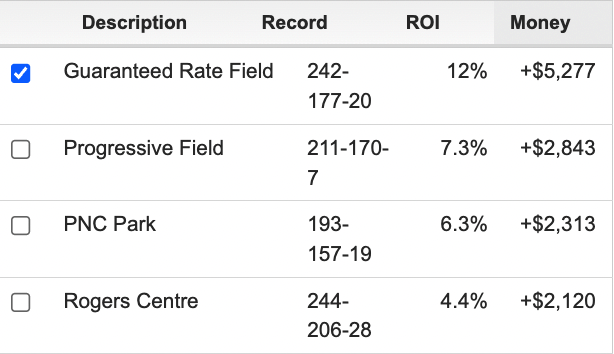 ---

Big Blue
We wouldn't recommend placing a wager solely based on an umpire, however it is important to know who's behind the plate so bettors can exploit pronounced tendencies. Here are the most profitable umpires to the over and under over the last 5 seasons.
Over: Alfonso Marquez (79-56-5), Mark Carlson (73-52-5), Edwin Moscoso (48-30-4)
Under: Rob Drake (68-36-6), Andy Fletcher (68-39-6), Pat Hoberg (78-53-2
---

Keep Betting Under
After the first game of a series, if the previous game was low scoring, keep betting the under. Over the last five years, this has produced a +9.5% ROI, profitable in all five seasons.
---

Strikeouts & Totals
Here is our new PRO System on "high strikeout pitchers" where you are looking to bet unders when these two types of starting pitchers face off. The system performs better about 20-30 games into the regular season as statistics level out.
---

The Over Life
Since 2015, the first five innings over has been profitable in Rangers home games each and every season. What started in the Globe Life Park in Arlington and is now in Globe Life Field, the first five innings over is 343-244-30 (58.4%) in Rangers home games over the last eight seasons, making Texas the most profitable first five innings over team in that span by over $2,500 on a $100 wager.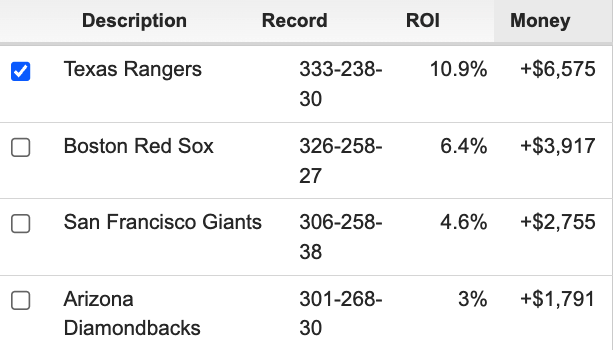 ---
» Return to the table of contents «
---
Teams 
Here are the longest active over and under win total streaks entering the 2023 regular season.

Most Consecutive Win Total Overs
---

Most Consecutive Win Total Unders

---
Athletics
The Athletics win total currently sits at 59.5 this year. In the last 25 years, only three teams have closed below 60:
2021 Pirates (58.5; over)
2019 Orioles (58.5; under)
2013 Astros (59.5; under)
---

Mets
The Mets have a win total of 92.5 as of now on BetMGM, which opened at 95.5 earlier in the offseason. At 92.5, this would be the highest win total for the Mets since 2008 (closed at 93.5). Since then, Mets have closed at 90 wins or more three times and went under their win total all three seasons.
---

Red Sox
On the other end of the spectrum, the Red Sox win total is set at 78.5 (opened 77.5). Boston hasn't closed with a win total below 80 since 1997 (minus the truncated COVID year).
---
» Return to the table of contents «
---
Rangers
Will the Jacob deGrom trend continue in Texas? With the Mets, the first five innings under has been the cash cow for deGrom in his career, going 69-36-5 (65.7%), the most profitable pitcher to the first five innings under in the Bet Labs database.
---

Reds
Betting against the Reds has been a cash machine. The Reds haven't turned a profit for their moneyline bettors since 2012 — 10 consecutive seasons. In that span, a $100 bettor would be down $12,095 simply betting the Reds — almost $4,000 more than any other team in baseball.
In nine of the last 10 years, the Reds have gone under their win total, with only 2021 being the outlier.
---
Tigers
The Tigers have been an under machine the last two years. In Tigers games, the under is 204-159-19 (56.2%) over the last two seasons. A $100 bettor would be up $3,039 betting the under in Tigers games in that span, best in all of baseball. The next closest? Probably a shock to a lot of people, but the Rockies at 168-142-13.
---

Rockies
Speaking of the Rockies. How about this stat: The over hasn't been profitable in Rockies games overall in eight seasons — the last time being 2015. From 2016 to 2022, the under is 537-454-46 (54.2%) — in that span, they are the most profitable team to the under by a large margin. Rockies unders have profited a bettor $5,389 in that span, the 2nd-most is the Brewers at $2,860.
What about the Rockies at home in Coors Field? The under was an even 38-38-5 last year and since 2017, the under is 229-191-16 — a 5.8% ROI for under bettors at Coors Field.
---

Cardinals
On the other side of the spectrum over the last decade or so has been the Cardinals. In that same decade span, they are have been profitable for bettors in 8 of the 10 years with a $100 bettor up over four grand.
How about this: Last season, only eight baseball teams turned a profit for bettors on the moneyline: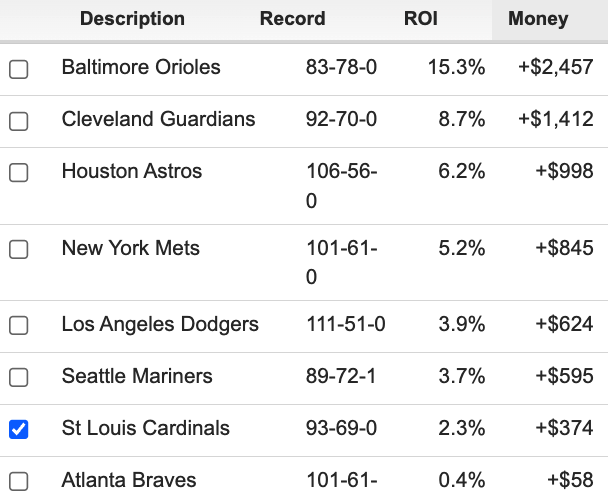 ---
» Return to the table of contents «
---

Opening Day Notes
Who have been the good and bad teams on Opening Day recently? Let's take a look:
Overall, here are the best and worst teams in terms of profitability on the moneyline ($100 per game bets).
Most Profitable
1

2

3

4
5

Least Profitable
1
2
3
4

5

---
Futures 
Let's take a quick look at the biggest longshots to win the World Series and some outliers for some particular awards.
Awards Notes
Of the last 20 MVP winners, 15 were in their 20s, three were 30 on the dot, one was in the COVID year and the one true outlier was Paul Goldschmidt last year. The average age for these winners in the last 10 years is 26.95. In the past 10 years, 13 of the 20 winners have been from teams with 93 wins or greater (prorated for the COVID season).
Even further, 14 of these 20 winners had a previous top-four finish, and five of the 17 distinct winners had been as close as a runner-up finish before eventually winning their first MVP.
A recent trend for MVP in terms of odds is longshots have been the rage. In 2022, Aaron Judge won at 20-1 and Paul Goldschmidt won at 66-1. In 2021, Bryce Harper won at 17-1 and Shohei Ohtani won at 30-1 odds. Even in 2020, Freddie Freeman won at 25-1 and Jose Abreu wasn't even listed on the odds board.
---
» Return to the table of contents «
---
Playoff Notes
Since 2016, here are the outliers by season to make and miss the playoffs.

Longest Odds to Make the Playoffs — Teams to Make Playoffs:

2022: Guardians (+350)

2021: Giants (+800)

2018: Braves (+500)
2018: Athletics (+650)
2017: Twins (+700)

2017: Diamondbacks (+400)

2016: Orioles (+550)
---

Longest Odds to Make the Playoffs — Teams to Miss Playoffs:

2022: White Sox (-400)
2021: Padres (-600)

2019: Guardians (-550)

2019: Red Sox (-680)
2018: Nationals (-825)
---
World Series Notes
Only three teams in the last 32 years have won the World Series with 30-1 odds or larger entering the regular season.
At the moment here are the teams at BetMGM under 30-1: Astros, Braves, Dodgers, Yankees, Mets, Padres, Blue Jays, Phillies, Mariners, Cardinals, Rays, Guardians.
Recently, we haven't seen a team win it all at very long odds. Since the Royals in 2015, no team has won above 16-1 odds in the preseason (2019 Nationals).

Longest Preseason Odds to Win World Series — Wild Card Era
1991: Minnesota Twins (80-1)

2003: Florida Marlins (75-1)

2002: Anaheim Angels (40-1)

2013: Boston Red Sox (28-1)

2014: San Francisco Giants (25-1)

2011: St. Louis Cardinals (25-1)

2010: San Francisco Giants (25-1)
---
» Return to the table of contents «
---
All MLB Bet Labs data goes back to 2005 | Historical odds history via Sports Odds History.
How would you rate this article?
This site contains commercial content. We may be compensated for the links provided on this page. The content on this page is for informational purposes only. Action Network makes no representation or warranty as to the accuracy of the information given or the outcome of any game or event.