UFC 225 Betting Preview: Does Whittaker's Age Give Him an Edge in the Rematch?
Credit:
Kyle Terada-USA TODAY Sports. Pictured: Yoel Romero (Left), Robert Whittaker (Right)
The Highlights
The history of younger fighters in a rematch vs. an older opponent they previously defeated indicates a slightly lower win probability for Robert Whittaker compared to what current Vegas odds imply.
Yoel Romero demonstrated a different — and potentially more effective — fight strategy in his last match that featured less reliance on takedowns.
Romero has never been a larger underdog in his UFC career, while Bobby Knuckles has been a larger favorite on only one other occasion since moving up to middleweight. 
---
The UFC middleweight title is up for grabs Saturday night at UFC 225 in Chicago, where champion Robert "The Reaper" Whittaker will make his first defense against Yoel "Soldier of God" Romero. Whittaker won the pair's first bout at UFC 213 by unanimous decision, but Romero quickly earned a rematch after finishing No. 2 contender Luke Rockhold in February.
Whittaker won the first meeting despite suffering a left knee injury roughly 60 seconds into the first round, but Romero possesses freaky one-shot knockout power that has helped finish seven of his 10 UFC opponents.
Let's break down some of the matchup's biggest questions and attempt to find some value with the odds.
Robert Whittaker -220 vs. Yoel Romero +190
Age
Chael Sonnen has often voiced his opinion on anything and everything related to MMA, including rematches between two fighters in which the younger fighter won the first bout:
"When a younger fighter beats an older fighter and then they rematch … the younger fighter wins again only easier … that is the rule of fighting and holds true in boxing, wrestling or MMA … you would have to go back and search two decades to find a scenario where that didn't happen."
Actually, one doesn't have to search too far to find a scenario that runs counter to Sonnen's theory — 37-year-old Michael Bisping knocked out 31-year-old Rockhold at UFC 199 in 2016 after Rockhold won their first matchup — but the premise generally makes sense. Theoretically, a younger fighter with less wear and tear — and more room to grow — should be more than capable of defeating their older counterpart.
I pulled every UFC fight from 1993-2018 to determine the instances in which a younger fighter defeated an older fighter, only to later have a rematch with the same fighter. The data suggests that history is on the side of 27-year-old Whittaker.
This article usually requires a subscription, but today it's FREE. Enjoy! Click here to be kept in the loop on future promos.
105 of the UFC's 4,665 matches (2.3%) have featured the second fight between two fighters under the UFC banner (excludes Pride/Strikeforce/etc.)
48 of those rematches pitted an instance where the younger fighter won the first matchup
The younger fighters have a 31-15-2 record in the ensuing rematch, good for a 64.5% win rate
The record of younger non-heavyweights improves to 27-10-2 (69.2% win rate), and they've gone 17-7-1 (68% win rate) in title fights across all weight classes
Younger fighters in the middleweight division specifically have gone just 3-2 in their rematch
Whittaker is 14 years younger than Romero and deserves to be favored. With that said, -220 odds imply a win probability of 68.8% for Whittaker, and early-week -240 odds implied a win probability above 70%. Younger fighters have won the majority of their rematches against older fighters, but there have been enough upsets to suggest the current line could be leaning a bit too hard toward the champion.
Also, Romero isn't your everyday 41-year-old.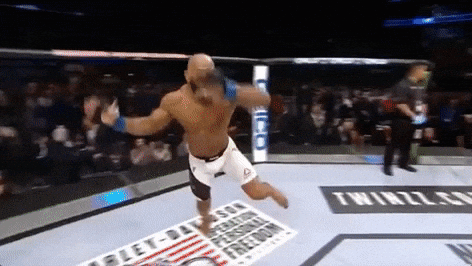 There's no reason to expect anything other than the best version of Whittaker after a full camp, but his health remains a bit of a question mark considering he's undergone knee surgery and battled a staph infection over the past calendar year.
Conditioning
In case you didn't catch the first fight, Whittaker managed to defeat Romero with a bum knee in large part due to the latter fighter tiring out during the final three rounds. Romero's explosive ability can be a double-edged sword: The same skill that helps produce highlight-reel knockouts is what eventually saps his energy.
However, there's reason to believe we might not see that same version of Romero this time around. As noted by the always great UFC analyst Dan Hardy on Inside the Octagon, Romero attempted a career-high 18 takedowns against Whittaker and had zero takedown attempts in his next fight against Rockhold for the first time in his career.
Romero won a silver medal in freestyle wrestling during the 2000 Olympics, so completely abandoning the strongest part of his repertoire probably isn't his long-term strategy. Still, a version of Romero that relies less on constant takedown attempts would present a new, and arguably more dangerous, puzzle for Whittaker to solve considering the champion's elite ability to counter this very weapon.
Romero completed 13 of his 28 combined takedown attempts (46.4%) before facing Whittaker, but just four of 18 attempts (22.2%) against the Reaper. Even when Romero was able to drag Whittaker to the ground, it wasn't long before a scramble ensued and the fighters were back on their feet. Whittaker ranks in the top three in both takedown defense and strikes landed per minute among all middleweights, so a strategy centered around less-exhausting takedown attempts will help Romero weather the champ's relentless storm.
Past Odds
Romero and Whittaker each have competed in the UFC's middleweight division for the past five years. The odds for Saturday's fight stand in contrast to what we've come to expect from their individual fights: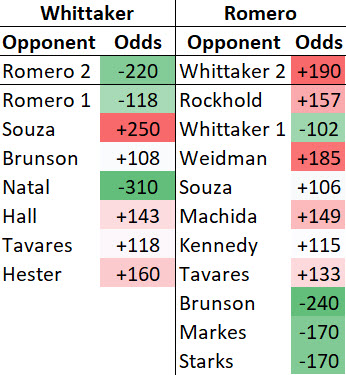 The Reaper didn't receive much respect from oddsmakers upon moving up from the welterweight division until defeating Jacaré Souza. The opposite has proved true for Romero, who has been an underdog in eight consecutive fights after working as a fairly heavy favorite during his first three fights in the UFC.
Just three of Romero's 15 career fights have gone the distance, while Whittaker has heard the final bell in seven of his 23 career bouts. Romero didn't appear to hurt the champ in their first fight, but he's never offered more value in his UFC career in a match where his challenger is awfully close to his betting ceiling.
Prediction
Whittaker was the more complete fighter in his first matchup against Romero. The sequel could prove to be more of the same, but the current odds seem a bit too steep in the champ's direction considering history and the challenger's ever-dangerous power.
Best of luck to all bettors and both fighters this Saturday. My pick is Romero +190 along with any TKO/KO specific prop that might offer better odds for the Soldier of God.
Credit to FightMetric and OddsShark for UFC stats and betting odds.