UFC Fight Night 144 Betting Guide: Can Marlon Moraes Defeat Raphael Assuncao in the Rematch?
Credit:
Jason Silva-USA TODAY Sports. Pictured: Raphael Assuncao (red gloves) fights Marlon Moraes (blue gloves) during UFC 212 at Rio Olympic Arena.
UFC Fight Night 144 betting odds: Raphael Assuncao vs. Marlon Moraes
Raphael Assuncao +145
Marlon Moraes -175
Time: Approx. 10:00 p.m. ET
Channel: ESPN+
---
>> Sign up for The Action Network's daily newsletter to get the smartest conversation delivered into your inbox each morning.
---
There will be plenty of action going down in the octagon this Saturday night at UFC Fight Night 144 from the Northeast Olympic Training Center in Fortaleza, Brazil.
No. 3-ranked UFC bantamweight contender Raphael Assuncao will face off with No. 4-ranked Marlon Moraes. The winner could be next in line for a title shot against current champion T.J. Dillashaw.
Assuncao defeated Moraes in June, 2017 at UFC 212 by way of split decision. The fight was a back-and-forth affair was decided by just one strike, as Moraes (44 significant strikes) actually managed to out-land Assuncao (43).
Moraes was on a 13-fight win streak before that loss. He's since won three consecutive fights against contenders John Dodson (No. 9-ranked bantamweight), Aljamain Sterling (No. 7) and Jimmy Rivera (No. 5).
Meanwhile, the only man to defeat Assuncao since 2011 was Dillashaw back at UFC 200 in July, 2016. Assuncao captured Performance of the Night honors by knocking out Matthew Lopez (NR) in November, 2017. He was last seen winning a one-sided unanimous decision over Rob Font (No. 10) at UFC 226.
Moraes hold a slight size advantage over Assuncao and has demonstrated more knockout power throughout his career. Still, Assuncao has consistently been the more-accurate fighter and has been harder to hit than pretty much everyone in the division with the exception of Dominick Cruz.
Let's break down some of the matchup's biggest questions and attempt to find some value with the odds.
How Can Raphael Assuncao Win?
Assuncao (32% significant strikes) was slightly more accurate than Moraes (29%) during his initial victory. Neither fighter managed to score a knockdown, although Assuncao managed to wobble Moraes with overhand rights in Rounds 1 and 3.
Landing a single fight-ending shot hasn't been Assuncao's typical path to victory. Overall, 13 of his 18 UFC and WEC fights (72%) have gone to the judge's scorecards. Assuncao has also been a tough fighter to finish, as he's only been knocked out once (vs. Erik Koch at UFC 128 in 2011) and submitted once (vs. Urijah Faber at WEC 46 in 2010).
Only Vaughan Lee (71.5%) and Dominick Cruz (70.9%) have posted a better significant strike defense percentage than Assuncao (70.8%) among active UFC bantamweights (minimum five UFC fights and 350 strike attempts by opponents). Getting the Brazilian Jiu-Jitsu black belt to the ground has also been a difficult task, as Assuncao has been taken down just six combined times in his 13 career fights in the UFC.
Failure to consistently pressure Assuncao will let the muay thai-specialist attack Moraes from distance, where his killer leg kicks can do some damage.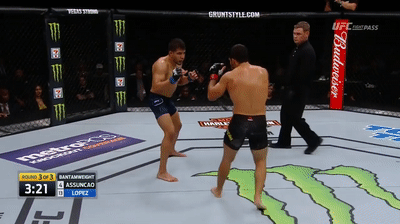 Assuncao did most of his damage against Lopez and Moraes after establishing the leg kick. This strategy will also help slow down his opponent, as Moraes appeared to be the faster and fresher fighter during their first bout.
Neither Assuncao nor Moraes have been finished inside the distance since 2011, so it could (again) come down to which fighter is better able to control the pace and make the most of their output.
How Can Marlon Moraes Win?
Knockouts have been much less rare in Moraes' fight history compared to Assuncao. Overall, he's finished nine of his past 15 opponents in UFC or World Series of Fighting Competition.
Former top-contender Jimmy Rivera found out about Moraes' power the hard way, as Rivera's 20-fight win streak ended just 33 seconds into Round 1 after Moraes connected with a devastating head kick during his last appearance in the octagon.
Both Moraes and Assuncao usually try to employ a similar strategy of chopping down their opponent's legs to open up fight-changing strikes to the head. The former has recorded three knockdowns in his past two aforementioned short fights, while the latter has just two knockdowns in his 13-fight UFC career.
Moraes seemingly has the speed advantage based on their first fight. He also has gone five rounds twice during his career, while Assuncao has never fought for longer than 15 minutes.
Still, Moraes' split-decision victory against Dodson displayed some of the same issues that led to his loss against Assuncao during his UFC debut. Moraes outlanded Dodson by a small margin (45-to-43), and he was dropped by a counter overhand.
Of course, Moraes also got Dodson to tap out to a guillotine choke just seconds after the final bell, demonstrating his ever-dangerous ground game that has produced five submission victories over the years.
Both fighters are fairly evenly matched, and their first encounter proved just that. Of course, we'd expect Moraes (30-years-old) to have a better chance at leveling up at this stage of his career compared to Assuncao (36-years-old).
Moraes' one-shot power didn't come through during his first fight against Assuncao, but he still nearly captured the victory. I personally didn't have a huge issue with the split-decision victory for Assuncao, although 16-of-17 media observers scored the fight in favor of Moraes (per MMAdecisions.com).
Current and Past Odds
The oddsmakers have given Moraes plenty of respect during the early stages of his UFC career.
There's a bit more value on Assuncao then we've seen during his recent fights, although none of his opponents were top-five fighters like Rivera (and now Moraes).
Moraes was a much heavier favorite during their first fight. Oddsmakers have since been reluctant to favor him as much.
Prediction
The first fight went Assuncao's way according to the two of the three people that mattered. The fight largely played out terribly for Moraes… and he still arguably won.
Assuncao's defensive expertise makes him a trickier puzzle for Moraes to solve than most competitors in the bantamweight division. Still, the discrepancy in odds between Saturday's matchup and their first fight is a bit befuddling considering Moraes is the much younger fighter and has seemingly improved more.
Moraes opened the week as a -190 favorite, but he dropped to -165 by Thursday. I'll be betting Moraes to even up his series with Assuncao at anything less than -200 odds.