UFC on ESPN 2: Jack Hermansson and David Branch Meet in a Dangerous Co-Main Event
Credit:
USA TODAY Sports. Pictured: Jack Hermansson (left) and David Branch (right).
UFC on ESPN 2 betting odds: Jack Hermansson vs. David Branch
Jack Hermansson -125
David Branch +100
Fight Time: Approx. 9:00 p.m. EST
Channel: ESPN+
Like the last few events preceding it, the UFC's sophomore effort on ESPN is banking less on star power and more on the potential excitement of its matchups. Of the six main card bouts, oddsmakers expect four to end inside the distance.
One of those bouts is the middleweight co-main event between Jack "Joker" Hermansson (18-4) and David Branch (22-5).
Based out of Frontline Academy in Oslo, Norway, Jack Hermansson is on a two-fight winning streak and is 5-2 overall in UFC.
After a sojourn in WSOF from 2012-2016, David Branch returned to the UFC and is 2-2 in his current stint with the promotion.
These men are riding opposite waves of momentum heading into Saturday night. Hermansson is looking to continue his winning ways in his highest-profile fight yet. Branch is looking to right the ship in what has been a relatively disappointing comeback to the world's largest mixed martial arts promotion.
How Hermansson can win
Hermansson entered the UFC among a wave of European middleweight brawlers that were promising if indistinguishable. In his debut, Hermansson bested one of those fellow brawlers in Scott Askham. However, in his second outing in the UFC Hermansson was quickly taken down and submitted by Cezar Ferreira.
Since then, Hermansson has separated himself from the pack as a confident striker with a dangerous top game.
On the feet, Hermansson's key to success is volume and pressure. He gets after his opponent from the opening bell and is constantly throwing from every position.
Hermansson throws 8.79 significant strikes per minute.
Hermansson lands 4.92 sig. strikes per minute.
Hermansson's possesses a +3.15 sig. strikes differential.
The key differentiator in Hermansson's fights – especially during his 4-1 winning streak – has been dominance from top position.
Since his loss to Cezar Ferreira in 2016:
Hermansson has secured at least one takedown in 100% (4/4) of his wins.
Hermansson averages 3.5 passes/fight in his four wins.
Hermansson has finished 100% (4/4) of his wins.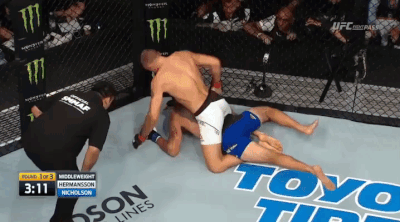 Against Branch, "Joker" needs to focus on activity. Branch is a low-paced (1.67 sig. strikes per minute) and typically out-gunned (-0.22 sig. strike differential) striker. If Hermansson can throw at his usual pace, the numbers indicate he'll out-land David Branch by 3.37 sig. strikers per minute.
The key to this will be avoiding the fence. Branch likes to keep his opponents against the fence and Hermansson needs to ensure he has room to throw his typical striking volume.
It will also be a boon for Hermansson if he can get his top game going. Hermansson has been able to consistently submit and knock out opponents from top position. The lone time we've seen Branch get taken down by a fighter with a powerful top game, Branch was forced to tap to punches against Luke Rockhold.
If Hermansson can get top position on Branch, there's a very good chance he'll be able to control Branch and finish him with strikers.
How Branch can win
After a 2-2 run in the UFC nearly a decade ago, Renzo Gracie Jiu-Jitsu fighter David Branch entered WSOF and began a ten-fight winning streak that saw him win championships in multiple weight classes.
Branch achieved this success as a stifling clinch grappler. Branch was most comfortable grinding his opponents against the fence, wearing on them gradually as the fight went on. Branch was able to take his opponents into deep waters and occasionally found a way to break them and secure a finish.
Branch's return to the UFC in 2017 saw him continue with this style. Against Krzysztof Jotko, Branch won a grueling split decision in which he landed two takedowns and only 2.6 sig. strikes per minute.
In his follow-up effort against Luke Rockhold, Branch followed a similar game plan and was met with initial success. Branch was able to control Rockhold against the cage and even hurt the former UFC Middleweight Champion with a series of punches. However, Branch was eventually taken down and was summarily finished via strikes.
Branch had a similar situation play out in his most recent bout: a second-round knockout loss to Jared Cannonier. Branch was able to arguably win a first round in which he landed three takedowns and nine sig. strikes (versus Cannonier's 13). However, Branch was quickly knocked out on the feet in round two.
In between the Rockhold and Cannonier losses, Branch had arguably the best win of his career against Thiago Santos. Branch was able to back the Brazilian up against the fence and knock him out with an overhand in the opening frame.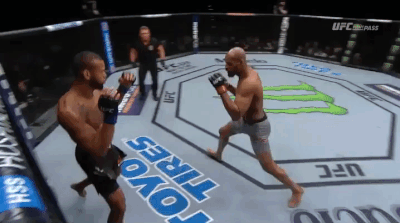 Branch's key to victory against Hermansson will be control. On the feet, Branch throws too little volume and does not have the chin for a range striking battle. If he's able to dictate the pace and location of the feet, Branch can wear on Hermansson while simultaneously winning rounds. Branch has also proven he has one-shot knockout power and Hermansson has been finished via strikes before.
On the ground, Branch needs to secure top position. Branch is a powerful control artist and though Hermansson has improved a lot, bottom position is still where Hermansson has looked weakest in the UFC. In addition to the Ferreira fight, Hermansson was very close to being submitted by Thales Leites multiple times in their fight.
More importantly, Branch needs to avoid bottom position. Branch has a path to victory without securing any takedowns – clinch and control against the fence – but if Branch is on bottom the recent history of both men suggests Branch gets finished.
The X-Factor: Finishing Ability
The most dangerous aspect of betting this fight is that both men are dangerous yet vulnerable finishers.
80% (4/5) of Hermansson's UFC wins have ended inside the distance.
75% (3/4) of Branch's fights since rejoining the UFC have ended inside the distance.
Both men are at their best when they can finish their opponent. Moreover, both men have been finished multiple times in the UFC and all their UFC losses have been inside the distance.
Current and Past Odds
For Hermansson, this fight continues his trend of being the favorite in a close fight. Hermansson has been the favorite in all eight of his UFC fights and has only eclipsed -200 once.
Branch is the underdog for the fourth time in five fights. Still, this is the closest fight Branch has been in in UFC.
The Prediction
Picking a winner is too close to call. Hermansson has certainly looked better as of late but Branch has been facing a higher level of opposition. The fact that both have been finished multiple times and in recent fights also makes it hard to trust either man.
The most consistent aspect of either competitor's resume is that win or lose, their fights do not go to the judges.
Hermansson's last six fights have ended inside the distance.
Branch's last three fights have ended inside the distance.
There's only one way I can confidently bet this fight.
The Pick: Fight does not go to decision (-175)