Three NASCAR Prop Bets for Sunday's Quiktrip 500 at Atlanta
Credit:
Adam Hagy-USA TODAY Sports. Pictured: Martin Truex Jr.
Following a fantastic finish at last week's season-opening Daytona 500, NASCAR this week zooms to the Atlanta Motor Speedway for the Quiktrip 500. Atlanta is a 1.5-mile quad-oval track with high tire wear, so although it is most comparable on the NASCAR circuit to Texas Motor Speedway there really is no comparison to it. As a result, the machine learning statistical models and similarity scores at RotoViz heavily rely on track history.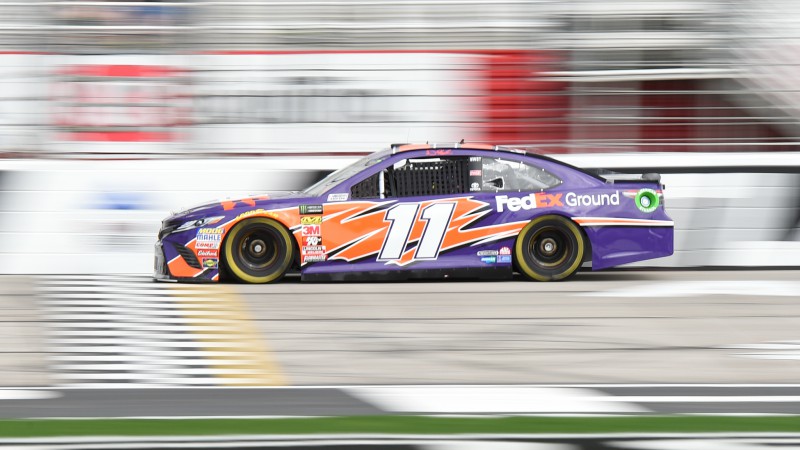 When sorting through the head-to-head driver props for Atlanta, I've opted to focus most on track history, practice times, and the projected finishing positions in the RotoViz tools.
Here are three props that have caught my eye.
Martin Truex Jr. (+150) over Kevin Harvick (-180)
Harvick has historically owned Atlanta, and he won Saturday's Xfinity Series race at the track, leading a ridiculous 141 of 163 laps. On top of that, he starts third and is in prime position to get out in front early and dominate for a large portion of the race. And Truex failed to make a qualifying run because he failed inspection, so he'll be starting near the back of the field at 35.
But here's the thing: Truex is one of the best drivers in NASCAR today, he's the defending champion, and last year he was easily the best driver at large ovals, leading the field with an average finishing position of 3.0, driver rating of 130.8, and running position of 4.6. Drivers can come from the back to win at Atlanta — Jimmie Johnson did it in 2015 — and Truex has the superior RotoViz sim score ceiling and median projections (1.0 and 3.5 vs. 1.1 and 6.0).
Harvick often doesn't show great speed in practice, so we shouldn't make much of the fact that his car had just the 23rd-fastest single-lap time in second practice — but Truex had the second-fastest single lap, and that makes him awfully appealing. He also had the fifth-fastest 10-lap average vs. Harvick's seventh fastest.
It's also notable that Truex is one of the top bets for the race.
Joey Logano (+115) over Jimmie Johnson (-145)
It's hard to go against the No. 48 car since JJ has won the Atlanta race two of the past three years, but enough factors are in Logano's favor to make him a value at these odds. Over the past five years — since the introduction of the Gen-6 car — Logano has outperformed Johnson at Atlanta in many key metrics.
Finishing position: 7.6 vs. 10.6
Driver rating: 105.2 vs. 97.1
Running position: 7.0 vs. 11.8
Quality pass percentage: 63.9 vs. 45.7
Both drivers have identical projected finishing positions of 12.73 in the RotoViz model, and Logano has the superior starting position (16th vs. 22nd) and had the faster single-lap speeds in first and second practice (ninth and fifth vs. 16th and sixth).
Ryan Blaney (+100) over Erik Jones (-130)
Last season Jones was the NASCAR Cup Series Rookie of the Year, but he still was outperformed at the large ovals by Blaney.
Finishing position: 11.7 vs.16.1
Driver rating: 95.8 vs. 83.3
Running position: 10.9 vs. 14.5
Quality pass percentage: 55.5 vs. 46.3
Jones easily has the superior starting position (10th vs. 26th), but Blaney has the higher projected finishing position in the RotoViz model (10.62 vs. 14.99), and he had the eighth-fastest single lap in the all-important second practice, whereas Jones had only the 18th fastest. Blaney's 10-lap time was also far faster (sixth vs. 24th). This matchup seems much closer to a 50/50 than the odds suggest.
Photo Credit: Adam Hagy-USA TODAY Sports
How would you rate this article?