Moore: Which NBA Title and Conference Longshots Are Worth a Bet?
Credit:
Photo credit: Chuck Cook-USA TODAY Sports. Pictured: Pascal Siakam and Fred VanVleet
Last week, I ran through the three main NBA title contenders. But what if you're looking for a longshot to throw in? What if, in a season that has seen so much change from the hierarchies of the past five years, there's a real chance for a team to shock everyone as much or more than the Raptors did last year?
Here's a look at the longshot options for the title and conferences if you're looking to create a futures portfolio for the year.
---
Odds as of Wednesday morning and via FanDuel, where Action Network users get a risk-free bet up to $500.
---
DENVER NUGGETS
16/1 to win the title
+950 to win the Western Conference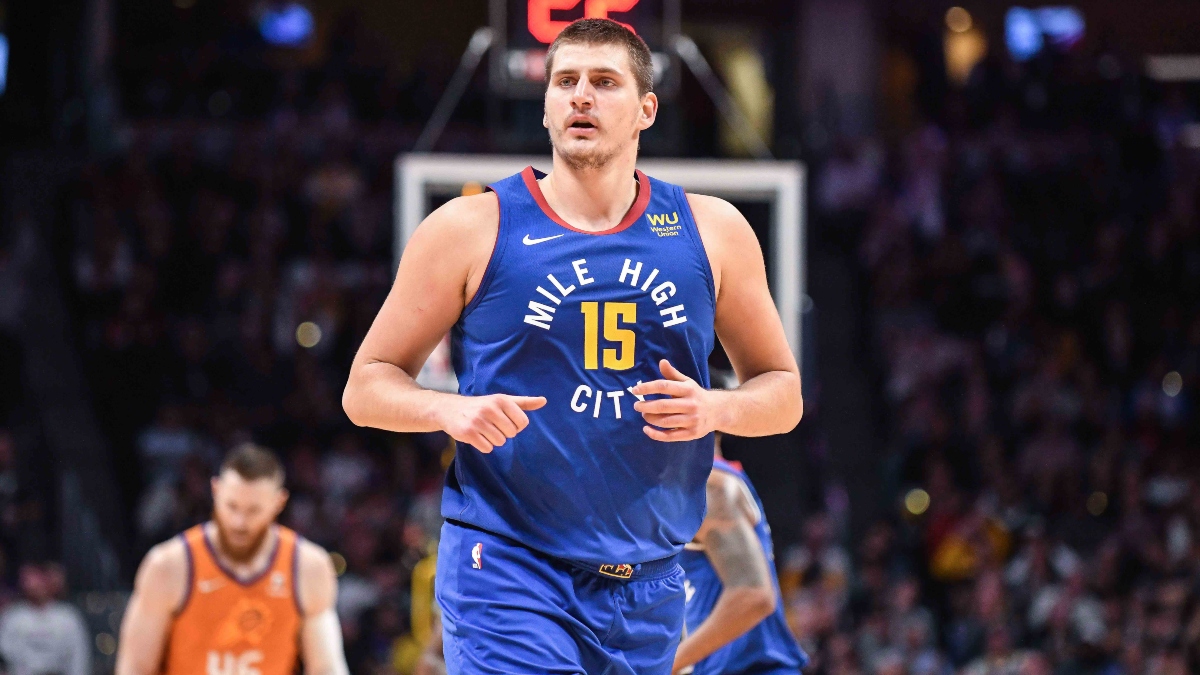 The Nuggets have started to turn a corner, with the offense being actually good at, you know, scoring points over the last two weeks. They're top-10 in offense over the last five games and remain a stout defense.
With a 17-8 record heading into Wednesday's tilt against Orlando, Denver's profile certainly demands inclusion here. But unfortunately… there's no value.
It's not just that the Nuggets' entire vibe is different this season. Gone are the good vibes of last season's start that had them No. 1 in the West until mid-season. The team is more resolute now but also has the air of a squad that knows the regular season is not where the action is. They're not necessarily bored by the regular season, but maybe a bit impatient with how long it will be until the meaningful games.
But the bigger problems lie with their matchups. The Lakers beat the Nuggets in a regular-season game at Pepsi Center last week. Forget regular-season results — they're rarely indicative of how a playoff series will go. But information revealed in those matchups can matter.
The Nuggets were obliterated by the Lakers' ability to hit lobs. Nikola Jokic is a poor lob contester due to being earth-bound like a piece of construction equipment, and the rest of the roster is undersized (save for Mason Plumlee). The Lakers' length meant the Nuggets couldn't adequately space the floor.
It's a nightmare matchup for the Nuggets, beyond how good the Lakers are this season and the fact that they have LeBron James.
The Clippers, meanwhile, have excellent perimeter length combined with the ability to pressure the ball-handler with Kawhi Leonard, Paul George and Patrick Beverley. Their interior defense isn't as good as the Lakers', but their ability to rise up over smaller defenders on Denver and hit shots is. This matchup may be more favorable to Denver, but it still presents real issues.
The Nuggets threw the kitchen sink at the Rockets to break the consistent trend of Houston pummeling them in a win earlier this season, but the randomized double-team approach Denver used is hard to replicate over the course of a series without James Harden adjusting to it. Houston is much easier for the Nuggets to beat than they used to now that Russell Westbrook is clanging from the corners, but the Harden-Clint Capela combination is still going to be difficult.
Then there's the upset potentials: Utah has a history of beating Denver with Rudy Gobert winning the Jokic matchup, and Dallas has already beaten Denver in Denver. Again, the results don't matter as much as the matchups, but Dallas' ability to simply shoot the lights out vs. a Nuggets team that has good shooters who maddeningly will go frozen from deep presents the real possibility of the new "it" team catching them.
The Nuggets haven't played their best basketball, and they do have playoff experience. But now is definitely not the time to buy in, even at a longer figure.
VERDICT: Not yet, if ever
---
DALLAS MAVERICKS
42/1 to win the title
21/1 to win the Western Conference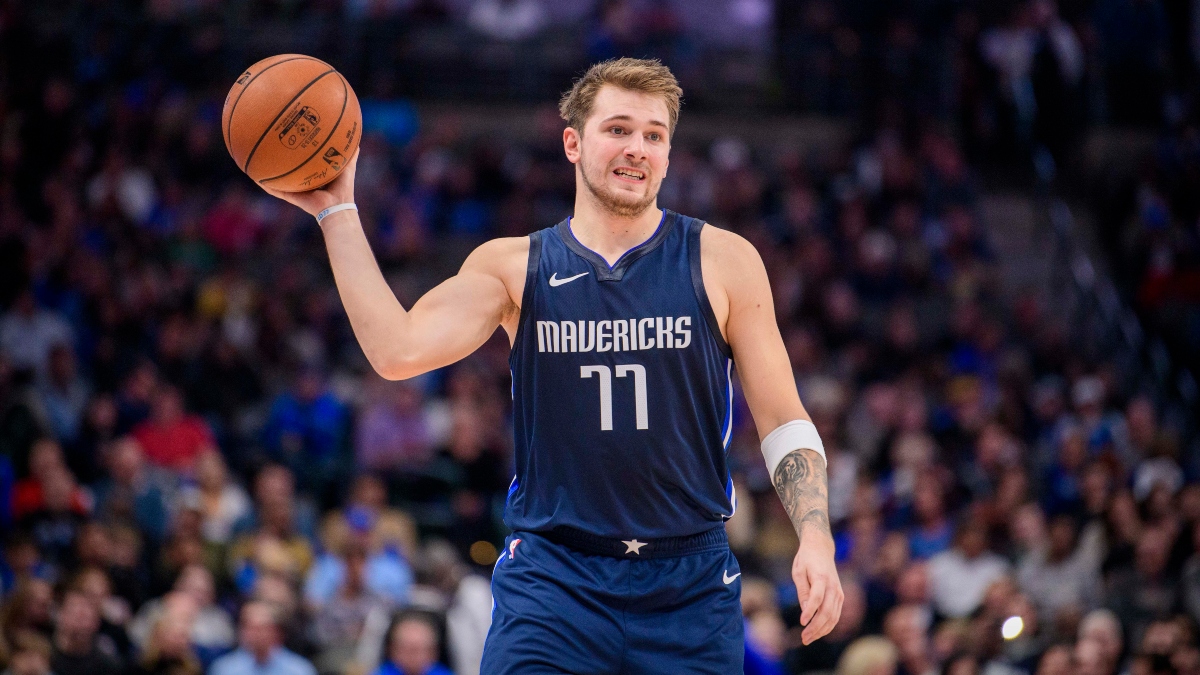 OK, first off, this would just be fun as hell to bet on. Long odds, superstar to bank on and believe in, and Dallas is absolutely the "it' team this year.
The Mavs are on pace for the best Offensive Rating in NBA history. Everyone's shooting the lights out, Luka Doncic is Dr. Manhattan and they have the best bench Net Rating in the league.
Parsing out how much of this is sustainable is dangerous.
After all, I thought this team would hit the under on 41 wins, and I'm already frantically betting them to try and win some of that back, so clearly I underestimated them.
Still, there are signs. They're shooting a full two percentage points above their expected eFG%, via Cleaning the Glass. Opponents are shooting 1.8 percentage points worse. Their bench is the best in the league by Net Rating, which doesn't match those players' career histories at all. Opponents are shooting just 31.5% from 3 against the Mavericks' bench.
But here's the thing: Even if they regress, they're still going to be dangerous as hell in the playoffs. They can get hot at a moment's notice. They have playmakers everywhere to punish teams for loading up on Doncic. Doncic has been in high-pressure situations before, if not in the NBA Playoffs. He's a megastar who can hit the biggest shots when you need him to and carry them through quarters.
It's extremely unlikely given their inexperience and a number of signs that say they're not this good, not to mention injury concerns with Kristaps Porzingis. But if you put together a title odds portfolio with 1-2 of the teams from my contenders piece and this team? That I don't hate.
VERDICT: Why the hell not?
[In New Jersey, Pennsylvania, Indiana or West Virginia? Bet now at FanDuel]
---
HOUSTON ROCKETS
9/1 to win the title
+480 to win the Western Conference
Nope, nope, nope.
Look, the surface-level stuff is great.
They're 18-9, third-best Offensive Rating, top-20 defense. They're 14-3 vs. teams under .500, which is how you build a great regular-season record.
But I'm not concerned, nor was I ever was concerned, about their win profile for the regular season. They'll sail past 50 wins pretty easily.
But they lost to Milwaukee and Denver because those teams had better defense, and Dallas because it had the better offense. They have inexplicable collapses like the one vs. the Spurs and can't close games like the loss to the Clippers.
Houston is 7-6 in games inside five points in the final five minutes. The Lakers, Clippers, Jazz and Nuggets are all top-10 in clutch-time win percentage.
Then there's the Russell Westbrook stuff.
The Rockets are 11.4 points worse in Net Rating with Westbrook on court vs. off. "OK," you say, "but he plays against starters." Sure, except the Rockets have a 100 Offensive Rating and a -10.2 Net Rating with Westbrook on and Harden on the bench.
Now, that can all improve. But the Nuggets game really sticks here. They doubled Harden, randomly, and aggressively pursued, making Westbrook beat them with 3s. Spoiler alert: he can't. Westbrook is shooting 23% from 3-point range, somehow worse than last year.
This is a problem. If Westbrook isn't making the most out of his minutes with Harden (they're better with Harden and without Russ, which isn't bad but also means he isn't optimizing Harden), and he isn't holding up the bench units, then there's no realistic way for him to be the difference in a playoff series. And if he's not… then why did you get rid of Chris Paul?
The defense also just isn't good enough. It has stints and spurts where it looks it, but for them to really make a run, the defense has to be top-12. There's time to get there, but a lot of work has to be done.
Eric Gordon's injury certainly matters… but he was also dreadful before going down. There's also not much reason to believe Tilman Fertitta will pay the luxury tax enough for an upgrade on the wing, or that the Rockets have the trade pieces to acquire one.
I can be swayed later in the season if they make some changes to the roster or play-style/performance, and if they show they match up better with the Lakers and the rest of the West elite than they have so far. But right now?
VERDICT: No way, Jose
---
UTAH JAZZ
18/1 to win the title
+950 to win the Western Conference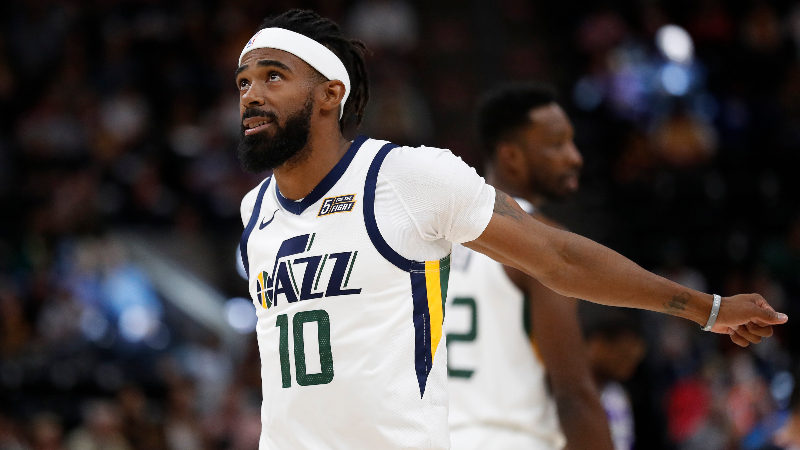 Let me put it this way: The Jazz have the ninth-best effective field goal percentage in the league. They shoot the lights out.
They are still 22nd in Offensive Rating.
They're bottom-five in points off turnovers, second-chance points and fast-break points. They're turning the ball over 17.8% of the time in transition. Not only is that dead last in the league, but the difference between their transition turnover rate and 29th is the same as the difference between 29th and 10th, league-wide.
On top of everything, the Jazz are also only 10th in Defensive Rating. They're still good, but this team has been top-five every year the past four seasons. That slippage, combined with their offensive woes, is an issue.
Now, they have a lot of new personnel, and they tend to start slow and finish stronger.
They're 11-4 vs. teams under .500. I'm not worried about them landing a top-five seed, and I think their win total over is alive. But nothing about them screams "contender."
What's the path for an upset? The Lakers can get absolutely frozen from 3-point range but have enough defense to still mangle the offense. The Clippers can outpace them with bench offense, even if Joe Ingles pulls another rabbit out of a hat vs. Paul George.
It looks like a good season, but they're not a contender.
VERDICT: Nothing to get excited about
---
PHILADELPHIA 76ERS
8/1 to win the title
+220 to win the Eastern Conference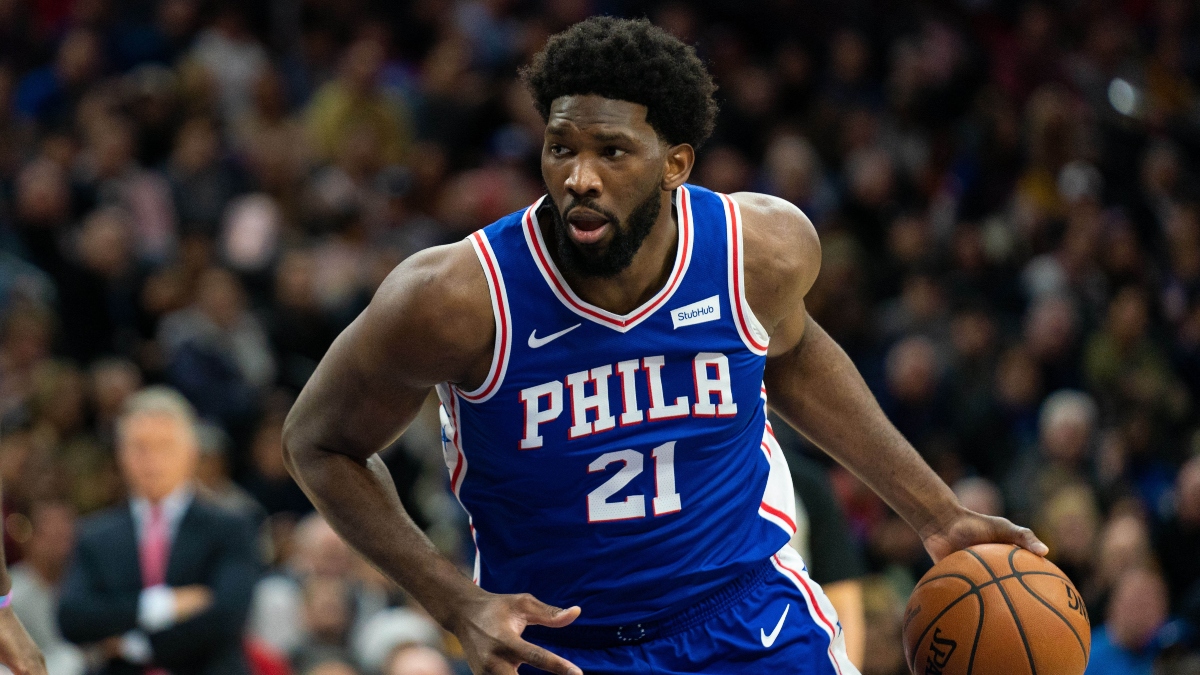 The Sixers are just four games back of the No. 1 seed in the East. They have wins vs. Toronto, Miami, Boston and Denver. They are undefeated at home and 7-4 vs. teams over .500. The resume screams "contender."
It does not feel like they are contenders watching them, however.
The Sixers have the 23rd-ranked expected eFG%, which means they take a lot of low percentage shots. Yet they are seventh in actual eFG%. I assumed this meant that they were just killing teams inside with Joel Embiid and their size. Nope… the Sixers are 17th in percentage of shots at the rim, via Cleaning The Glass.
They take a lot of bad shots and hit a lot of them. They take the fourth-fewest 3s league-wide and yet make the seventh-best percentage.
This is all data, but the reality is that you watch them and Embiid just never really dominates in big moments. You don't see him carry a team with a great defense and game-plan against them. He still drifts to the perimeter too often, and he still turns the ball over on double teams consistently.
He's shooting 48% on post-ups (via Synergy Sports). You're just not ever really scared of the Sixers.
However… there's probably some reason to get in here. Let's say you don't buy into the Bucks. Cold shooting, Giannis' limitations, whatever. The Sixers are still the team that can manhandle the Raptors and Celtics to win the East.
If they reach the Finals, they have size to counter the Lakers. And since both teams are low-volume 3-point shooters, it would come down to which supporting cast you like. That's pretty close to a coin flip.
If they face the Clippers, it's a big contrast, but they do have the wing defenders to actually match up with Kawhi Leonard and Paul George, and Embiid, if he somehow maximizes what he's capable of, would wreck inside.
The best version of the Sixers is still possible — you can see it — they just don't do it. So that's probably reason to get in on them if you're looking for a longshot.
THE VERDICT: Sneaky value
[In New Jersey, Pennsylvania, Indiana or West Virginia? Bet now at FanDuel]
---
MIAMI HEAT
50/1 to win the title
14/1 to win the Eastern Conference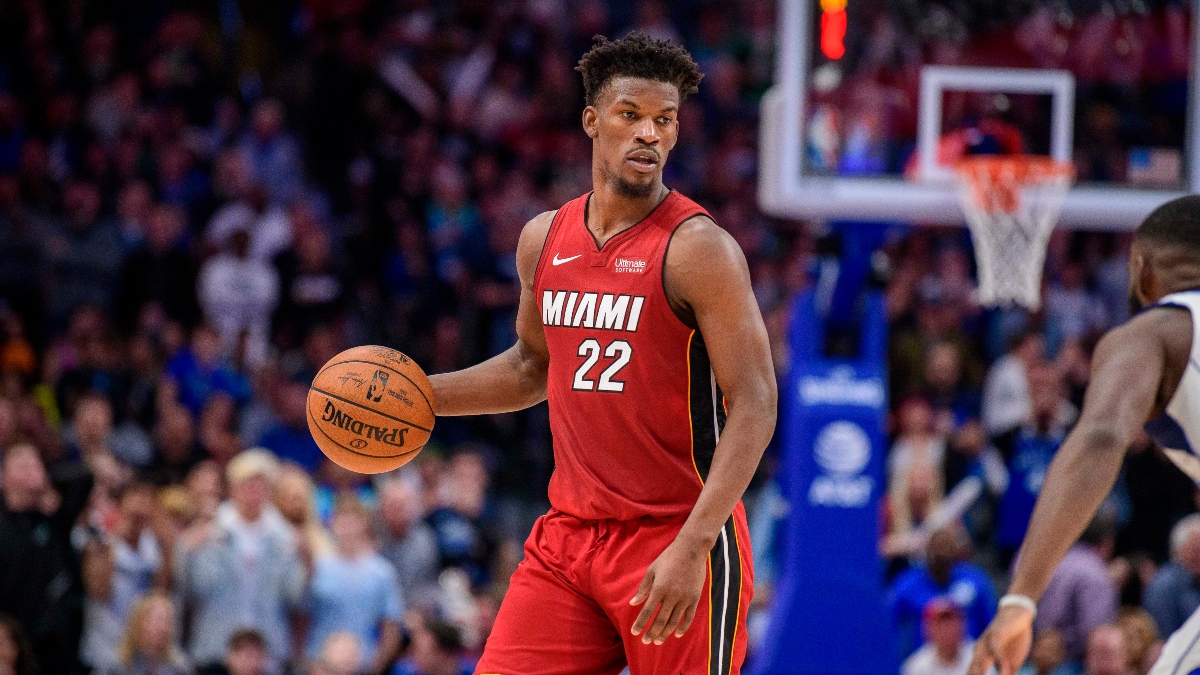 I'm not buying it. Bam Adebayo has been great, Jimmy Butler has been awesome, they're well-coached, their win profile is great, etc. I expect them to be a hard out in the playoffs.
But they're 13th in expected eFG% compared to third-best in actual eFG%. They're hitting an absurd number of shots. Meanwhile, they're 25th in opponent expected eFG%. Opponents have a 53.2% expected eFG% on the shots Miami allows and yet are making them at only a 51.5% clip.
Let me put that in English: Their opponents can't hit grass if they landed in Kansas despite taking really good shots. Miami is giving up 40.3% of all opponent shots from 3, the highest in the league, and opponents are making just 32.8%, the second-best defensive mark in the league.
Now, look, you can force the right shots by giving them up to bad shooters, and you can contest well. The Bucks, notably, did this last year. But not at this level.
The Heat are good. They're really good. They're just not elite as their profile suggests.
When the Heat lose, they have the eighth-worst Net Rating among all teams in losses; in wins, they have the eighth-best Net Rating. They win big, they lose big, and that suggests a level of volatility that is likely to catch up with them.
Miami is relying on rookies and a patched-together lineup. Eventually, this will likely head back to Earth. The Heat can upset a team in a 4-5 matchup; they'll be dangerous in the playoffs, no doubt. But making it out of the second round is going to be a big hill to climb.
VERDICT: Admirable run, but not a contender
---
TORONTO RAPTORS
42/1 to win the title
+950 to win the Eastern Conference
I… don't hate this. You have to package it with some of the contenders. They're not some hidden Goliath who has every right to a stake for the title. But the reigning champs are really solid and right now are going through a blip they'll likely work through.
They have a true star in Pascal Siakam who continues to get better and add more stuff to his game, even if he's not quite at the level of the top guys in the league. They're still deep, versatile and stocked with role players who do what they need to.
Marc Gasol can still get stops on Joel Embiid. Fred VanVleet can still cook on the 3-pointers the Bucks allow. Kyle Lowry can have a playoff moment. They know how to flummox and frustrate the Bucks. They know how to muscle the Sixers.
Yes, absolutely, losing Kawhi Leonard is a massive deal and hurts their ability to carry down the stretch. I don't like their chances in an elimination Game 6 if the other team gets momentum.
But both of the teams in their way in the East have baggage against the Raptors. The Raptors beat the Bucks with shooting, not with Kawhi dragging them. The Raps had issues with the Sixers because Jimmy Butler went toe-to-toe with Kawhi. Leonard's gone… but so is Butler. You don't worry about the same with Josh Richardson.
I don't like their title odds at all. Whoever they face in the West is much stronger, and if you take the Raptors with Clippers-Lakers and the Raps do win the East, you're covered anyway and can hedge on Toronto in-series where they'll be huge dogs.
But the East? I'm not saying it makes complete rational sense on paper; the Raptors should have lost to the Bucks in five games last year. But they didn't. They won the title.
There's real value on what the Raptors bring to the table, especially at these numbers.
VERDICT: I can't believe I'm saying it, but there's value.
[In New Jersey, Pennsylvania, Indiana or West Virginia? Bet now at FanDuel]
---
BOSTON CELTICS
27/1 to win the title
7/1 to win the Eastern Conference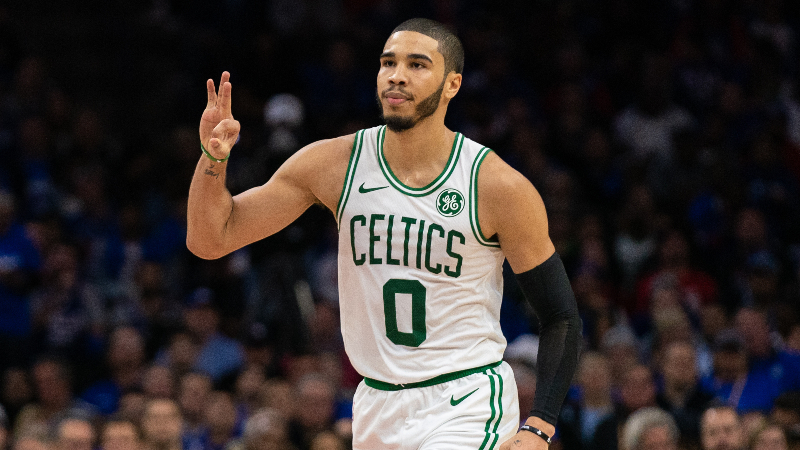 I want to. I really want to.
Look, Jayson Tatum is a complete badass, and his Net Rating and plus-minus numbers show it. The Celtics just kill teams when he's on the court. Part of what gets missed is how good his defense is. It's back to his rookie-year levels, and that just makes the Celtics dangerous.
Jaylen Brown is killing it. He's such a good playmaker and slasher, and he just makes heads-up plays all over.
Marcus Smart can absolutely turn a game with defense, hustle plays and a few timely buckets. He's a nightmare.
Brad Stevens has done a great job patching together an effective defense inside without any capable rim-protectors. Boston is 13th in field goal percentage allowed at the rim and fourth in non-post-ups (via Synergy Sports).
This is a really good, well-balanced team with shot-makers who can also act as playmakers and no real defensive weaknesses outside of having a real rim-protector.
They're tough as nails.
But we've seen this before, too. The plucky, upstart, feel-good Celtics who rack up a ton of wins in the regular season and don't have the horses in the playoffs. I actually think offensively they can go toe-to-toe with anyone. But defensively they feature a tiny, over-30 point guard in Kemba Walker, two still-inexperienced wings in Tatum and Brown and no rim protection.
Their bench is a little shaky, but, honestly, I don't care about that; the playoffs aren't made for benches outside of 1-2 guys, and they have those.
But eventually, they'll run up against a team with better overall talent, or one with a matchup advantage. The Sixers are 2-0 against them because they have absolutely no one to check Embiid. You can double and cause problems, but eventually, you do it enough and he'll punish you for it. If they had Aron Baynes (forget Al Horford)? Then yeah, I could buy it.
They might be able to upset the Bucks. The Bucks give up a ton of 3s; Boston shoots and makes a ton. The Celtics have wing defenders to throw at Giannis, and the rim protection isn't as big a problem given how many 3s the Bucks want to shoot.
It's a stretch, but I can see it. Beating the Bucks and Philly, though? No. Forget the title — the West teams are all definitively better.
I'm not 100 percent out on including them in a package, but if you're looking to get in now, it's not the time. Their record will likely cool off a little more as the season goes on. They're probably a better team to bet series-by-series rather than taking a huge shot on them now.
If they're massive dogs to the Bucks? I'd think about it heavily. If they wind up in a 1-4 second-round series vs. Philly? No thank you.
The Celtics are good and fun. They're just not elite, nor do I think they have that gear.
THE VERDICT: Not now, if ever
How would you rate this article?