2019 NBA Draft Prop: Will at Least 5 ACC Players Be Drafted in the Top 10?
Credit:
Photo credit: Geoff Burke-USA TODAY Sports. Pictured: Zion Williamson, RJ Barrett and Cam Reddish
The 2019 NBA Draft is Thursday, June 20 at 7 p.m. ET (ESPN) in Brooklyn.
Will at least five ACC players go in the top 10?
If you solely watched ACC basketball this past year, you would've seen most of the top prospects in this year's draft. Sportsbooks are offering props currently on whether there will be over/under 4.5 ACC players drafted in the top 10.
Let's go through them and see if there's value.
---
More NBA Draft Props: Darius Garland | First Gonzaga Player
---
First, Zion Williamson is going No. 1 to the Pelicans. No more analysis needed.
Second, RJ Barrett is absolutely going in the top 10. He's incredibly likely to go third to the Knicks — he's -560 at DraftKings to go at that spot — although ESPN's Jonathan Givony commented Tuesday that the Knicks are indeed interested in Vanderbilt freshman Darius Garland:
Darius Garland will conduct a last-minute workout in Tarrytown with the New York Knicks tomorrow, a source told ESPN. Garland is in serious consideration for the No. 3 pick. Minnesota, Boston, Chicago are teams looking at potentially trading up to No. 4 with Garland in mind.

— Jonathan Givony (@DraftExpress) June 18, 2019
Regardless, even if the Knicks don't take Barrett, he won't slide far. That's two ACC players.
Next up is UNC freshman point guard Coby White, who is currently being mocked sixth overall to the Phoenix Suns, who are still looking for a point guard since Steve Nash left in 2012. Per Givony, they are potentially interested in trading the pick, but if they keep it, finally grabbing a point guard to pair alongside Devin Booker seems like a wise choice.
That's three.
Currently mocked by ESPN to the Chicago Bulls at No. 7 is Virginia's De'Andre Hunter, who has been a standout for Tony Bennett for years.
Hunter was a first-team All ACC performer this past season and overwhelmingly won the ACC Defensive Player of the Year award. In an NBA world where two-way wings are highly coveted — Hunter has lots of offensive work to do, mind you — his skillset will be coveted.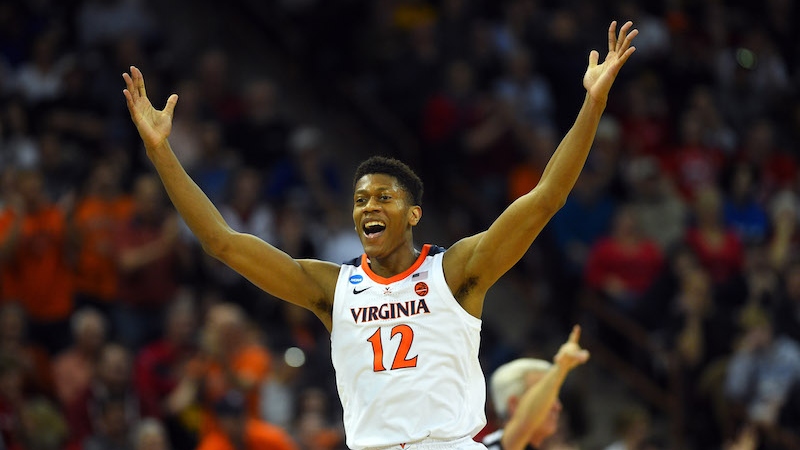 According to a consensus mock draft from NBA.com, the most common draft spot for Hunter was No. 5 to the Cavs. Even if he slips below that, it's unlikely he won't get picked up by either of the Hawks' picks at 8 and 10.
Per Givony: "The Hawks are very high on Hunter — per sources, they are the only team Hunter has worked out for — and Atlanta might try to package some combination of its six picks in this draft to move up and select him."
That's four.
And the final guy — the wildcard here — is Duke's Cam Reddish. I'll go on the record and say I don't think he'll be very good in the NBA: He shot 35.6% from the field as a tertiary option this season, and he showed little-to-no off-the-dribble skills.
Still, he was the No. 3 recruit coming out of high school, and highly-recruited Duke wings have often been drafted for their underlying upside, such as Jayson Tatum and Brandon Ingram recently. ESPN has him mocked No. 8 to the Hawks, and the consensus draft at NBA.com has him at that spot in eight of the 10 drafts compiled. I personally wouldn't do it, but the Hawks could likely take a risk since they have multiple picks in this draft and already have a solid young core in Trae Young, Kevin Huerter and John Collins.
Wings are hard to come by in the NBA, and the Hawks are likely to take a shot at one of them this year.
Again, Reddish is the most likely to drop out of the top 10, but I'd bet on his pedigree winning teams over, especially in such an uninspiring draft with almost no players with seeming MVP upside.
Unfortunately, the betting market is in step with the mock drafts, as the over 4.5 here is set at -500. I think it's highly likely it happens, but that's a steep price. I will say if you want to bet this prop, do this one instead of over/under Duke players, which is at 2.5 with the over at -715.
Since Reddish is the most likely to drop, that is seemingly not in step with the ACC prop.
How would you rate this article?