The Curious Case of Andre Drummond and His Box Score Anomalies
Credit:
Tim Fuller-USA TODAY Sports. Pictured: Andre Drummond
Detroit Pistons center Andre Drummond already has six 20-point, 20-rebound games this year.
Are those numbers helpful for his team? Or do they suggest a fundamental flaw in his own game?
I need to talk about something, because it's getting out of control.
If you look at Andre Drummond's box scores and box scores only, he is putting up statistics this season that can almost start a Wilt Chamberlain-comparison conversation.
SIX 20-point, 20-rebound performances through only 27 games played!
To give you some context of how impressive this is, there are only 17 total in the NBA this season, including all of Drummond's (notables: Whiteside: 3, Towns: 2, Kanter: 2).
Wilt averaged 20/20 for 10 seasons, so Drummond's report card isn't anything record-breaking, but if we're even mentioning a comparison to Chamberlain, on or off the court, there are stories to tell.
Anyway, back to why we're here: I've always had this thought in the back of my head, but it really didn't ignite until the Detroit Pistons' contest vs. the New Orleans Pelicans on December 9.
Tell me if you sense a trend here:
Drummond recorded 23 points and 19 rebounds in this game.
Do I need to say it?
I mean, I'm going to say it.
Actually, I'll ask it: Does Drummond put up crazy box-score stats because he struggles to finish at the rim?
I know how 2018 works — the moment you mention something even remotely non-positive about a player, the hives come for you. So let me say this before any of that happens: He does plenty of cool stuff, too! Those points don't just score themselves.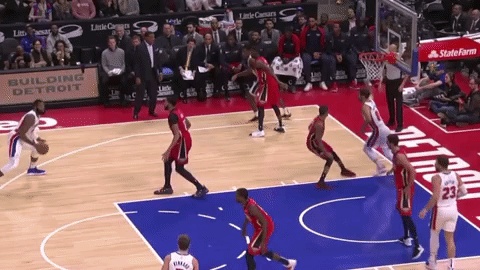 The good news for all parties involved: There's a story to tell.
First and foremost: They may not go in, but Drummond should be commended for the effort required to put so many dang tap-backs up. All those rebounds aren't just falling to him by luck; he's retrieving them in heavy traffic after engaging in violent rim warfare.
In today's NBA, you can't go two minutes without a player shooting a shot and standing in place with their head frozen like a gargoyle — absolutely no effort, desire or mindset to follow their shot — rather, just posing for the cameras.
Drummond is the antithesis.
However, a deep dive into the analytics reveals a startling truth about the efficiency of his attempts:
Through 25 games, Drummond's field goal percentage of shots attempted 0-3 feet away from the rim is at only 65.2%. That means he's missing 3.5 out of every 10 he attempts.
Per NBA.com's stats page, he has touched the ball 1,455 times this season; 166 of those were in the post. His field goal percentage associated with those 166 possessions is 36.0%, near the very bottom of the league compared to other qualified NBA centers.
To make matters worse, as the league's other big men continue to evolve in this area, Drummond's accuracy in the paint throughout the years has slipped from the 80th percentile to 31st.

I'm not sure if I can blame him.
We could sit here and drop stats all day to argue, but one thing we can all agree on is that this man gets absolutely mauled around the rim.
This season, Drummond ranks 23rd in the entire NBA in free throws attempted — and has been near the top of this category for the majority of his career.
This is what happens when you are a mountain of muscle and shoot 42.8% from the free throw line throughout your career. You get hacked by dudes strong enough to keep the AND-1, more times than not, from going in.
You have to imagine Drummond is hesitant to bring the ball down because he knows what's coming: a first-class trip to the charity stripe. As a result, has he committed to an airborne strategy of tapping the ball at the hoop as many times as he can before it actually goes in? (Remember: Those all count as rebounds.)
It sure seems that way, and until he can get that free throw percentage north of 70%, Drummond is going to continue to be this statistical anomaly who is a cash cow for DFS players, fantasy owners and prop bet gamblers, but maybe not so much for his actual team.
Before we go, I want to kick things over to my colleague, Matt Moore, for his thoughts.
---
MOORE: How's this for a starter? Despite being, you know, bigger and more powerful than everyone else, Drummond is in the 43rd percentile (via Synergy Sports, updated through Friday, Dec. 14) at put-back attempts.
He's made just 56% of them.
He's the only player with over 100 offensive rebounds this season.
But the reality is, you see time and time again that it's because of those tap-ups that Drummond creates:
What's interesting is the debate on whether his tap-backs are actually effective or not. I went back and watched every put-back attempt that Drummond has created this season.
Of his 69 registered makes off put-back attempts, only 13 (18%) came after a tap-back, and only four after multiple tap-backs. (I counted only taps where it was clear he was trying to tap the ball into the bucket, not just tapping it to himself.)
That means that on 75% of his put-back misses, he's not generating a bucket.
This doesn't include situations in which he drew fouls, which is slowly getting to be more of an effective situation, but it's notable.
This is not to say that Drummond's impact on the glass isn't substantial; in fact, the Pistons are generating 9.5 second-chance points per 100 possessions with Drummond the floor.
Without those 9.5 points (not all of which are directly attributable to Drummond, but most are), the Pistons offense would go from above average to "oh Dear God they're basically blindfolded and throwing rocks at a dartboard."
The interesting question is whether they're better off if after he misses that first attempt (where he does have a high success rate), he taps the ball back to reset the offense.
That's easier said than done (like all things in the NBA) when you're getting mauled under the rim, but it's at least a question worth exploring.
Drummond's one of the most influential forces on the offensive glass, but outside of just wearing down the opponent, the second and third tap-backs he attempts often don't actually result in points.
How would you rate this article?