Moore: 7 Questions to Help You Figure Out Your NBA MVP, Plus My 2017-18 Awards Picks
Credit:
Troy Taormina-USA TODAY Sports
The end of the NBA season is here, and everyone's trying to sort out who should be MVP. To guide the fierce discussion, I present seven key questions to help you figure out who your MVP is, plus my awards ballot for the individual awards this season.
1. How do you define most valuable?
Ah, the starting point for any and all MVP discussions. You won't find the definition for "valuable" anywhere in any NBA documentation, nor have it defined by any official league source.
Why? Because the vagueness of its definition creates hundreds of hours of NBA-devoted discussion on airways and across bandwidth each year.
So you have to come to that conclusion on your own. Some use "most valuable to their team," but that's a flawed construct because if a team is going to win only nine games without a player and 35 games with him, then technically he would be more valuable than a player who took a team from 45 wins to 60 wins.
[Sign up for The Action Network's daily email newsletter]
"Best player on the best team" is often a shortcut described, but that's kind of backward thinking; how that one actually comes about is a voter looks at the best teams win-wise, since that's the purpose of participating in organized competition, then looks at the player who has contributed most to the most wins.
For some, it's as easy as "who's the best player in basketball?" The problem with that construct is it ignores what has actually gone on this season, which is what the award is based on. LeBron James has been the best player in the NBA somewhere between the past eight to 10 years. That does not mean he has had the best season or the most valuable performance every season the past eight to 10 years.
The definition I personally have settled on is "most impactful." In an NBA game, players can attribute production stats in any variety of ways. However, the best players impact the game in ways that shape the results in favor of their team. That can be production, gravity, defensive deterrence, clutch performances, making teammates better.
But how you answer this question must be your starting point.
2. What's the value of raising his team the most?
This seems like an obvious one, but it isn't. Last season's comparison between James Harden and Russell Westbrook provided the clearest breakdown of this. The Thunder were worse without Westbrook than the Rockets were without Harden. But the Rockets were better with Harden than the Thunder were with Westbrook. Wins, net rating, eye test — across the board. So what's more "valuable," taking a team that would be horrible without you and making it good, or taking a team that's good, and making it great?
The Cavaliers actually have a positive net rating with LeBron off the court and a negative one with him on the floor this season. That's the kind of stat that causes people who doubt analytics to roll their eyes. The point isn't that LeBron James makes his team worse. It's that the team hasn't outscored its opponent when he's on the court. His impact hasn't been such that the Cavaliers were raised to a high level with James on the floor.
That trend has reversed a bit in recent weeks, but the award isn't for recent weeks.
3. How much do wins matter? How much does contribution to those matter?
The Pelicans didn't finish with 50 wins. The Cavaliers matched that number. The Rockets finished with the best record in the league. The Blazers finished one win short of 50.
What's the line?
There's an argument that says wins shouldn't matter at all, for a few reasons. First, an individual player's play simply cannot guarantee a win in the context of a game. Kemba Walker has been sublime this season; the Hornets were a mess. They just lost and lost and lost no matter how much the Hornets beat the pants off their opponent when Walker was on the floor.
Second, win-loss records are wonky. Hit a schedule stretch with injuries or where the star players need a rest, and you lose games you would otherwise win. It's an 82-game season across six months of play. You're going to have peaks and valleys, and if you have a few games that go sideways, they can take you from a 53-win team to a 47-win team. Again, to use Walker as an example, the Hornets were 1-5 in games decided by three points or fewer this season, after going 0-9 last season.
If the Raptors weren't the No. 1 seed, would DeMar DeRozan, with his statistical profile and eye test, be a real MVP candidate? Probably not.
How you play is how you play, and that's the real important matter here, is what the argument says.
However, even though I think context and team dynamics are important, wins have to be valued. The point of competition isn't statistics. It's wins. If the outcome of the games didn't matter, we'd be golf-clapping at dunk form, and no one would be into it. It would be like an art gallery. That's not what sport is.
But the question of where that line for wins lands is subjective. Everyone should individually determine where it lies. Is it 50 wins? Best record? Over .500? At least 35 wins, which is basically a .500 team that happened to lose a handful of coin-flip games?
4. Where do stats fit in?
You ever try to really put together an MVP argument without using stats? Even people who hate analytics, even players who mock them, they always wind up — when pressed in a discussion — citing statistics. The reason? Statistics are the only tangible evidence of impact and production matters. You can't describe the way a player shapes the game but you can concretely point out how many points/rebounds/assists he gives his team. You need that production to win a game. You can play the game the right way, make the right passes, set the right screens, attack the rim, box out great, but if you don't make the bucket, grab the rebound, throw the pass, it doesn't actually matter.
We have more advanced analytics now to try to put a player's true impact in concrete terms. Player Efficiency Rating (PER) is antiquated at this point, but it still shows a player's per-minute efficiency in production, especially when comparing big men. Stats such as Real Plus Minus haven't actually been publicly shared to show how they calculate what they do, but they remain one of the only indicators that tries to take raw plus minus and provide teammate and opponent context.
It's not just a pissing contest, either. If I want to make the case for DeRozan, it starts with how he's shaped his game to be more modern, how he's become more of a playmaker and made the Raptors, as a team, better. To indicate that, I either have to say "when you watch him, you just get a feeling that he's less selfish," or I can say "his assists have nearly doubled this season."
If I want to show that Harden has at least given acceptable effort defensively, I need to be able to provide evidence that counters expectations. Being able to show a better defensive rating when he's on the floor, meaning at least he hasn't dragged the Rockets down, and his individual defensive stats via a service such as Synergy Sports helps provide real evidence.
5. Does leadership matter?
I'm not going to subtweet here, this is about LeBron.
The Cavaliers were a mess for four months of the season. Four months! They've had a bottom-10 defense. Their team chemistry was terrible. They had team meetings where players called out guys for being sick. Everyone openly talked about how bad it was.
James is the Cavs' best player and the center of their universe. He dictates everything. Some of the Cavs' failures this season have to fall on him.
There's a reasonable argument to be made here that Harden hasn't been an amazing leader. He's known as a passive-aggressive voice; many of the problems with Dwight Howard in Houston were as much his fault as they were Howard's.
But Harden hasn't stood in the way of his team's success this season.
It's not something you can go out of your way to say "Man, Harden really stepped up," but it's not a knock. James definitely gets that knock. The leadership argument most benefits Damian Lillard and DeRozan.
6. How do you answer the teammates conundrum?
LeBron James' teammates are worse than James Harden's. Chris Paul is better than Kevin Love. The Rockets' core overall is better, even if there are guys who look wildly different in other situations. So to what degree does James lifting a bad team matter compared to Harden lifting a team that's great if he's not on it. This the most popular argument against Harden, and I'm not going to lie …
It's stupid.
You can't punish James Harden for his teammates being better. He didn't choose to put those teammates around himself, nor did LeBron choose his (well, at least not entirely). You also can't punish someone for the people he works with being good. It is not "Most Valuable At Doing The Most With The Least."
James makes his teammates better, there's no doubt, but we go too far in acting as if Love, J.R. Smith, Tristan Thompson, etc. are all complete nobodies.
If the whole thing boiled down to "who makes the most difference for his team," then we could use on vs. off net rating to find the players with the highest difference, and then Victor Oladipo, whose team is 13.7 points better in net rating, would be the MVP. We all know that's dumb.
Don't punish players for their good teammates, or reward them for their bad ones.
7. How much do games missed matter?
James played all 82 games this season, which is super impressive in Year 15. Harden missed seven games with injury. It's not a big difference, but it's a difference. This wound up deciding the 2017 Rookie of the Year, which would have absolutely gone to Joel Embiid had he played more games.
You have to find a line here, too.
The NBA would really do well to set this as an actual parameter, stipulating the player must have played at least 50 games or whatever. Then we could just say "he cleared the threshold" and be done with it.
Being better in fewer games is better than being worse in more.
---
I don't have a ballot this year, but if I did, here are my winners for the various awards.
Most Valuable Player
1. James Harden, Houston Rockets: Best overall season, contributing the most to the best team in basketball, playing surprisingly solid defense, meshing with a ball-dominant point guard and leading a historic offense while giving his best career clutch-time performance.
2. LeBron James, Cleveland Cavaliers: The chemistry issues, the bad defense, the lack of leadership … it takes a ton for James to overcome those things. And he did. That's how incredible he was in November and after the All-Star Break. A human tsunami, an offensive wall of fire, less of a man and more a force of nature. It's enough to earn him second place. Hopefully he does this again in Year 16, gives a damn on defense, and wins his fifth MVP Award.
3. Anthony Davis, New Orleans Pelicans: Awesome season, and he doesn't get enough credit for lifting the Pelicans to a playoff spot without DeMarcus Cousins.
4. Damian Lillard, Portland Trail Blazers: Lillard doesn't get enough credit for how good his defense has been this season.
5. DeMar DeRozan, Toronto Raptors: Sacrificed the most to make his team better, while improving his efficiency, and his defense was better too. Incredible season. Now, just don't waste it in the playoffs. 
Coach of the Year
1. Brad Stevens, Boston Celtics: This is the hardest COY race I can remember. I've constantly warned folks to slow down on anointing Stevens as one of the greats without a Finals appearance, much less a title. But Stevens had to manage so much this season. I don't tend to go down that road because the award isn't about overcoming adversity. But Stevens took such a difficult situation and got so much out of every indicator. He's had the league's best defense all season with a brutally young roster.
The Celtics haven't had the best metrics, because they haven't had the best team. But their performance translated to wins because of the way they played, which is a credit to Stevens. They're disciplined. They're effective. They banded together after Gordon Hayward went down. They did it again after Kyrie Irving went down. The Celtics' record is better than their team because of how they play, and that's because of Stevens.
2. Dwane Casey, Toronto Raptors: The Raptors were really great this season. They were the counter of Boston, a team that stayed healthy and got things to go their way, and they backed it up with their performance. They finished with the third-best net rating, behind Houston and Golden State. They had the best bench in the league, built around almost entirely young guys.
Casey got a core of veteran star players to buy into offensive changes to make the team better, then implemented them. He got Jonas Valanciunas' best season out of him. The Raptors finished the regular season as the only team to have a top-five offense and defense. Casey is a worthy winner, if not for the rabbits Stevens pulled out of his hat.
3. Quin Snyder, Utah Jazz: I didn't think the Jazz were all that great this season and yet they have a killer net rating (fifth overall), finished in the top half of the West, and have what is likely the Rookie of the Year runner-up. Snyder did an incredible job managing the Jazz through Rudy Gobert's injury, empowering Donovan Mitchell, and getting the most from an offensively limited group.
4. Brett Brown, Philadelphia 76ers: 50-plus wins for a team built around two players with fewer than two years' experience, with its No. 1 pick on the shelf pretty much the whole season. Brown went through the worst of the worst with Philadelphia. Now he's here. He's basically this guy: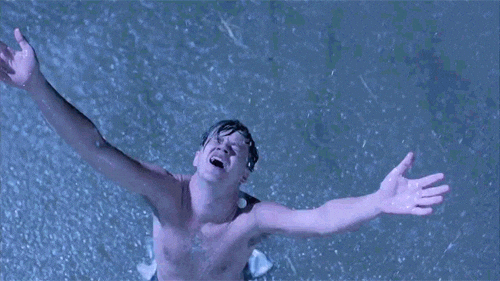 5. Terry Stotts, Portland Trail Blazers: The Blazers are way better than they have any right to be with that roster. Stotts turned a bad defensive team into a great one, and empowered Lillard to an MVP-caliber season.
Rookie of the Year
1. Ben Simmons, Philadelphia 76ers: I leaned toward Mitchell halfway through the season, but Simmons absolutely tore teams apart over the final two months. His combination of scoring, defense and passing means that even without his jumper, he's a guy teams are coming to dread when he's coming at them at full speed. Super versatile for a guy his age.
2. Donovan Mitchell, Utah Jazz: I picked Simmons … and yet I think Mitchell will have the better career. This kid will be a superstar. He's Dwyane Wade with a 3-pointer. He's got a killer instinct, and he's a great passer. He's going to absolutely menace this league for years.
3. Jayson Tatum, Boston Celtics: Most likely of these three players to drop 45 in the next three seasons. Tatum's polish is so far above what we expected, and his defense was light years beyond that. He's contributing so much to the East's second-best team and he hasn't gotten enough credit for that. 
Most Improved Player
1. Victor Oladipo, Indiana Pacers: Not even close. The kid just made massive strides into being a team's best player and redefined the way he plays, leading to an incredible season for a squad we all wrote off.
2. Josh Richardson, Miami Heat: Turned into a real threat for a playoff team, showed why he's worth the investment and is a balanced, efficient player on both ends. 
3. Ed Davis, Portland Trail Blazers: Davis was crucial for one of the league's best defenses this season, and was a steadying force offensively. 
Defensive Player of the Year
1. Rudy Gobert, Utah Jazz: I wanted to count the games missed against him, but he's just been too amazing to close the season. Utah is such an incredible mechanized army of doom with Gobert at its core.
2. Al Horford, Boston Celtics: No one really realizes how great Horford is without needing big fancy blocks or high rebound totals. He's just extremely smart, and quarterbacked the league's best defense through the whole season.
3. Joel Embiid, Philadelphia 76ers: I had him No. 1 before the facial injury. The other two barely pass him. I think he's the runaway winner next year.
Sixth Man of the Year
1. The Raptors Bench: When I found out the Raptors are pushing for this, I signed onboard. Look they were the best unit, together, and it wasn't close. They were good on both offense and defense, which is more than I can say for Lou Williams. I think it was cool when the Hawks got Player of the Month, and I think it would be cool if the Raptors won this award collectively.
2. Lou Williams, Los Angeles Clippers: Got a bunch of buckets in a career year for him which got him paid. Good for him.
3. Wayne Ellington, Miami Heat: One of the best bench weapons in the league, period, thanks to his hand-off 3-pointer. Great season for a vet.