All-Star Weekend Diary Day 3: Another Saturday Night, Silver Linings, and Booker Pays Off
Credit:
Photo Credit: Bob Donnan-USA TODAY Sports
LOS ANGELES — All-Star Saturday came and went and like a lot of the themes of this weekend, it wasn't bad, but it also wasn't unforgettable.  Here's a look at what was seen and heard on All-Star Saturday.
Booker Pays Off
Devin Booker came into the 3-point contest with +1000 odds and walked out with the title. It was an overall meh contest, with Eric Gordon, last year's champ, failing to make the Finals. My pick, Wayne Ellington, had the hottest run of any player, but he started off too slow to catch up.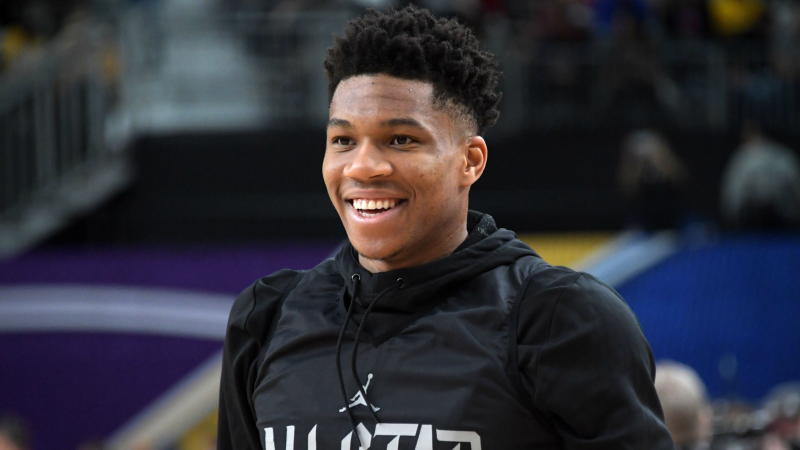 Booker, meanwhile, is now a 3-point champ and one of only a select number of players ever to score 70 in a game. His score of 28 in the Finals round was 10 higher than the number of wins the Suns have, sparking again the debate about Booker as a player. Booker continues to put up unreal performances, but the night-to-night consistency isn't there, nor is his versatility. He's a wondrous shooter, but is he actually headed toward real NBA success? That's what the next year of his career has to be about.
Spidaman Swings Into Action
Donovan Mitchell took home the dunk contest crown despite the general feeling that Larry Nance Jr.'s performance was more deserving and that Dennis Smith Jr. had the best dunk. However, this one from Mitchell won't be forgotten any time soon.
Dennis Smith Jr. had something better happen for him on Saturday night than winning. He'll now be talked about forever as the guy whose great dunk didn't get him to the Finals with this 360 between-the-legs sickness:
The only thing better than winning is being the guy whom dunk contest obsessives talk about for years. There have been so many great dunks that didn't get their guy to the title, and that's a more comfortable spot than winning. Just ask Zach LaVine, who could win it every year and bailed after two appearances.
Don't Forget the East
Two Eastern Conference executives groused on Saturday about the saturated coverage of the Western Conference playoff race with no consideration of how close the East is. Nine games separate Nos. 4-9 in the East, and they're all playing pretty good basketball right now.
The East is competitive, but the bigger key is that it feels more wide open. Cleveland's been red hot since the trade madness, but who knows if that will sustain. Both Toronto and Boston feel like teams that could be vulnerable in a seven-game series. There are no playoff juggernauts, and that opens the field quite a bit.
A Western executive noted that the key with the East is going to be matchups and seedings. It's going to be a fascinating two months to the playoffs.
Silver Linings
Adam Silver met with the media for his annual pre-All-Star press conference and there was a lot to take away from it. Highlights:
Silver said the league is "conflicted" on whether to change or eliminate the one-and-done rule for college, and this is a significant change. Silver has led the charge for wanting to move the restriction to two years and 20 years of age in recent years, and this signaled a move at least back to neutral. There's unlikely to be movement on this issue, for a number of reasons, but here's the biggest one: The players don't necessarily want it. The union is in favor of strengthening numbers and removing league restrictions on player agency, but veteran players, cited by Silver himself, are worried about a loss of jobs. If younger guys come in, front offices will typically value them more than the benchwarmer veterans who hold important roles in the locker room and in the league. What's going to be most interesting is how challenges to the NCAA, from the ongoing Adidas scandal to competitor leagues for smaller schools, affect the league's position in coming years.
Silver was asked about a potential pushback from bookmakers to the one-percent fee the league has outlined for state legislatures if sports gambling were to be legalized. He rejected "the math" from a Forbes reporter before stating how vital that fee will be for oversight, education, and enforcement, with a wide variety of logistical issues necessary to protect the integrity of the game. Either way, this needs to be made clear: The only way sports betting is legalized in the way it needs to be is if the leagues get their cut. That's happening. And the impacts will be felt for years. However, the league continues to back legislation in pursuit of it, and Silver's speaking publicly on the issue at this press conference is another sign of its cultural normalization, given how sensitive the subject was even ten years ago.
Maybe the best thing from the presser was how little conflict there was to sort out. Silver signaled his support of athletes in making public stands on political matters and embracing their roles as leaders of society, talked about the league's social media audience of 1.3 billion people, reflected on the health of the league overall, and even said that there continues to be discussion of how to make the playoffs (and All-Star Game) conference-neutral events. In general, the league is in a great place right now, and it's a stark difference from the day-to-day turmoil the NFL finds itself in.
The Big Show
The All-Star Game is Sunday, although this ends my dispatches from the weekend. The big question Sunday is whether the players will actually try. East coach Dwane Casey made strong remarks at availability about that question, saying that he asked the players three questions: Do you have a minute restriction, do you want to compete, and do you want to win? Casey said the players owe it not only to the fans but to the game itself to treat it as "more than just rolling the ball out there." For Casey, that starts with defense.
This is tricky, though. No one wants anyone to get hurt in an exhibition. Casey said one of the most common causes of injury was going from zero-to-100 percent effort, and so if players are actually competing they're far less likely to suffer injuries.
We'll see if they actually try. I'm skeptical. It's one of the reasons I'm headed out before the game; I don't expect this one to be any different than what we've previously seen. But Casey's comments at least had me eyeing the under and doing the math on what that score would look like if the players cared.
Layups
Bradley Beal, who is from St. Louis, likes St. Louis-style pizza and I've never been more disappointed in an athlete in my life.
Anthony Davis said people who are counting out the Pelicans after DeMarcus Cousins' injury are about to find something out about their heart and team spirit.
Verizon had Beal and Davis try out their new 5G virtual and augmented reality goggles, which have cameras that relay images at a millisecond rate so that it wearing the goggles is almost like seeing with your own eyes. The rate was so good that Beal was able to nail a 3-pointer with the glasses attached.
Having a crowd at the All-Star availability wasn't a bad thing after all. The place is always a zoo and the fans were polite for the most part, outside of some Lakers fans chanting "We want Paul" for Paul George. Russell Westbrook heard that and snapped about that being "over and done with."
The players compete today and then head out for a three-day vacation before resuming play on Thursday.
Credit: Bob Donnan-USA TODAY Sports