A Serious Scouting Report of the C-List Celebrity All-Star Game
Credit:
Feb 17, 2017; New Orleans, LA, Recording artist Nick Cannon drives to the basket against Recording artist Master P during the All-Star Celebrity Game at Mercedes-Benz Superdome. Mandatory Credit: Derick E. Hingle-USA TODAY Sports
The NBA regular season is one of my least favorite sports to watch (don't @ me), but not even I can hate on the good, harmless fun of All-Star Weekend. The festivities start Friday night with the Celebrity All-Star Game. While the game usually consists of a few well-known folks, most of the competitors leave me playing a game known as "who the hell are these celebs and why are they playing basketball on my TV?"
Odds have been posted for this game (Team Clippers -2), and after doing some extensive research on the participants, I feel like I've got this game pegged pretty good (@ me if you want some side action). Here's my super official guide to the Celeb Game. Let's all hope there are no Kardashian sightings. That would put this entire thing on my "Dead To Me" list.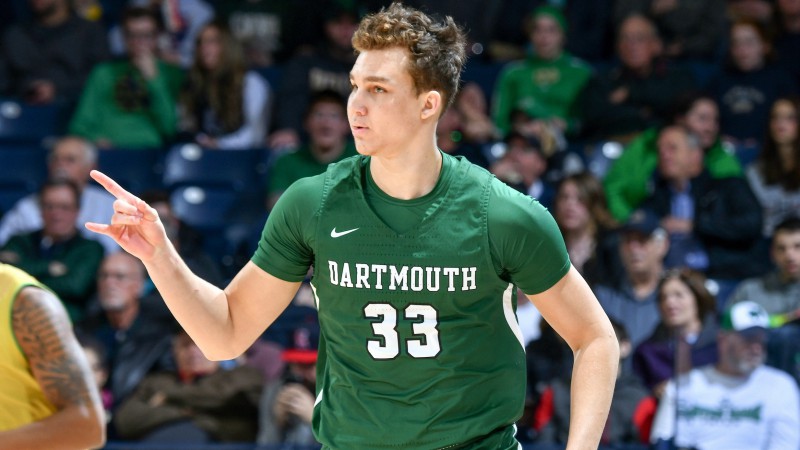 Josh Appelbaum breaksdown the seven college hoops bets wiseguys are making on Friday night.
Team Lakers
Coach: ESPN's Rachel Nichols
Sterling Brim: He's a host on some show called 'Ridiculousness" on a network named MTV that used to play music videos and now mostly follows pregnant teenagers and a bunch of degenerate kids in Florida … or something.
Nick Cannon: He's an actor and singer who was once married to Mariah Carey, with whom he has two children. Fun fact: Nick was on the roller coaster in Mariah's "Fantasy" video when he was just a 15-year-old boy. I guess dreams do come true.
Terence Crawford: He's a boxer. I'm not sure how that translates to basketball, but I have to think he'd be great at "boxing out" for rebounds. (I'll show myself out.) This guy has never lost a single professional fight. Any chance he's gonna lose a battle for a rebound? I think not.
Rachel DeMita: I'm not entirely sure who she is, but apparently, she hosts a show called "NBA2K" on YouTube and interviews quite a few basketball players. She also played college hoops, so she seems like a good addition to the team. Most importantly, there are rumors floating around that she is/was dating Kevin Durant. I'd set the odds of KD showing up courtside at -130.
Jerry Ferrara: Best known for playing Turtle on "Entourage," Ferrara is a native New Yorker and a huge Knicks/Giants fan. So I really hope he finds some joy by playing in a meaningless basketball game. I think he's suffered enough.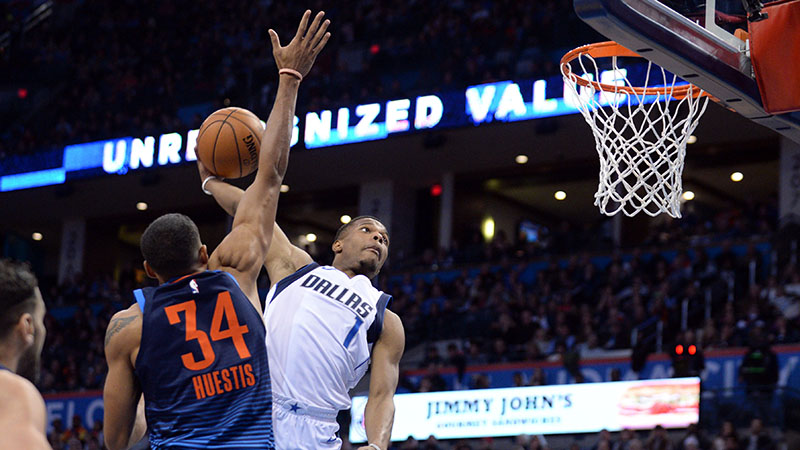 Marc Lasry: He co-owns the Milwaukee Bucks. The end.
Tracy McGrady: T-Mac was a scoring machine during his days with the Magic. But by the end of his career, he was a bit slow and chucked a lot of 3s. He also once blocked his own shot trying to dunk and then drew a foul. That's some actual sorcery. Maybe a little magic will be needed for his team to win.
Caleb McLaughlin: You know Caleb as "Lucas" in "Stranger Things." I pretty much love the entire cast of that show, so it's pretty much a lock: I'm backing Team Lakers. Sorry for the jinx Rachel Nichols … looks like you're starting your coaching career 0-1.
Candace Parker: She's won the Wooden Award, the WNBA MVP, WNBA All-Star Game MVP, WNBA Finals MVP, and AP Female Athlete of the Year. That all adds up to a Celebrity All-Star Game MVP. You can get 12-1 at one book! For real!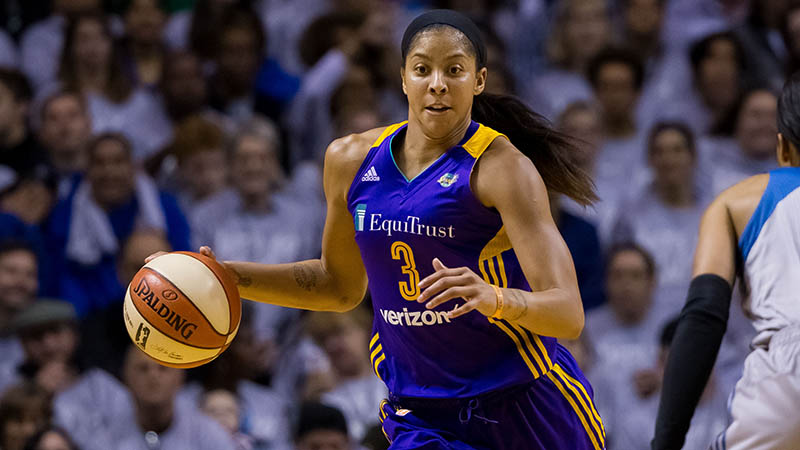 Nate Robinson: He's a former NBA player, and most famously, a three-time winner of the slam dunk contest. I'm excited he's playing because he loves getting into fights. I don't know who he'll throw down with on Friday, but I hope it's someone MUCH taller than him (5-foot-9) for entertainment purposes.
Drew Scott: Drew is best known as the realtor sidekick and twin brother of Jonathan, who does all the heavy lifting (aka building the houses) on HGTV's "Property Brothers." I'm guessing they needed Drew to round out the cast because the show title "Property Guy" didn't sound as appealing. Drew is super tall — 6-foot-4, who knew?! — so I can see why he's on the team. But his brother is REALLY the one who should be playing. Now that I think of it, he probably can't because, you know, he's busy building houses with his bare hands.
Kris Wu: Not gonna lie, I had never heard of Wu before yesterday. Even after reading up on him, I'm still a bit lost. Apparently, he's an actor and singer and was a member of a big-time K-POP band in China and has nearly 6 million Instagram followers. In related news: It finally dawned on me that I'm old AF.
? Just Added ?
Justin Bieber: A late addition to the team, this guy is known for being a neighborhood menace, a fan of every sports team in the world, and the sworn public enemy No. 1 of former NFL player Keyshawn Johnson. He also does some singing and performing and stuff and dates Selena Gomez. I'm way more excited to see her if I'm being honest.
Team Clippers
Coach: ESPN's Katie Nolan
Anthony Anderson: He is an actor and one of the stars of the TV sitcom "Black-ish." Anthony should be money in this game. Some may not be aware, but he actually played high school basketball back in the 90s. Remember "Hang Time?" He was one of the stars of the team. A few important caveats: The court in his high school gym was only a quarter of regulation size, and I'm very skeptical the baskets were 10 feet tall.
Brandon Armstrong: He's the dude from those viral basketball player imitation videos. Armstrong is coming off an MVP performance in last year's game. Even if he doesn't repeat that, you know he'll be the imitation MVP.
Miles Brown: With Kevin Hart not playing this year, Brown — a 4-foot-3 12 year old —  is this year's token short guy. He also plays Anthony Anderson's son on "Black-ish" so I'm guessing his "dad" put in a good word for him. He's definitely going to be picked up to dunk on someone … I personally hope it's Nate Robinson.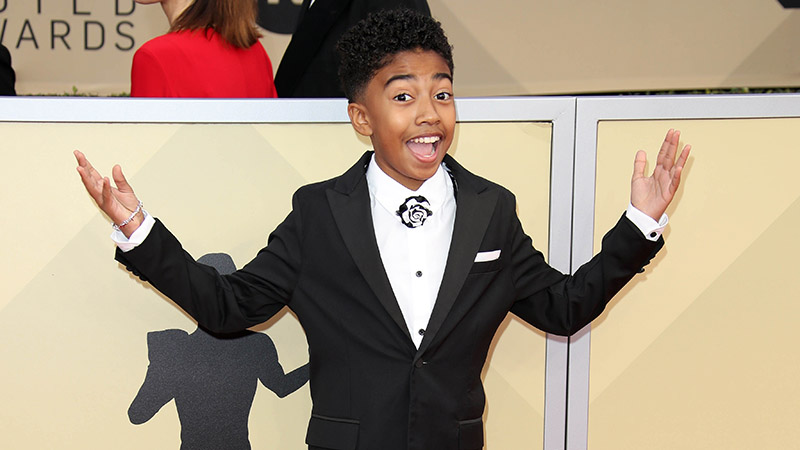 Win Butler: I actually like the band "Arcade Fire," but I'll admit I had no idea who the band members were. Now I know at least one of them: Win Butler.
Common: He is Grammy award winning artist, actor and producer. Fun fact: Common actually worked for the Bulls as a teenager. I am still debating whether this is a positive or a negative for Team Clippers.
Andre De Grasse: He's the Olympic sprinter who actually forced Usain Bolt to try hard to win the gold medal at the Rio Olympics. I'm not even joking: That's the most impressive accomplishment of any person in this game. The two have been pictured often smiling as they cross the finish line, which has resulted in some iconic photos.
Stefanie Dolson: Stefanie won back-to-back championships at UConn, and now plays for the WNBA's Chicago Sky. Her old coach, Geno Auriemma, doesn't mess around, so you know Stefanie will be taking this shindig wayyyyy too seriously.
Jaime Foxx: It's impossible for you to be reading this article, which requires an Internet connection, and NOT know who Jamie Foxx is. Moving on.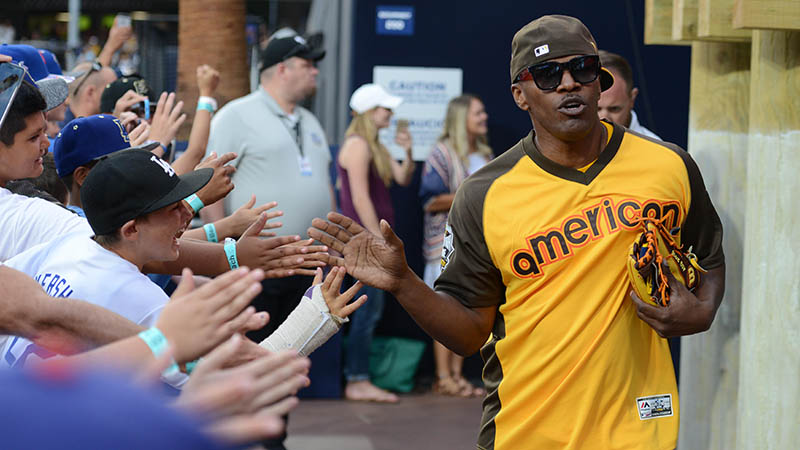 Paul Pierce: The Truth is most recently known for watching his Celtics get spanked by LeBron this past Sunday right before his jersey retired, but I prefer to remember him as a member of the 1997 Kansas team that my Arizona Wildcats knocked off in the Sweet 16 en route to the National Championship. That may not be relevant to any of this, but it's relevant to me. Bear Down. (Just don't ask me how many titles we've won since then.)
Dascha Polanco: Polanco stars in the Netflix show "Orange Is the New Black." Apparently I'm the only person on the planet who hasn't seen the show, so I'm certain you know more about her than I do.
Bubba Watson: A two-time Masters winner, Watson is best known for being  an asshole, yelling at his caddie and whining. Here's the key for Bubba: Will he be able to accept his coach's or the refs' authority? I'm gonna guess no; this dude seems like the opposite of a team player. I'll set the number of balls he chucks at the ball boy's head at 4.5.
Jason Williams: Known as "White Chocolate," Jason is a former NBA player who played high school ball with Randy Moss. He also got kicked out of University of Florida for smoking weed, and loves behind-the-back and no-look passes. Something tells me he will be perfect for this game, so long as he doesn't try to get his teammates high at halftime.
On that note, I'm taking Team Lakers.
How would you rate this article?