Is LeBron More Likely to Stay? Are Cavs Better? Answering the Post-Deadline Questions
Credit:
Jan 20, 2018; Cleveland, OH, USA; Cleveland Cavaliers forward LeBron James (23) watches from the bench in the fourth quarter against the Oklahoma City Thunder at Quicken Loans Arena. Mandatory Credit: David Richard-USA TODAY Sports
Is it safe? Can I come out? Have the Cavs stopped dropping (Woj)bombs on everything?
OK, get your gas mask and emergency supplies ready. Let's go exploring. Here are all the answers to all the questions about the Cavs' mega-series of deals on Thursday.
1. What exactly … did they do?
Cavaliers trade:
Isaiah Thomas
Derrick Rose
Channing Frye
Iman Shumpert
Dwyane Wade
Jae Crowder
Their own 1st round pick in 2018
A 2020 2nd round pick
Cavaliers receive:
Jordan Clarkson
Larry Nance Jr.
George Hill
Rodney Hood
A future Heat 2nd rounder
That's … that's a lot of stuff. The Cavaliers effectively have an entirely new roster minus LeBron James, Tristan Thompson, Kyle Korver, Cedi Osman, and J.R. Smith. (Don't believe me? Check the visual below, courtesy of Jason Awad.) They also reportedly plan to add Kendrick Perkins, because, of course.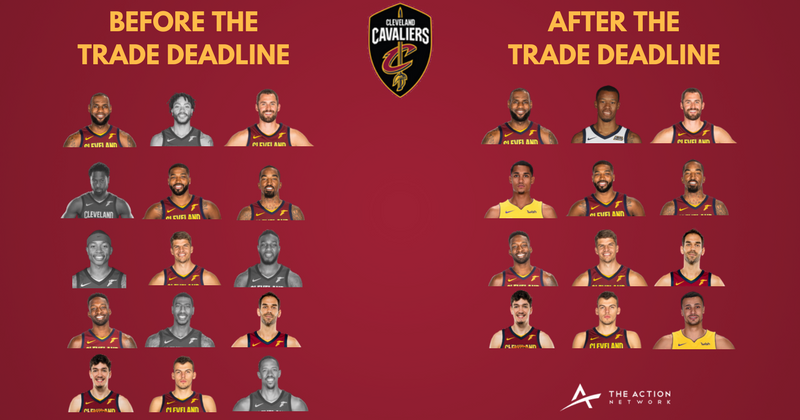 2.Does LeBron stay now?
We'll see, is the short-answer. This series of moves split the coverage, so to speak, for the Cavs. I'll say this: They have a better chance to keep LeBron today than yesterday at this time. The Cavs' additions net them a group of young players who at least have been in the league a few years, a veteran point guard who can defend, better athleticism. And they did it all without giving up the Nets pick, which will allow Cleveland to make another potential upgrade before free agency hits.
That's about the best you could do with the flotsam they were working with.
While these are good additions, they're also most certainly not Paul George or Eric Bledsoe, as James reportedly lobbied for. And they might not be enough to save a relationship that's clearly damaged, from Dan Gilbert on down. In the end, James will have to evaluate being on a good team in a place he loves without a true third star vs. going to LA to expand his brand, or going to Texas to pursue beating the Warriors for his fourth title.
He is more likely to stay than he was yesterday, but the odds may not have shifted dramatically.
3. Are the Cavs better?
Yes. It was hard for them to be worse, but they are absolutely better.
Here's why.
A. Isaiah Thomas was a locker room disaster: Blaming Kevin Love, being defensive about his bad play, calling out bad defense, leaking to outlets who never get access to Cleveland for a variety of reasons … everything was bad there, and Thomas was not the same guy because of his hip. Maybe IT will rebound, hopefully he'll get back to form with the Lakers or his next team, but that situation grew untenable quickly. Thomas has had a difficult, emotional year that has only gotten worse. He came in as "the guy replacing the guy who made the biggest shot in franchise history," was injured, and never connected. He made the Cavs' defensive problems worse, and turned out to be a high-usage player with bad production. It was never going to work. Just removing him helps.
B. Derrick Rose was a minus. Speaking of addition by subtraction, Rose was an unqualified disaster when he was on the floor. Rose and Thomas are similar: You have to give them the ball and get out of the way. And neither were good enough after injuries to justify that, at all. Thomas' issues may be temporary … but this is just who Rose is.
C. They will be better defensively, once they figure out what they're doing. Hood is long with good size. Hill is capable of being a great defender on a good team; he's long been excellent in that capacity. The younger guys, Clarkson and Nance Jr. have great defensive metrics this year on LA. A lot of that is smoke and mirrors, but if they just pick up what the scheme is, their athleticism alone will provide an upgrade.
D. They kept the things that make them successful. You need shooting all the time, and the Cavaliers managed to get athletic defenders without surrendering any of their explosiveness behind the arc. Hill, Hood and Clarkson can all shoot from the perimeter and space the floor with LeBron.
E. They got smaller, but more versatile. They are able to switch a lot more effectively in pick and rolls, and that alone will help their defense, which gets gouged from the perimeter, tremendously.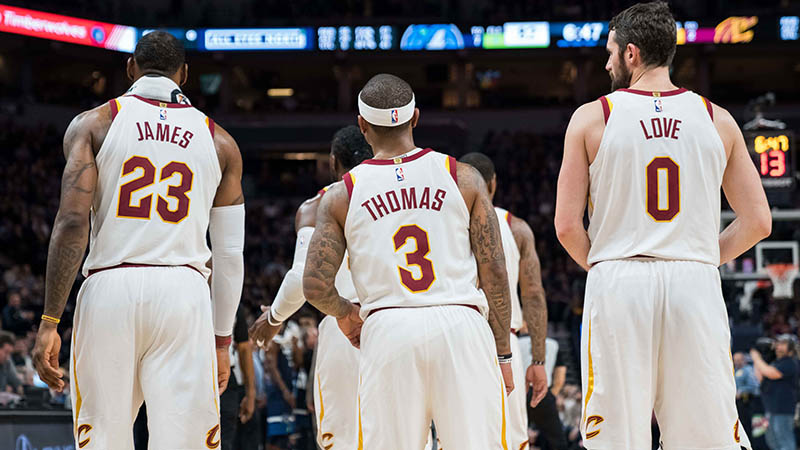 4. What about the future?
This is the real trick. The last time LeBron James left town, the Cavs were left holding the bag. They had mortgaged their future to try and keep James, so when he left, they had to start from scratch. Kyrie Irving obviously helped, but the franchise was going nowhere until James returned in 2014.
Now, say James takes off this summer. You still have a starting lineup of:
George Hill
Rodney Hood
Cedi Osman
Kevin Love
Tristan Thompson
And that's after letting J.R. Smith go in a deal. You also have the Brooklyn Nets' unprotected first rounder, with the Nets' 2.5 games out of last place. Hit the lottery and you have all sorts of options. Land Marvin Bagley or Deandre Ayton, and you can move Love or Thompson for future options. The Cavs ensured with this series of moves that they can compete with LeBron now, improve their chances of keeping him, and if he leaves, not have to tank and be horrible for the long haul.
That's pretty good.
5. Can they compete with the Warriors?
No, of course not, don't be silly.
6. So what about the Lakers?
Two days after signaling they were targeting the 2019 free agency class, the Lakers are a hop skip and a jump away from having two max slots this summer to offer Paul George and LeBron James. That may seem like a pipe dream right now, but if they fail, all they have to do is manage their cap this summer and they could be set up for a full-on bonanza in 2019.
That last part is crucial. If they strike out on George and James, the Lakers have to be disciplined enough to not tie up space by just doing deals. Be patient and wait for the right move to materialize.
It's why the Isaiah Thomas deal is so interesting. Thomas reportedly does not want to come off the bench, but you can play him and Lonzo Ball together. So rather than giving Thomas a long-term deal this offseason, they should explore a one-year pact, with a chance to re-coup his value in 2019 free agency.
Overall, this was a good day for the Lakers: Clarkson was never going to have a future in LA, and they wisely kept the far superior Julius Randle over Nance Jr. They added a pick.
And obviously, if they do land LeBron, this is the day they did it, and it destroys the Cavaliers.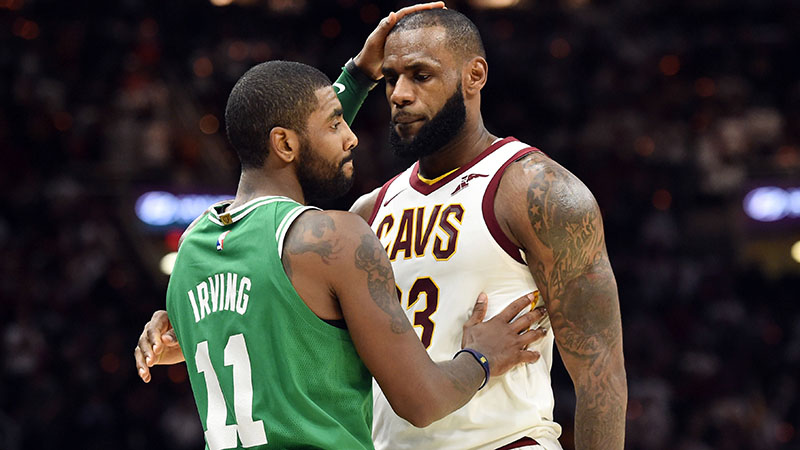 7. So … about the Kyrie trade?
Yes, well, that's not so good. Effectively, the Cavaliers turned Kyrie Irving and their own first-round into Jordan Clarkson, Larry Nance Jr. and the Nets' pick. That's bad. Straight up, bad.
But it's important to remember the Cavs never wanted to deal Kyrie in the first place. He forced their hand with his trade demand, and they didn't feel (as LeBron reportedly did) that the situation was salvageable. From that point, it became about trying to make lemonade out of lemons.
Koby Altman did the best he could in getting a Third-Team All-NBA player who finished fifth in MVP voting, and a premium pick, along with a defender who could have been helpful. None of those things except the pick worked out.
So again, at the deadline, Altman was dealt a bad hand, but made the most of it, getting a solid return.
If this doesn't work out, it won't be because of what he did, but what he didn't do, and most of it will be because of bad luck. It will also likely put his job in jeopardy. That's just how this stuff works.
8. What about Utah?
They wanted off Hood, who disappointed this season, and are committed fully to Donovan Mitchell going forward. They get back Crowder, who fills a need for them as they deal Joe Johnson out. Crowder should defend like hell with this system and Quin Snyder at the helm. They reportedly plan to release Rose, and that's definitely for the best with the good backcourt they have.
Utah lost a considerable amount, but gained some back, and improved their flexibility.
9. What about the Kings?
They are still the Kings. They were just along for the ride. They should have never given George Hill that contract, and to get off it while getting an asset back is helpful. Better luck next summer not being the Kings.
What about the East playoffs with this new Cavs team?
Well, they have to figure out how to play with one another. And they have seven weeks to do it. That's not great. They have to do build chemistry on the fly with a coach who has never been in this situation, and without a great system to just plug guys into. That's not great. And they still have J.R. Smith and Tristan Thompson, two of their biggest defensive liabilities this year. That's not great.
But this team will be a tougher matchup for Boston and Toronto than the one before. The Cavs can get out and run, and that's going to put pressure on the good defenses in the East. They can switch more effectively to take away the easier matchups for Irving, DeMar DeRozan, and Kyle Lowry.
In short, the Cavs are still hung together with duct tape: They're thin inside, still play Love, who is a defensive liability, and if any one of these shooters doesn't go 37% or better from deep, it's an issue.
They are a much better bet to get out of the first round, however. So, there's that!
So what are the big takeaways?
LeBron still might leave, the Cavs are still vulnerable, the Lakers are still bad, the Kings are still bad, the Jazz are still in the middle. But the Cavs are better, their chemistry problems are over (for the time being), and Cleveland can at least say they tried to fix the team and save the season, without sacrificing their future.
That's a good day for a team under an onslaught.
But seriously, if the Lakers sign LeBron James, they should just get to own the Cavaliers outright.