NBA Betting, DFS Guide: Nuggets-Wolves Battling for Their Playoff Lives
This is it … the final day of the NBA regular season, and, wouldn't you know, we've actually been blessed with a head-to-head matchup for the final playoff spot in the West.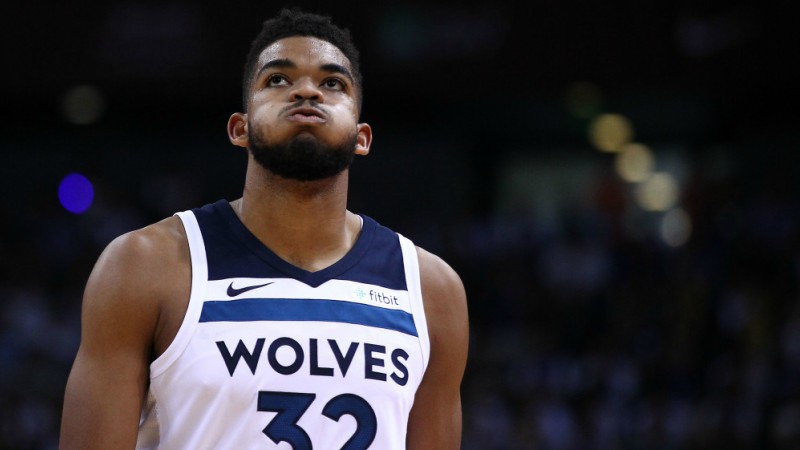 Zhong Zhi/Getty Images
I thought the Timberwolves were supposed to be a contender this season …
Anyway, this is the final chance you get to bet on teams such as the Magic, Grizzlies and Bulls. The final day you can fill your DFS roster with guys such as MarShon Brooks and Kyle O'Quinn. As Tom Hanks' character said in Saving Private Ryan, "Earn this." — Mark Gallant
All info as of Wednesday morning. Check back during the day and keep an eye on our Twitter handle for any updates.
If there's a specific matchup you want to jump to, click the quick links below. For live spreads and bet percentages, check out this page. Follow the latest injury info on our industry-leading news feed. To get access to our premium betting tools, subscribe here.
TOR-MIA | MIL-PHI | DEN-MIN | SAS-NOP | UTA-POR | Quick Hits
---
TORONTO RAPTORS AT MIAMI HEAT (-4.5) | O/U: 202
8 p.m. ET

Nick Turchiaro-USA TODAY Sports
Metrics to know: The Raptors are reportedly not resting any players in their final regular-season game, although it's unclear how much the starters will play. Still, that might not really matter, as Toronto has boasted the best bench in the league all season. The Raps' bench has a ridiculous net rating of +8.7, which is miles better than the mark of any other team, and it's why guys such as Kyle Lowry and DeMar DeRozan actually have poor on/off differential marks this year. The Heat have a lot to play for, as a win could grant them a first-round date with a banged-up Celtics team (or the sixth seed); a loss would push them to the No. 8 spot and a brutal affair against this very Toronto squad. The Heat have played the Raps well this season, winning the first meeting and losing the rematch — both in Toronto — by just three. They'll be highly motivated Wednesday. — Bryan Mears
Trend to know: Over the past two years, in the last 10 games of the regular season, teams are 8-1 ATS on the road in Miami, covering the spread by 5.5 PPG. Enjoying some late-season action in South Beach. — Evan Abrams
---
MILWAUKEE BUCKS AT PHILADELPHIA 76ERS (-6.5) | O/U: 219.5
8 p.m. ET | ESPN

Bill Streicher-USA TODAY Sports
Metrics to know: Both these squads have playoff seeding to play for, as the 76ers can finish third or fourth in the East and the Bucks can slide anywhere from sixth to eighth. They'll be motivated, especially the 76ers, who can wrap up the third seed with a victory and ensure themselves a second-round date with Boston instead of Toronto. Philly is very talented but definitely still has some youthful flaws, particularly with turnovers. They rank toward the bottom of the league in that regard this season, and in their most recent loss to Milwaukee they turned it over on a ridiculous 26% of their possessions. That was one of the worst performances of the season, per Cleaning the Glass. I am somewhat interested in the total here, especially with Joel Embiid still out. Philly and Milwaukee added 11.2 and 11.9 points in transition in that last game (partly because of turnovers); both marks rank in the 96th-plus percentile of performances this year. — Bryan Mears
Trend to know: The Sixers are 3-11 SU and 5-9 ATS vs. the Bucks since drafting Embiid. Two of the Sixers' three straight-up wins came with Embiid on the floor. Without Embiid, Philly is 1-10 SU and 3-8 ATS. — Evan Abrams
DENVER NUGGETS AT MINNESOTA TIMBERWOLVES (-4) | O/U: 215.5
8 p.m. ET

Troy Taormina-USA TODAY Sports
Metrics to know: The Nuggets remain on a tear, winning eight of their past 10 and ranking second in the league over that span with a 113.0 Offensive Rating. Nikola Jokic has been an absolute star, and over that time period the starting unit of Jamal Murray-Will Barton-Wilson Chandler-Paul Millsap-Jokic has posted a +8.6 net rating and scored 117.6 points per 100 possessions. The Nuggets just got Gary Harris back last game, and he's been a vital part of their squad this season: When he's been on the floor, the Nuggets have been 7.6 points per 100 possessions better — 4.3 on offense and 3.3 on defense. Overall, that starting unit with Harris in for Barton has been awesome this season, outscoring opponents by 9.4/100. Can the Wolves deal with Denver's firepower? They'll certainly have to, as this is a win-and-you're-in scenario for both teams.  — Bryan Mears
Betting market: The T-Wolves are getting about two thirds of bets and dollars and have gone from -1.5/-2 to -3.5/-4 depending on the book. It looks like most folks are in agreement that the home team will prevail and make the playoffs. — Mark Gallant
Trend No. 1 to know: Denver has won six straight games and must win once more to make the playoffs. Only one other team has been in the same spot since 2005: the 2014-15 Indiana Pacers, who like the Nuggets had won six straight and were the ninth seed, needing a win in game 82 to reach the postseason. Indiana lost its last game and failed to cover. — John Ewing
Trend No. 2 to know: That being said, small road underdogs (six or fewer points) getting little public support (30% or less of spread tickets) have gone 223-153-13 (59%) ATS since 2005. — John Ewing
SAN ANTONIO SPURS AT NEW ORLEANS PELICANS (-3.5) | O/U: 211.5
8 p.m. ET
Metrics to know: The Spurs and Pels both clinched playoff spots in their last games, but there's still seeding to be determined Wednesday evening. The question is whether that's important to them or whether they'll choose to rest after pushing hard of late and let the chips fall where they may. The Pels won the first two of their three meetings this season, and the last one was a brutal defensive affair. The Spurs pulled it out by five, 98-93, despite posting just 93.0 points per 100 possessions — a bottom-10 percentile offensive performance this season. The Pels are very intriguing moving into the playoffs. Their main lineup with Nikola Mirotic and Anthony Davis at the 4-5 spots has been solid, and that starting lineup has hit 45% of its 3-pointers. That said, with Rajon Rondo on the floor, things are still sagging, and they get up 3s at a low 27.8% rate. They have talent, but will the math problem be an issue in the playoffs? You could ask the same question for the Spurs, although LaMarcus Aldridge breaks the mid-range dilemma given his stupid efficiency there.  — Bryan Mears
Trend No. 1 to know: Since 2005, Gregg Popovich is 2-9-1 ATS (18.2%) in the last game of the regular season, failing to cover the spread by 6.6 PPG. San Antonio is the least profitable team in the NBA in the last game of the regular season over that span. — Evan Abrams
Trend No. 2 to know: San Antonio opened as a four-point underdog, and the line has moved to +3.5. Since 2005, when the line moves in the Spurs' direction against a division opponent, they have gone 39-55-1 (41%) ATS. — John Ewing
UTAH JAZZ AT PORTLAND TRAIL BLAZERS (-3.5) | O/U: 201
10:30 p.m. ET | ESPN
Metrics to know: This game determines who gets the 3-seed and 4-seed, but these teams couldn't be further apart right now. The Jazz have won six straight; the Blazers have dropped four in a row after collapsing in the fourth quarter Monday night to the Nuggets. Over the past 10 games, the Jazz rank second in the league with a superb +8.8 net rating; the Blazers sit 19th with a -0.9 mark. The big reason is probably because Portland has been forced to play Evan Turner heavy minutes of late. That's not a good thing: The Blazers have been 9.1 points/100 worse with him on the floor this season — 6.3 on offense and 2.8 on defense. The main lineup with Turner at the three is fine this season, posting a +8.0 net rating, but it's susceptible to good teams and good defenses. Moe Harkless remains out, and the Blazers could really use the depth at his spot. — Bryan Mears
Quick Hits on the Rest of the Slate
BROOKLYN NETS (-2) AT BOSTON CELTICS | O/U: 206.5
8 p.m. ET
Trend to know: Teams on a back-to-back in the last game of the season have gone 47-49-2 ATS since 2005. If the team has a winning record like the Celtics do, they've gone just 22-30-1 ATS. — John Ewing
NEW YORK KNICKS AT CLEVELAND CAVALIERS (-14.5) | O/U: 220.5
8 p.m. ET
Trend to know: The Cavs were 21-46-1 (31%) ATS before March 19th (when Kevin Love returned from injury), but since Cleveland has gone 10-2 ATS. — John Ewing
WASHINGTON WIZARDS (-5.5) AT ORLANDO MAGIC | O/U: 205
8 p.m. ET
Trend to know: Since 2005, in the last game of the season, teams facing an opponent with a win rate of 30% or worse have gone 27-16-2 (63%) ATS. — John Ewing
DETROIT PISTONS (-4) AT CHICAGO BULLS | O/U: 212.5
8 p.m. ET
Trend to know: Road favorites in April against teams with a win rate of 40% or worse have gone 188-127-6 (60%) ATS since 2005. Detroit opened as a three-point favorite in Chicago. — John Ewing
MEMPHIS GRIZZLIES AT OKLAHOMA CITY THUNDER (-16.5) | O/U: 211
8 p.m. ET
Trend to know: The Grizzlies have been bad this season … even in the betting realm (35-44-2 ATS), and the presence of Marc Gasol hasn't really changed much. The Grizzlies are 1-7 SU and 3-5 ATS without Gasol, and, with him on and off the floor this year, they are virtually the same team. — Evan Abrams
With Gasol on: 2,408 minutes, 101.7 ORtg, 108.2 DRtg, -6.5 net, 49.9% eFG%
With Gasol off: 1,485 minutes, 101.6 ORtg, 108.0 DRtg, -6.4 net, 49.9% eFG%
LA LAKERS AT LA CLIPPERS (-2.5) | O/U: 216.5
10:30 p.m. ET
Trend No. 1 to know: As coach of the Lakers, Luke Walton is 1-6 SU and 2-5 ATS against the Clippers. Walton and the Lakers have lost six consecutive games straight-up to their LA rival, with their last win coming on Christmas Day in 2016. — Evan Abrams
Trend No. 2 to know: Since the 2005-06 season, the Clippers and Lakers have played 14 total games in the month of April. The under is 10-4 in those games, going under by 9 PPG. The under has cashed in six straight meetings in the spot. — Evan Abrams
HOUSTON ROCKETS (-3.5) AT SACRAMENTO KINGS | O/U: 203
10:30 p.m. ET
Trend to know: The Rockets are 24-14-1 to the under when they play on the road this season. Houston is the most profitable road team to the under in the NBA, and, over the past two seasons, bettors have profited 11.1 units on the under in Rockets road games. — Evan Abrams
Pictured above: Nikola Jokic and Karl-Anthony Towns
Photo credit: Chris Humphreys-USA TODAY Sports