The NBA's Western Conference has been dominating the East for years, but the 2017-18 season has thrown up an early anomaly.
Evan Abrams at SportsInsights.com has pointed out the insane East vs. West trend that must surely come back down to earth soon.
West teams are 60-87-5 against the spread when playing East teams so far this season for a cover rate of just 40.8 percent. This is exceptionally notable given the West has covered the East over 50 percent of the time in seven of the last 10 seasons.
Three teams, in particular, have contributed to this 40.8 percent cover rate, so let's take a look at how they might play a part in the inevitable regression.
Memphis Grizzlies
Last night's 116-107 loss to the Raptors took the Grizzlies' record against the spread vs. East teams to 1-7-0 for a -75.6 percent ROI.
We'd previously looked into the Grizzlies being a profitable underdog, but since Mike Conley went down, they've been a shadow of themselves to be 1-10 straight up and  2-8-1 against the spread without their first-choice point guard.
Their 102.2 offensive rating and 105.4 defensive ratings before Conley's injury weren't outstanding. They were above .500, though, and beat the Warriors and Rockets (twice) in that time. With the offensive rating dropping to 100.4 and the defensive rating blowing out to 109.4 in Conley's absence, the Grizzlies have been awful.
Marc Gasol hasn't come close to picking up the slack and a certain post-match interview of his was the straw that broke the camels back propping up coach David Fizdale's employment.
Memphis has fired coach David Fizdale, league sources tell ESPN.

— Adrian Wojnarowski (@wojespn) November 27, 2017
As the leading contributor to the West's poor performances vs. the East against the spread this season (1-7-0), it's unlikely they are a prominent part of the regression until Conley returns.
Minnesota Timberwolves
Minnesota's struggles have come at home and not only against the spread. Four straight-up losses as the favorite to East teams on the T-Wolves' own floor is where they make their contribution to the West's poor record.
At 1-7-1, their -67.8 percent ROI has been seen punters lose out on $610 on a $100/game basis.
The Timberwolves are an inconsistent team at best. Perhaps due to the fact all five starters are in the top 40 in the league for minutes played with Jimmy Butler, Andrew Wiggins and Karl-Anthony Towns all in the top-20. They have their moments but don't always look like the elite team they aspire to be.
Fatigue is a notable factor for any Tom Thibodeau-coached team although their upcoming schedule could be enough to counter the heavy minutes he imposes on his players.
Their next five games are at home without any back-to-backs. With a day to rest at home in between, this five-game stretch – in which I expect them to enter each one as favorites – could be where we start to see them square up the sub-par 5-7 record against the spread at home.
An improved record at home should then translate into the West closing the gap on the East against the spread.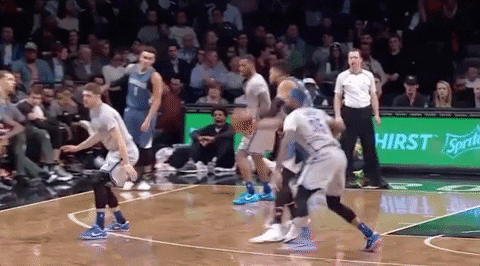 LA Clippers
At 2-5-0 against the spread vs. the East, the Clippers aren't losing punters too much (-$304 on a $100/game basis.). The problem is they aren't offering up much hope for the future.
It's been a common theme for the Clippers in recent years, but injuries have derailed another season. Patrick Beverley was a big enough loss before Blake Griffin was ruled out for two months.
Since losing their star player, the Clippers are 0-4 straight up and 1-3 against the spread. If there's one team that isn't going to help the West draw level with the East, it's the Clippers.
It could go from bad to worse after DeAndre Jordan recently signed with agent Jeff Schwartz of Excel Sports Management. That might not seem like such a big deal, but Jordan has been without an agent for two years so picking up some off-court representation suggests a potential trade might be brewing.
"That's not a good sign."#KGArea21 discusses DeAndre Jordan hiring a new agent & Clippers' struggles. pic.twitter.com/Bhy5TTU0LC

— KG's Area 21 (@KGArea21) December 8, 2017
There are only two scenarios going forward for this team. If Jordan stays, the Clippers play injury-plagued with a disgruntled star. If he leaves, they stay injury-plagued. But then they'd be trying to implement a new player/players into their systems.
The Grizzlies and Timberwolves can see the light at the end of the tunnel. There's a sense of inevitability around their improvement in the not too distant future. But for the Clippers, there's a good chance their situation gets a lot worse before it gets any better.
All stats provided by Basketball Reference and NBA Stats as of 12/9
All odds provided by William Hill as of 12/9
Be part of the Action
Download the Sports Action app at the App Store or Google Play