Is it Time to Buy Low on the Cavs?
Credit:
Brad Penner-USA TODAY Sports
Game 1 of the Cleveland Cavaliers' first-round series looked ugly. The Indiana Pacers jumped out to a 30-10 lead in the first quarter and cruised to a 98-80 victory, snapping LeBron James' (pictured above) record of 21 straight wins in the opening round.
LeBron did his part, scoring 24 points with 12 assists and 10 rebounds but got little help from the rest of the starters. Kevin Love, Jeff Green, Rodney Hood and George Hill combined for 25 points. Making matters worse, Cleveland who finished the season sixth in three-point percentage (37.2%), made only eight of 34 attempts (23.5%) on Sunday.
The Cavs embarrassing loss not only put them in an early hole but it also hurt casual bettors. Cleveland received 63% of spread tickets and 64% of spread dollars as a 7-point favorite in Game 1. The public hasn't forgotten the slight and is fading LeBron in Game 2 as 64% of bets have fallen on Indiana.
Squares are hitting the panic button, should bettors jump off the Cavs bandwagon?
Recreational bettors are vulnerable to the influence of recency bias, and that tendency is amplified during the postseason. One bad performance can cause bettors to fade a team. Since 2005, 61.9% of all favorites in the playoffs have received a majority of spread tickets. However, only 51.2% of favorites that failed to cover in their previous postseason game, like the Cavaliers, got 50% or more of spread bets in their next game. The Pacers being the popular side is unsurprising given the tendency of casual bettors to chase winners.
What might shock squares is that even though north of 60% of bets have been placed on Indy, the line has moved from Cleveland -7 to -8. Sharps are buying low on the Cavs and so should you!
Reverse line movement is betting line movement that contradicts the public betting percentages. The Cavs went from -7 to -8 even though a majority of bets are on the Pacers. This is a sign of smart money.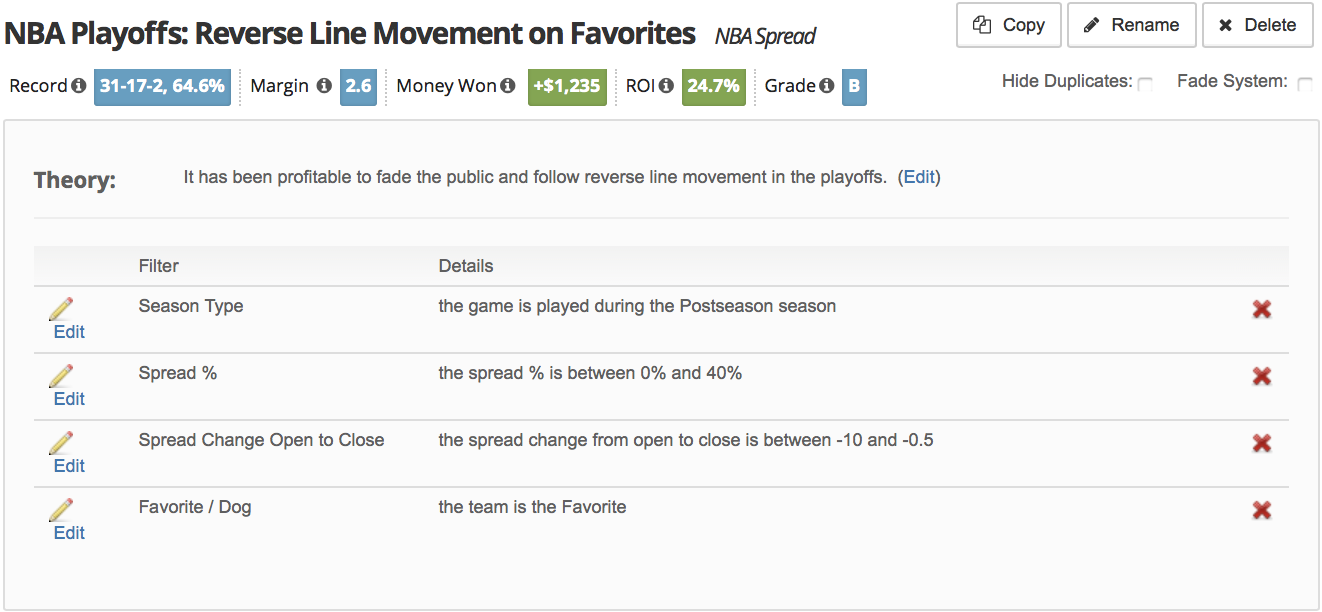 Since 2005, playoff favorites receiving 40% or less of spread tickets have gone 31-17-2 (64.6%) ATS when the line gets bigger, like it has for Cleveland. It is a small sample size, but it follows a larger trend. In regular season games during the same period, favorites with reverse line movement – 40% or less of bets and line movement in their direction – following a loss have gone 166-134-12 (55.3%) ATS.
Squares are bailing on the Cavs after one bad performance. It is unlikely that Cleveland's starters combine for fewer than 50 points and the team should experience some positive regression when shooting from downtown. The pros are buying low on the Cavs and so am I.
Note: Betting percentages fluctuate, be sure to check The Action Network's live odds page for updates.