Soap Opera Storylines for the 2018 NBA Playoffs
Credit:
Troy Taormina – USA TODAY Sports
Like sands through the hourglass, so are the days of our lives…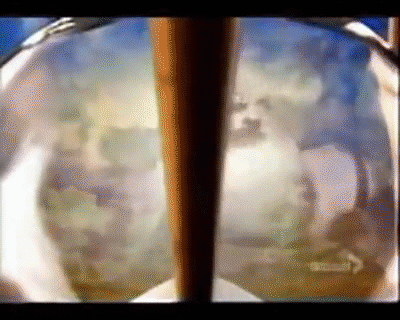 I'm a grown adult man, but I still have literally no idea how a show is able to air a new episode every day. I'm gonna try and binge watch Days and get up to speed. Only 13,315 episodes to catch up on … and counting. Based on my rough math, if The Action Network execs let me go on vacation for the next 13-14 months, I should be able to catch up if I watch 24/7.
Instead of doing that, I could probably get all of the same drama by watching the upcoming NBA playoffs. Though it will likely lack the murder, adultery, out-of-wedlock childbirths, lies and deceit that I could get watching my soaps, it will without a doubt have some interesting story arcs wonderfully brought to stage by the best actors in show biz. Here are the stories that will define the 2018 playoffs:
LeBron James
Not much else has to be said here, right? LeBron James, LeBron James, LeBron James, LeBron James…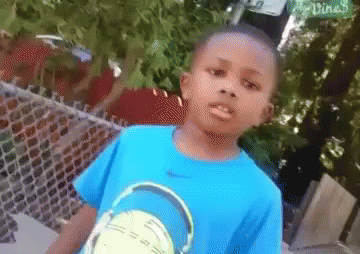 LeBron always has the spotlight on him, but this year is different. Though we still have the annual "will LeBron flip the switch for the playoffs" debate, we have a bigger story at hand. Has LeBron already checked out of Cleveland? Are these playoffs not a chance to win his fourth title, but just a means to figure out his next team? I guess we'll have to wait and see.
Trust The Process
It's been a long, slow rebuild in Philly, but the young squad finally has a chance to make a little noise. Though a monkey wrench was thrown the 76ers' way with Joel Embiid's injury, they've been hotter than 1980s Elisabeth Shue as of late. Since the Celtics are dealing with a serious case of the injury bug, Philly could be major players if it can survive without Embiid in the early going.
Kawhi Leonard: What the H is going on?
Entering the season, Kawhi Leonard was actually the MVP favorite. Hasn't exactly lived up to those expectations …
With just nine games played on the year, Leonard's status for the playoffs is up in the stratosphere. The real question is whether he's still not playing due to his quad injury or because of something else. Rumors are swirling and twirling about, and many believe the former NBA Finals MVP will be dealt this summer. If he feels that the Spurs don't have a shot in the top-heavy Western Conference, why risk aggravating an injury? Will Coach Pop be able to make any noise without his star player?
Maybe next year?
Speaking of the Celtics, are they done? I think mostly everyone agrees they no longer have a shot at the title, but what can they do?
Is a first-round elimination on the table, or can Al Horford take the youngsters on a coming-of-age tale deep into the playoffs?
As a Celtics fan, I can say that I am looking forward to next season with (fingers crossed) a healthy Kyrie and Gordon Hayward, a little older and a little wiser Jayson Tatum and Jaylen Brown, and maybe an easier path to the Finals in the East depending on what LeBron does in the offseason.
Steph's status
Steph Curry is due to return pretty soon, but by the sound of it, he's not going to be 100%. With the Warriors playing so poorly down the stretch, this is kind of a big deal. How much will they be tested in the early rounds? Can they afford to ease him in or will they need him so badly that they overwork his fragile legs before the later rounds? Clearly, oddsmakers are a bit concerned because the Warriors are on the verge of not being the favorite. The Westgate Superbook actually has them tied with the Rockets at +120 a piece to win the title.
Dark horse?
In just about any other sport, you can get a team out of no where that makes some noise in the playoffs. In the NBA, you essentially know what is going to happen after the first round or two. Will we finally get an NHL-esque 8-seed make a deep run? Maybe not an 8-seed … but maybe someone else besides the Warriors, Cavs, or Rockets?
One team to keep an eye on is the Utah Jazz. They've played a ridiculous couple of months of basketball and bring a much different playing style to the high-scoring West.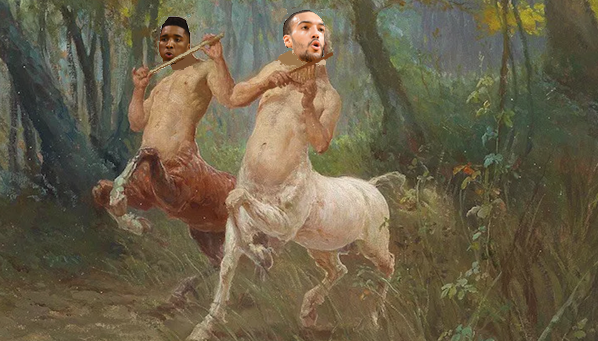 (Rudy Gobert & Donovan Mitchell as centaurs playing flutes:  Mandatory credit Mark Gallant – Action Network Paint) 
Oh how the times have changed
October 16th: Most likely finals matchups
Warriors-Cavs: +135
Warriors-Celtics: +376
Spurs-Cavs: +1815
Rockets-Cavs: +1970
April 11th: Most likely finals matchups
Warriors-Cavs: +338
Warriors-Raptors: +420
Rockets-Cavs: +445
Rocket-Raptors: +548
Before the season, it was practically a 50/50 chance that we'd see a fourth consecutive Cavs-Warriors finals. Now there's a chance that neither team makes the finals. What happened to the no-parity league that we've grown accustomed to?
Fear the Beard
James Harden + Chris Paul (pictured above) = A damn good basketball team. It's shaping up to be a Warriors-Rockets Western Conference Finals, which may very well be a better series than the actual finals. The Rockets will also be looking to redeem themselves after losing in the second round last year.
First, you get a Harden vs. Durant showdown. There's not the same animosity between these two as there is with Durant and Westbrook, but it is still a heck of a story.
Chris Paul also gets another shot at making it to the big dance, something that has eluded him throughout his career. The Lob City Clippers teams had some legit chances before the Warriors became a dynasty, but always fell short. Even though Golden State remains a huge hurdle, this may be the best shot he gets at going to the Final.
And while it may not be a story other folks are following, my main man Gerald Green has a chance to win a title for his hometown of Houston. Since he was drafted by Boston more than a decade ago, I've followed his career from winning the dunk contest, to the lows of playing in Russia and China, back to the NBA, back to Boston, and now, after remaining a free agent for the first couple months of the season, he has a chance to play a contributing role on a championship team. He'll be repping his I-45 tattoo and Rockets hairdo with pride.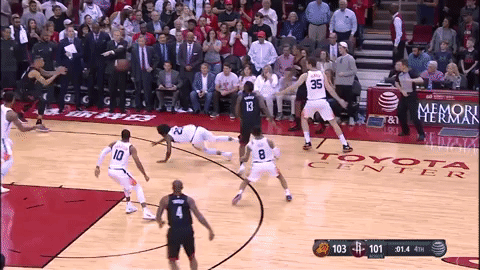 Perseverance, kids. Perseverance.
On that note, I'm outta here. Good luck and have fun before the real NBA season begins … the offseason. Now that's a soap opera I can get behind.