Five Things Bettors Should Know for Thunder-Warriors
Russ and KD. KD and Russ. The data scientists in the labs are telling me that adding two elements possessing such high levels of volatility and combustibility could result in a reaction of catastrophic proportions. Welp … put on those aprons and protective eye gear and get prepared to see some fireworks.
Here's everything you need to know about betting Thunder at Warriors (-10). — Mark Gallant
1. Paul vs. Klay
The Warriors use the threat of their shooters constantly coming off screens to scramble defenses. Not only do they often get open 3s with the precision Klay Thompson and Steph Curry run off off-ball screens, but the panic it typically creates and the miscommunication it drives usually results in the screener cutting to the basket for open dunks.
This is pretty much the only way JaVale McGee still gets minutes.
However, Paul George throws a giant wrench in all this. He's able to tail Thompson and get through so many screens that it totally disrupts that mechanism. As a result, the Warriors get deeper into the shot clock where they're easier to defend.
If Kerr has adjustments to get Thompson free, or if the Warriors start using him solely as a decoy, that could shake the Warriors' offense loose vs. OKC. — Matt Moore
2. The Warriors Struggle to Score Against the Thunder
Of course, that could all change in an instant given the shooting talent on the floor at all times. However, last game was hard to shake. In the first one, the Dubs scored a miserable 90.1 points per 100 possessions, which is in the sixth percentile of offensive performances this season. But that was in OKC, and the Thunder were at full capacity with Andre Roberson in the starting lineup. The most recent contest is more troubling, however: The Warriors put up just 103.1 points/100 in Oracle without Roberson playing. KD got his as a result, but the rest of the team was atrocious: Steph went 2-of-8 from 3, Klay finished with just 12 points, and Draymond especially no-showed with five total points. The Thunder have ways to make the Warriors' life difficult – Steph doesn't like Westbrook's constant intensity, Steven Adams can be a one-man wrecking crew on the glass, etc. – and three in a row would definitely be a notable trend.  — Bryan Mears
3. Good Teams Win. The Warriors Cover.
In the regular season, the Warriors under Steve Kerr are 55-29 ATS (65.5%) vs. above-.500 conference opponents. The ROI on those 80-plus games is almost double that of the next-closest team in the Atlanta Hawks. However, recently the trend has reversed: In the Warriors' last 11 games in this spot, they are just 3-8 ATS, failing to cover the spread by 7.3 PPG. Prior to that? They were 52-21 ATS (71.2%), and, during that streak of 73 games, they never dropped three straight ATS. They've dropped their last two. — Evan Abrams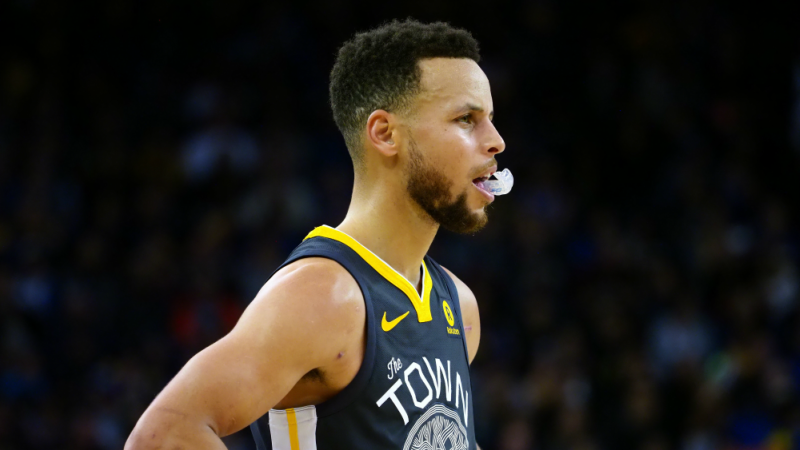 4. DFS Spin
Westbrook has crushed in his two games with the Warriors this season, averaging 59.4 FanDuel points per game. He's also priced very fairly at the moment at just $11,200: He's exceed salary based expectations by an average of 4.91 points with a comparable salary over the past two seasons. He leads all players with 14 Pro Trends and has a strong Opponent Plus/Minus of +3.04 against a Warriors team that has struggled with opposing PGs all season. As long as the game stays close — which is a slight concern given the nine-point spread — it's hard to envision a scenario where he doesn't hit value. — Matt LaMarca
5. The Warriors Can't Get Behind Early Again
Under Billy Donovan, the Thunder are 2-8 ATS when listed as an underdog of 6 points or more against the Warriors. But recently, Donovan and Co. have been able to pump the breaks on the Warriors 7-game SU winning streak vs OKC, winning its last two against Golden State. How exactly have they pulled it off?
Here are their numbers over their past two games vs. the Warriors:
While the Dubs held the Thunder to respectable numbers in the second half, it wasn't enough to overcome the beating in the first half. Will this trend continue? — Evan Abrams
Photo via Mark D. Smith-USA TODAY Sports