Bucks vs. Raptors Game 2 Betting Preview: Will Toronto Bounce Back?
Credit:
Bill Streicher-USA TODAY Sports. Pictured: Toronto Raptors forward Kawhi Leonard (2).
Game 2: Toronto Raptors at Milwaukee Bucks Betting Odds
Spread: Bucks -6.5
Over/Under: 216
Time: 8:30 p.m. ET
TV Channel: TNT
Series Score: Bucks Lead 1-0
---
>> All odds as of Thursday evening. Download The Action Network App to get real-time odds and live win probabilities on your bets.
---
Our Action app gave the Raptors a 98% probability of covering with 3.5 minutes left, but alas the Bucks stormed back and covered the number.
What should we expect in Game 2? Our experts weigh in.
Betting Trends to Know
The Bucks are a high-volume 3-point shooting team. Milwaukee averaged 38.2 attempts per game from behind the arc in the regular season, second only to Houston. The Bucks got up 44 three-pointers in Game 1, but made only 11 (25.0%).
It is likely they will make a higher percentage in Game 2, as the team shot 35.3% this season. Since 2005, teams that won the previous game despite connecting on 25% or less of their 3s have gone 62-57-4 against the spread in the playoffs. Those teams have gone 36-24-2 (60%) ATS when favored in the next game. — John Ewing
Did you know? The Bucks were the most profitable team in the regular season with a 47-31-4 ATS record. That has carried over to the postseason, as Milwaukee is 9-1 ATS, covering by an average of 6.6 PPG. — Ewing
As John noted, the Bucks have been the most profitable team in the playoffs by a wide margin. Entering Game 2, Milwaukee has won and covered the spread in five consecutive games since its only loss of the playoffs against the Celtics.
Since 2005, teams that have won and covered at least five straight entering a game in the Conference Finals or NBA Finals are just 4-9 straight-up and 3-10 ATS, failing to cover by 7.8 points per game. — Evan Abrams
Talk about a bad time for a slump: The Raptors have shot under 40% from the field in consecutive games for just the second time this season. The first time was back in early January against the Magic and Bulls before facing the Jazz at home. In that game against Utah, the Raptors scored 122 points on 54.9% shooting from the field. — Evan Abrams
---
Locky: How I'm Betting Game 2
If you were on the receiving end of the late-game Bucks free throws to lose your Raptors spread bet, my apologies. Considering the arc of the game, that was an atrocious loss.
But considering that the spread landed very close to the number, and there were no injuries of any kind, the spread market is back in the identical spot it was in Game 1. The teams came in under by a fair amount, and the total for Game 2 reflects that, down from 218.5 to about 216.
The narrative around the game seems to be that the Bucks should have put away the Raptors, but they were unable and are now they are trouble. All of that is, of course, completely irrelevant and basically made-up because we need narratives in our lives. There were a few things that happened in Game 1 which are relevant, though.
The Raptors demonstrated that they have some of the personnel to corral Giannis and at least make some of his straight line-drive attacks difficult. His stat line doesn't look bad, but he was actually held in check for parts of the game.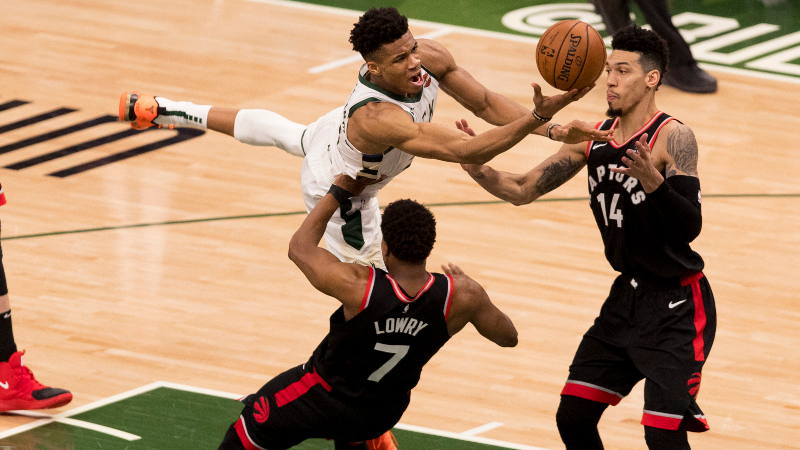 That the Raptors can achieve that, I think, is a win for them going forward. They also led for large portions of a game in which their two best players shot the ball absolutely atrociously.
Secondly, the minutes for Toronto's starters will be a factor, especially if the strategy is to play as frantically and uptempo as possible, so as to not allow Milwaukee to get its halfcourt defense set. Four Raptors starters played 40 minutes or more, and they went eight-deep in the game; the on-court numbers with the bench players were extremely discouraging.
For Leonard specifically, we like to think he's a robot, but asking him to play 40-plus minutes every game for basically two straight series — and then telling him they are going to run MORE — may not produce long-term results. There's a point where the minutes become less impactful.
All of this is my way of saying I think the Raptors can be very competitive in Game 2, and they have a plan on each end that makes a lot of sense. Late in the series I think the diminishing returns of this strategy will be felt from a fatigue standpoint, but all the Raptors really need is for their best players to play to their average in the playoffs, and they can absolutely win Game 2.
I am a little surprised the spread was unchanged given how well Toronto hung with Milwaukee, but if books are going to post that number again, I am going to take the Raptors. — Ken Barkley
---
Mears: How I'm Handicapping Game 2
I was a part of the sad group that had the Raptors in Game 1. It hurt.
I'll argue the other side of Locky for Game 2, though. The comeback and bad beat are the big storylines from that game, and thus it's easy to think the Raptors are undervalued here. Kyle Lowry was the only Raptor to hit a field goal in the fourth quarter? The Bucks needed a big comeback to barely cover? Those things won't happen again!
But if you ignore that narrative for a moment and instead just simply look at the data without any of the in-game runs, things don't look so bad for the Bucks. They didn't get lucky; in fact, if anything, it was the opposite.
Per NBA.com, the Bucks were "wide open" — a defender 4-6 feet away — on 39.8% of their shots beyond 10 feet. That was over 10% more than the Raptors. Toronto hit 40.7% of those; Milwaukee went 8-of-37 (21.6%).
Brook Lopez, a good shooting big, went 3-of-10 on wide-open shots. Eric Bledsoe went 0-for-7. Khris Middleton went 0-for-5. Giannis went 1-for-4.
These …
… were good shots.
Meanwhile, Lowry, who has been atrocious in the playoffs, went 10-of-15 for 30 points. He was 5-of-6 on wide-open 3-pointers.
Again, the narrative is that the Raptors dominated and blew it at the other end, but the data says the Bucks covered despite having an uncharacteristically bad shooting night that is unlikely to happen again — especially from someone like Middleton. As a result, I will not be on the Raps here. — Bryan Mears
---
Editor's note: The opinions on this game are from the individual writers and are based on their research, analysis and perspective. They are independent of, and may not always match with, the algorithm-driven Best Bets from Sports Insights.