NBA Win Total Odds & Pick: Bet the Charlotte Hornets to Move Into the Next Tier?
Credit:
Brock Williams-Smith/NBAE via Getty Images. Pictured: LaMelo Ball #2 of the Charlotte Hornets.
The Charlotte Hornets have potential to be in the mix for the play-in tournament with an over/under of 37.5 wins.
Matt Moore analyzes the Hornets' win total odds below.
Check out this post for updated season win totals and this post for my other 29 season win total picks.
Charlotte Hornets Win Total Odds
The Case for the Over
The Hornets won at a 37.5 pace per 82 games last season, despite losing Gordon Hayward for 28 games and LaMelo Ball for 21 games. Few teams outside of Brooklyn lost their two best players for a sustained period and kept a winning pace (and Brooklyn has three top-tier guys).
So even if the team just improves slightly with roster changes and internal development, with a little better injury luck to the two most important players on the roster, that gets them home.
The Hornets were 24-20 when Hayward played last season, which is fantastic for a young team with this talent level.
Ball was transcendent last season. The on-off splits don't speak well for him, but here's the significant differential.
Ball and Hayward with Bismack Biyombo: -12.8 Net Rating
Ball and Hayward without Bismack Biyombo: +4.7 Net Rating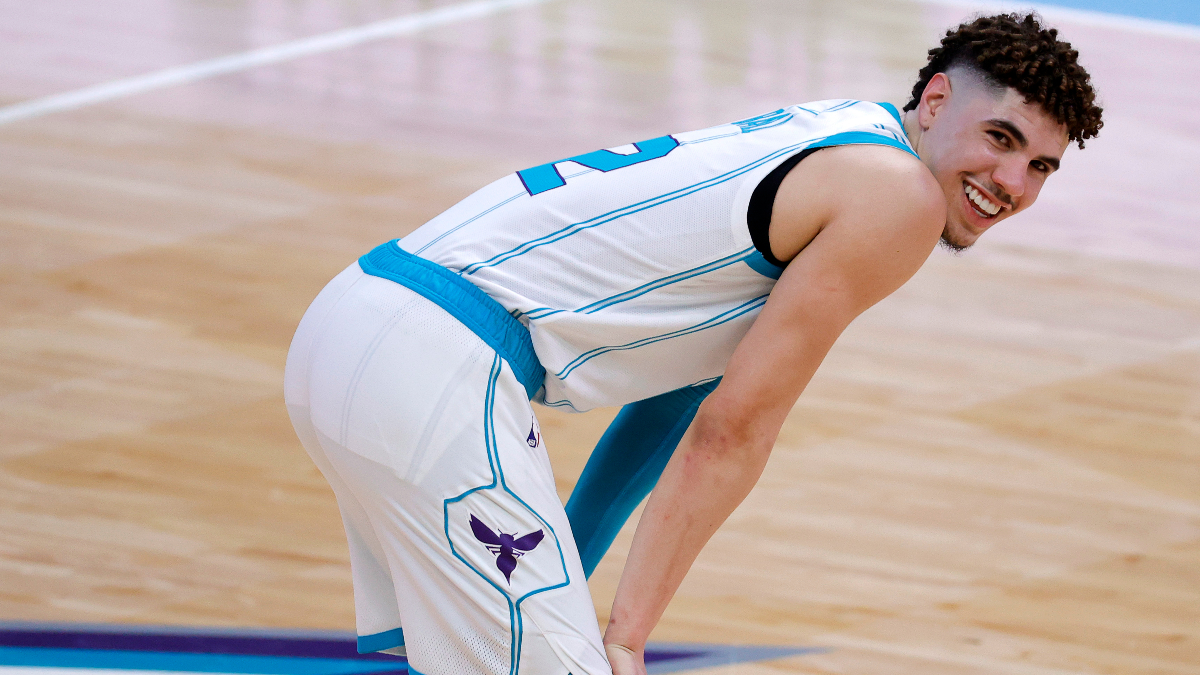 This gets a little dicey given that Cody Zeller left in free agency, but the Hornets traded for Mason Plumlee, arguably an upgrade on Zeller. If Plumlee takes the majority of minutes at center, maybe those minutes stabilize a bit more.
Charlotte was 10th in half-court defense last season. While most teams use drop coverage in pick-and-rolls, the Hornets used a variety of coverages. This is harder, but it's also more effective in countering matchup problems. If your base-level talent isn't as good as your opponent's, switching/blitz/zone helps a lot in evening it up. The Hornets were fifth in points allowed per possession in zone defense last season.
With a little improvement from their young players, and any of their talented picks (James Bouknight, Kai Jones) being ahead of schedule their first year, there's reason to think this team can hang around .500 in the East in the softest division in the league.
The Case for the Under
How about … everything else?
For starters, this team got worse in the offseason. They lost Cody Zeller and Devonte' Graham in free agency. They added Plumlee, who is probably a marginal upgrade on Zeller but isn't as good at switching.
They added rookies who should contribute down the line but asking them to help immediately is tough. And they added Kelly Oubre, who the Warriors just wanted to go away by midseason. I'm an Oubre fan, but it's hard to argue he will be the difference for a team in this spot.
Terry Rozier had a QSI of 10.34 last season on pull-up jumpers.
(That number means nothing to you, so I'll explain. NBA data provider Second Spectrum has a Quantified Shot Quality metric that estimates what a player or team should shoot in effective field goal percentage based on where they shot from and how far away a defender was. QSI is the difference between the actual eFG% and this calculation.)
So basically, among players who took at least 500 pull-up jumpers, the toughest shots to hit, Rozier had the 14th-highest differential between his actual and expected mark. For better context, Kawhi freaking Leonard was 15th.
Now, Rozier deserves a lot of respect for a great season. It's also natural to expect him to regress a touch this year in terms of shooting.
The Hornets had some promising defensive figures, but they still gave up the fifth-highest opponent expected field goal percentage, and were bottom-10 in fast break points, points off turnovers, and second chance points per 100 possessions allowed. They were 17th vs. the pick-and-roll, 17th vs. jump shots, 24th against the rim on non-post-ups, 25th vs. post-ups, and 17th in transition per possession.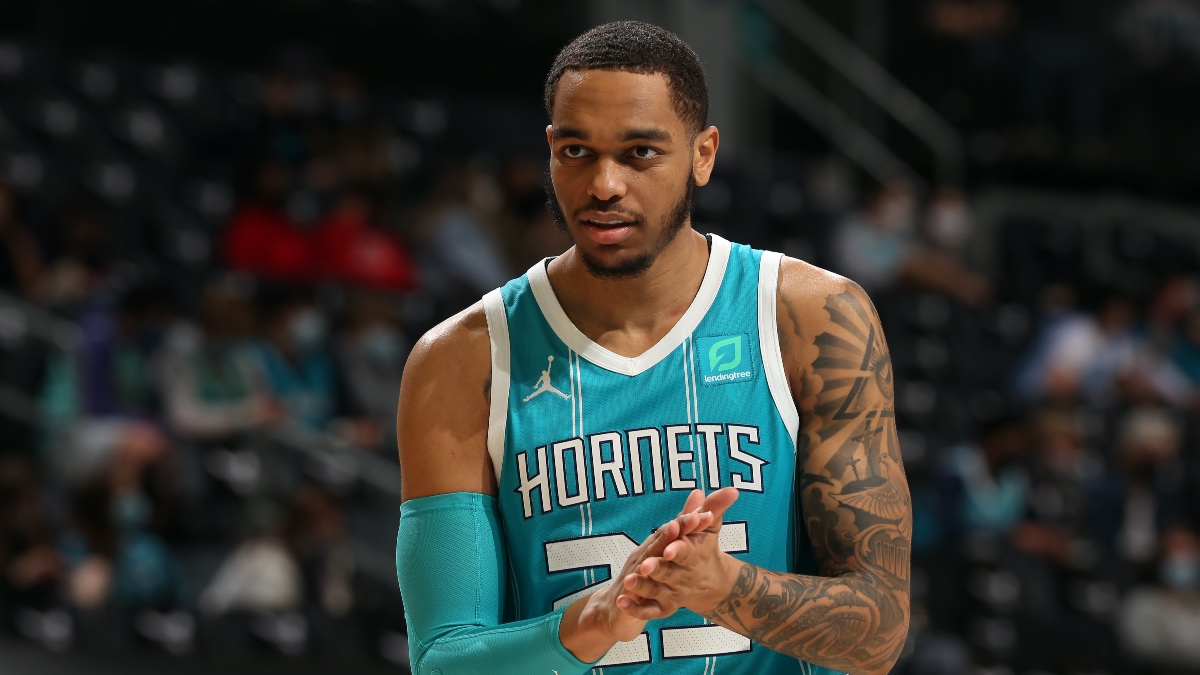 Basically, their defense was good because teams missed jumpers, which is pretty random, they created a fair amount of turnovers, and they never fouled.
Some of that is replicable; I don't think the Hornets will be a bottom-five defense. But that halfcourt mark is likely slipping into the teens or worse with the personnel changes.
The Ball and Hayward numbers were good (without Biyombo), which would be great … except Hayward is never healthy. It's unfortunate, but after playing in 72 games in his comeback season after breaking his ankle, Hayward has missed significant time the past two seasons. It's hard to have confidence he can make it through the number he'll need to cross 82 games.
The schedule does them no favors, either. Charlotte is tied for the most rest disadvantage games this season, the most back-to-backs, and has an adjusted strength of schedule of .504, which is middle of the pack. That's fine if you're a good team, but they're a mediocre team.
Ball was sensational to watch last year, but he was also 38th percentile scoring as the pick-and-roll ball handler, shooting 41% and turning it over 17% of the time. He is a marvelous passer, but he shot just 50% attacking the rim. His 3-point shooting should improve, but it's probably fair to reserve a little skepticism for how teams scheme him as less of an on-ball scoring threat.
Charlotte was 23rd in bench Net Rating last season, and most of the players who dragged that number down are still on the roster.
Charlotte did the wise thing in being patient and investing in a young core (which makes the Hayward signing from last offseason all the more weird), but it's going to take time.
So the defense has holes, the offense probably gets worse, the roster is younger (if not worse), the schedule is brutal (they have Atlanta and Miami in division), and Hayward is hurt often.
Hornets Win Total Bet
The problem with teams like Charlotte is they are in a range where so much of it matters about how the season feels vs. how it is. Some teams win 39 games and feel like they are on the cusp of making a leap, while other teams win 39 games and you wonder why they didn't just tank.
Charlotte could win 38 games and feel like their season was a rousing success, especially with the play-in tournament factored in. They could win 40 and feel like they underachieved and missed an opportunity.
I went too low on this team last year, and their defensive versatility helped them out. But Zeller was crucial to their success in that area; he was one of the best switching defenders in the league last year. (No, seriously.) Plumlee may be a skills-centric upgrade, but he struggles on switches more.
It's OK to take the over if you simply want to bank on Ball's improvement raising the floor; superstar players do that. I lean to the under but don't want it any lower than 38.5. I'll likely wait to see how their preseason goes before ultimately deciding if the under is worth it.
How would you rate this article?
This site contains commercial content. We may be compensated for the links provided on this page. The content on this page is for informational purposes only. Action Network makes no representation or warranty as to the accuracy of the information given or the outcome of any game or event.