NBA Win Total Odds & Pick: Charlotte Hornets Likely to Take Step Back
Credit:
Eakin Howard/Getty Images. Pictured: LaMelo Ball #1 of the Charlotte Hornets.
Check out this post for updated season win total odds for all 30 NBA teams.
---
Charlotte Hornets Win Total Odds
| | |
| --- | --- |
| 2023-23 Win Total | 35 |
| Previous Season's Wins | 43 |
The Case for the Over
Low Bar, Weak Division
Internal Development
Coaching Leads to Culture
The Hornets were one of my stronger bets for the under last season, so let's just start off by making it clear that I don't have a great feel for this team. Charlotte got off to a fast start last season, going 5-2, lost five in a row, then won five in a row. It was like that for the Hornets the rest of the way. Their performance seemed random, inconsistent, and unpredictable.
In truth, they were very predictable — they lost to the teams better than them and won vs. the bad teams. Charlotte went 25-8 vs. teams under .500 last season and just 18-31 vs. teams .500 or better.
New head coach Steve Clifford is 184-110 (63%) in his coaching career vs. teams that finished below .500 per ESPN Stats and Info. That includes a 14-19 record in his last season in Orlando when the wheels fell off, and that performance was done with teams that did not have All-Stars or top-level talent.
That's really promising. If Charlotte just beats up on the bad teams and wins its division games against the Wizards and Magic, that gets them a long way towards going over.
There's roster continuity here; eight of the Hornets' top-10 players in Win Shares remain on roster. They have young talent here that can make a leap. PJ Washington, Kai Jones, James Bouknight, JT Thor, Jalen McDaniels: All of these players could potentially make significant leaps to impact winning enough to get this number across the finish line.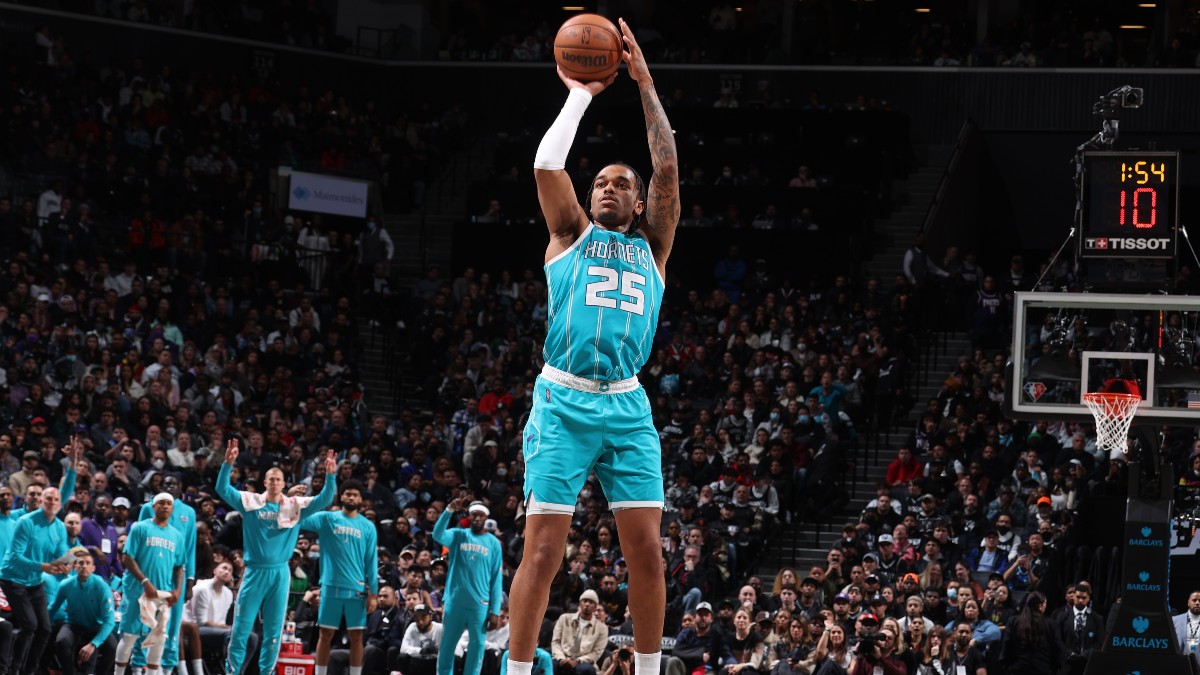 Yes, they are inexperienced, but that same inexperience also means wider ceiling outcomes. Last year is a good example of how, for teams in the 35-45 win range, one major improvement from a starter changes the equation.
(Maybe my biggest blindspot last year was the possibility that Miles Bridges could make the kind of leap to serious Most Improved candidate that he did. Now, Bridges is gone and likely to stay that way after his arrest for what is, by all details, a truly disturbing domestic assault situation. I would encourage you to research so as not to be blind to how terrible it was.)
LaMelo Ball has more room to grow as well. Ball's numbers last year were superb, 20-7-8 on 43-39-87 splits. However, I was struck by his weakness as a defender and how sloppy his offensive approach seemed to be for someone with so much talent. He's graded against a high bar as a young player, but his excellence is also a prerequisite for the Hornets' success.
Still, there's every reason to think he'll only improve this season and given his starting point from a production standpoint, it serves to reason he could make a leap to a major star this season.
Clifford takes over as a coach and is 2-0 to the over in his first season with a franchise in Charlotte the first time around and Orlando. Clifford will teach professionalism both in on-court approach and how the locker room conducts itself, both being areas of concern that led to former head coach James Borrego's firing despite a promising four seasons.
---
The Case for the Under
Loss of Miles Bridges
Health Concerns
Inexperienced
Bridges is the elephant in the room. It's possible that a resolution to Bridges' legal issues results in a manageable suspension for roughly the same amount as a significant but not season-ending injury and the team decides enough time has passed to deal with the PR hit of re-signing him.
It's also possible that Bridges never plays in the NBA again.
Losing Bridges is not the same as losing Hayward or Ball, but it's a big deal. He's a physical defender and made absolute leaps in scoring production and efficiency. Bridges led the team in Win Shares, was second in VORP and third in PER. That's just a lot of points and rebounds that the Hornets have to replace with few reliable options.
Hayward has constant injury concerns. He's played 52, 44, and 49 games the past three seasons after playing 72 games in his first season back in Boston from the ankle injury.
When Hayward played, the Hornets went 26-23 last season. When he was out, they went 17-17. That's not a huge differential, but it matters for a team like this where the ceiling is low.
The Hornets looked at several trade options over the summer, according to multiple league sources, but moving Hayward's contract is proving difficult. If they do find a trade partner, the thought is that they'll look for a big man to pair with Ball long-term. Does such a combo push them over, or is it more of a long-term move?
Only five players on the Hornets roster have more than three years of NBA experience. Those types of teams don't typically win a lot of games.
Now, the five that do are Hayward, Terry Rozier, Mason Plumlee, Kelly Oubre Jr., and Dennis Smith Jr.. Four of those players are top-seven, at worst, rotation players. The counter would be that if things go sideways for this team, there's a good chance they trade them in an effort to maneuver for the draft.
Can Clifford drag a team with poor point of attack containment and very little rim protection to the middle of the pack defensively? And if he does, can he keep the offense up?
Clifford spoke at media day about how the team was built to run. The argument is that Clifford has never had a set of offensive weapons like this. I'd probably quibble with that based on some of the teams he's had, but even then, no team Clifford has ever coached has been higher than 18th in Pace.
Veteran coaches typically have an identity and Clifford's is defense. That's not a bad thing, but defensive effort and focus will naturally slow things down to a degree. You very rarely see elite defensive teams play fast.
This roster is certainly lacking the talent for that. Is he really OK with them running up and down the floor in fast-paced scoring affairs? Can they even win those contests?
Hornets Win Total Bet
I lean under here, and there's a good chance the Hornets wind up as a true tank team this season.
I can't bet it after betting so heavily on their under last season. It's entirely possible I just don't conceptually get this team. It won't be a bet for me, but none of the things about the roster suggest this is a .500 team.
Clifford's track record is a compelling reason to think they can go over vs. a sub-.500 number. But injuries have already reared their ugly head. Ball is expected to miss the start of the season after an ankle sprain in the preseason and Hayward is also a wild card on that front.
I don't think this is the best bet to make, especially since the total dropped a bit after the Ball news, but you should absolutely lean towards the lower end of possible outcomes for this team.
How would you rate this article?
This site contains commercial content. We may be compensated for the links provided on this page. The content on this page is for informational purposes only. Action Network makes no representation or warranty as to the accuracy of the information given or the outcome of any game or event.